Luck vs. Skill-Based Casino Games – Which Is the Best for Your Play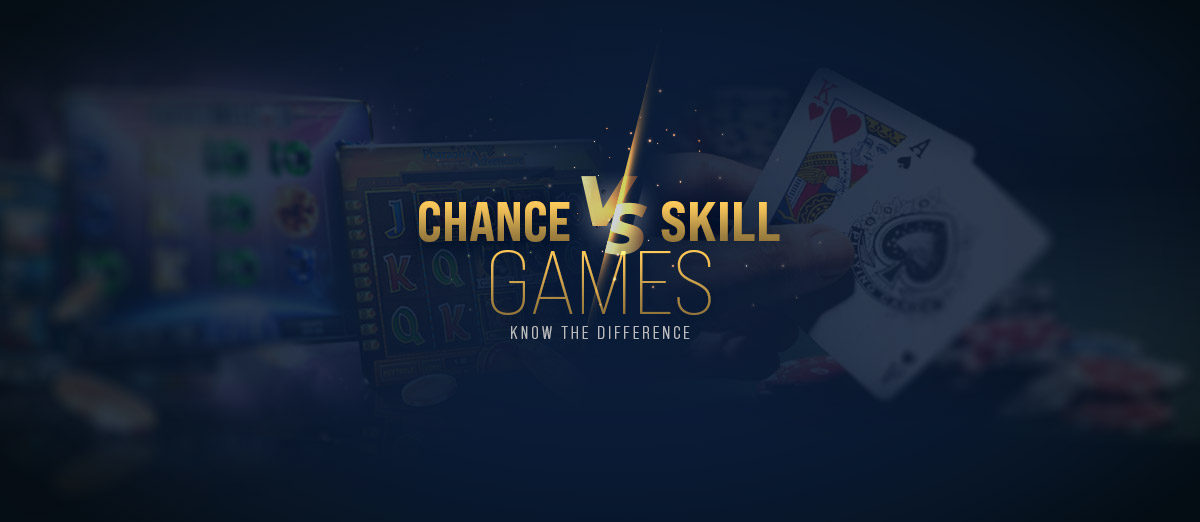 From the perspective of an average person who doesn't know any better, there is hardly any difference between poker, roulette, blackjack, slots, or any other game involving chance. On top of that, these games are typically listed under the "gambling" category, which normally has a negative connotation in our society.
However, there is a vast difference between pure chance games and ones that let players make actual decisions and have skill elements involved. Some of the games many consider gambling are actually dominated by skill.
In this article, I will go over popular games and explain what makes each fall into the particular category and how much influence luck has in each of them.
If you want to know what separates skill games like poker from purely luck-based games like roulette, you are in the right place.
Games of Chance Where Nothing Is Guaranteed
The truth is that most games you can play in a casino, whether live or online, are games of pure chance in which the player has absolutely no actual impact on the final outcome.
Most gambling games give the house a certain edge, and there is nothing you can do to change that edge for the better.
In fact, some games do offer betting options that are even worse for the player than the most popular bets, and all of them come with a negative expected value.
Below are listed the most popular casino games of chance.
Roulette
Roulette is probably the most popular casino game in the world, especially if you exclude the ones that are played with cards.
There are many versions of the roulette with a ball thrown into a rotating wheel with multiple sockets.
The most popular roulette game, European Roulette, gives the house an edge of 2.7%, which comes as a product of 37 numbers on the wheel and payouts of 35:1 for getting the right number.
Things get even worse if you play American Roulette, a game with two zeros and 38 numbers in total, which nearly doubles the house edge over you.
The fact is that no matter what betting system or strategy you apply, the house edge in roulette remains the same, and it is actually quite unfavorable.
There is no real way to beat the mathematics behind roulette in the long run, and while you can get lucky and win on any given day, roulette is not a game in which strategy will give you an advantage. To find out more about roulette, read our article, where we explain and analyze the differences between the American and European versions.
Baccarat
While being very simple to play, baccarat is one of the best luck-based games for the players since it has a much smaller house edge than other games in the casino.
Your only real option in baccarat is whether to bet on the player or the banker to win the hand.
The dealer will deal all the cards based on a set of strict rules, so you don't have any control over who wins.
The best bet you can make in baccarat is on the banker, with a house edge of 1.06%. On the other hand, betting on the player will give the house a 1.24% edge, which is also considered low in these types of games.
Betting on the tie in baccarat is an absolute disaster, as you will only get 90.5% of your money invested back over the long run giving a 9.5% edge to the casino, making the other two bets significantly better.
All that said, baccarat is another game dominated by luck, and the reason so many big gamblers enjoy it is the fact that it's fast, allows big bets, and gives the casino a relatively low edge.
Slots
Slot machines have changed the gambling industry from the ground up, giving us a very fun way to gamble. However, slots are pure gambling, and there is no skill involved in playing them whatsoever.
While I am sure you have heard players try to teach you how to play slots, the truth is these games are 100% based on luck, and there is nothing you can do to give yourself a better chance to win.
The best slot machines are found in online casinos, where the edge is often just 3 or 4%, but this is still quite high compared to other games.
If you think you know how to beat slots, think again, as any wins you did have in the past are a product of pure luck and nothing else.
The computer-controlled random number generators will produce random outcomes for all the players, and your chance of beating these games will depend entirely on chance every time you sit down to play.
Skill-Based Casino Games – Pro Players Wanted
As I said before, most casino games are based entirely on luck, but that does not mean that every single one of them is.
There are a handful of games in which knowing the right strategy will increase your winning chances, while some games can even be beaten, with poker being the number one on that list.
Before we talk about poker, I want to briefly touch on two other casino games in which knowing the right strategy will give you a better chance of beating the casino.
Video Poker
In video poker, you are asked which cards to hold and which to throw away on every hand you play, meaning that your decisions influence the final outcome. As a result, we have a game where your skills and knowledge will surely help you reach better results.
Knowing perfect strategy and how to play in every possible situation will make you lose less money and win more often than other players.
There are some great video poker machines that even offer more than 100% returns to the player if you can play them the right way every time. In theory, you can even make a profit in the long run.
Yet, most video poker players play far from optimally, leading to them losing much more than they have to.
If you want to play in a casino, I highly recommend learning the right strategy for the machine you intend to play and sticking to it right down to the very last rule, even at times when it looks counter-intuitive.
Blackjack
Another game in which strategy can change your luck quite a bit is blackjack. More than half of all blackjack players play by feel and are too superstitious about sticking to optimal strategy, which costs them quite a bit over the long run.
Blackjack is a solved game, and there is always an optimal play to make. Learning the relatively simple rules of the basic strategy in blackjack will help you get your results very close to breaking even.
Of course, the house will retain an edge over you even if you are playing optimally, but your chances of getting lucky are dramatically higher if you give yourself the best shot at it. In case of great promotions, you can even turn the sides your way.
The game's optimal plays should not take more than a few hours to learn, and you can even keep the cheat sheet on you while playing if you feel like you have to.
Poker
The one game offered in casinos worldwide that can actually be beaten for a great profit if you know how to play it is poker.
Whether you are playing Texas Hold'em, Pot Limit Omaha, Seven Card Stud, or another version of poker, the big difference is you are playing these games against other players, not the casino.
The house has no interest in any particular player winning or losing, which is why the game rules allow anyone to win any amount at the tables.
All poker games are made so that numerous elements play a part in who wins in the end. Luck is a part of the game in the short run, but the math proves that playing the game better than other players or, in other words trying to get as close as possible to the game theory optimal (GTO) will make you a winner in the long run.
Both theoretical and empirical data prove that poker is a game of skill, and the countless poker professionals out there who have been making a living at the tables for years would certainly back up this fact. If you really want to have a chance of being a winner in the casino, then learning how to play poker is certainly your best option.
To Conclude
At the end of the day, there is no superior version of casino games. Some players enjoy skill games and want to think through their decisions, while others play only for fun and want to relax.
Knowing the main differences between skill and luck games makes it fairly easy to pick what suits you the most, so remember this article when you decide to play in the casino next time.