Mikki Mase – The Instagram Sensation of the Gambling World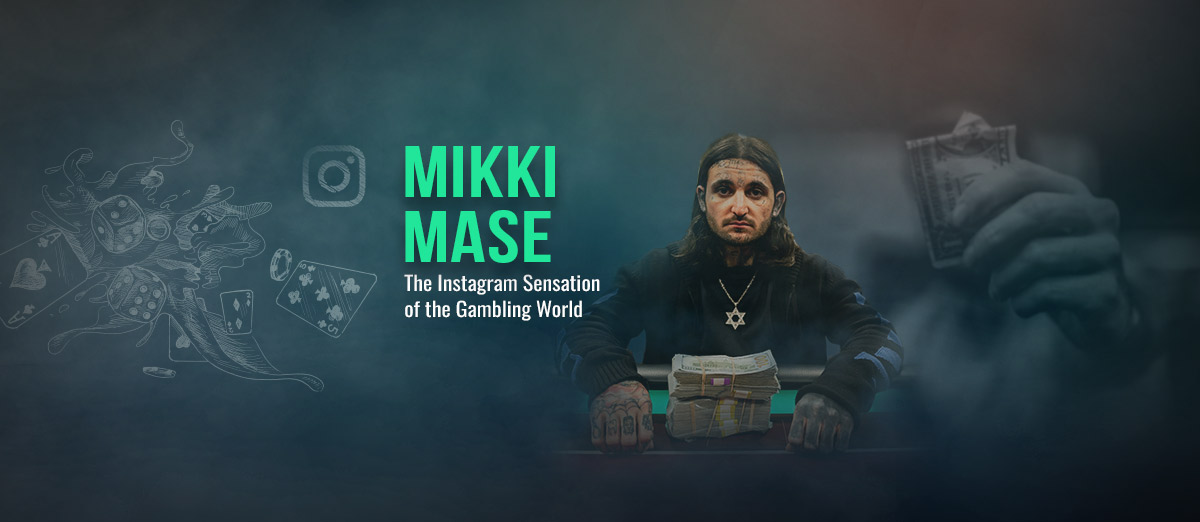 Some people leave nothing hidden on social media, hoping this will propel them into social media stars.
This is exactly the path that the new Instagram sensation, Mikki Mase, took as he became famous thanks to his Instagram account, where he posts his flashy lifestyle.
These include stories and pictures of multimillion-dollar wins in some of the most famous Las Vegas casinos, which Masse claims came from the baccarat and craps.
By his own words, most of Mikki Mase net worth comes from beating table games like craps and baccarat, in which he implements a strategy that makes him a winner over the long term.
Full Name
Michael David Meiterman
Net Worth
$10 million
Source of Wealth
Professional gambler
Famous for
Claiming he can beat baccarat and craps long term
Born
October 27, 1991, New Jersey
Mikki Mase real name is Michael David Meiterman, and he is one of the famous gamblers on social media. We won't be making any conclusions, but what we can say for sure is that Mikki Mase played against some of the best poker players in the world at the Hustler casino and proved to be a tough nut to crack, even for top players such as Garrett Adelstein.
Mikki Mase Highlights
Highlights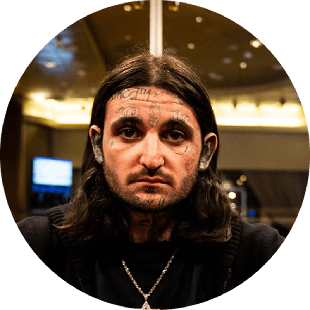 Went from being homeless to owning a line of rehab centers
One of the top Instagram gambling celebrities
One of the top poker pros in the Hustler live casino show
Banned from all casinos in Las Vegas
Mikki Mase Early Years - From Being in Rehab to Owning Rehabs
Mikki Mase was born on October 27, 1991, in New Jersey, where he grew up before moving to New York when he was 20 years old and eventually to South Florida, where he has been living since 2013.
Mase had a pretty tough upbringing and spent most of his teenage years and early adulthood in prison. In fact, he spent 6 years in prison before his 21st birthday.
By his own words, during this time, he knew no bounds and had no conscious of consequences which caused him to get expelled from multiple schools in the New Jersey district and eventually even become homeless on the streets of New York.
During this period, Mase even became a member of the local gang, which pushed him further into the criminal world.
This would all change when one of his friends invited him to come to Florida and stay at his place. During this time, he was scrubbing toilets in a tattoo shop as a part of the arrangement with his friend, which also included staying sober and off drugs.
After getting his life back on track, he was offered a position at a local rehab center which he accepted. Here he learned all the ins and outs of the rehab business and proceeded to leverage his knowledge to gradually increase his pay up to $500,000 a year.
Mase used this money to open his own rehab center, and after getting connected to some of the most influential people in the pharmacy industry, he opened over 300 pharmacies.
By his own recall, one of the major reasons for his success at this time was, apart from the connections he made, his "almost homeless" mindset, which kept him working 18 hours a day because he was scared of becoming homeless again.
After running several successful businesses for a few years, he decided to sell all of them and move to Las Vegas to enjoy the fruits of his labor in 2018.
Mikki Mase - Beating Las Vegas
Mase has an extensive gambling background, and he had known this life before starting his professional gambling career. In his youth, he spent a lot of time surrounded by kids from wealthy Jewish families and Italian kids with ties to the underworld and played with them a lot throughout the city.
He and his brother even got his first fake ID from their grandparents, who wanted to take them to Atlantic City.
Thanks to all of this, when he retired in his mid-20s and was living in Los Angeles, he started making regular 3-4 day trips to Las Vegas to gamble. As he stated in one of his interviews, at this point, he was winning anywhere from 20 to 50 thousand dollars per trip, which hooked him to life, so he raised the stakes.
With the increase in stakes, he went from winning up to 50 thousand dollars per trip to winning 300 thousand dollars per trip. In the beginning, he played blackjack, more specifically double deck blackjack, but after some time, he decided to switch to baccarat.
Most people speculate about the truthfulness of these claims, but Mase never revealed his strategy. He is only adamant that he was not implementing the strategy of counting cards in baccarat. He also claims that his success comes from the fact that he is good at math and has the ability to keep his head cool in situations other players can't. At CasinoReviews, we can attest that such a combination of skills can indeed provide a significant edge in the high-stakes world of casino gambling.
To further increase his success, Mase even hired a gambling coach who regularly works with him and sharpeners his skills.
In one of his interviews, he was asked how it is possible to beat the house long-term in games where the casino has a clear edge over the long run. He responded, "If that is true, then why am I banned from the city of Las Vegas".
Only 4 baccarat players have been banned in Las Vegas history, and Mase is one of them.
He also stated that the approximate cost of the algorithm he uses to beat the casino is 50 million dollars.
This algorithm, as he calls it, brought him 11 million dollars in his last session ever in Las Vegas before he got banned. As he recalls it, it took 7 days of playing for him to make this amount of money.
After getting banned from the world's gambling capital, Mase started gambling in Los Angeles, offshore, and in private games. Mikki Mase poker skills have come to light at the poker tables in the Hustler live casino show, even though he only started playing this game seriously when the pandemic hit.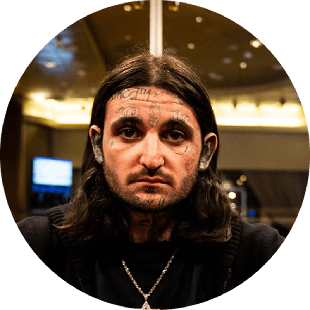 "I am down to gamble, I am down to have some fun."
Mikki Mase
Mikki Mase Net Worth & Winnings
When it comes to Mikki Mase net worth, there is a lot of speculation because there is only a limited amount of information that can be found online.
One of the main sources for this kind of information is his Instagram account, where he regularly posts alleged casino winnings that are well in the millions.
There are a lot of fake gambling gurus online these days, so some people speculate that Mase isn't a winner over the long term and that he instead uses the money he made from running rehab clinics and pharmacies in Florida to fund his lifestyle.
With this said, based on the limited information on forums, social media, and other sites, Mikki Mase net worth is somewhere around $10 million.
What Has He Been Up to Lately?
Thanks to the recent activity on Mikki Mase Instagram profile, and the fact that he has become a public personality, it is not hard to find out what kind of a lifestyle Mase has been leading ever since the pandemic ended.
His routine consists of partying, gambling at international and UK online casinos and hanging out with celebrities. If you look for Mikki gambler, you will see him in plenty of lush-life pictures with famous people, including athletes, rappers, high-stakes poker players, and porn stars.
But one thing that Mase is adamant about is giving up on different addictions, including alcohol, heavy drugs, coffee, or cigarettes, although he has been seen vaping on several occasions.
According to him, after working 18 hours a day for years, he can now finally enjoy the good life he secured for himself and gets involved in new business ventures only if he is sure that he will enjoy working on the project.
FAQ
Who Is Mikki Mase?
Mikki Mase, also known on Instagram as Dirty Goth Boi, is an entrepreneur, business owner, professional gambler, and poker player. Mikki Mase real name is Michael David Meiterman, and he made his fortune in the pharmaceutical industry before he decided to sell all of his businesses and start a life as a professional gambler and a social media influencer.
His Instagram account became viral after he started posting pictures of large sums of money allegedly won at some of the top casinos in Las Vegas.
Who Is Mikki Mase Gambler?
Mikki Mase Gambler is just one of the many aliases Michael David Meiterman, also known as Mikki Mase, goes under. This could be his genuine nickname or just a marketing trick that aims to build up his image as a high-stakes gambler.
Apart from becoming popular on social media, he can also attribute a part of his fame to the fact he has been going head-to-head against some of the top poker pros in the Hustler live casino show.
How Much Is Mikki the Gambler Worth?
It is hard to come up with a correct number, but based on the online information, Mikki Mase net worth should be north of $10 million. This is mostly based on the amounts he has been posting on his Instagram account and the stakes he has been playing at the poker table.
He claims that his stake per hand of blackjack is $250 000, and if this is true, then his net worth has to be several times bigger than what the people on the internet are guessing, but we are yet to see this in action.
Why Is Mikki Not Allowed in Casinos?
Mikki Mase is banned from all casinos in Las Vegas. Although the casinos don't disclose the information regarding the people they ban, Mikki claims that he was banned for being a winning player, more specifically for winning millions playing baccarat and blackjack in Las Vegas.
In the city's history, only 4 baccarat players have been banned, and Mase is one of them. He says that while the 3 other players have been banned because they used what the casinos claims are illegal methods, he never engages in these activities because he has a proven algorithm that makes him money at the tables.