Kakegurui - Compulsive Gambler – The Best That Gambling Anime Can Offer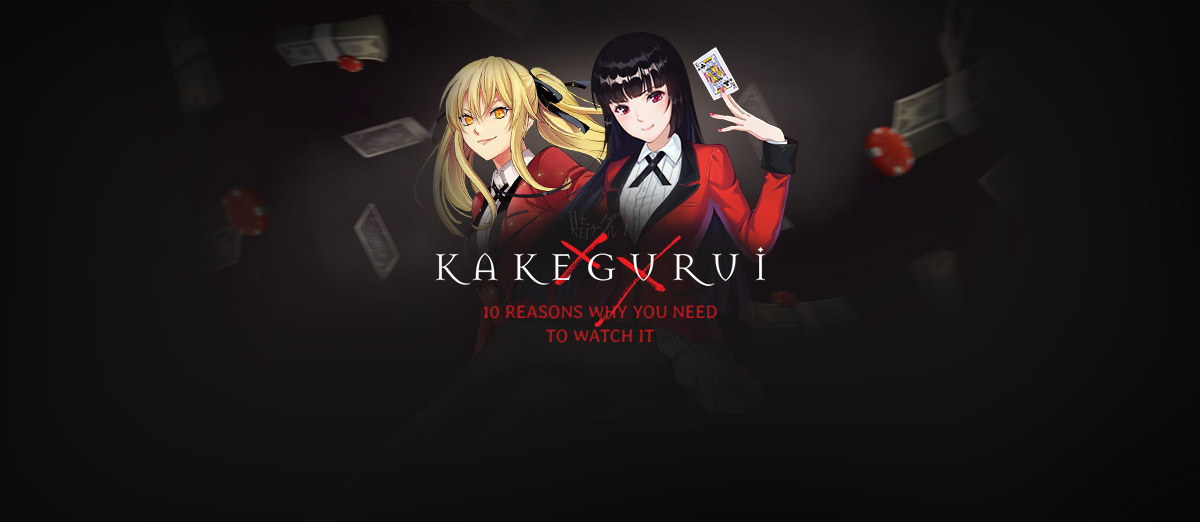 Kakegurui is one of the most popular anime shows on Netflix, and with just two seasons out to date, you can quickly blow through the entire series in a couple of days.
That said, this series is a bit controversial, and if you are looking to figure out is Kakegurui as good as they say, you are in the right place. We'll go over the central premise and discuss the top ten reasons why you should consider watching Kakegurui - Compulsive Gambler.
What Is Kakegurui About?
This compulsive gambler anime show is set in a high-class elite school called Hyakkaou Private Academy. It teaches the children of Japan's wealthiest and most influential families to be the leaders of the future, but like always, you can find a twist in the plot.
Student hierarchy in the academy is not determined by classic factors like academic grades or athletic abilities. Instead, the students are ranked based on their gambling performance.
The students establish their positions by their financial contributions to the Student Council, which runs a system where all of the children can bet against each other every day after class.
Winners earn prestige and become more influential, while those who lose fall into debt and become slaves to the other students, often getting referred to as "Pets." Pets can repay their debts over time, but they get "Life Schedules," which dictate everything they must do to pay the debts with their lives if they fail to do this.
The central premise of the series revolves around second-year student Yumeko Jabami. At first impression, Yumeko is charming, intelligent, and bound to be popular as a newly-transferred student to the Hyakkaou Academy. But, as we get introduced more to her character, we learn that Yumeko is a compulsive gambler who likes to gamble just for the thrill of it.
This makes her different from all other students at the academy, as others do so for financial or social gain only. Unaffected by the academy's rules and with uncontrollable gambling urges, Yumeko quickly disrupts the entire school's hierarchy and draws the attention of the Student Council.
Does the Kakegurui Anime Have Explicit Content?
The premise of Kakegurui is pretty exciting and unusual. But one thing you should also know before you start watching it is that it's filled with hyper-sexualization of high schoolers and has some fairly heavy S&M undertones and references. Of course, the yandere faces are also a common sight. This is no surprise, as many anime shows have this to a certain extent, depending on the target audience.
That said, the anime adaptation is noticeably less explicit than the manga comics. Moreover, these themes are just recurring from time to time, as the main theme of the entire series never shifts too far from the social commentary on gambling addictions, problems with getting in debt because of gambling, and short but impactful highs that come with winning these games.
The World of Kakegurui
Stepping outside of the context of the Netflix show, Kakegurui has seen wide recognition in many other series over the years.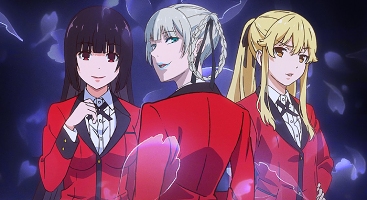 It's been adapted through different drama shows and even released as a theatrical film and a videogame. So, if you like the Netflix adaptation, you can jump into plenty of other content related to this manga and its characters.
The manga itself is extremely popular. As of February 2019, the Kakegurui manga had over five million copies in print. One of the major reasons for this is certainly that gambling is still a bit of a taboo topic in Japan, as most forms of gambling are illegal in the country.
Literally translated from Japanese to English, Kakegurui refers to a person that's obsessed with gambling.
Considering the plot we discussed above, Kakegurui is a perfect name for this unique and exciting Netflix show. It covers the dangers of obsessively gambling, especially at a young age.
Top Ten Reasons Why You Should Consider Kakegurui - Compulsive Gambler
The Kakegurui anime certainly has a lot to offer and is an extremely entertaining show, but with so many other anime available on Netflix, why should you give this one an edge first? If you're on the fence about whether you should watch this anime series or not, here are the top ten reasons to consider Kakegurui Compulsive Gambler.
10. It Comes from Square Enix
If there's one entertainment company that manages to deliver year after year, it's undoubtedly Square Enix. This Japanese entertainment conglomerate has been in the industry since 1975 and is responsible for some of the best publishings and video games.
Square Enix is primarily known for hit games like Final Fantasy, Dragon Quest, and Kingdom Hearts. Looking at their manga comics, Square Enix has published some great comics through its Gangan Comics publishing division.
Some of the best-known ones include Soul Eater and Full Metal Alchemist. The latter is the most successful Square Enix manga, with over 64 million volumes sold worldwide. Coming from a company with such a reputation, you can have faith that Kakegurui will deliver.
9. The Manga Itself Has Received Great Reception
The Netflix series is an adaptation of the Kakegurui manga, which was written by Homura Kawamoto and illustrated by Toru Naomura.
The comic has been serialized in Gangan since March of 2014 and since 2017 in English-speaking markets. While it wasn't mainstream until the show landed on Netflix, it always enjoyed great reception and a loyal fanbase.
8. Kakegurui Offers Great Potential
As we've mentioned above, Kakegurui delivers a surprisingly rich world that the writers and animators could significantly expand upon in the following years. Like many other popular anime and TV shows, Kakegurui could expand through different sequels and spin-offs. Moreover, there's already one spin-off manga series called Kakegurui Twin, so there's already potential for more shows coming from the same world.
7. Netflix Is Not a Stranger to Great Anime
There's not much argument about Netflix being the best-known and most influential streaming platform in the world. It features tons of content and a good deal of anime shows. But, apart from quantity, Netflix has an impressive selection of anime shows in terms of quality.
With shows like Attack on Titan, Death Note, and Castlevania, Netflix knows what its anime viewers want and doesn't fail to deliver.
While the availability of some other shows might depend on which Netflix version you're using, Kakegurui is one of the top series to watch on the platform.
6. The Animation Is Done by MAPPA
MAPPA is a Japanese animation studio that's been in business for over a decade. It was founded by Masao Maruyama, a very influential personality in the world of anime. Over the years, MAPPA produced some fan-favorite shows that are still heavily watched today.
Some of MAPPA's best-known shows include Kids on the Slope, Terror in Resonance, and the final season of Attack of Titan, among many others. With such a lineup behind them, there's no doubt that Kakegurui is one of many great shows to come from this company.
5. Yasuko Kobayashi Is One of the Main Writers
While Homura Kawamoto wrote the original manga, the Netflix serialization has onboarded the famous Yasuko Kobayashi for both seasons. Kobayashi has been in the business for almost three decades, and her career resume includes some iconic anime shows.
Kobayashi's career began with Tokusou Robo Janperson, and since then, she has written for some world-famous anime shows like Yu-Gi-Oh, Attack on Titan, and Jojo's Bizarre Adventure. So, besides excellent animation from MAPPA, you can also expect great storytelling from Kawamoto and adapted by Kobayashi.
4. The Series Targets a Wide Audience
Most manga comics and anime TV shows target "Shonen," which is the age group that primarily includes young teen boys. Some of the popular Shonen anime shows are Astro Boy and Dragon Ball, which enjoy an audience of boys between eight and eighteen years of age.
While Kakegurui still primarily targets teens, it's diverse and deep enough to be entertaining and interesting even to young adults and adults. There's enough story for everyone to be addicted to the show and keep close attention to everything happening from episode to episode.
3. The Second Season Is Even Better than the First One
It's often disappointing when you get engaged in a fantastic first season only to get let down by later seasons failing to deliver the same quality. Luckily, this is far from the truth when it comes to Kakegurui by Netflix.
While the first season of the series is very immersive, the second season is arguably even better. So, you can relish in the feeling that the episodes will maintain their quality or only get better as you load up one after another.
2. Yumeko Jabami Is a Terrific Female Lead
Manga comics and anime series often focus on male protagonists and male antagonists. Plus, even in some shows with a female hero, it is often in the form of a romantic female lead that is not the main focus of the story. Still, this is perfectly understandable, as most publishings target the Shonen demographic, as we've mentioned above.
With new trends in filmmaking, female protagonists and antagonists have become commonplace in the entertainment industry. This gender-equal portrayal is certainly a very positive thing, as it opens up many possibilities in an entertainment branch that wasn't this way until recently.
Kakegurui's main character Yumeko Jabami displays many strong traits, making her a very likable person and showing a good image of a confident and secure young woman, despite some of her less desirable traits, such as her fondness of gambling.
On the other side of the coin, the show's main antagonist Kirari Momobami also displays many stereotypical male traits.
1. Kakegurui Is an Insight into Japan's Relationship with Gambling
Over the past century, Japan has had a turbulent relationship with gambling. Today, playing most casino games for real money is explicitly illegal in the country. Despite this, gambling is ingrained in Japan's culture, as Japanese people are very fond of a unique gambling game called Pachinko. A few years ago, an official survey estimated that Pachinko players in Japan bet over $200 billion on this game alone.
All of this means that gambling is very popular in Japan but isn't widely addressed, which often leads to many problems. In this context, Kakegurui is an excellent commentary and insight into the country's taboo stance towards gambling. Through its plot, Kakegurui addresses the highs and lows that come with every gambling experience.
It's one of the very few anime that even mention gambling to such a degree, so it's breaking new ground in educating younger generations on the potential dangers of compulsive gambling. Being so open on problem gambling is essential, especially considering that covering this topic is extremely difficult in a traditionalist society like Japan's.
Summing It Up - Is Kakegurui Worth Your Time?
With just 24 episodes in total for the two seasons, the Kakegurui anime by Netflix is just the right length to keep your attention and engross you in an entertaining story. While we've stayed away from any major spoilers, we've enticed you enough to consider loading up an episode of Kakegurui and giving it a try.
When you do so, you'll likely find yourself quickly reaching the end without realizing how much progress you've made with this show.
Whether you're a fan of gambling, anime, or both, Kakegurui is undoubtedly a great show to watch.