A Kindred Journey – How the Swedish Group Has Become a European Leader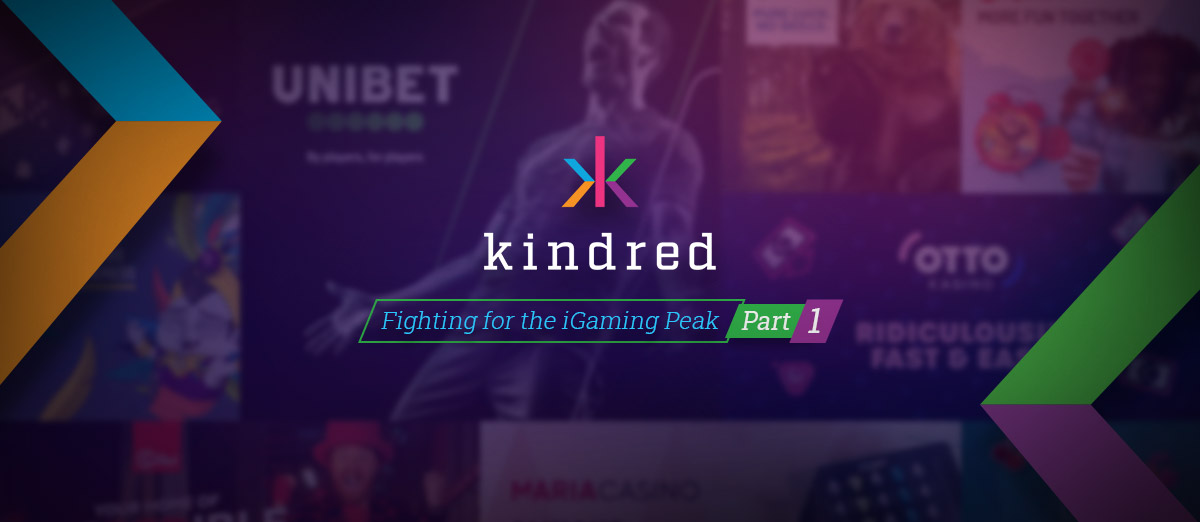 It was 1997, and in a small high-rise apartment in Earl's Court, central London, Swedish entrepreneur Anders Strom founded his second company that would go on to reach stratospheric heights.
Having dropped out of university five years previously, where he was studying mathematics, statistics and economics, Strom first launched a sports analytics company in Stockholm, where he was CEO until he decided to leave.
What followed next has been arguably his biggest win, with Unibet Group PLC launched at a time when online gambling was still very much in its infancy. With the big UK high street bookmakers in transition having not really realized the industry's true potential online, Strom, with his prior experience heading an internet company, fully understood this opportunity.
Gambling was already part of his character, though this, it turns out, was a sure thing - new software providers had started to emerge a couple of years previously, Strom's fellow luminaries also seeing a glaring gap.
Even Victor Chandler had closed his high street operations and completely relocated to Gibraltar, where he would lead his company through the online gambling revolution - again, a risk at the time, though one that would eventually pay dividends.
Gaps in the Market and Forward Momentum for Unibet
In the late nineties, the internet was still seen as somewhat of a luxury in households across Europe and certainly the UK - a considerable percentage did not even have a computer. At the same time, smartphones would not arrive on the scene until over a decade later.
For 27-year-old Strom, it was a future play, looking at how important the internet would become in the years that followed. This conviction helped him to effectively map out his thoughts on what would become an entirely new industry.
In 1998, Unibet was granted its UK license, starting with allowing gamblers to make bets over the telephone, with the infrastructure built to handle transactions both ways, using deposits and a merchant account where all player's funds were held until the bet was settled.
A year later, Unibet launched its digital division, with websites created in English and Swedish. Following the swift success, it received its first international license to operate in Malta which covered several European jurisdictions at the time.
The growth that followed was almost unprecedented. In 2001, the company expanded its website into 12 languages, reaching 50 different countries, while in 2002, this increased to 80, along with 200,000 users that were registered on the site.
Related:
It was somewhat of a crucial period for the Unibet Group, with other online gambling firms launching in a couple of years prior, which meant increased competition. While they might have been one of the first, it had never been more important to maintain its upward trajectory.
The company was now also competing with the likes of Coral, Ladbrokes, and William Hill, all of which have moved online, but with a far greater customer base and brand awareness, which essentially made it easier for them to acquire a bigger share of the UK market. However, even at this stage, a considerable percentage of these customers still had not been fully convinced about betting online, especially the older generations who had concerns over things such as the security of the bank details.
For Strom, whose expertise revolved around internet infrastructure, it was almost second nature for him to understand the mechanics needed to create an online betting site that ticked off every box. Of course, the site was improving year-on-year, leveraging improvements in technology to be able to dispel the biggest customer concerns while, at the same time, marketing to a savvier market that understood the potential of the internet.
By 2004 - just five years after launching online, such was the company's growth that it listed on the Stockholm Stock Exchange (NASDAQ Stockholm) in Sweden, helping to set the stage for the next big growth phase - one which would further demonstrate the luminary vision of Strom.
Strom and Unibet Builds on the Foundations
Arguably ahead of its time and more in anticipation than anything, Strom sanctioned the development of version one of Unibet's mobile site, realizing that big strides were being made in telecommunications.
By this point, most people in the UK and around Europe were online, at least with a computer, if not a laptop, with these having become more affordable, in addition to broadband, with more companies having launched to provide competitive monthly rates to customers.
Undoubtedly, this was one of the major reasons for the considerable growth in users, many of whom were beginning to adjust to the fact that online gambling was likely here to stay.
Due to its success, Unibet Group was beginning to position itself strategically for the next obvious growth stage, which is seen as a natural progression in most industries for ambitious companies looking to add more assets to their portfolio.
This was, of course, acquisitions, with Unibet identifying a couple of companies that were prime for takeover and also helped to expand the company into new industry sectors and other markets showing signs of potential.
Initially, the Maltese brand Maria Bingo, which soon became Maria Casino, was bought for £54 million in a bid to significantly strengthen its position in the bingo sector. The holding company was a Swedish investment firm, Maria Invest AB, which following Unibet obtaining total control of this and the associated brands, soon became Maria Holdings Ltd.
At the time, Maria Invest AB had under its ownership what was perceived to be several domains with high-ranking potential, including MariaBingo.com and MariaCasino.com, while Maria Holdings Ltd swiftly sanctioned the purchase of Bingo.se.
CEO of Unibet, Petter Nylander, revealed the advantages that this acquisition brought when the deal was completed: "With this acquisition, we will strengthen our position in the Nordic region as well as within the fast-growing online bingo market. Unibet is today the leading private gaming company among men, and with this acquisition, we will also be leading among women."
Meanwhile, Jorgen Nordlund, CEO of Maria Invest, explained: "We strongly believe that the combined Unibet and Maria product offering, structural capital, and top talent will create a unique European gaming operator with four strong product pillars and substantial growth potential."
This strategy started to become almost the 'status quo' for many gambling companies that had started in the late nineties and early 2000s. Their swift growth enabled them to understand that this was an industry that was essentially here to stay for the foreseeable future.
Not long after its acquisition of Maria Invest AB, Unibet Group pounced again, not wasting any time to lodge a bid for Bingo.com for a reported $8 million, keeping its momentum in the increasingly growing yet still young online bingo scene.
Interestingly, at the time, the CEO of Bingo.com, Jason Williams, spoke about the difficulty for smaller firms to keep up the pace in the marketplace, suggesting: "The online gambling industry as a whole is experiencing conditions of maturity where smaller firms are finding it increasingly difficult to compete. Bingo.com's European gambling business, built with the www.bingo.com brand and URL, has therefore found it difficult to compete effectively with larger operators."
He continued: "In response to these facts, the Bingo.com management team decided it was in the best interests of the Company to sell the online gambling business; the associated brand, and URL and determined the offer negotiated with Unibet, the Company's own online gambling partner and technology provider, was fair and the best offer available to the Company for those assets."
Strong Financial Performance Exemplifies Continued Growth
At the same time, Unibet Group was still witnessing a surge in online gambling participation, with the industry becoming even more accessible across Europe, while continued marketing efforts helped to raise brand awareness.
Related:
This certainly reflected in the figures. Indeed, Nylander illustrated the positive response from its markets, highlighting: "Our well-balanced product portfolio and customer offering has resulted in growth in gross winnings of over 50 percent and growth in profit from operations of over 70 percent year on year.
The focus on cost control and the investment cycle over the last two years coming to an end has resulted in higher margins and a drop in capital expenditure of 34 percent.
Our strong business model has delivered an increase in the adjusted operating cash flow of over 170 percent year on year.
During the first six weeks of 2009, we still see a healthy growth in the business. This is why we reiterate that given the growth in the online gambling market, it is difficult to determine what impact the actual financial situation in the world has on our business model.
At a time when mobile gambling was really starting to come into its own, Unibet Group continued with the acquisition strategy - a flurry of smaller ones that would take it into other markets - particularly with the purchase of French-based Solfive and Australian firm Betchoice. Soon after, Casinohuone and Kolikkopelit came under the Unibet umbrella as the group began to expand into Finland.
According to its annual report, in 2010, Unibet could account for just over five million registered users globally, translating into £33.8 million in earnings before tax. The football World Cup that year presented a noticeable leap in registrations, thanks to aggressive and clever advertising. At the same time, the Nordic territories made up the firm's biggest region in terms of numbers. One of the reasons for the significant uplift in customers because of the World Cup was because of an astute World Cup predictor game; a softer marketing initiative that ultimately had a conversion rate of 18.33 percent via Facebook, attracting just shy of 57,000 new customers.
Unibet's B2B 'Perfect' Gamble Begins to Pay Off
Unbeknown to many, Unibet actually has its own affiliated B2B (Business-to-Business) division, in the same way, that 888 Holdings started Dragonfish to look after its in-house technology requirements for its brands, as well others.
In Kambi, which translates to 'perfect' in Japanese, Unibet was able to leverage technical expertise to service its own brands, as well as operators in other markets. Beginning with just 80 employees, this has since catapulted to well over 800 and counting. Also, forging a reputation in the software niche of the online gambling industry, Kambi's expertise helped the Unibet Group to further establish it as a force to be reckoned with.
With offices scattered around Europe, it is almost a brand itself - a remarkable feat for a technology company that services the online gambling industry. Yet, despite this, even the B2C (Business-to-Customer) market is aware of its products.
The service package that Kambi offered clients was simple and well-structured. It ranged from full-scale sportsbook provision that included odds compilation and coverage of over 3,500 live events per month in 2011 to comprehensive risk management, second-line support, and pool betting products.
It was this transparent and well-structured solution that enabled Kambi to land its first client in 2010, and it has never looked back. Indeed, such success was recently reflected upon by Kambi COO Erik Logdberg, who revealed: "In the first few years of Kambi, we worked to establish a new model; the model of outsourcing as a viable option in the market to create the sportsbook.
And in the last few years, this model has really proven itself. I think it's safe to say you can see the efficiency both in our customers' results and, of course, in our balance sheet.
And we now have many operators across the globe in partnership with us going head to head with the leading B2C sportsbooks, and they do this at a lower cost.
Despite this, however, outsourcing as a model has not yet established itself as the obvious choice of how to do sports betting; this is, of course, where Kambi wants to take it and where we think we can take it.
It was arguably this progression and transition into the B2B niche that helped the group to really be able to shoot for the stars.