Doug Polk – WOW Player Became the Best Heads-Up Poker Player Worldwide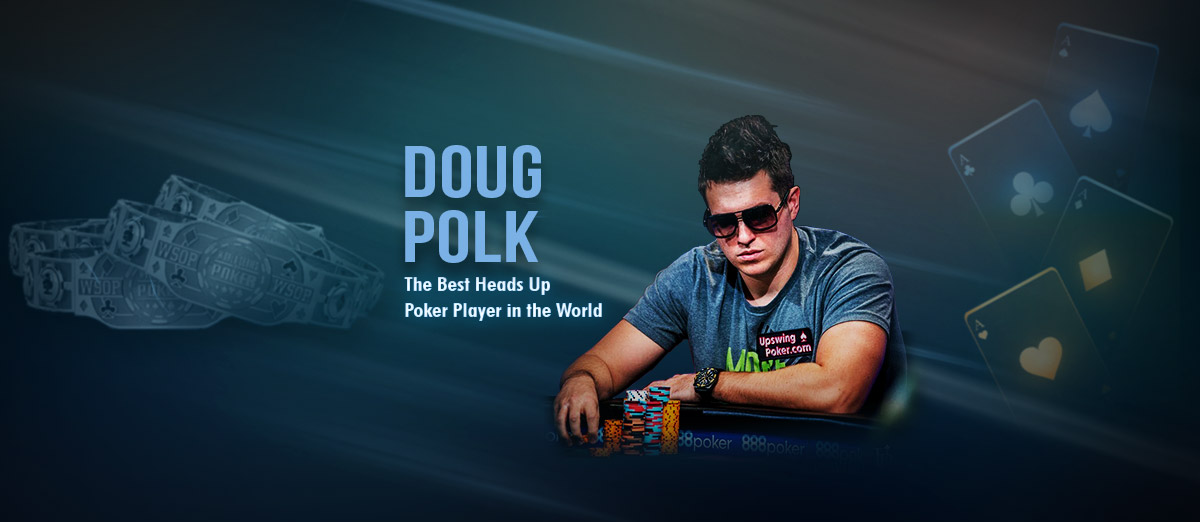 Doug Polk is an American professional poker player who is considered the best heads-up No Limit Hold 'em player in the world.
He is one of the few poker players who have won multiple World Series of Poker bracelets while being considered an online cash game specialist among all famous gamblers.
In addition to the WSOP wins, another testament to his poker greatness is the multiple victories in poker challenges against both human and artificial intelligence opponents.
Full Name
Douglas K. Polk
Net Worth
$ 10 million
Source of Wealth
Professional poker player and content creator
Famous for
Being the best online heads-up player in the world
Born
December 16th, 1988, Pasadena, California, US
This article explores how he transformed from a professional World of Warcraft player to one of the best poker players in history. We will also discuss Doug Polk net worth, WSOP wins, heads-up challenges, and more.
Doug Polk Highlights
Highlights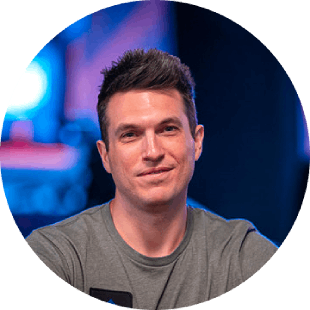 Considered the best heads-up cash game player in the world
Won 3 gold World Series of Poker bracelets in his career
Final tabled 5 World Series of Poker events
Won a heads-up match vs Ben Sulsky
Won a heads-up match vs Daniel Negreanu
Holds a record for the largest poker tournament score on Twitch, with $455,000
Part of the team that won the Humans vs AI poker match
Doug Polk Early Life
Douglas K. Polk was born in Pasadena, California, on December 16th, 1988. Ever since he was a young kid, Polk showed interest in strategic games, so his father taught him to play chess to develop these skills.
After moving from California to North Carolina, Polk graduated from Wakefield High School and started playing World of Warcraft III competitively. During this time, he participated in several World Cyber Games and helped other people to become better at the game.
He would later use the acronym for World Cyber Games to create his poker online screen name "WCGRider."
Polk enrolled at the University of North Carolina after finishing High School but did not stay there long. Instead, he decided to find a job and start making money to support himself. However, after changing several traditional jobs, he decided to try and become a professional poker player.
Trying to Become a Professional Poker Player
This is where his background in chess and WOW became relevant, as he was able to learn the game much faster than most other players. His poker journey started on PokerStars, where he played the lowest available stakes - $0.01/$0.02 cash games.
He did not have much trouble rising through stakes on PokerStars until he reached NL25. By his recall, this stake gave him the most trouble in his poker career, as he spent almost a year being break-even until he finally made the breakthrough.
He was able to consistently get better and beat every stake in a reasonable amount of time from that point up until 2009, when he went on a downswing at full ring mid-stakes after running approximately 80 buy-ins under the expected value.
This is when he would make the best move in his poker career and transition to heads-up No Limit Hold 'em cash games. In a matter of months, he went from playing full ring mid-stakes to playing $50/$100 heads-up games.
However, this would not be the end of his struggle in poker, as he hit a rough patch during most of 2010 and 2011. Although this was one of the toughest stretches in his poker career, he did not let it get to him and continued to work on his game.
The hard work paid off, and he not only became part of some of the highest heads-up cash games but was also considered a crusher in them. In fact, for most of the poker community, he was regarded as the world's best heads-up cash game player.
Unfortunately for Polk, after most of the regulars in these games realized this, they did not want to play against him anymore, leaving him without opponents and a big dent in his volume.
Doug Polk vs Ben "Sauce123" Sulsky
After realizing he was out of opponents, Polk arranged a heads-up match against a fellow heads-up crusher Ben "Sauce123" Sulsky. As it turned out, the match would attract a lot of attention from the poker community, as poker players worldwide wanted to find out who was the king of heads-up poker.
The challenge consisted of WCGRider and Sauce123 playing 15,000 hands of $100/$200 heads-up No Limit Hold 'em with an additional side bet worth $100,000.
When it was all set and done, Polk won around $740,000 from Sulsky and the side bet. With this win, Polk sealed his place as the number one heads-up poker player in the world.
There is no denying that throughout his career, Polk had much more success in online games than in live poker. However, he still managed to put his name on multiple World Series of Poker bracelets, which many live poker legends haven't done.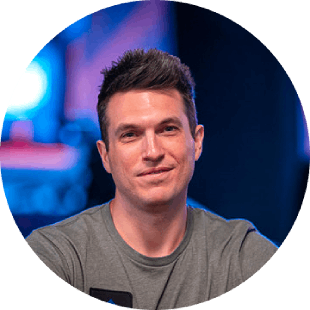 "I'm just trying to stack people and win money."
Doug Polk
Doug Polk World Series of Poker Wins
Up to this point in his career, Doug Polk has won 3 World Series of Poker bracelets and final tabled 3 more events.
His greatest WSOP achievements started in 2014, when he won the $1,000 Turbo No Limit Hold'em and took home $251,969.
After coming home empty-handed the next year, he would add more silverware to his name in 2016. At the 2016 World Series of Poker, he played in the $1,000 Tag Team No Limit Hold 'em event with his friend Ryan Fee and won 1st place for $153,358.
The following year, he triumphed in the $111,111 High Roller for One Drop No Limit Hold'em event, in which he received a whopping $3,686,865 for first place.
Doug Polk vs Daniel Negreanu Feud
During his poker career, Polk has been known as a person who doesn't shy of letting other people know what he thinks about them. It was exactly this trait that brought him a feud with another poker legend, Daniel Negreanu.
In 2016, after Negreanu made some questionable comments to justify the rake increase that PokerStars made and Polk was one of the first people to call him out for this.
If this tweet gets 1k retweets I will come back to poker for a No Limit Hold'em heads up for rolls grudge match against Daniel Negreanu.

He wont do it though, cause he knows he has no chance to win. https://t.co/L8P2CkJNrH

— Doug Polk (@DougPolkVids) July 28, 2020
After years of going back and forth on social media, the two decided to settle their feud in a high-stakes heads-up match in 2020. They were to play a minimum of 12,500 hands of $200/$4000 No Limit Hold 'em, with the losing player having the option to ask for another 12,500 hands to be played.
Polk proved to be too much for Negreanu, and when the dust settled, the Poker Hall of Famer lost $1.2 million to the heads-up cash game specialist.
After the challenge, they settled their differences and ended a four-year social media war.
The Founding of Upswing Poker
In 2015, Polk and two other poker professionals, Ryan Fee and Matt Colletta, founded a poker coaching website called Upswing poker. The site offers all kinds of poker strategy courses and a forum that is aimed at poker players who want to improve their game.
In May of the same year, he was chosen alongside 3 other professional poker players, Jason Les, Dong Kim, and Bjorn Li, to be part of the "Brains vs Artificial Intelligence" challenge. The match saw professional poker players compete against Claudico, an AI from Carnegie Mellon University, in heads-up poker.
The poker pros beat Claudico for more than 700,000 chips, and Polk was one of the best performers, with 213,000 won.
Polk started becoming increasingly involved with social media to promote his new training site in 2016. In addition to becoming a Twitch streamer, he also started his own YouTube channel Doug Polk Poker.
Polk's Twitch stream was more than successful. In addition to promoting his training site, he also managed to make some deep runs in tournaments while streaming. In April of 2016, he set the Twitch record for the highest win in a poker tournament with a $162,951 win, only to break his own record by winning $455,000 in a WCOOP event a couple of months later.
Polk also streamed a cash game challenge in which he turned $100 in $10 000 throughout some 50ish sessions that were played over two years.
Doug Polk Net Worth – How Much Is the Heads Up Specialist Worth?
Not long after he "retired" from poker, Polk uploaded a screenshot of his Heads Up graph on his Instagram profile. The graph contained data about 300,000 hands from 2011 onwards and showed a total winning of more than $3.4 million.
In addition to his online cash game winnings, he is also 120th on the Poker All Time Money List with $9,596,008 in live tournament cashes.
If we consider his online tournament winnings as well as his other streams of revenue like his Twitch stream, YouTube Channel, training site, and his poker room, it is safe to assume that Doug Polk's net worth is well over $10 million.
Where Is Doug Polk Today?
After completing the $100 to $10,000 challenge, Doug Polk announced his retirement from poker. But as it later turned out, the Negreanu challenge made him return to poker again in 2020.
In 2022, Polk teamed up with two other poker players and vloggers, Andrew Neeme and Brad Owen, to open the "Lodge Poker Club" in Austin, Texas. He can now be seen playing in the poker room's highest available cash games.
Since becoming a YouTuber, the former heads-up specialist has dedicated much of his time to discuss the newest events in the poker world. Like with everything else related to poker, he has been pretty successful, which can be seen by the number of subscribers on his channel. Doug Polk Tweeter account tells us more about what he's been doing recently.
I'm now officially a partner of the @LodgePokerClub here in the Austin area.

This video explains my plans: https://t.co/kr2JLi15or pic.twitter.com/GsYNrimcee

— Doug Polk (@DougPolkVids) January 3, 2022
FAQ
How Much Did Doug Polk Win from Daniel Negreanu?
During 25,000 hands that were played in the so-called "Grudge Match," Doug Polk won $1.2 million from Daniel Negreanu at $200/$4000 No Limit Hold 'em.
Does Doug Polk Still Play Poker?
Although Polk announced his retirement from poker in 2018, he became involved with it again after the challenge with Daniel Negreanu.
Nowadays, he can be seen playing high stakes at the Lodge Poker Club, which he co-owns.
How Many WSOP Bracelets Does Doug Polk Have?
Up to this point in his career, Doug Polk has won three WSOP bracelets. In 2014, he finished first in the $1,000 Turbo No Limit Hold'em and won $251,969.
In 2016 he won the $1,000 Tag Team No Limit Hold 'em event with Ryan Fee for $153,358, and his last bracelet came in 2017 when he was triumphant in the $111,111 High Roller for One Drop No Limit Hold'em event and took home $3,686,865.
What Does Doug Polk Do Now?
Doug Polk is still pretty much involved in poker, although he spends most of his time talking about poker-related content on his YouTube channel, where he has amassed over 300,000 subscribers.
He also still plays poker, mostly in his own poker room, the Lodge Poker Club.
How Old Is Doug Polk?
Doug Polk was born on December 16th, 1988, making him 33 years old in 2022.