Could the US Become the Largest Regulated iGaming Market?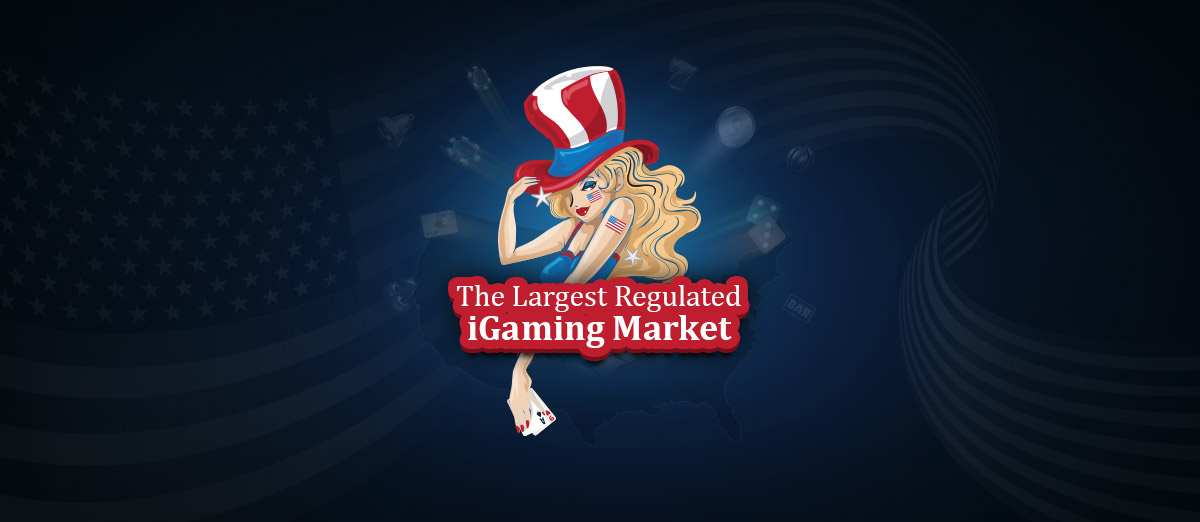 "A new power is rising" - this being one of the most popular movie memes and taken from a quote in the second instalment of the Lord of the Rings trilogy, illustrates a new force awakening in 'Middle Earth' and one that perhaps, fittingly describes the latest mover and shaker in the highly lucrative iGaming industry.
Similarly, "One ring to rule them all", another that can also perhaps be a fitting analogy to describe how fast the US online gambling market is developing. As the legislation continues to be passed in numerous states across this ocean of motion, this could well be one whale that makes a splash that sends tidal waves across the entire industry.
For the last couple of decades, it has predominantly been the UK online gambling market that has perhaps influenced other smaller ones around the world, setting precedents and ways of doing things, which has filtered down, particularly across Europe.
However, the US is considered by a number of industry insiders to be one market in the industry that could very quickly and effectively overtake everyone else and become arguably the most powerful influencer.
According to Statista, the global online gambling market is projected to be worth $92.9 billion by 2023, while the online sports betting and fantasy sports betting market accounted for almost $8 billion during 2020 in the US alone, courtesy of new legislation being passed in several states.
However, since these studies, the passing of legislation in other key states has been expedited and as a result, this could help to blow these prospected figures out of the water, especially when considering the amount of merger and acquisition activity that has catapulted the US almost into a league of its own.
Live legal casino and sports betting
Live legal sports betting only
Legal, not operational
No legislation
Swipe left/right to see the entire map.
How It All Started in the US
Since the late 1800s gambling has always been rife in the US. An import from Europe, with immigrants sailing across the Atlantic, various forms of early gambling games were gradually introduced to a number of states including Mississippi on the steamboats. These games have slowly evolved into those that we see today and made their way to Las Vegas where the 'mob' effectively took ownership of the gambling scene.
While the traditional gambling market in the US, for a long time has been considered one of the most popular, especially when taking into account the resort of Las Vegas, which now attracts millions of visitors each year to hotel and casino enterprises such as the MGM Grand, in addition to Atlantic City, they have had to make do with just this.
In recent years, they even saw Macau overtake them, in terms of revenue due to wealthy Chinese visitors instead choosing the shorter journey and this could well have played some factor in certain states pushing for the legislation of online gambling. According to revenue figures in 2020, Macau eclipsed Las Vegas, by more than double with the former generating $7.57 billion and the 'city that never sleeps' producing $3.61 billion.
While the casino resorts of Las Vegas, Atlantic City and by extension, others around the world were experiencing the somewhat sobering effects of a global pandemic, the online gambling foundations that had already been put in place in the US experienced multiple benefits of people restricted to their homes as they sought entertainment.
Just How Big Is the US iGaming Market Currently?
To understand how the future might shape the size of the US iGaming market, it is first essential to get a picture of just where online gambling in its various forms is allowed and when they first had legislation passed. Below, we have provided a state-by-state outline of where online gambling is allowed in the US and how this might evolve in the future.
When it comes to understanding the size of the current online gambling market in the US, eagle-eyed analysts will perhaps have noticed one interesting trend, in terms of legislation.
For a long time, the state of New Jersey, home to Atlantic City, allowed online gambling in its many forms and some of these sites were online replicas of actual casinos that could be found on the boardwalk to make it more convenient for those loyal customers.
As online gambling grew over the years in the state with the help of the Atlantic City casinos - unsurprisingly New Jersey is the biggest in the US now in terms of revenue, generating $5 billion per year from its 20 casino sites. However, unbeknown to many, it wasn't the first state to have online gambling legislation passed.
Next door neighbour (to the south), Delaware actually became the first, when in 2012 state legislature passed a bill that they believed would transform its fortunes. However, the 62.5 percent tax rate that it imposes on businesses, combined with the small population means that it has had somewhat of an underwhelming response. Added to that, even today, there are still only three online casinos available to players.
One year later, New Jersey followed and with much success. It becomes obvious why online casinos want to operate in the Garden State when you consider that there is only an eight percent tax rate on all revenue from slots, which makes it the most favourable in the country, even today.
For five years, we witnessed a number of US-based online casinos start to establish themselves, particularly in New Jersey, no doubt anticipating the passing of wider legislation and positioning themselves strategically to take advantage when the time came.
The likes of Golden Nugget and Bally's (both of which have a resort in Atlantic City), have established themselves as major online presences in the US, in addition to multiple others and as a result, we have even seen some of them form partnerships with European online gambling companies.
In 2017, the state of Pennsylvania, (New Jersey's neighbour to the west), had online gambling legislation passed, though this came at a price for any start-up casino site in the state, with it costing $10 million for a license to operate there alone.
However, since passing legislation in the state, there has been an overwhelming response from residents, particularly from a sports betting perspective, which is one of the most popular online gambling niches in the state, perhaps aided by its numerous sports teams.
The majority of online casinos available to state residents are already major brands, many of which operate in New Jersey, though are all regulated by the Pennsylvania Gambling and Control Board (PGCB). In August 2021, the online casinos set a year-on-year state record for revenue, coming in at $408.1 million - an increase by 30 percent on figures from 2020.
In 2019, following the success of online gambling in Pennsylvania, after a cautious approach, the state of West Virginia (directly south) had legislation for online gambling passed. Over seven casino sites currently operate in the state, with most of these also offering sports betting.
Unlicensed but Still Legal?
This is perhaps another juncture that complicates matters when it comes to understanding online gambling in the US and the implications that could arise.
There are a number of states in the US where there are no laws that prevent residents from taking part in online gambling on sites that operate 'offshore', so, effectively Europe and which are regulated by the MGA (Malta Gaming Authority), for example.
In this respect, it means that residents in states such as Nevada (home to Las Vegas), Idaho and Massachusetts can access offshore gambling sites without worrying that they are breaking any laws. However, for some US operators at least, this presents potential problems.
While a number of European online gambling firms have begun to start obtaining US licenses (in partnership with a US entity), there could well be others who can still take advantage of custom from those states where it is legal for residents to access online casinos offshore.
For US sites especially, this means that there could well be a small percentage of players who are accessing sites that do not belong to them and as a result, are losing out on potential revenue.
Whether these states see the benefit of regulating online gambling (revenue from taxes), remains to be seen, though as the market continues to go from strength to strength, this will certainly present an interesting talking point.
Recent Legislation and the Implications of a Global Pandemic
Over the last couple of years, there has been a flurry of activity, in terms of the number of states that have had online gambling legislation approved and there is one glaring reason for this and, whether they would like to admit it or not, is likely to be the biggest reason why.
As a global pandemic swept across the world, halting all industry and infrastructure, it meant that activity dried up, forcing many businesses to close and governments into quantitative easing as they attempted to ease the strain on families. However, it also meant that the online gambling industry, in particular, grew significantly, as numerous people, in their homes with nothing to do, sought new forms of entertainment.
This combined with a lack of income to states, almost forced their hand as they realised the popularity of online gambling and, because of this, the amount of income that could be generated in taxes from operators.
Almost like a domino effect, online gambling legislation of states became approved, with Michigan, Illinois and Connecticut swiftly passing bills, while numerous others are waiting, including the previously, staunchly opposed states of California and New York. It has also seen Nevada apply for an official license so that online gambling can become legal, however, there is an argument that this might detract from the novelty that is Las Vegas.
Since bills have been passed, the state of Michigan has seen explosive tax revenue results, with September 2021 bringing in revenues of $126.1 million for both online casino and online sports betting combined; impressive figures for a state that only became licensed in January.
According to analysts, Michigan could easily surpass $1 billion in revenue for its first year, highlighting that this may well become one of the major states for online gambling, with the potential to eclipse even New Jersey and Pennsylvania.
Impact of the Fantasy Sports Betting Market
It wasn't always so cut and dry for the online gambling industry in the US, especially considering that sports betting was illegal in the majority of states until 2012, when Delaware and then New Jersey (a year later) approved this.
The compromise, though, came from two companies who combined the fantasy sports niche and the sports betting niche to create daily fantasy sports betting sites, citing that this was not illegal because it was essentially a game of skill. It saw the birth of DraftKings and FanDuel and although these sites were illegal in the majority of states, in New Jersey, especially, the response was considerable.
For sports bettors at least, it provided the perfect solution due to the fact that they could effectively still bet on sports, but in a different way; against other people like themselves, getting a thrill from the competition at the same time.
These platforms have grown considerably over the last few years, particularly DraftKings, who have since moved into the online casino business (discussed below) and have been at the centre of much controversy as they aim to take advantage of the opening up of legislation in many states.
Merger and Acquisition Activity and the Path That This Paved
Arguably one of the easiest ways to identify the growth potential of an industry is to monitor the merger and acquisition (M&A) movement. Over the last couple of years in the US, this has significantly increased, indicating many clues as to where the online gambling industry in the US is going.
When MGM Resorts International and Entain (previously GVC Holdings), entered into a partnership to create BetMGM in 2018, it was a potential clue as to where the industry was heading; especially when arguably the biggest online gambling conglomerate in the world takes a bet on such a venture.
Meanwhile, British bookmaking giant, William Hill had already been putting down roots in the US, albeit surreptitiously and had engaged in a similar venture. It was so that William Hill could operate in various Caesars land-based properties on the understanding that the US company shared the profits.
This, though, came to a head in late 2020 when the casino resort owner submitted a buyout offer of the UK giant for £2.9 billion which was a major statement as to where the US market was heading.
Soon after, at the beginning of the second quarter of 2021, Entain became the subject of an £8 billion takeover bid from Caesar's major competitor MGM Resorts International, however, the UK-owned corporation swiftly dismissed this.
Since, Entain, have once again been the subject of a takeover bid, this time from fantasy sports giant, DraftKings, who are understood to be in discussions over a spectacular $21 billion takeover of the firm that owns UK powerhouses, Coral and Ladbrokes, in addition to bwin and over 20 other brands.
Such a move by DraftKings would, overnight make them the biggest online gambling entity in the industry, but also send a message out to traditional owners such as Caesar's that they are not the biggest bully playground.
Competition in the US is no doubt fierce, and it isn't just operators. Caught currently in the eye of the storm, software providers to the industry in the US have also been quietly preparing for what could well be a whirlwind 2022 and positioning themselves strategically to take advantage.
In what is becoming the most interesting arms race in business arguably of the last decade, there is no doubt that this has legs to it, and they are no longer faceless corporations. Companies have been very public about what they are doing, especially when it comes to new senior appointments. The message, very clear; always referring back to being able to offer a better and smoother experience to players than any others. Subtly stating the benefits; games and slots from the best software providers, seamless integration, quick response time, it goes on.
And not just that. As part of another strategic play, we have seen a number of major operators align themselves with sports teams so that they are the exclusive betting partner, as stadiums start to fill up once more. Indeed, the most recent of these deals came with Points Bet and the recently inaugurated MLS side Austin FC, which will see them take stadium naming rights as well as lead the advertising around the venue to the thousands of fans.
This type of venture will just be the tip of the iceberg in the US market, with the US by nature, considered the kings when it comes to global marketing. While they may not have the crown in the online gambling industry just yet, the M&A industry will play a significant part over the next year as to whether this becomes a reality.
A new power might be rising, but for now, it is the deep calm before the plunge.