Entain's Adaptation to the Developing Global Gambling Market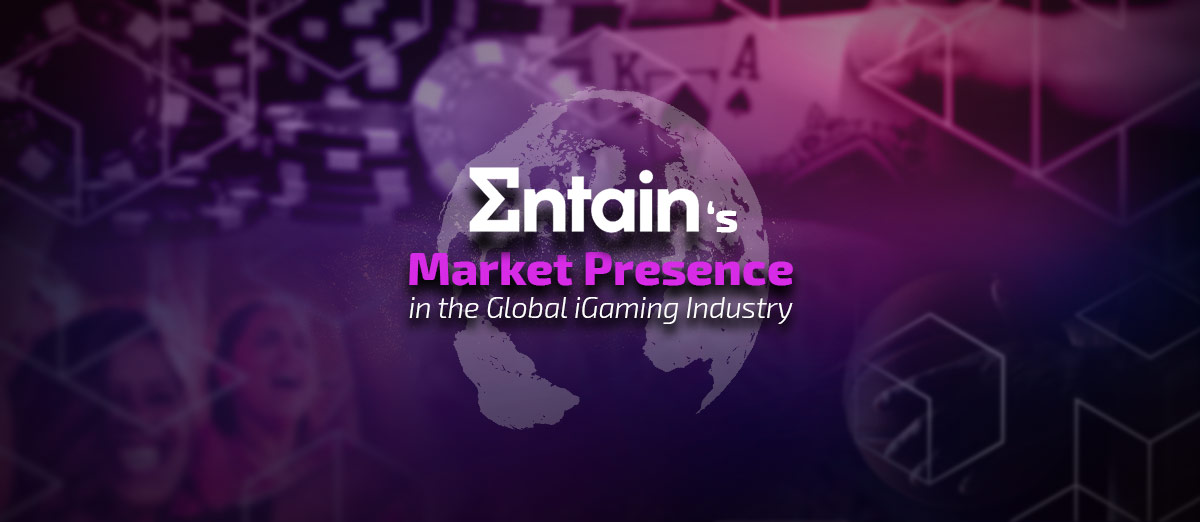 Over the last couple of years, we have witnessed the birth of a new animal, one that almost immediately signaled its intention to become a big fish in an ever-growing pond. Since it can be forgiven for thinking it has transitioned into a whale, - the US iGaming industry has sent not just ripples but a tidal wave across the entire global market.
Prior to this, the UK online casino industry arguably held the title of being the largest, most lucrative in the world, and there was only one entity to be reckoned with. Behemoth Entain was, by all accounts, 'Moby Dick' - now many firms from across the Atlantic have breached its waters. Is the tide turning?
Previously GVC Holdings, Entain has well in excess of 25 online brands under its ever-increasing umbrella - arguably protected enough to shield itself from any splash, though the industry is now undoubtedly a feeding frenzy, and competitors' appetites are swelling.
With the UK market possibly facing a regulatory overhaul of its current legislation, this could add significant pressure to native iGaming companies, from a revenue standpoint, especially with a possible decrease in maximum stakes on the table.
The US, meanwhile, is gradually becoming one of the largest online gambling markets in the world, providing a huge opportunity for its operators to gain a large global share just from the country alone.
An almost 'domino effect' in the US during the last couple of years has seen state after state gain regulatory approval to offer online gambling and sports betting, and the response has been significant.
While previously, only land-based casinos were allowed in the country, with the resorts of Las Vegas and Atlantic City playing host to multiple casino resorts. The swift approval of online gambling bills across multiple states saw these easily able to scale online, and almost overnight, there were as many major brands available to customers in the US as there were in the UK market.
Just How Big Is the US Online Gambling Market?
According to Global Newswire, a recent report revealed astonishing findings relating to the numbers in the US online gambling market. The figures for 2021 valued the market at a staggering $58.2 billion - to put that into context, the UK equivalent for 2022 achieved a valuation of $14.7 billion. By 2030, it is estimated that the US will grow to $145.6 billion.
Although the UK dwarfs the US in terms of population, it is important to remember that there is still a considerable number of states that have not yet approved online gambling - California, the most populous state in the union, is over half of the UK population at nearly 40 million (UK nearly 70 million).
Entain's brands in the UK market are some of the most popular; Ladbrokes Coral are two heavyweights, with these having dominated for well over a decade. The firm's revenue total for 2021 stood at €3.83 billion. To put into context, US firm DraftKings was $1.29 billion, not even the highest number for a firm in the US.
Did DraftKings' Failed Bid Hand Momentum to Entain?
It leads nicely into the fact that DraftKings submitted what was considered to be an ill-thought bid to buy Entain before then withdrawing it. An unprecedented $22 billion was on the table.
Where perhaps it was naive was the fact that Entain shares a joint venture with rival US firm MGM Resorts International, the online brand BetMGM. It was here where negotiations hit a wall, with MGM unwilling to entertain even the slightest notion of going into partnership with one of its biggest rivals in the US market.
Following its u-turn, DraftKings CEO Jason Robins was still bullish about growing the firm, stating: "Based on our vertically-integrated technology stack, best-in-class product, technology capabilities, and leading brand, we are highly confident in our ability to maintain a leadership position and achieve our long-term growth plans in the rapidly growing North America market."
In the months that followed, DraftKings' share price plummeted rapidly, a possible combination of this bid as well as a scattergun approach to marketing, particularly in the New York market (regulated for mobile sports betting in January 2022), perhaps to blame.
As a result, it has been a long year for the US firm, which has had to realign itself to claw back a major share of the market. In key states, it has achieved this - Michigan, in particular, one where it has witnessed a considerable turnaround while its stock price has more than recovered.
Entain, meanwhile, was given the upper hand on any possible future deals with DraftKings, though it was almost undeterred by its US rival. Despite this, Entain's Danish CEO Jette Nygaard-Andersen recently revealed her confidence that the firm can continue to grow, underlining its position as a 'market consolidator'.
"Our capabilities within our platform have enabled us to grow into new regulated markets, predominantly through an enviable track record of M&A delivery with Entain being the consolidator of choice," she said earlier this year.
The customer insight and analytics embedded in our platform not only underpins our focus today but ensures visibility of new trends and emerging product verticals.
All meaning we are best placed to capture valuable first mover advantages. Not only is this approach great for our customers, but it also provides us with a broader, more recreational customer base that will support more sustainable long-term revenues.
She also elaborated on other markets that she hopes the company can gain major traction:
However, we remain confident in the prospects for the market in Germany. We expect that gaming licenses will be issued shortly, bringing greater enforcement and allowing the group to reposition itself as a leading operator in a fully regulated environment.
The economic environment remains uncertain in many of our markets; however, we remain confident that our customer focus, increasing diversification, and proven ability to deliver growth will see us deliver further progress for all stakeholders.
It does leave a question mark hovering over the company's ambitions in the US and, by extension, the wider North American market about how much it believes that it can really challenge the current status quo.
The biggest problem for non-US operators is that to gain entry into their desired states; they need to be partnered with a local, land-based casino, which can present difficulties with only so many of them.
This is where it provides a big advantage to the likes of Caesars Entertainment and MGM, to name just a couple, with these easily able to gain online presence in their target states if they have a land-based venue there.
Even then, other solely online US brands have the upper hand due to them being based in the country and perhaps having pre-existing relationships with numerous land-based casinos. This is where DraftKings has seen considerable traction, even over the last 12 months, with licenses in no less than 19 states.
Certainly, the company's acquisition strategy has become a lot more strategic. Its purchase of Golden Nugget Online Gaming was arguably a masterstroke in helping it to respond to its failed bid for Entain, with the brand's land-based arm providing it with easier access to states that has a venue.
Entain with a Confident Step towards the Future
In the future, Entain may, if it decides to make a major play in the country, make an offer for a US firm in order to gain a major foothold there and even establish a significant base of operations.
While a retaliatory bid for DraftKings is highly unlikely (nothing can be discarded in this industry), perhaps offering to buy out MGM Resorts International for its remaining shares in BetMGM is a possibility. However, prior to DraftKings' bid for Entain, MGM made an $11 billion bid as well, which was quickly rebuffed.
And then there is FanDuel - arguably the biggest operator in the US, though which is owned by UK's Flutter Entertainment. Whether this is seen as viable or even desired remains to be seen, though there does appear to be an almost quiet confidence about Entain and how it can perform over the next year, as highlighted by Nygaard-Andersen.
Could Entain Capitalise in the US Market?
Everything would depend on the company's strategic direction, and for now, there appears to be almost radio silence about its plans for the US market. Perhaps where it could gain traction is if it identifies states that have not had online gambling bills passed; California would certainly fall into this category.
However, it would need to identify a partner casino early, have everything in place and be sure that the state will have a bill passed, which could well be a risk and affect shareholder's confidence if it gets it wrong.
For a non-US operator to take such a chance in a market that it is yet to really penetrate may be too much of a gamble and potential waste of resources. It has seen fellow UK firm, bet365, arguably the biggest single-brand operator in any market, start to gain a foothold in certain states, so it could be argued that it is behind its native rivals.
Sometimes, the most sensible tactic is to focus on what you are good at, and Entain has enjoyed great results in the European market over the last decade. Indeed its £4 billion acquisition of Ladbrokes Coral has added a substantial amount of revenue to its balance sheet, while Austrian brand Bwin is also a firm favorite in the European market.
One route into the US market could be to acquire a software provider and use this to partner with operators in numerous states, where this is great potential for success, though, for the moment, there has been nothing to indicate that this could happen.
Entain is also a key cog in the UK market and is heavily responsible for the amount of taxable income that the country generates from gambling. The US ultimately could be seen as too much of a distraction moving forward and, perhaps, an animal that simply cannot be tamed.