The Impact of Cryptocurrency on Newly Regulated Online Gambling Markets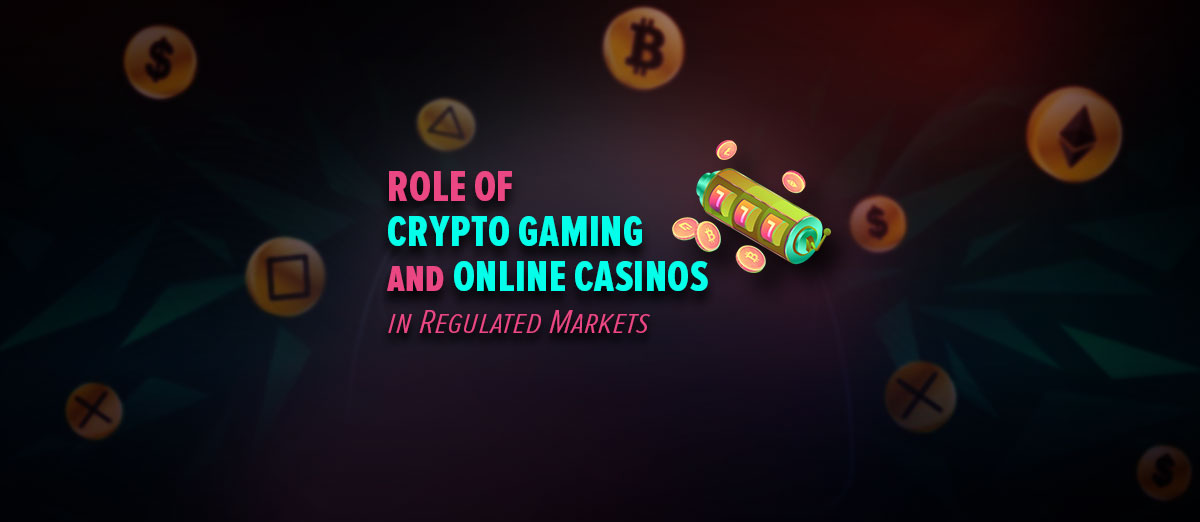 One of the buzz terms in the online gambling industry at the minute might not be what you necessarily think it is.
Perhaps quite mundane compared to the obvious, 'license approval' has actually sparked a wave of excitement around the world. Many iGaming enthusiasts have been eagerly anticipating the gambling regulation of online casinos in their particular country. 'Crypto gambling' remains, for now at least, a close second. A possible industry tsunami currently being held at bay.
Over the last two years, we have seen numerous markets around the world open their doors to online gambling operators due to regulating the industry in their relevant countries, which has led to a significant increase in levels of excitement.
There are, though, a number of mature markets in the online iGaming industry where this has been allowed for a lengthy period of time - the UK being one in particular, which became regulated in 2005, Norway since 2010, and Spain since 2011, to name just a few.
However, with the recent merger into cryptocurrency within the online gambling industry, there is a certain amount of ambiguity surrounding what certain operators can and cannot do within newly regulated markets and whether crypto gaming is affected.
Crypto Casino Laws in Freshly Regulated Markets
The vast majority of the recently regulated countries that have opened up online gambling to customers have tightened the approval processes considerably, compared to some of the first countries to open up online gambling, in accordance with factors such as responsible gambling as well as security.
United States
One particular market that appears to be a minefield of legislative conjecture is the US, which is currently experiencing a major transition in the online gambling industry itself. Over the last two years, there has been a significant increase in states becoming regulated, and, as a result, some still remain undecided.
Some states in the US that have been regulated also have different forms of regulation in terms of what they allow operators to offer. New York, for example, has allowed mobile sports betting, which became legal in January of 2022, while the state of Nevada only permits online sports betting and online poker - not fully-fledged online casinos. Meanwhile, the states of New Jersey, Pennsylvania, Michigan, and Delaware allow for the full iGaming service offering.
When it comes to cryptocurrencies, as a separate entity in the US, the country is still very much in a battle of its own, with the government still not approving it as a functioning financial asset. Determining a single and methodical jurisdictional approach is a challenge that has yet to be resolved.
This, of course, presents a challenge as far as the handful of operators that have been granted license approval in each state in terms of how far that they are able to push the boundaries, especially from being able to offer cryptocurrencies as a form of payment method. While these are not legal, they are neither illegal, which leaves a grey area as far as operators are concerned - especially if this is part of their long-term strategy.
Every state in the US also only has a certain number of online operators that it can approve, which for now means that crypto only online casinos and sportsbooks are likely to remain prohibited or, at the very least, a very small number. This is especially the case because every online operator in the US is required to partner with a land based casino in each state that it is active in. This further complicates things for any planned standalone crypto casinos looking to enter the US market.
Netherlands
Arguably one of the strictest recent markets that became fully regulated - the Netherlands presents similar challenges both from a license approval and crypto perspective. The Dutch online gambling regulator, Kansspelautoriteit (KSA), is also brutal and unforgiving when it comes unlicensed online casinos.
Initially, only 10 operators were approved to launch in the country, and since then, there has been a rigorous process in place that has seen only a handful of others achieve licenses. For crypto only casinos, these could be a possibility in what is only likely to be the very distant future - the Bank of Netherlands (DNB) has been recorded as stating that it does not recognize digital currencies as noteworthy alternatives to fiat currencies.
However, nowhere in the KSA legislation does it currently state that online operators in the country cannot offer cryptocurrency as a form of payment, however, the level of detail that the KSA monitors what is an extremely controlled market could mean that this could change at any time.
Greece
In June 2021, the Mediterranean country became fully licensed in the online gambling industry, and there has been a gradual influx of interest. While it appears to be relatively easy to be approved for an online gambling license, the Hellenic Gaming Commission (HGC) also seems to be relatively liberal, perhaps with a more relaxed stance on the industry compared to other markets.
However, while crypto casinos can be found in the Greek market, perhaps surprisingly, these are still regulated and monitored, with BitStarz among the most popular options.
United Kingdom
The UK has embraced cryptocurrencies in the same way that it welcomed the online gambling bill in 2005, and as a result, it is one of the most active online crypto gambling marketplaces in the world. With hundreds of small online casinos available to the UK market already, it was only going to be a matter of time before this happened with crypto casinos.
In terms of regulation, these sites are still closely monitored by the United Kingdom Gambling Commission (UKGC) in the same way that every other is. This is potentially the biggest, and maybe the best, market for cryptocurrencies to thrive in currently around the world, and there appears to be more of an awareness in the UK about cryptocurrencies and their uses.
Despite crypto casinos being allowed in the UK, though, they must adhere to certain laws, such as disclosing sources of funds prior to applying for a license, as a safeguard against criminal activity such as money laundering, while the founders are also the subjects of diligent background checks.
However, this does run the risk of swiftly becoming saturated due to the fact that it is relatively easy to start an online casino in the UK using a white-label company, which will do the vast majority of the work for you. Of course, funding can often be an issue, as well as the time it takes to be granted license approval, this being anywhere from six to 12 months.
What Laws Are Expected to Be Passed?
One of the major issues at the moment is that everyone has a different opinion about the future potential of cryptocurrencies and whether they can be sustainable. The past couple of years has shown that digital currencies can be extremely volatile, and when relating this to the dangers of online gambling and being responsible, it is easy to see why some gambling commissions may feel that they need to crack down on combining the two.
Because the value of cryptocurrencies can change very quickly, for example, at the time of deposit, one Bitcoin might be worth $10, though five minutes into a player's time on the site, it may have plummeted to $2, meaning that even if they spend $5 and then decide to withdraw the rest, the Bitcoin value will have decreased. Of course, this can also work considerably well the other way around.
Due to this extreme risk of volatility, though, there could well be government pressure on gambling commissions to enforce strict rules around crypto casinos in the future. Currently, in the UK, the minimum legal gambling age is 18, though due to what can be understood as the complex nature of cryptocurrencies, there may not be too much opposition for this to be raised for crypto casinos.
An intriguing prospect is the African market, which could reportedly become one of the major players in the cryptocurrency world - especially Nigeria, while this and several other countries are also in the process of launching legal online gambling.
Generally speaking, there are no actual laws at the minute surrounding the legitimacy of crypto gambling in Nigeria, suggesting that this could be a market that is primed for an influx of digital casinos. It is also likely to take a long period of time for many markets in Africa to become 'mature' and robust enough to withstand global scrutiny, despite the revenue potential that may be on offer.
Influence of Global Governments on Crypto Gambling
Because of the risks that are associated with cryptocurrencies, especially when integrating this with gambling, governments in each country where online gambling is regulated may have a say in the extent to which gambling with digital currencies is allowed.
Currently, online gambling operators in every regulated market are subject to, quite often, substantial taxation, which can benefit the economy, though quite how a country's government that opposes the use of cryptocurrencies feels about receiving taxation from crypto-only casinos remains to be seen.
Tracing the source of funds from players engaging in crypto gambling due to the anonymity factor poses a potential issue, especially when these operators need to contribute some of this revenue to relevant governments.
Compared to traditional online casinos that carry out Know Your Customer (KYC) checks, where it is easy to find out where a player's funds come from, the fact that cryptocurrency (due to the blockchain) is anonymous can make it potentially very difficult.
While there might be a lot of excitement surrounding the possibilities that are associated with crypto gambling, where licensing in different markets is concerned, there could well be a long way to go in making sure that this is as watertight as it can be.
Development of more technology may just help to make this process easier in the future, though an overreliance on this could start to complicate matters.