Doyle Brunson – Everything You Need to Know about The Godfather of Poker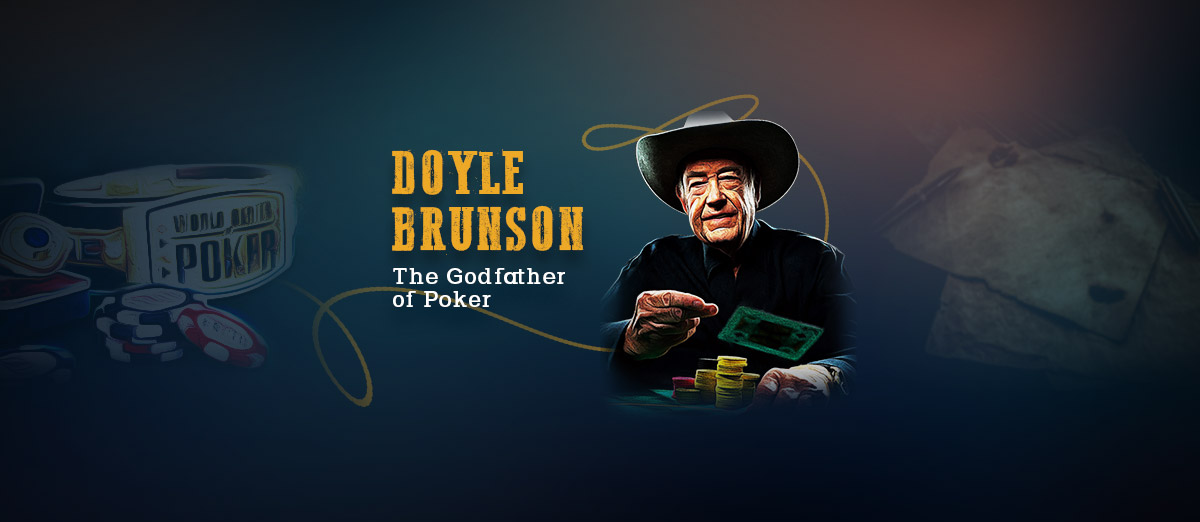 While there are many great poker plates, only a few are considered real legends, and Doyle "Texas Dolly" Brunson surely fits that title. Everyone will agree that no player has done more for this card game than the "The Godfather of Poker" during his 50-year-long poker career.
In addition to being the face of poker for so many years, he also accomplished incredible feats. Apart from playing almost every World Series of Poker main event since it was introduced in 1970, Brunson can say that he won 10 WSOP bracelets, including two main events.
This achievement looks even more impressive when you consider that almost 30 years passed between Brunson winning his first WSOP bracelet and him winning his last bracelet. Up to this point in history, no poker player has been so good for so long as Texas Dolly.
Full Name
Doyle F. Brunson
Net Worth
$ 75 million
Source of Wealth
Professional poker player and author
Famous for
10 World Series of Poker bracelets
Born
August 10, 1933, Texas
In this article, we dive into his poker career, Doyle Brunson's net worth, WSOP winnings, gambling Hall of Fame status, and give some insights into his current life.
Doyle Brunson Highlights
Highlights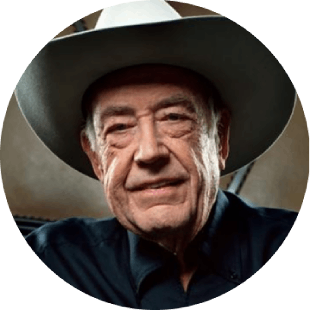 He was a top basketball prospect in high school
Won 10 gold World Series Of Poker Bracelets
Won a World Poker Tour Title
He is known as "The Godfather of Poker" for his contribution to the game
Wrote the most popular poker book "Doyle Brunson's Super System"
Considered one of the most legendary poker players of all time
Inducted into three different Hall of Fames
The Early Years
Doyle F. Brunson was born in Longworth, Texas, on August 10, 1933.
During his high school days, Brunson was a formidable athlete who excelled in basketball, which even earned him a college scholarship to Hardin-Simmons University in Abilene. Unfortunately for his basketball career, a knee injury prevented the Minneapolis Lakers from drafting him.
While injured, he started playing cards to spend time and was introduced to 5-card draw poker, which quickly became his favorite game. He kept playing poker to earn money and pay for his huge medical expenses for the coming years.
In 1954, Doyle Brunson got his Master's degree in Education and Administration and got a job as a salesman.
During his free time, he still played poker, but this would all change when he won a 7-stud tournament in which he earned more than a month's salary at his job. As it turned out later, this was a turning point in Brunson's life because he decided to quit his job and become a professional poker player.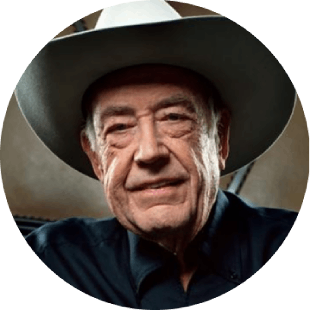 "I saw that I could make more money in one pot than what was in that entire paycheck selling a week of office supplies."
Doyle Brunson
The Start of Doyle Brunson's Professional Poker Career
Brunson started playing local illegal poker games with his friend Dwayne Hamilton and soon started traveling to neighboring states to play higher stakes.
Because most of the games were run by members of organized crime, he lost all of his money after being robbed at gunpoint or beaten in more than one instance.
Because of this, Doyle and the rest of his team decided to use their skill in regulated games and went to Las Vegas. However, the Las Vegas gamblers proved too much, and the team lost all their money.
After this, each member of the team went on their separate way, with Brunson deciding to stay in Las Vegas and give his poker career another chance, and this time he was much more successful.
He has played at almost every WSOP since the event was first introduced in 1970. In 1978, after compiling everything he knew about the game, he published a book called "Doyle Brunson's Super System - A Course in Power Poker". To this day, this book is regarded as one of the most important pieces of poker literature in history. In fact, the book was so high in demand that a revision was published in 2004.
Doyle Brunson & His World Series of Poker Wins
Throughout his poker career, Doyle Brunson has won ten World Series of Poker bracelets and made money in 37 events, making him one of the best WSOP players in history. He is one of the 4 players that won multiple WSOP Main Events and the first player in history to reach $1 million in poker winnings.
Brunson finished third in the World Series of Poker Main in 1973 before winning it back to back in 1976 and 1977. Interestingly, "The Godfather of Poker" won both events with T2o, a combination known as "Doyle Brunson" ever since.
In 1976, he also won the $5,000 Deuce to Seven Draw event for $80,250, while in 1977, in addition to the Main Event, he was triumphant in the $1,000 Seven-Card Stud Split. For this achievement, he was rewarded with $62,500.
His next WSOP wins came in 1978 and 1979. First, he won the $5,000 Seven-Card Stud for $68,000, and then he won the $600 Mixed Doubles Seven Card Stud (with Starla Brodie) a year later.
The Godfather of Poker also took home $208,000 after beating the field in the $2,500 No Limit Hold 'em event, which took place in 1991.
Brunson's eighth WSOP bracelet came in 1998 when he was victorious in the $1,500 Seven-Card Razz event. This win earned him $93,000.
In 2003, Texas Dolly won the $2,000 H.O.R.S.E. event for $84,080.
His tenth and probably last WSOP win occurred in 2005 when he finished 1st in the $5,000 No Limit Shorthanded Texas Hold 'em event and won $367,800.
The Poker Hall of Fame
In 2006, Bluff Magazine voted for Doyle Brunson as the most influential poker figure of all time, something that most of the poker community agrees with.
He is considered one of the game pioneers, without whom poker would not be where it is now.
While many players have won more money, none have been successful for so long. For his life achievements, Brunson has been inducted into three separate halls of fame.
He became a part of the Poker Hall of Fame back in 1988. Then in 2009, he was inducted into the Hardin-Simmons University Hall of Fame for his sports, more specifically basketball achievements.
Eight years later, he was named into the Texas Sports Hall of Fame for his contribution to the basketball game in Texas. It is safe to say that if it wasn't for the career-ending knee injury, Brunson suffered in college, there was a high chance that he would have become an NBA player.
Doyle Brunson Net Worth and Winnings
When you have been poker face for 50 years, you are due to make some money, and Doyle Brunson is no different.
As of 2022, Doyle Brunson net worth is somewhere around $75 million. This includes his poker winning, revenue from his books, his many poker sponsorships, and his now-closed online poker room.
His career earnings from poker tournaments are $6,176,736, putting him in 206th place on poker's all-time money list.
It might seem that his earnings are somewhat low for the man who has been winning at the game for 50 years. However, you need to take into account that none of the money he won in illegal and private games is tracked and that the rewards in his prime were much lower. On top of that, cash games results are not publicly available, and this was always the preferred game for Doyle Brunson.
Additionally, this also emphasizes his business skills and shows how competent he is in making money away from the felt.
Where Is Doyle Brunson Today?
Lately, Texas Dolly has not been active anywhere near he used to, and if you google "how old is Doyle Brunson" or" Doyle Brunson age," you will see why. At 89 years of age, his health does not allow him to travel constantly, and his skills might not be as sharp as they once were.
However, he is more active than most at this age, especially if you consider that he plays a game in which he could lose a lot of money because of poor judgment.
At the 2018 World Series of Poker, Brunson announced his retirement from poker because he wanted to spend as much time with his wife, Louise, who wasn't in good health then. The couple has been married since 1962, and Doyle stated that he has felt guilty each time he left the house.
He also added that he does not intend to stop playing altogether, which we got to witness sometime later as he has been back on the newest installment of High-Stake poker.
Unfortunately, we didn't get to see The Godfather of Poker at the 2022 World Series of Poker, which he decided to skip on the advice of his physician.
In one of his interviews, Brunson also said that he is playing less and less because he has trouble playing long sessions, which is something younger players thrive in.
Brunson's son Todd is also a poker player, and just like his father, he has found success in the World Series of Poker, winning a gold bracelet in the $2,500 Omaha Hi-Lo event in 2004. With this win, Doyle and Todd became the first father and son in poker history to record wins at the WSOP.
FAQ
How Much Is Doyle Brunson Worth?
While poker players don't share most of their financial details with the general public, it is estimated that Doyle Brunson's net worth is somewhere around $75 million.
Around $6 million comes from his recorded tournament winning, while the rest of his fortune comes from poker sponsorships, cash games, book sales, and business ventures.
Why Is 10 2 Doyle Brunson Hand?
In poker, the starting hand T2o is also known as the Doyle Brunson hand because Texas Dolly won two consecutive WSOP main events, in 1976 and 1977, holding T2 as his hole cards.
What Happened to Doyle Brunson?
Because of his age and his wife's deteriorating health, Doyle Brunson announced his retirement from poker at the 2018 World Series of Poker.
However, he is still playing poker and can be seen on the newest installment of High Stakes Poker.
Is Doyle Brunson a Good Poker Player?
Because of his age and how poker has changed, Doyle Brunson is well behind the top poker players at the moment.
However, in his prime, he was considered one of the world's top poker players and one of the most influential figures in the game. He has 10 WSOP bracelets to his name, which is the greatest testament to his poker skill.