Understanding the Role of a Chief Experience Officer in the Casino Industry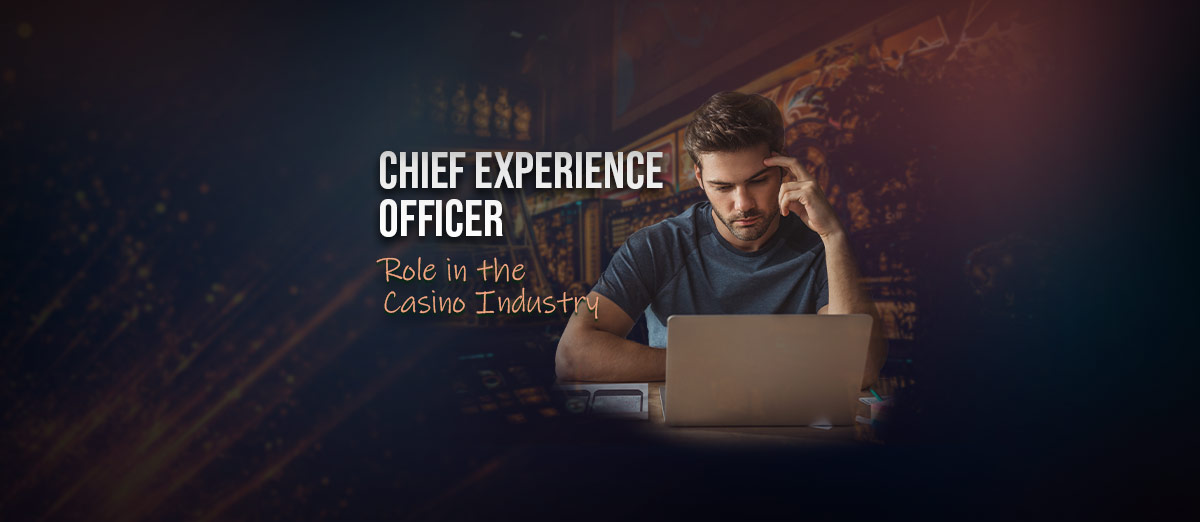 According to Gartner, almost 90 percent of presumably large organizations have appointed a Chief Experience Officer (CXO) to spruce up the experience offered to customers. However, this job title is conspicuously absent in the organizational chart of most casino companies. While all casino CEOs talk about their commitment to delivering a great customer experience, few actually deliver on this promise. Appointing a competent CXO may bridge the gap between what a casino company promises to do and what it actually delivers.
Introduction
Offering a great customer experience has become the weapon of choice for organizations in today's ultra-competitive battlefield. Businesses are constantly honing their CX strategies with a view to gaining market share and increasing profitability. The Chief Experience Officer is often the main architect commissioned to design and deliver an experience that would bestow lasting competitive advantage.
In this regard, the casino industry seems to be lagging behind other businesses. Not many casino companies are seriously committed to delivering a great customer experience, and hardly any utilize the services of a CXO. If senior management within casino organizations better understood the value that a CXO brings to the table, they would probably be more inclined to appoint a capable executive to this role. We discuss the value a CXO can offer in the hope that casino companies desirous of enhancing their CX would seriously consider such an appointment.
CX in Gaming
With around 90 percent of all businesses competing primarily on the basis of customer experience (CX), organizations across most industries are looking to up their game when it comes to delivering a great customer experience. To ensure that CX gets the attention it deserves, many organizations appoint a Chief Experience Officer (CXO). However, just adding another warm body to the C-suite accomplishes little if the CXO does not have the requisite skills and abilities to effectively execute the tasks at hand.
The casino industry—land-based and online—seems to have shown up late for the CX party. While nearly 90 percent of all organizations now have a CXO, hardly any casino company has one. It is the job of the CXO to ensure consistent delivery of superior customer experience across the enterprise.
The COVID-19 pandemic has caused a huge reshuffle in customer loyalty among casino patrons. Consumers are sampling new options like never before. Going forward, only companies offering a guest experience that meets or exceeds customer expectations will be able to retain bulk of their customers. The pandemic has created additional big holes in the leaky bucket of casino patrons.
Clearly, casino companies the world over need to take CX more seriously and recruit a CXO to facilitate this transition. A CXO with a direct reporting relationship to the CEO can ensure that CX is getting the attention it deserves. But before casino companies jump onto the job vacancies section of their website to advertise the CXO position, they need to better understand the CXO's charter.
Value Delivered by a CX
A chief experience officer (CXO) is a C-suite business executive responsible for all customer interactions and for designing and delivering the desired customer experience. Ideally, the CXO should report to the CEO, but in many instances, CXOs report to the Chief Marketing Officer (CMO). The job of a CXO is multifaceted and nuanced, requiring excellent interpersonal skills, an appreciation of technology, and strong quantitative skills.
Key activities typically performed by a CXO are:
Define the company's value proposition
According to the American Marketing Association's AMA Dictionary, "A customer value proposition is what is promised by a company's marketing and sales efforts, and then fulfilled by its delivery and customer service processes." To deliver the desired customer experience, CXOs first need to articulate exactly what kind of value the company is delivering to customers. While value propositions constitute a firm's single most important organizing principle, fewer than ten percent of large companies have developed useful and actionable value propositions and communicated them effectively to both external and internal audiences.i
Value propositions can vary significantly within the same industry and even across segments with the same company. While Circus Circus Hotel and Casino in Las Vegas may be promising "fun for the whole family," a casino such as Oceanus in Macau promises easy access to gambling and nothing else. The customer value proposition of the Venetian in Las Vegas is to provide conventioneers with a delightful guest experience through convention facilities, restaurants, and gambling.
Foster customer-centricity
Gartner defines customer centricity as "the ability of people in an organization to understand customers' situations, perceptions, and expectations." Customer centricity, Gartner argues, demands that the customer is the focal point of all decisions related to delivering goods, services, and experiences to create customer satisfaction, loyalty, and advocacy.
CX is not the outcome of one individual or department. Delivering the right customer experience requires that every department and division appreciates the primacy of customer experience and puts the customer at the heart of the enterprise. To underscore customer centricity, Amazon CEO Jeff Bezos likes to include an empty chair at his management meetings. The empty chair represents the customer, who should always be uppermost in his team's mind.
Denise Lee Yohn, a renowned marketing consultant, argues that the most common, and perhaps the greatest barrier, to customer centricity is the lack of a customer-centric organizational culture.ii To be successful in their mission to provide the best possible customer experience, CXOs need to devote significant time and attention to creating a customer-centric culture.
Approaches to drive organization-wide customer centricity could include offering all employees training programs on developing customer empathy, allowing access to customer insights for all employees, measuring and benchmarking the organization's customer centricity at regular intervals, and being able to demonstrate a solid link between organizational customer centricity and the top and the bottom line.
Become an effective boundary spanner
Few industries have as many departments and divisions as integrated casino resorts. From gaming to gift shops and hotels to health spas, there exist several product lines, each offering its own customer experience. Furthermore, within each division, there often exist impenetrable silos representing each department.
For the customer, all offerings are viewed as coming from one entity, and all experiences are attributable to that entity (usually the casino). The job of the CXO is to drill functional stovepipes through the silos so that there is a free flow of data, information, and knowledge about each customer. The CXO will also need to ensure that there exists consistent quality across the experiences offered by various divisions within the integrated resort (e.g., Gaming and F&B).
Achieving coordination across divisions and silos really tests the boundary-spanning skills of the CXO. Buy-in from each division and department is necessary to achieve the requisite synergies to deliver on the company's customer value proposition.
Motivate and manage team members
Despite the increasing use of self-service kiosks across the integrated resort, personal touch still remains the cornerstone of customer experience. The customer's assessment of the experience will be disproportionately shaped by the demeanor of the limo driver, the security guard, the concierge, the dealer, and the cashier, to name just a few. Performance of the human actors (i.e., employees) along the customer journey often determines the quality of the experience in the eyes of the customer.
Frontline employees are the public face of an integrated casino resort. Their interaction with the customer largely determines the customer's evaluation of the casino experience. The CXO needs to ensure that all customer-facing employees are engaged in their job and that they are motivated to serve the customer in the best possible way.
This is where the CXO's rapport with the HR Department becomes paramount. Often, the CXO will have no direct authority over most frontline people. In partnership with the HR Department, the CXO can develop programs and initiatives that will increase employee engagement across the property. Employees who are engaged and empowered to do whatever it takes to satisfy a guest create a customer experience that is memorable and outstanding.
Map out customer journeys
A customer journey is an end-to-end experience a customer has with the casino brand. It encapsulates all major touchpoints or interactions along the customer lifecycle. The customer journey map is a visualization of the process that a customer/user goes through to accomplish a goal while buying/using a product or service.
The purpose of mapping the customer journey is to understand the customer's behaviors, feelings, and objectives at all phases of the journey. Typically, the customer journey is mapped along five phases – awareness, consideration, conversion, retention, and advocacy. By accurately predicting customer actions and needs at each phase of the journey, the CXO is in a better position to design and deliver a successful customer experience.
Typically, a separate journey map is needed for each persona representing the various segments of customers. Mapping segment-wise customer journeys alerts the CXO to the needs and aspirations of each customer group, thus establishing a platform on which to build relevant customer experiences for the various segments. Customer journey mapping is often the precursor to designing service blueprints which are so essential for customer experience management.
Keep abreast of CX-enhancing technology
In recent years, there have been many developments in information technology that have had a significant impact on CX. Key advances include artificial intelligence, machine learning, marketing automation, computer vision, and CX platforms.
CX technologies allow CXOs to diagnose, understand, and predict customer behavior and to ask all-important "what if" questions about customer data. CXOs need to work closely with the IT team to ensure that the organization invests in the right IT tools and systems to further customer intimacy and enhance the chances of CX success.
Currently, there exist several AI-based products that enable the CXO to make the right offer to the right customer at the right time. Understanding not just the benefits but also the limitations of various technologies paves the way toward a better customer experience and reduced churn.
Deploying Voice-of-Customer strategy
Voice of the Customer (VoC) is a term used to describe the process by which data on customer preferences and expectations are collected, categorized, and analyzed. VoC is the foundation of Market Orientation, a practice whereby customer data are collected, analyzed, shared, and acted upon to deliver the right customer experience while, at the same time, enhancing profitability.
VoC makes it possible for companies to reduce the gap between what the customers expect and the CX that the casino delivers. CXOs should not only create appropriate initiatives and processes to encapsulate the voice of external customers, but they also need to be tuned in to the voice of internal customers (or employees). It is now common knowledge that you cannot have satisfied customers without having satisfied and engaged employees. Setting up appropriate mechanisms to assess the feedback from both internal and external customers is crucial for delivering a superior customer experience.
Recent advances in technologies deployed to generate customer voice — social media monitoring, enterprise feedback management, speech analytics, text mining, and web analytics — now make it possible to better assess customer sentiment and minimize churn. These technologies can be complemented by traditional means of gathering customer data, such as focus groups and market surveys. Some recent qualitative approaches, such as the Zaltman Metaphor Elicitation Technique (ZMET), allow researchers to go beneath the level of conscious awareness and gain a fuller understanding of customers' desires and motivations. Modern-day CXOs need an understanding of Big Data as well as Thick Data.
It may sound paradoxical, but most CMOs and CXOs in the casino industry do not spend enough time interacting with customers. Sure, there could be a few special events where executives and customers mingle and wine and dine, but one-on-one dialogue with customers is a rarity.
Without regular face-to-face interactions with customers from different segments, CXOs will have no gut-level understanding of who their customers really are or what they expect from the casino. Reams and reams of customer data cannot ever provide the depth of insights gleaned from customers' words, inflections, and facial expressions.
It is through customer interactions that the CXO can display initiative to go above and beyond, to adopt the customer's perspective, and to break internal barriers in the service of long-term customer success.iii
Conclusion
Casinos are in the business of delivering commercial experiences. Amid intense global competition, the quality of delivered CX is going to be the difference between successful casinos and not-so-successful ones.
For CX to get the attention it deserves, a high-powered executive should be added to the C-suite—the Chief Customer Officer (CXO). This appointee would have the mandate to make the casino organization more customer-centric. The CXO would be tasked with aligning employees to the brand promise, delivering a consistent customer experience, increasing customer lifetime value, and reducing customer churn. This article has discussed eight key deliverables for CXOs in gaming, hoping that this piece will spur more casino companies to create and fill the CXO position.
iPayne, Adrian (2019), "Three Useful Things to Know About Customer Value Propositions"
iiLee Yohn, Denise (2018), "6 Ways to Build a Customer-Centric Culture"
iiiCapon, Neal and Christof Senn (2021), "When CEOs Make Sales Calls," Harvard Business Review, March-April, 41-50.