Vanessa Selbst – The Only Female Poker Player to Be Ranked Number One by the GPI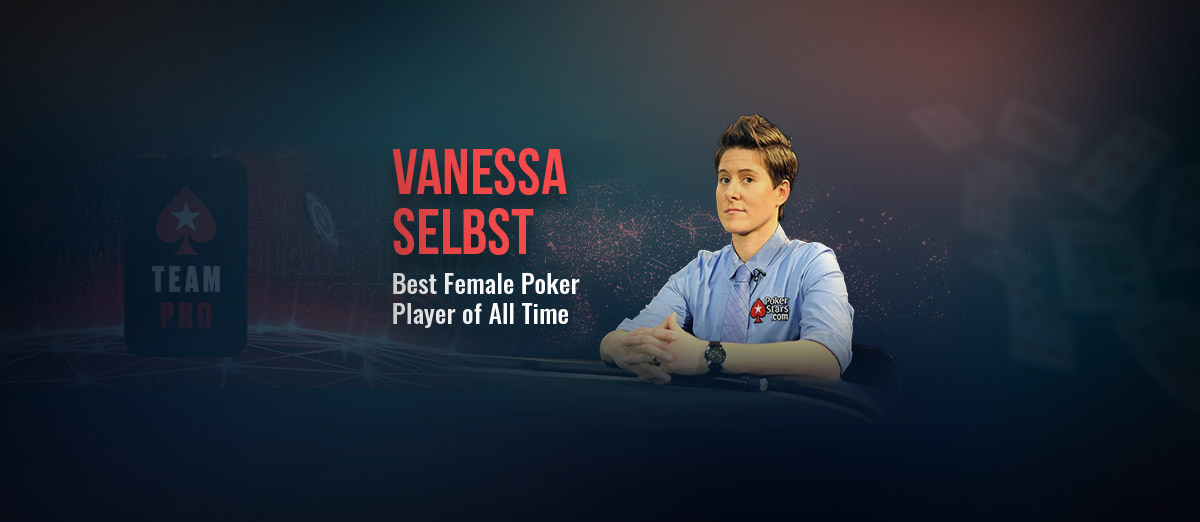 Thanks to her fearless style and willingness to put her emotions out there, Vanessa Selbst was one of the most recognizable figures in the poker world during her days on the live scene.
With almost $12 million in career tournament earnings, Selbst is ranked in the top 80 on Poker's All-Time Money List, a feat that looks even more remarkable if we consider that she retired from playing poker in 2018.
Her total earnings, WSOP results, and the fact that she is the only woman ever to reach first place on the Global poker index is why the poker world or famous gamblers considers her the best female player of all time.
Full Name
Vanessa K. Selbst
Net Worth
$6 million
Source of Wealth
Professional poker player
Famous for
Best female poker player of all time.
Born
July 9, 1984, Brooklyn, New York
Although her days as a professional poker player are long gone, her legacy as the most recognizable female poker player and the player that pawed the way for women in poker will always be remembered.
Today, we look at her poker biography, including Vanessa Selbst net worth, poker results, and WSOP wins. We will also answer some questions about her personal life and one of the most searched terms about Vanessa Selbst's wife.
Vanessa Selbst Highlights
Highlights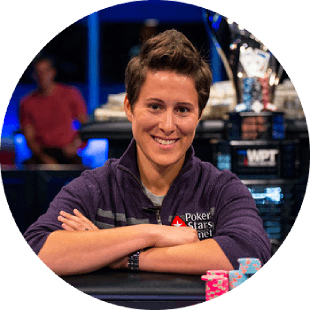 The only female poker player to be ranked number one by the GPI
Won 3 gold WSOP bracelets in her career
The first and only woman to win three WSOP bracelets in open field events
8 WSOP final tables
The first woman to ever play in a Super High Roller event
The first and only player to win two consecutive NAPT Main Events
Who Is Vanessa Selbst - The Early Life
Vanessa Selbst was born in Brooklyn, New York, on July 9, 1984. She started her academic career at the Massachusetts Institute of Technology (M.I.T.) but stayed there only one year, after which she transferred to an Ivy League school, Yale University.
At Yale, Selbst first earned a degree in political science and then returned after a couple of years to earn a law degree.
During her stay at the university, the three-time WSOP winner became interested in poker. At first, like most poker players, she started playing poker in home games with her friends, but it didn't take long for Selbst to transition to local cash games.
Although she had what it takes to follow a career as a professional woman in law, finance, or politics, the Brooklyn native decided that playing cards were a much more exciting way to make a living.
After playing at the Foxwoods poker room for some time, in 2006, she decided it was time for the next challenge in her poker career, the World Series of Poker.
Vanesa Selbst Professional Poker Career
The 2006 World Series of Poker confirmed that Selbst made the right choice when she chose poker as her profession. She made the final table of a $2,000 No-Limit Hold 'em event and finished in 7th place, which granted her $101,285.
Two years later, at the 2008 World Series of Poker, she won her first-ever WSOP bracelet in the $1,500 PLO event. For this achievement, along with the silverware, she took home $227,933.
Selbst managed to achieve another extraordinary result in 2010 and 2011 when she won the North American Poker Tour Main Event back-to-back, becoming the first and only player to do this. For her efforts in the 2011 event, she won $750,000; a year later, the 1st place prize was $450,000.
In between these two wins, the three-time WSOP winner also managed to secure the biggest payday of her career. In September of 2010, she beat the field at the Partouche Poker Tour Main Event and secured a whopping prize of $1.8 million.
At the 2012 World Series of Poker, Selbst earned her second WSOP win after winning the $2,500 10-Game Six Handed event for $244,259.
In 2013, she won the $25K NLHE High Roller at the PokerStars Caribbean Adventure and took home $1,424,420. This win secured her international headlines, surpassing Kathy Liebert as the highest female live tournament earner.
Her third and last WSOP win came in 2014 when she won the $25,000 Mixed-Max No-Limit Hold'em event and secured $871,148.
One year later, the Brooklyn native won the $100,000 Super High Roller Celebrity Shootout at the Aria and took home $1 million, further increasing her already impressive live poker resume.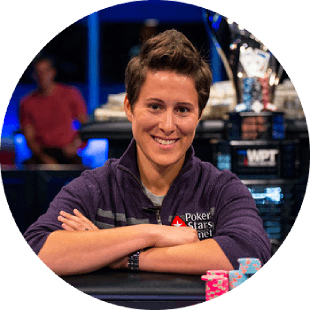 "Playing poker for more than 10 years, I've learned that a good poker player should always pay attention to the details."
Vanesa Selbst
Partnership with Pokerstars
Not long after Selbst won the NAPT Mohegan Sun Main Event in 2010, she was approached by the online poker room Pokerstars to secure a sponsorship deal. She and David Williams were announced as the newest members of Team Pokerstars Pro on 30th June 2010.
The partnership saw the top-ranked female poker player promote the largest online poker room for 8 years.
The top-ranked women on Poker's All-Time Money List and Pokerstars parted ways in 2018 after Selbst announced that she was retiring from playing poker professionally.
Vanessa Selbst Net Worth and Winnings
From her first deep run at the 2006 WSOP in Vegas to her retirement from poker in 2018, Vanessa Selbst has made a name for herself as one of the best live tournament players in the world, but that is not all she made.
At the time of writing this article, the three-time bracelet winner's live tournament earnings are $ 11,906,247, which is enough to put her in 80th place on Poker's All-Time Money list.
If we take into account that she has been a sponsored pro for most of her career, we can safely say that she made a few bucks outside of the tables.
With this said, most online reports put Vanessa Selbst net worth somewhere between 5 and 6 million dollars, which seems strange if we look at most other poker players whose net worth almost always exceeds their winnings. At least, that is what the available data suggests.
Anyway, Selbst has two college degrees from an Ivy League University, and we doubt that she will have a hard time making money outside of poker.
Vanessa Selbst Wife and Family
The most successful female poker player of all time married her long-time partner, Miranda Foster, on August 24, 2013. The biggest reason why Selbst decided to retire from playing poker professionally and end her relationship with Pokerstars is that she wanted to spend less time traveling and more time at home with her family.
She said that since Black Friday, the life of a professional poker player is all about travels, and while it was fun ten years ago, now it is standing in the way of her trying to start a family with her partner.
Selbst and Foster had a baby boy in 2018, which confirmed speculations that one of the reasons that the ex-Pokerstars pro went into poker retirement is because she and her partner were expecting a baby, and she wanted to be with them as much as possible.
Where Is Vanessa Selbst Today?
Thanks to her degree in law she got at Yale, she had plenty of opportunities to follow other lucrative careers outside of poker, and she had plenty of positions to choose from.
Because of this didn't take long for Selbst to find a "real" job after retiring from poker. In 2018, she became a hedge fund manager in the biggest hedge fund in the world, Bridgewater Associates.
Selbst also founded a charitable foundation, Venture Justice, which she uses to invest money in nonprofit causes and organizations that fight for social equality. This has been one of her biggest motivations even before she started trying her luck at the green felt.
But, as is often the case with poker players that retire from the game, they come back in one capacity or another. And judging by Vanessa Selbst Twitter, she is far from done with poker.
One year after retiring from poker, she played the WPT Borgata $3,500 event, ending in 14th place for a payday of $40,000. Not long after this, they had another deep run, this time in the WPT Fallsview Main Event, where she finished 22nd.
The New Yorker has also been taking advantage of the opportunity to play online poker in New Jersey, where she has been grinding online tournaments on Party Poker.
Lately, she is back to her usual self, commenting on poker subjects, posting some pictures from tournaments, and getting into heated discussions about various subjects, from politics to business.
Additionally, she has taken a role as a mentor on the official educational platform of the World Poker Tour, where she shares her poker knowledge with players looking to improve their poker game and make the next step in their poker careers.
FAQ
What Is Vanessa Selbst Doing Now?
Vanessa Selbst announced her retirement from poker in 2018 because she wants to spend more time with her family. She got a job at Bridgewater Associates, the biggest hedge fund in the world, where she took on a role in finances.
However, Vanessa Selbst Twitch account gives us some updates from live tournaments and getting into heated poker discussions, which shows that she is far from done with poker.
How Much Is Vanessa Selbst Worth?
Vanessa Selbst made around $12 million dollars playing live poker tournaments during her poker career, putting her in 80th place on Poker's All-Time Money List. Additionally, she is the winningest female poker player of all time.
If it is to believe the information that is available online, Vanesa Selbst net worth is estimated to be around $6 million. This is surprising if we consider that the estimated net worths of other successful poker players usually surpass their live tournament winnings.
Who Is Vanessa Selbst Wife?
If you google "Vanessa Selbst wife", you will see reports that the three-time WSOP bracelet winner married her long-time girlfriend, Miranda Foster, on August 24, 2013. The couple had a baby boy in 2018, shortly after Selbst announced her retirement from poker.
Has Vanessa Selbst Retired from Poker?
Officially, the third-time WSOP winner announced her retirement in 2018, stating that she wanted to spend more time with her family. However, by the recent reports, it looks like she is still very much involved with the game and plays live tournaments from time to time.