Jason Mercier – The Player Who Crushed Both Live and Online Games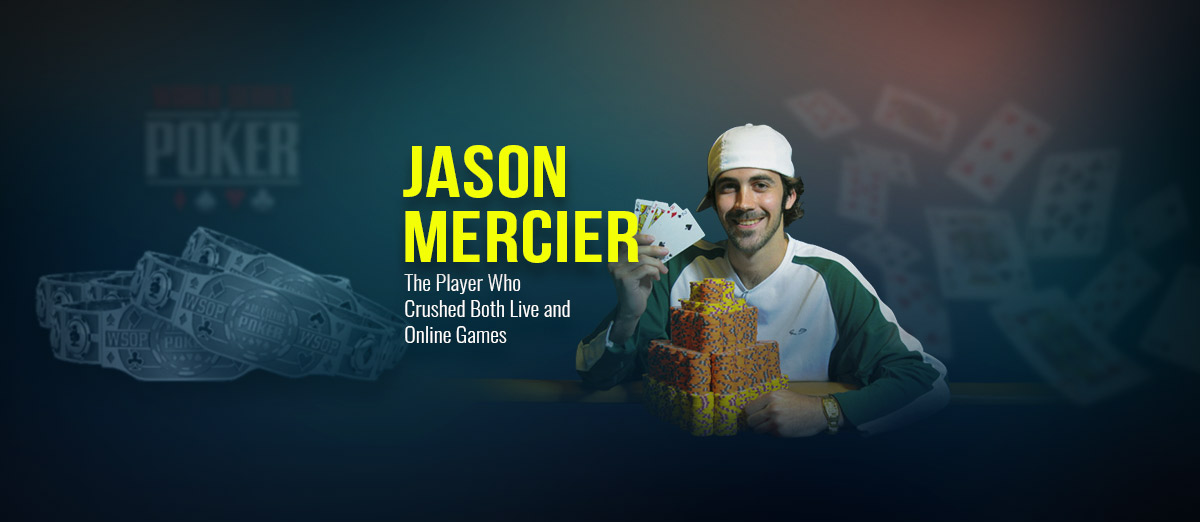 Over the last decade and a half, Jason Mercier has established himself as one of the most respected and loved poker players in the poker world. The Florida native is one of few players who thrive in the virtual world and on the live casino scene alike.
This has allowed him to increase his net worth and add some respectable silverware to his trophy room.
He is one of the first players to implement the hyper-aggressive style of play effectively and show the full potential of this strategy. With live earnings of over $18.5 million and five WSOP bracelets, we can safely say that he has done it all.
Full Name
Jason Mercier
Net Worth
$20 million
Source of Wealth
Professional poker player
Famous for
Ultra Aggressive Playing Style
Born
November 12, 1986, Florida
In this article, we break down the poker career of Jason Mercier, from his early beginnings playing the card game after classes to becoming the five-time World Series of Poker bracelet winner.
Jason Mercier Highlights
Highlights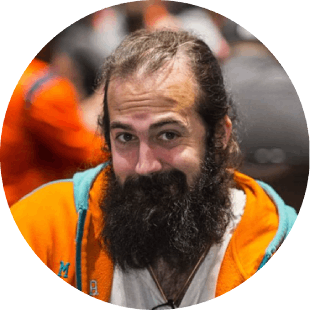 Won 5 World Series of Poker Bracelets
Won two World Championship of Online Poker titles
Holds the record for most weeks spent at number 1 on the GPI
Final tabled 17 World Series of Poker events
Won a European Poker Tour title
Named the World Series Player of the year in 2016
Trying to Become a Poker Pro While Studying for a Math Teacher
Mercier was born on November 12th, 1986, in Hollywood, Florida. From an early age, he showed signs of a strong work ethic and competitiveness, two traits that would undoubtedly greatly impact his success in life.
As he stated in numerous interviews, the Forth Lauderdale native was one of those players that got into poker thanks to Chris Moneymaker's historic win at the 2003 World Series of Poker. At that moment, Jason was still in high school and started playing poker with his friends after school.
From that point on, his passion for the game never faded, even though he initially took a different path and decided to follow his academic career. He pursued a career in education as a math teacher and took classes at Florida Atlantic University.
However, like many other poker players, his stay at the university was short-lived, as he dropped out after only one year of college.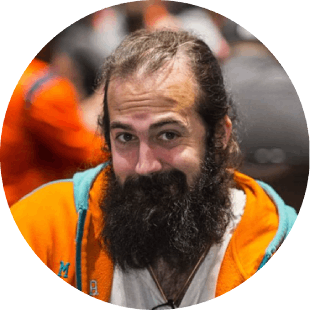 "I think that players that are better at reading people are much more dangerous and difficult to play against because then you have to think more about what they might be thinking."
Jason Mercier
Making a Big Entrance
Although his passion for poker and work ethic was there, results weren't as Mercier struggled financially. To keep his head above water and his promise to his family, Jason decided to go back to college at Broward Community College and work at a local supermarket.
During his second shot at an academic degree, he still continued to play online poker and improve his game when he wasn't attending classes, working, or studying.
As it later turned out, his hard work in the online environment transitioned to the live scene as he made one of the biggest entrances onto the professional poker scene by winning 1st place in his first ever live tournament.
And the best part is that this wasn't any random tournament. It was one of the biggest tournaments on the European Tour, the San Remo Main Event. For this extraordinary achievement, Mercier was rewarded with $1,400,000, along with the respect of the poker community.
Thanks to the nature of the game, a number of unknown players won big events over the years, but most of them went back to anonymity because they failed to follow up on their wins.
This wouldn't be the case with the Florida native, as he continued to dominate the live and the online circle in years to come.
Jason Mercier WSOP and laddering on the Poker All Time Money List
Mercier would follow up on his big win in San Remo with a few other big cashes in 2008.
His next big score came at the European Tour in Barcelona, where he took $324,000 for finishing in 6th place, and his second biggest score of the year came in London, where he won the European Championships High Dollar Roller Event and took home $944,847.
After it was all said and done in 2008, the five-time bracelet winner racked up over $2.7 million in prize money and was quickly laddering on the poker all-time money list. This feat was even more impressive, considering that this was his first year on the live poker scene.
In 2009, Mercier continued where he left off in 2008, but this time he took one step further and captured what every poker player dreams of, his first World Series of Poker Bracelet. His maiden WSOP win came in the $1500 Pot-Limit Omaha event and earned him $273,000.
Later that year, he would have another deep run in Europe. He finished 4th in the World Series of Poker Europe Main Event for $440,000.
These two results and a couple of other deep runs put Mercier in the Player of the Year discussion and earned him this reward by the end of the year. Just a couple of years after he joined the live poker scene, he was acknowledged by Bluff Magazine as one of the best poker players in the world.
Jason Mercier WSOP success was also recognized by the biggest poker site in the world, Pokerstars, who offered Jason a spot on their Team Pokerstars Pro, a proposal he gladly accepted.
The Biggest Score of Mercier's Career
Fast forward a couple of years, and the 2009 Bluff Magazine Player of The Year captured his second WSOP bracelet. This time he was triumphant in the $5,000 6-Handed Pot-Limit Omaha event. Along with the bracelet, this win brought him $619,575.
The biggest payout of his career came in June of 2014 when he lost to Dan Smith heads up in a $100,000 buying high roller main event. This 2nd place was worth a whopping $1,62 million.
Mercier's third WSOP win came in the $5,000 No Limit Hold'em (Six Handed) at the 2015 World Series of Poker, where he outclassed his opponents on the road to the $633,357 1st place prize.
2016 was arguably the best year of the American's poker career. First, he won the $10,000 2-7 No Limit Draw Lowball Championship for $273,335 and his fourth WSOP bracelet.
Then he came in first in the $10,000 H.O.R.S.E Championship for $422,874 and his fifth WSOP win. A win that put him in elite company with only two dozen poker players that managed to win five or more WSOP bracelets in their career.
He also finished runner-up in a Razz event and was awarded $168,936 for his efforts.
For his achievements during the WSOP, he was named the World Series player of the year in 2016.
His last two big live wins came in the Seminole Hard Rock Poker Open in 2017 and 2019. In 2017 he took home $794,600, and in 2019 he walked away with $715,860.
Conquering the Online World
Although his live resume looks more impressive, Mercier has also dominated the online poker scene.
In September of 2010, he beat a field of 3,122 runners on his way to his first World Championship of Online Poker bracelet and $435,862 in prize money. Then two years later, he won the $10,300 8-Game High Roller for $253,425 and his second WCOOP bracelet.
Aside from the WCOOP, one of Mercier's favorite online tournament series is the Spring Championship of Online Poker. He captured his first SCOOP title in May of 2014, winning the $215 8-Game event for $21,242.00.
2015 was his best year when it comes to online results. During this year, he managed to win three SCOOP events, all of them in different formats. He won the $2,100 FL Badugi event for $39,200, the $2,100 NL 5 Card Draw for $34,400, and the 4 max $2,100 NL Hold'em for $178,457.
His fifth and final SCOOP title came in 2016 when the five-time WSOP bracelet winner won the $215 PL Omaha Hi/Lo 6 max event for $22,572.
Jason Mercier Net Worth
Like most poker players, he is pretty discreet regarding his financial status, so the only way to make an approximate guess of Jason Mercier net worth is to research his poker winnings.
If the information available online are even remotely accurate, Mercier's net worth is somewhere north of $20 million. However, his is mostly based on his tournament winnings without considering all the expenses and stake swaps that happen in this line of work.
His winnings are currently enough to earn him 36th place on the Poker All Time Money List and first place on the Florida Poker All Time Money List.
At 35 years old, his resume is one of the best in the poker world, and the best part is that he has plenty of time to improve it even further.
Where Is Jason Mercier Today?
One look at Jason Mercier Twitter or Instagram, and it is easy to see where his priorities lie at this point in his life.
Since becoming a father, Mercier's poker career has fallen into the second plan. Now he tries to spend most of his time with his two sons and his wife, who also play poker. If you google Jason Mercier wife, you can find out more about Jason's longtime girlfriend, Natasha Barbour, who became his wife in 2016.
Following the farther path, he also decided not to extend his contract with Pokerstars and parted ways with the biggest online poker room in 2018 after being a part of the Team Pokerstars Pro for eight and a half years.
When he isn't spending time with his family or playing poker, Mercier enjoys sports, mostly playing basketball with his friends and poker colleagues.
And although his poker volume is nowhere near what it used to be, if it is to believe his recent statements, the five-time bracelet winner is not planning to retire from the game and plans on adding more accomplishments to the Jason Mercier poker resume.
FAQ
Is Jason Mercier Still Playing Poker?
Mercier still plays some tournaments and cash games. While his volume is nowhere near what it used to be, he still managed to book a couple of big wins in recent years, winning the $50,000 Seminole Hard Super High Roller for $715,860.
Where Is Jason Mercier Now?
Ever since the pandemic hit, Jason Mercier has been spending most of his time with his wife and their two sons, focusing on being a father first and a poker player second.
In his recent interview, he stated that he missed poker and plans on getting some volume in now that the pandemic is almost over.
How Old Is Jason Mercier?
He was born on November 12, 1986, in Hollywood, Florida. Mercier has been playing on the Tour since 2008, when he won EPT San Remo and, at 22 years old, became one of the youngest EPT winners of all time.
Where Was Jason Mercier Born?
Jason Mercier was born in Hollywood, Florida, United States. This city is located in southern Broward County, between Fort Lauderdale and Miami.