Top Casinos for Formula 1 Las Vegas Viewing - From Gambling to Checkered Flags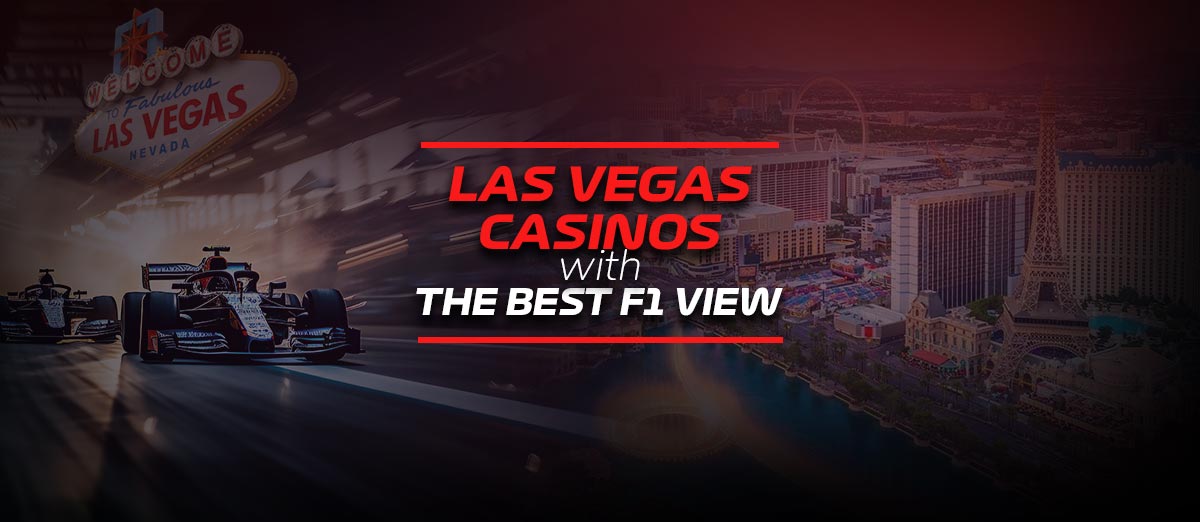 Whether you are a fan of gambling or not, the US resort of Las Vegas in Nevada certainly offers a lot of entertainment, essentially guaranteeing that you will not run out of things to do.
While the majority of visitors to the popular and world-renowned gaming hotspot are there to play betting games and frequent multiple land-based casinos for this purpose, many other things may catch your imagination, whether it is watching a show of some kind or just 'kicking back' in a spa.
However, if you do like the fast and frenetic, though you are not too keen on gambling, you still may find enjoyment in the amenities and various entertainment venues. Not only that but with the arrival of the Formula 1 Las Vegas race, you will have more than enough things to do.
This has swiftly become a favorite among US sports fans, especially with Las Vegas now hosting its own Gran Prix, the last one on the Formula 1 calendar and one that is usually filled with tension and drama as it can decide the championship winner. Las Vegas certainly is great at making occasions like this pop, so it is worth making sure that you make a reservation first, just in case.
As well as gambling enthusiasts, Las Vegas attracts many F1 and sports fans, and, as a result, the resort has made a considerable effort over the last few years to accommodate these in the best way possible.
Undoubtedly, Formula 1 is one of the most exciting sports in the world and one which certainly draws a considerable amount of viewers in multiple countries; it could be argued that this has numerous similarities with the fast-paced activity of gambling, especially that of an emotional rollercoaster.
As a result, below, we have reviewed five of the best Vegas casinos to watch Formula 1 from and everything that they offer.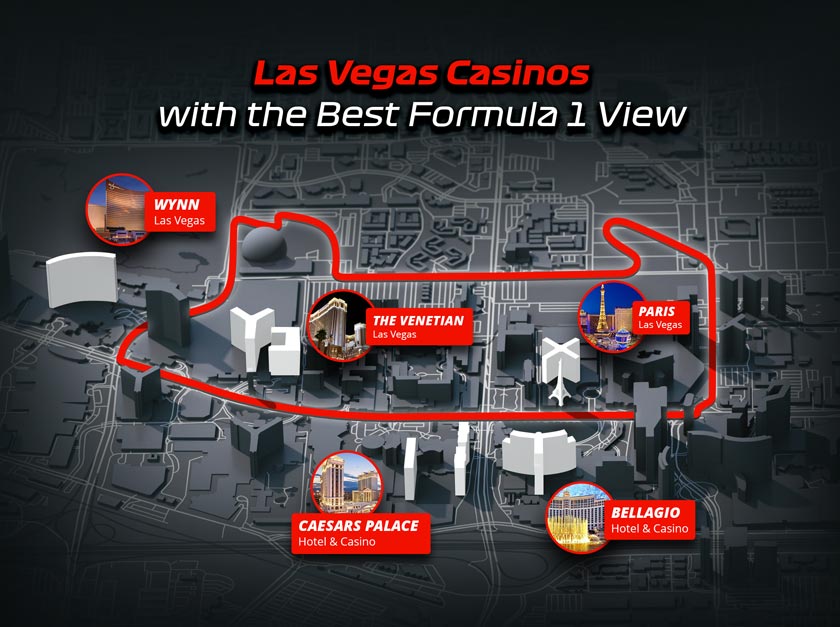 1. Caesars Palace
In the heart of all the action, you will find one of the most popular casino brands in the US - Caesars Palace, and it really lives up to its name. Upon walking in, you find yourself in palatial surroundings fit for a prince and on multiple levels.
However, to enjoy the Formula 1 coverage, you can head to the higher floors of the magnificent venue or head to the Stadia Bar, which can be easily found. Upon entering, you will find yourself in a vibrant, almost next-generation sports bar, fittingly designed.
In addition, there is also a wide array of amenities to enjoy. Unbeknown to many, Caesars also operates its own sportsbook. As a result, if you find that you have an inkling about some of the potential outcomes of a race, then you can find multiple betting terminals in the sports bar from which to place a bet.
If you do not manage to do this before the Vegas Grand Prix takes place or haven't yet decided, you can do this during a race if you change your mind due to multiple markets that are available that outline different outcomes.
In addition, you can also find a fully stocked bar that serves a wide range of spirits, cocktails and beers, as well as plenty of delicious food options if you get peckish. If that isn't enough, you can also book a private room for your experience and really make the most of what the sports bar has to offer and enjoy the sensational F1 view and sound effects.
2. Wynn Las Vegas
The resort that was inspired by one of the leading protagonists in the gambling industry, Steve Wynn and which is arguably the most famous Wynn Las Vegas, is essentially the original of many that you will find around the world.
In a ground-breaking shift, the excitement of Formula 1 racing will come to a whole new level in Vegas. Once confined to casino screens and sports bars, fans can now witness the live action from the mesmerizing Wynn Las Vegas. Sports enthusiast can enjoy the breath-taking race either from their personal rooms in the casino and hotel or from the sports bar.
The resort's sports bar, named Charlie's, has become a Formula 1 hotspot, drawing avid enthusiasts in droves. With a menu featuring 16 beers on tap, shakes, floats, and a wide selection of spirits, it caters to all tastes. Adding to the allure, patrons can indulge in beloved All-American dining options, available as early as 11:00 a.m. on weekends.
You can even make the most of some of the best table service on the strip, so you do not have to miss a minute of race action, with highly trained and diligent staff all catering to your every need. Don't forget to tip!
3. The Venetian Las Vegas
Amid the opulence and grandeur that define this establishment as one of the best physical casino resorts in the world, the venue promises an unparalleled experience for motorsport enthusiasts - a view of the Vegas Formula 1 race from The Venetian.
Perched amidst the vibrant Las Vegas Strip, The Venetian offers a vantage point like no other for experiencing the thrilling spectacle of the Vegas Formula 1 race. As the roar of engines and the screech of tires fill the air, you'll find yourself at the epicenter of the action, with a front-row seat to all the high-octane drama that unfolds on the track.
The towering structure of The Venetian provides a commanding view of the Las Vegas streets below, and when Formula 1 fever grips Sin City, the atmosphere is expected to be electric. From the comfort of your room or a strategically positioned terrace, you'll witness the race cars streaking past in a dazzling blur of speed and precision, the neon lights of the Strip providing a radiant backdrop to the drama.
Picture yourself sipping on a finely crafted cocktail or indulging in delectable cuisine at one of the casino's world-class restaurants as the Formula 1 race unfolds on the Vegas Strip below. The combination of gourmet delights and the thrilling race spectacle is an experience that promises to be etched into your memory forever.
The Venetian Las Vegas, with its impeccable blend of luxury and entertainment, offers motorsport aficionados the chance to revel in the excitement of the Vegas Formula 1 like few other venues in the city. Whether you're an avid Formula 1 fan or simply seeking an extraordinary Las Vegas experience, The Venetian is expected to provide an unforgettable front-row seat to the exhilarating world of motorsport.
4. Paris Las Vegas
One of the lesser-known casinos on the strip, this could well be a jewel. Home to the Beer Park sports bar, the Paris Las Vegas offers a more modest and casual environment, though, for entertainment and amenities, it is just as good.
Arguably, its selling point is its 9,000 square-foot outdoor terrace that offers pleasing views of the Grand Prix magic on the Strip, though with a staggering 75 HD TV screens, you can still see the race. If you choose the Cheri Rooftop, you can really do this in style, with panoramic views of the strip, while staying after the event gives you access to a live DJ and much more.
You can also make the most of its noteworthy dining options, offering the best in American cuisine, specialty cocktails and an ample amount of beers, so this really could be a race day experience that you will not forget.
5. Bellagio
Experience the pinnacle of Formula 1 Grand Prix excitement at the illustrious Bellagio, a true icon situated along the bustling Las Vegas Strip. Bellagio's reputation for opulence needs no introduction, with its pièce de résistance being the captivating water fountains that have become synonymous with luxury and grandeur. While the Bellagio may not boast a dedicated sports bar, it offers a unique twist for race enthusiasts.
The BetMGM sportsbook, nestled within its walls, provides the perfect setting to immerse yourself in the Vegas Strip's live Formula 1 action while keeping a watchful eye on betting proceedings. This fusion of sports and entertainment creates a dynamic atmosphere that's uniquely Bellagio. Inside the world-famous casino, a delightful array of dining options await. Whether you're craving a quick mid-race snack or planning to celebrate the race's thrilling conclusion, you'll find culinary treasures to suit your palate. From gourmet delicacies to international flavors, Bellagio's restaurants cater to every taste.
As the race unfolds, if you're fortunate enough to time your visit just right, you might witness the Bellagio fountain's mesmerizing light show. This dazzling display of choreographed water, music, and light adds an extra layer of enchantment to your Formula 1 experience.
At the Bellagio, the Grand Prix becomes an unforgettable spectacle that combines world-class entertainment, culinary excellence, and the thrill of high-speed racing, making it a must-visit destination for motorsport enthusiasts on the Las Vegas Strip.
The Magnificent Formula 1 Experience of Las Vegas
As opposed to many sports events and championships in the US or perhaps around the world for that matter, there is something momentous about watching an F1 Race in the middle of Las Vegas.
In most venues, you are right in the heart of the action, in stunning surroundings and an atmosphere that feels like no other, probably apart from the event itself. For most people, it really does feel like the perfect accompaniment to a vacation, and Las Vegas likes to do everything on a much bigger scale.
Ultimately, you can almost guarantee a high level of service and quality regardless of the monitoring venue you choose. If you are a sports fan, then the Vegas Grand Prix race is certainly worth a visit to the City of Sin, and if you are lucky enough. It is also worth noting that you can enjoy qualifying and practice (Friday and Saturday) events as well, so you can certainly make an F1 weekend of it if that is your wish!