Steve Wynn – The Meteoric Rise from Crippling Debt to Billionaire Vegas Casino Tycoon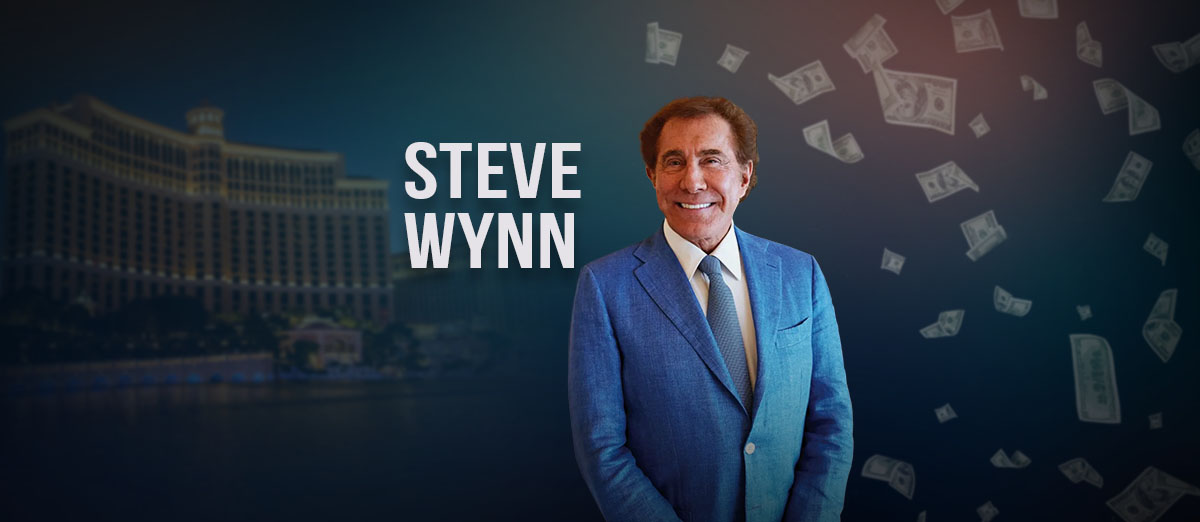 One name that is sure to resonate with gamblers and poker enthusiasts when it comes to the glittering world of Las Vegas is Steve Wynn.
Steve Wynn is an enigmatic casino and hotel industry figure, he has a net worth that speaks to his mastery of the casino game.
Born the son of an East Coast bingo parlor operator, he inherited a struggling business and an unquenchable passion for gambling.
In 1967, he took a gamble of his own, entering the world of Las Vegas brick-and-mortar casinos. That decision would shape not only his fortune but the very fabric of Sin City itself.
Throughout the 1990s, he played a pivotal role in the resurgence and expansion of the Las Vegas Strip, giving rise to iconic landmarks like the Golden Nugget, The Mirage, and Bellagio. Wynn's magic touch has elevated the gaming experience to art form status from Las Vegas to Atlantic City.
Full Name
Stephen Alan Weinberg
Net Worth
$3.2 billion
Source of Wealth
Casino owner
Famous for
Created some of the most notable Las Vegas casinos
Born
January 27th, 1942, Connecticut
Steve Wynn net worth isn't just a testament to his business acumen. It symbolizes his relentless pursuit of excellence, innovation, and luxury in a world where the stakes are high and the rewards are even higher.
Steve Wynn Highlights
Highlights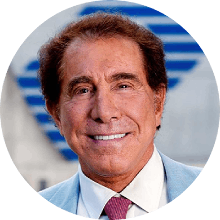 In the top 400 wealthiest Americans
Built some of the most iconic Las Vegas casinos, including The Mirage and Bellagio
Selected as one of the World's 100 Most Influential People by Time Magazine in 2006
Inducted into the American Gaming Association Hall of Fame
Forbes magazine named him a "Captain of Capitalism" in 2007
Named one of the 30 "World's Best CEOs" by Barron's in 2011
The International Hospitality Institute named him one of the 100 Most Powerful People
Steve Wynn Early Years and Growing Up
Steven Alan Weinberg was born on January 27, 1942, in New Haven, Connecticut. As the first-born son of a wealthy family, young Steve was destined for an exciting future.
His father, Michael, a successful owner of a chain of bingo parlors across the eastern United States, and his mother, Zelma, hailing from Maine, provided a nurturing environment for his budding ambitions.
In 1946, When Steve was just four years old, the family's last name was changed from "Weinberg" to "Wynn," a decision to avoid anti-Jewish discrimination.
The family eventually settled in Utica, New York, so that Wynn could attend the Manlius School, one of the country's most prestigious private institutions.
Steve Wynn's determination and intelligence there saw him graduate at the top of his class in 1958. He then received his Bachelor of Arts in English Literature from the University of Pennsylvania, displaying an unquenchable thirst for knowledge and education.
But life had different plans for Wynn. Shortly before his graduation in March 1963, his father tragically died during heart surgery, leaving behind a staggering $350,000 in gambling debts.
This twist of fate led Steve to relinquish a promising position at Yale Law School to take charge of his family's bingo parlor in Waysons Corner, Maryland.
Wynn's future was now set on a different path. He was not merely stepping into his father's shoes but filling them with new ambition and determination.
It took Steve Wynn several years to dig his family out of debt, but his experience honed his business skills and paved the way for his future endeavors.
Beginning of Steve Wynn's Investment Career in Las Vegas
In 1967, when Wynn and his family made the bold move to Las Vegas, he took a gamble that would change his life. He purchased a small stake in the Frontier Hotel and Casino, Steve Wynn's first investment in the Las Vegas gaming industry, but it was certainly not his last.
The same year, he forged a pivotal relationship with E. Parry Thomas, then-president of the Bank of Las Vegas, a bank willing to be on the future of Sin City by extending loans to Las Vegas casinos.
This connection proved instrumental in Wynn's rise in the Las Vegas casino industry.
Not one to put all his chips in one basket, Wynn delved into a wine and liquor importing business from 1968 to 1972, further expanding his portfolio.
By 1971, the combined earnings from the Frontier and his wine venture allowed him to buy a controlling interest in Las Vegas Golden Nugget. Within two years, he became the youngest casino owner in Las Vegas and the majority shareholder.
In 1977, Wynn opened the Golden Nugget's first hotel tower, setting a precedent for luxurious accommodations and top-tier gaming experience.
His empire expanded eastward in 1980 with the construction of the Golden Nugget Atlantic City. By 1983, it had become the city's top-earning casino, a testament to Wynn's keen business acumen and innovative spirit.
Steve Wynn was not just building casinos. He was crafting experiences, redefining luxury, and bringing a touch of elegance to the gambling world.
The sale of the Golden Nugget in 1987 for $440 million was not the end of a chapter but the turning of a page as a sign that Wynn was ever ready for the next big play.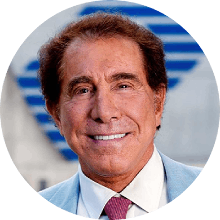 "Anyone can make things that are beautiful, we need to make things that are remarkable."
Steve Wynn
Plans and Ambitions for the Las Vegas Strip
Steve Wynn's odyssey in the world of casinos reached its pinnacle when he set his eyes on the Las Vegas Strip.
His vision was grand, and his aspirations were higher than ever. He was set to create The Mirage, a casino that would become an oasis of luxury and entertainment in the desert of Nevada.
The Mirage was no small feat. This estimated $630 million project was a massive risk, even for Wynn.
Funding through high-yield bonds, the casino magnate was betting on his dream. And when the Mirage opened its doors in 1989, it quickly became apparent that his gamble had paid off handsomely.
The evolution of the Vegas Strip had begun, and other casinos had to renovate to compete with the Mirage's splendor.
But Wynn was far from finished. He soon embarked on another innovative venture, the Treasure Island Hotel and Casino. This family-friendly resort opened in 1993 and brought a pirate theme to the Strip.
Every night, simulated pirate battles would captivate audiences, while pools, arcades, and activities for kids drew families to Las Vegas like never before.
Wynn's golden touch continued with the Bellagio, opening in 1998. At $1.6 billion, it was the world's most expensive casino. Its Italian Renaissance theme and mesmerizing dancing fountains became a symbol of elegance.
In 2005, Steve Wynn launched the mesmerizing Wynn Las Vegas, a stunning 5-star resort packed with entertainment. Three years later, Encore Casino and Resport would add to Wynn's legacy, providing thousands of job opportunities and solidifying his reputation as a visionary.
Wynn's impact wasn't limited to Las Vegas. From a second Golden Nugget in Atlantic City to the extravagant Wynn Macau and Encore Macau in China.
Personal Life and Family of the Casino Mogul
Steve Wynn married Elaine Farrel Pascal in 1963. Though their marriage saw its ups and downs, divorcing in 1986 and remarrying in 1991 before divorcing again in 2010, their partnership left an indelible mark on the Wynn empire.
Elaine served on the company's board for 12 years, and together, they have two daughters, Kevyn and Billian.
Their lives took a dramatic turn in 1993 when Kevyn Wynn was kidnapped. Steve paid a $1.45 million ransom, leading to her safe return after the kidnappers were caught in a high-stakes blunder.
In 2011, less than a year after his divorce, Wynn found love again, marrying Andrea Danenza Hissom in a beautiful ceremony at the Wynn Las Vegas.
Steve Wynn's reputation took a significant hit when allegations of sexual misconduct surfaced.
In 2018, the Wall Street Journal covered several sexual allegations against him, including one from a manicurist to whom Wynn later paid a substantial $7.5 million settlement.
He was not found guilty, but the repercussions were severe. In February 2018, Nevada regulators imposed a $20 million fine on Wynn's company for failing to respond to the claims.
Steve Wynn Net Worth and Wealth
Despite his professional life's rollercoaster of ups and downs, Steve Wynn's net worth is one of the biggest testaments to his success and legacy.
Steve Wynn made his fortune opening some of the most iconic gambling spots like The Mirage and Bellagio has always had an eye for the extraordinary.
He spares no expense in crafting the best, whether hotel rooms, nightclubs, golf courses, or entertainment venues.
Wynn's vision and ambition led him to reinvigorate the Las Vegas Strip in the 1990s and expand into lucrative overseas markets like Macau.
As cited by Forbes, Steve Wynn net worth stands at a staggering $3.2 billion, placing him among the top 400 richest Americans.
Despite recent controversies and largely stepping away from the public eye, Wynn's financial legacy continues to grow. For gamblers and dreamers alike, Wynn's success story offers an exciting glimpse into the world of luxury, risk-taking, and innovation that can only be found in the casino universe.
His ability to turn dreams into reality has solidified his place in the pantheon of self-made billionaires.
Where Is Steve Wynn Today?
Wynn, now 81, has stepped back from the dynamic world of casinos he once reigned over.
After departing Wynn Resorts amid allegations of sexual misconduct and selling his 11.8% stake in the company for a substantial sum of about $2.1 billion in March 2018, he exited the gaming industry. This move marked the end of an era.
Today, Wynn has found solace in the sun-soaked ambiance of Palm Beach, Florida. Far from the glitz and glamour of Las Vegas, he enjoys a quieter life.
FAQ
What Is Steve Wynn Net Worth?
Steve Wynn's net worth is estimated to be around $3.2 billion.
He amassed this fortune through his extensive career in the casino industry, developing iconic gambling spots like The Mirage and Bellagio.
Was Steve Wynn Found Guilty of Sexual Misconduct?
Wynn has not been found guilty of sexual misconduct in a criminal court.
However, he has faced allegations and pair settlements related to accusations, and regulatory bodies have found Wynn Resorts guilty of failure to respond to claims.
Is Steve Wynn Married?
Steve Wynn has been married three times, most recently to Andrea Danenza Hissom in 2011, with whom he remains married.
Who Purchased the Bellagio from Steve Wynn?
The Bellagio is now owned by The Blackstone Group, which acquired it in 2019. MBM Resorts International continues to manage the property.