Best Gambling Manga for 2021 – Top 10 Picks You Need to Read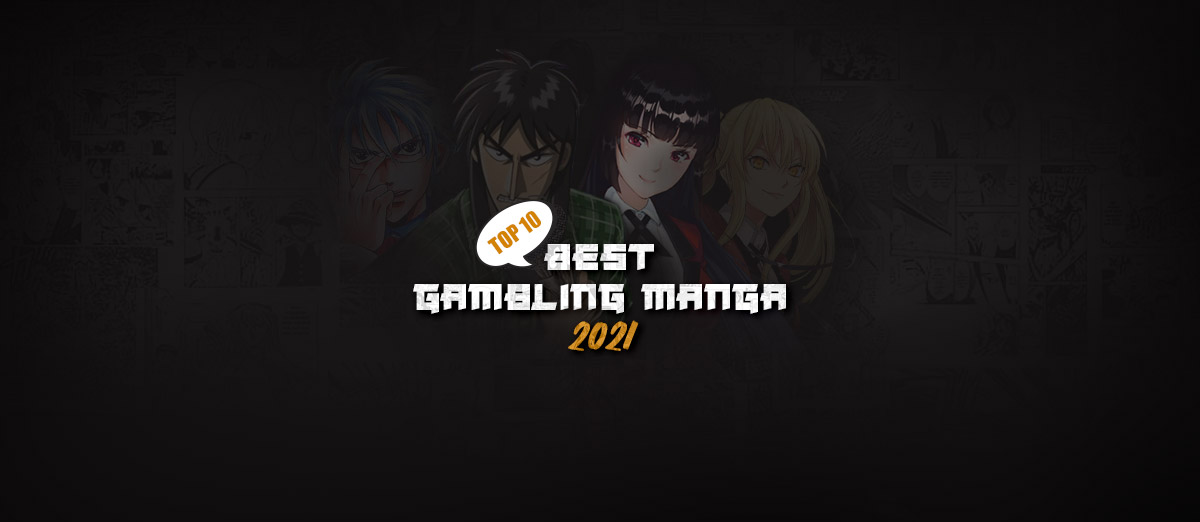 The art of manga is undoubtedly fascinating and enjoys more and more fans with each passing year. From odd and unique characters to mainstream comics with millions of copies sold worldwide, there's a manga comic covering almost every conceivable topic. Gambling is not an exception.
Today we cover the top ten gambling manga comics you can enjoy in 2021 and beyond, so stay tuned.
What Is Manga?
The literal translation of the term means "whimsical pictures." This art form originated at the end of the 19th century in Japan. The first manga stories were black and white, although this has changed over the years, and you can find many colorful comics nowadays.
In today's culture, manga refers to Japanese comic books or graphic novels with that recognizable style.
Many people mistake manga for anime, although the two are very different since anime refers to animated shows, often based on manga comics.
Top 10 Gambling Manga for 2021
How come there are so many gambling themes-manga comics? The answer is simple.
Manga comics cover many topics, and gambling is one of the most popular entertainment industries, so it naturally comes to this genre. Like adventure, comedy, sci-fi, and other themes, gambling has found its way into many manga comics.
On top of that, gambling is still a bit of a taboo topic in Japan, so gambling manga comics are an excellent way of addressing this touchy issue. So, without further ado, let's dive into the most exciting and best gambling manga you can read in 2021.
10. 81 Diver
Written and illustrated by Yokusaru Shibata, 81 Diver manga is a gambling drama revolving around Kentaro, a likable character with a knack for a game called shogi. Kentaro understands and plays the game very well, albeit doesn't play it very often.
With finances getting tighter, Kentaro decides to play shogi for money and soon loses a significant amount of it to Ukeshi, a female shogi player who beats him without any trouble.
This motivates Kentaro to become more serious at the game and dedicate more time to playing it professionally. As he dives into this world, he grows closer to Ukeshi, who works as a part-time maid cosplay despite being a skilled shogi player. As you can guess, this adds some spice to the series.

9. Atsui ze Pen-chan
This iconic gambling manga comic that ran from the mid-80s to the mid-90s is a piece many forgot, but one that still holds excellent value and is very entertaining to read. It follows Watanabe Yuuichi or Pen-chan, a young man fascinated by mahjong but without any mahjong skills whatsoever.
However, this doesn't prevent him from playing his favorite game, despite losing most of the time. He enjoys gambling on mahjong and uses it as a hobby around everyday activities in his life. That said, all of this changes when he gets dragged into a mahjong game with local Yakuza members, who quickly raise the stakes to a point Pen-chan isn't comfortable with.

8. Akagi
Noboyuki Fokumoto is known for creating some of the best gambling manga comics around. In this context, the Akagi manga is one of his longest-running projects, as this gambling manga comic ran for nearly 27 years, spanning 306 chapters and 36 volumes in total.
The main character, Shigeru Akagi, gets sucked into mahjong and soon gets in trouble with the Yakuza on behalf of another ill-fortuned player. This ensures problems, adventures, and losses, as Akagi tries to pay the debt and get out of the clamps of the Yakuza.

7. Usogui (The Lie Eater)
Written and illustrated by Toshio Sako, Usogui is a very entertaining manga in which gambling is not a hobby, not even a job, but a life purpose on its own. In this series, players dedicate their entire lives to gambling, where even after losing their last penny, they can stake their lives for an opportunity to place one more bet.
In this world, the story centers on Bak Madarame, known as Usogui. As a part of Kagerou, Bak takes on violent and unpredictable opponents to keep order and ensure society doesn't go out of control. However, Bak doesn't only stick to his profession and instead tries to fulfill personal goals, leading to very turbulent adventures.

6. Tomodachi Game (Friendship Game)
Tomodachi Game has been around since 2013 and only gets better with each passing year. The main appeal of this gambling manga is that it's filled with great plot twists, so you can never tell when trouble is coming. The manga follows Katagiri Yuuichi and his four best friends trying to find their way out of the trouble they've suddenly got into.
Kidnapped and taken to an unfamiliar room, the friends are put into a "friendship game" that puts their friendship to the test and reveals the darkest sides of their personalities. As the challenges get harder with time, Yuuichi realizes that he is the one who has to step up and make sure all of them make it through the game alive.

5. Liar Game
Liar Game was first published in 2005 and ran for a decade. It includes 19 volumes and covers heavy-hitting topics like gambling, mystery, and drama with psychological elements.
The comic follows the story of Nao Kanzaki, an exceedingly honest girl who is dragged into the infamous Liar Game, a game in which the main objective is to defeat opponents and take their money with various tricks, deception, and lies.
A kind and honest girl, Nao is quickly tricked and cheated out of her money, seeking revenge on the people who persuaded her to play this game. She then recruits a known swindler to help her win the money back. An excellent plan at first, the two soon find out that they've gotten into something bigger than they could have ever expected.

4. One Outs
A fascinating gambling manga that incorporates sports and seinen genres, One Outs follows Toua Tokuchi, a professional baseball player who is also an avid gambler. Tokuchi is so good at the game of simplified baseball called One Outs that he seems to win every game with his powerful pitch effortlessly. As his reputation grows, a professional team approaches him to sign up with them.
Thinking he got the opportunity to showcase his talent, Tokuchi quickly finds out that the team's owner, Hiromichi Kojima, has ulterior motives and uses his team to fix games for profit. While Tokuchi has a plan of his own, this path involves combining his talent with his gambling skills and risking his life along the way.

3. Kakegurui
Written by the legendary Homura Kawamoto and illustrated by Tooru Naomura, Kakegurui Compulsive Gambler is one of the best-known gambling manga comics in the world. This gambling manga is so popular that it even got its own Netflix adaptation – the Kakegurui anime, which enjoys great viewership.
It's set in the Hyakkaou Private Academy, a school for elite students that has created a dystopian social system in which the rankings are determined by gambling. It follows the story of Yumeko Jabami, a transfer student that arrives at the school and soon starts climbing her way on top of the pecking order thanks to her great skills and compulsive gambling habits.

2. Kaiji
Written by Noboyuki Fukumoto, Kaiji is an action-thriller gambling manga that came out over two decades ago and is still considered one of the best gambling manga comics ever by many readers. Because of its popularity, Kaiji has seen various movies, anime, and video game adaptations over the years.
Separated into six main parts, Kaiji focuses on the art of gambling. It follows Kaiji, the titular character, as he falls into more and more trouble by gambling, doing pranks, drinking, and racking up more substantial debts each day. Suddenly, all of this changes when Kaiji gets into a high-stakes gambling game with some very dangerous people.

1. Gamble Fish
Although it was only published for a little over two years, Gamble Fish made a significant impact in the world of gambling manga comics.
It takes place in Shishidou, an elite school where children of wealthy people go to study under great luxury and privileges. That is until a mysterious student called Tomu Shirasagi is transferred to the school.
As time goes by, Tomu's motive becomes more apparent as he starts using psychological tricks to win every game he plays in the school. However, this soon changes when he encounters Mika Shishidou and Abidani, who want Tomu expelled or dead.
This makes for a gripping story that will keep you turning pages without missing a beat until you reach the end of the series.
With so many fantastic manga comics, it's hard to place any piece on the top spot in front of all others. That said, if any gambling manga deserves this spot, it's certainly Gamble Fish.