How to Beat All Games in Netflix's Korean Smash-Hit "Squid Game" and Survive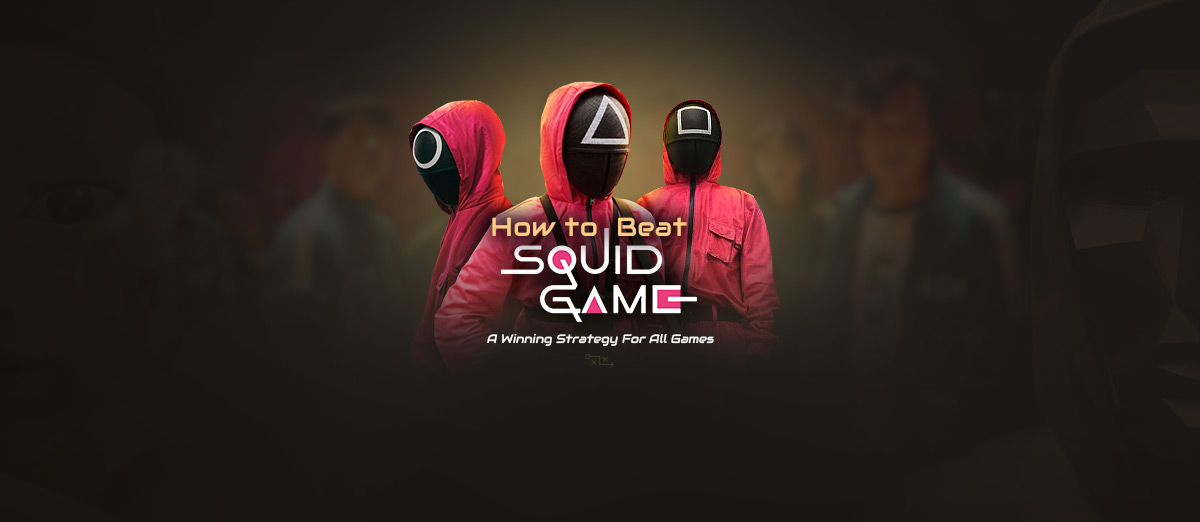 So, as someone who enjoys playing casino games, you will be aware of how your body reacts when you need to make a playing decision.
Hit or stand in a game of blackjack, upping your stakes when playing a slot, waiting for the ball to land in a game of live roulette.
All these scenarios make your heart beat a little faster, but how do you think you would feel if you were playing a game and if you made an incorrect decision, a doll the size of a tree would instantly notice the mistake and kill you. Welcome to "Squid Game"!
If you are not familiar with "Squid Game", it is a Netflix TV series which has captured the attention of millions of viewers around the world, and to say that it is a little on the gruesome side would have to be the understatement of the year.
The Story: Children's Games Gone Terribly Wrong
In the first episode of the series, we are introduced to the main character, Gi-Hun. The 47-year-old compulsive gambler who lives with his mother has been stealing off her to fund his gambling habit.
Things have gone from bad to worse for Gi-Hun. After losing everything, he is hunted down by debt collectors who politely inform him that he has 30 days to come up with the money that he owes, or they will take a kidney and an eye from him.
Whilst sitting in a subway station, wondering what the hell he is going to do, Gi-Hun is approached by a stranger who invites him to play the popular Korean children's game of Ddakji (a paper flipping challenge) with the chance of winning a decent amount of cash.
When he wins, the stranger gives him a card and tells Gi-Hun to get in contact if he would like the chance to win a life-changing amount of money, 45.6 billion Won ($38.6 million).
Needless to say, that is exactly what our main character does, as do all the other entrants to Squid Game which include a doctor, a married couple, an old man, a criminal, and an immigrant who all have their own problems and will do anything to get their hands on the prize of $38.6 million. There are six different games in Squid Game – the last man or woman standing at the end of the last game will win the big prize, everyone else will die!
OK, with the introduction to Squid Game out of the way, let's take a closer look at each of the six games and, if you were one of the contestants, the steps you could take in order to swing the odds in your favor.
Red Light, Green Light

This is the first game and catches lots of the contestants unaware because they don't know what is happening and when they do realize they panic.
The game takes place in front of a big doll, and the aim of the game is to reach the finish line, but you can only move during the green light, move during the red light, and the doll with the laser eyes will notice, and you will be shot on the spot.
How to win: If you've got your wits about you, you will notice that the doll utters the same sentence just before the red light goes on, giving you those valuable few seconds to steady yourself and stop moving.
The Honeycomb

This Korean child's game requires you to create a simple shape out of a piece of brittle honeycomb with a needle. The shapes which players should pick from are triangle, circle, star, and umbrella.
It is not exactly a hard game to complete at the best of times but knowing that you will be shot if a crack forms in the fragile sugar wafer does make the task a little more intense.
How to win: A quick-thinking would be of help, as determining the easiest shape of all is the key in this game. Choosing the simplest shape, or the one with the least angles – the triangle – would make the task a lot less intense, while picking the umbrella, on the other hand, is a serious reason to think you are in trouble. In order to give yourself a better chance of completing the game and staying alive, a leaf should be taken out of the book of the main man, Gi-Hun, and lick the honeycomb as this will make it easier to shape and not crack or crumble.
Tug of War
In this game, contestants are told to get into teams of 10 without knowing what the game is.
The game is the usual tug of war which you may be used to, but as this is "Squid Game", the losing team falls to their deaths.
How to win: Your chances of success in this game obviously depend on the strength of the other contestants in your team, but as there are no rules as such, a tip would be to turn around so that your back is facing the opposition team, lift the rope to your shoulders and lean forward, giving you greater leverage.
If your other team members do the same, it should be the other team who will fall to their deaths.
The Marbles Game

It soon becomes apparent that this is a game of trickery above anything else and is all about a game of marbles.
Contestants are told to get into pairs without knowing what the game is all about, and once they are in pairs, it is revealed that the game involves taking possession of all your opponent's marbles within thirty minutes and without using violence.
The winner moves on to the next game, and the loser, yes, you guessed correctly, is killed!
How to win: The way to win this game is by tricking your opponent, perhaps by telling them that to make it fair, you will count the marbles to make sure you've got the same number. As soon as you get your hands on their marbles, inform the guard that you have won.
If this sounds a little harsh, it is, but as the famous saying goes, 'all's well in love and war.'
The Glass Bridge

Contestants are told to choose a number between 1 and 16 without knowing that they will be made to walk across the glass bridge in that order.
The glass bridge consists of 18 pairs of panels, but only half are safe. In other words, stepping on a panel which is not safe will result in falling to your death.
The chances of success in this game rely to a large extent on which number you are in the line-up, with the odds of the first person to choose the right panels to walk on being over 250,000/1 (not as high as winning the progressive jackpot on a Microgaming slot but high enough).
How to win: Choosing one of the last numbers seems to do the trick in this game, although as the time is limited, it also depends on the willingness of your opponents to risk their lives.
So not really a tip but more a matter of hoping you are as near to the last person to walk across as possible.
The Squid Game

If you have made it this far, congratulations because there are now only two of you left in the final game, the Squid Game.
This one is particularly gruesome as it is basically a knife fight with the winner getting their hands on the ultimate prize.
How to win: The only real advice would be to use something, anything you can find really, as a shield. For example, take off your jacket and wrap it around your unarmed hand and use this arm to defend yourself. Then all you are left with is to hope for the best.
What to avoid: Whatever you do, don't let your mind wander, and start dreaming about what you are going to do with all the prize money.
A Game of Chance or a Game for the Brave
It is not difficult to see why Netflix have come up with a winner in "Squid Game", but it does make very uncomfortable viewing at times.
Whilst we can talk all day about different ways to tackle each of the games in an attempt to swing the odds in our favor, how many of us could confidently say that we wouldn't be so frightened, we wouldn't even be able to think straight.
One thing is for sure though, you must take your hat off to Gi-Hun and his fellow contestants for their sheer bravery and initiative, but if you don't mind, the biggest risk I'd like to take is playing a game of online blackjack.