King Charles III Coronation – What Could Go Terribly Wrong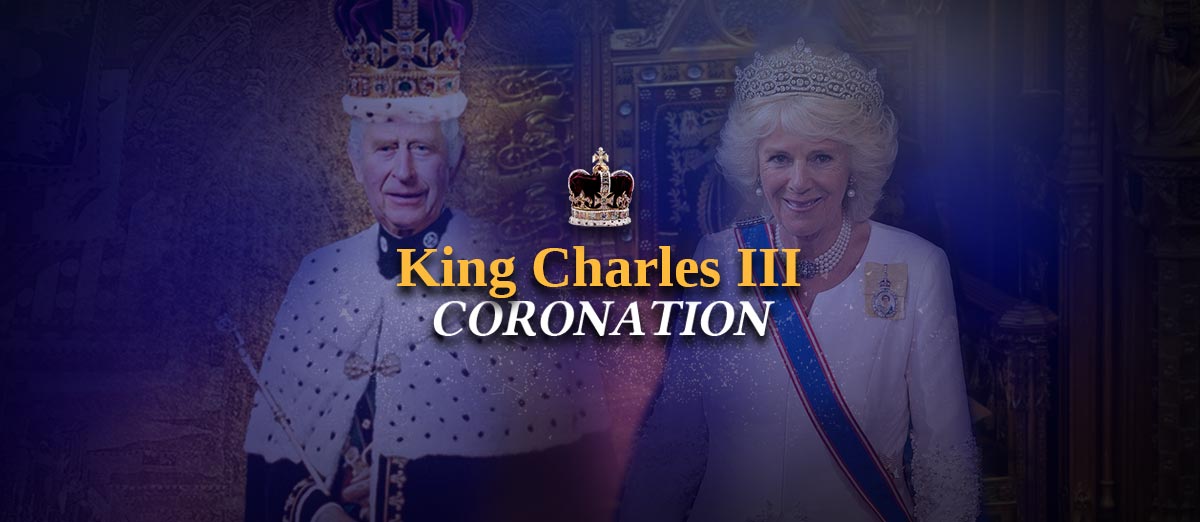 With the coronation of England's 63rd monarch, His Royal Majesty King Charles III, just around the corner, it has reached levels of almost speculation fever on British shores about how the highly anticipated Bank Holiday weekend event could go.
In the weeks and months leading up to the coronation, almost every UK online casino and sportsbook are having a field day. There has been a substantial amount of guesswork, bets and odds about certain elements of the day, which hasn't been short of controversy or very far from the spotlight of even the global media.
We have seen much debate surrounding how the Coronation of King Charles might go, and also details of the festivities throughout, with 100s of millions of people around the globe understood to be likely to tune in to the television coverage for this.
On that note, let's take a look at 8 possible things that might go wrong with the highly anticipated King Charles Coronation.
Prince Harry and Meghan Markle's Attendance at the Coronation

There has been no secret made that the younger Prince has had problems with his family ever since he announced his much-publicized courtship with American actress Meghan Markle, which led to a significant amount of controversy within the Royal Family.
The late Queen Elizabeth was thought to have been one of the main drivers behind the suggested fallout between her grandson and the rest of the family, though there is a lot of speculation surrounding this.
While the relationship is understood to have been repaired slightly, there is still speculation about whether Prince Harry and Meghan Markle will attend the King Charles III coronation. However, you can find numerous odds relating to this with Betfred and other operators.
To give you a couple of examples, you can get odds that King Charles III will invite his son to his coronation or that he will not. Meanwhile, there are also odds that the former Prince of Wales will invite his son's wife to the coronation ceremony as well.
There are odds for Prince Harry to attend if his wife is not invited, whether he will or not. In addition, you can bet that Prince Harry will attend if he is invited. Furthermore, there are even odds for the Royal Family to make a formal apology to the couple prior to the coronation.
Where it starts to get complicated is that the couple has two children, and it is not clear whether both of these have been invited. It is thought that the youngest, Princess Lilibet, who will turn two this June, could well be too young to attend. If this is the case, there are suggestions that Markle will stay behind to look after her.
It is understood that Prince Archie, however, at three years old, is just about an acceptable age for the event, though it is still not clear whether he would attend, with him turning four on the day of the event. Regarding the children, it is likely that Markle would stay at home and look after both of them, and Prince Harry would attend the event on his own.
Protestors to Disrupt the Coronation

The UK has had many problems with protests in London over the last month, and it is understood that security at the event will be on high alert as a result, with betting companies giving odds of 5.88 that this will happen.
Just Stop Oil is a group that has taken over the country over the last few weeks, having caused major disruption, especially at major events. This was the group that was behind the delay for the Grand National - the biggest horse racing event of the year, while they also caused mayhem at the World Snooker Championship recently.
The group has since threatened to cause a scene at other major events over the next couple of months, including the football FA Cup Final and the Wimbledon tennis tournament.
While it seems highly unlikely that any protests will be allowed even within one hundred meters of the King, with this understood to be one of the most protected events in the world, it is possible that we may see at least some very minor display of demonstration. However, this would be very quickly quashed.
Rain for the King's Coronation

The reason for choosing the May bank holiday weekend for the coronation is that there is often a good chance that the weather will be pleasant. With millions in the UK set to tune in for King's Coronation event and also likely to have barbecues, it is much anticipated that the weather will be nice.
Rain would certainly dampen the mood around Westminster Abbey, where the coronation is set to take place, in addition to the numerous parks around London where 10s of thousands of people are expected to gather to watch the event on big screens and enjoy their own celebrations.
Major Broadcasting Power Outage

This would certainly be disastrous - even any kind of slight power cut that in some way prevents any of the hundreds of millions around the world from watching even some of the event.
Certainly, stranger things have happened, however, unsurprisingly, there are no betting markets for this. Power cuts are often affected by inclement weather, while this does not usually affect every broadcaster.
However, we certainly do not discourage you from requesting odds for this to happen from your favoured bookmaker if we have potentially given you an idea. It is likely that they will respond and allow you to place your wager.
Motorcade to Break Down on the Way

While King Charles and The Queen Consort will travel to Westminster Abbey via the royal carriage, this will be under heavy guard at all times, with this being in the middle of a motorcade convoy.
This will be an event that is likely to have been planned right down to the very last-minute detail. However, it might just be all too easy to overlook potential electrical failure with one of the vehicles involved in the motorcade (certainly in front of the royal carriage), which could cause not only unwarranted disruption but also embarrassment.
It is something that not even the bookmakers have thought of happening, and there is no reason why it should, however, you may well be able to request odds if you think there could be a chance of this happening.
Mobile Phone Interruption in the Coronation Ceremony

At previous coronations, there has been no danger of this happening though the world has advanced significantly since then. A mobile phone interruption during the ceremony would be as embarrassing as it could come. However, there are likely to be protocols in place to prevent this from happening.
What is likely is that everyone who enters the abbey to attend the event will be reminded to turn off any mobile phones or electronic devices that they have on them at the time in order to prevent an unfortunate accident.
Red Arrows Mishap

A British institution that inspires great pride in the majority of UK citizens, the Red Arrow flypast has become a symbol of every national event in the country for the last half a century.
Commemorating a special event, the Red Arrows are made up of seven Hawk-T1 jets, emblematic of the Supermarine Spitfire that helped to win the Battle of Britain in World War Two.
These jets are known for emitting red, blue, and white smoke (the Union Jack) in their trail with every fly-by that they do - this combined with their impressive roar, usually always adds a regal patriotism to every event, and it is understood that they will definitely feature during the coronation of the King.
However, it would be disastrous for even the slightest thing to go wrong with a vast proportion of the world watching - such as one or more jets forgetting to turn their smoke machine on for the fly-by.
This has never happened in the history of the Red Arrows, who pride themselves on being the best of the best in the RAF; however, stranger things have certainly happened. Whether bookmakers would provide odds on this remains to be seen.
Someone to Forget Their Lines

Supposedly, a coronation of a new monarch is quite a straightforward procedure. However, there could well be a great deal of nerves inside Westminster Abbey, with the eyes of the world upon all there.
This is obviously the first coronation in most people's lifetimes, which means whoever is involved in the service has never done this before - as a result, for the Archbishop to potentially forget to say something in the right order could be a possibility.
However, it is highly unlikely and may not even be noticed by the masses that are watching on television, even if this did happen.
King Charles III Coronation - A Much Anticipated Event
However, as the day goes on, what is likely is that it will be a highly-charged and exciting event - this being the first coronation in most people's lifetimes - even those working in the media, which means that for many, they are really looking to it.
While at events like these, there are always things beyond control that happen, as highlighted as possibilities above, the likelihood is that the day will go without a hitch.
The British are world-class when it comes to security measures, especially for events like these, so even any whisper of a planned protest is likely to be sniffed out well before the event and the perpetrators imprisoned.
Although things such as the weather cannot be helped, even if it does rain, it is likely to do little to dampen the spirits of the British public with their stiff-upper-lip mentality. However, the fact that it is going to be in May suggests that the weather will be fine. Historically for this particular weekend, this has usually been the case.
However, all eyes are likely to be fixated on the subject of Prince Harry's attendance, which is seemingly looking as though this will happen. Should his wife not attend, this would be greeted as more of a familial, child-minding issue rather than an outright snub. Regardless of what happens, it is sure to be a highly memorable occasion!
FAQ
When Is King Charles Coronation?
The Coronation will be held on Saturday, 6 May 2023 at the Westminster Abbey.
Is King Charles Coronation a Bank Holiday?
Although the date of the Coronation happens to be a Saturday, it has been officially announced that there will be an extra bank holiday on Monday, 8 May 2023.
Where Can I Watch King Charles III Coronation?
The Coronation of Charles III and Camilla will be live streamed by BBC.
However, if you happen to be in London at the time, you can watch the ceremony at the Hyde Park screening site.
Will There Be a Coronation Medal When Charles Becomes King?
After the coronation of King Charles III, a medal will be issued in his name, as is customary for each monarch.
What is new is that a golden bingo dabber has been exclusively created by goldsmith Sarah Weatherall to celebrate King Charles III Coronation too.