Top 10 Richest Gamblers in the World – Net Worth and Notable Wins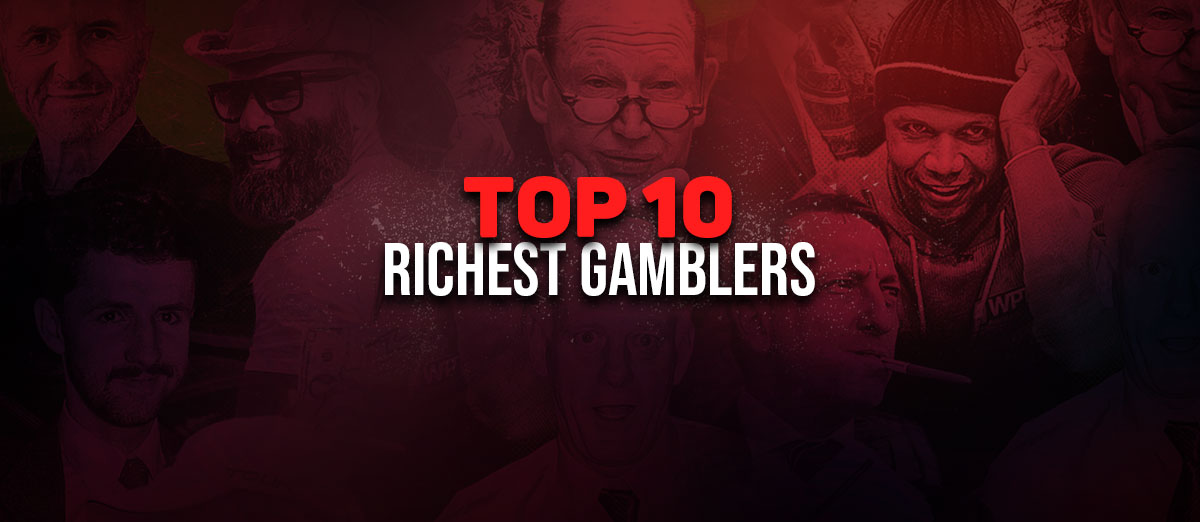 The gambling industry has become an economic powerhouse, with billions of dollars in yearly revenue. From brick-and-mortar casinos to online gambling platforms, this industry has evolved to meet the demands of players across the world like no other.
And while most people associate gambling with entertainment, some individuals have made a fortune by going up against casinos or bookmakers and winning big.
In this article, we explore the top 10 richest gamblers in the world to find out their gambling methods, notable wins, and in some cases, philanthropic activities.
Phil Ivey - $100 Million

Phil Ivey is an American professional poker player and gambler widely regarded as one of the best players of all time.
Born in 1976 in Riverside, California, Ivey began playing poker at a young age and quickly established himself as one of the best gamblers on the planet. He has won ten World Series of Poker bracelets and is one of the most successful poker players in this segment.
The "Tiger Woods of Poker" has also won millions of dollars in tournaments and cash games. He reportedly won $16.6 million from businessman Andy Beal in a single poker session.
In addition to crushing opponents at the poker table, Ivey has had his fair share of success against casinos. In 2012, he won $11 million playing baccarat at a London casino. As it would later turn out, the casino refused to pay out his winnings, and the whole thing went to court, where the judge decided that Ivey used illegal techniques to gain an edge over the casino.
David Walsh - $200 Million

David Walsh is an Australian professional gambler best known for his success in betting on horse races. Walsh was born in 1962 in Hobart, Tasmania, and used his background in mathematics and computer science to develop innovative betting strategies and team up with Zeljko Ranogajec (more on him later in the article).
His biggest win came in 2003 when he reportedly won over $11 million with a single bet on the Melbourne Cup. Despite his success in gambling, Walsh is known for his aversion to traditional gambling practices, which he has been a vocal critic of.
He used his wealth to fund the creation of the Museum of Old and New Art (MONA) in Hobart, which has become one of Australia's leading cultural institutions.
Dan Bilzerian - $200 Million

Dan Bilzerian, also known as the "King of Instagram," is one of the most famous professional gamblers and social media personalities in the world. He rose to fame thanks to the lavish lifestyle he portrays on his social media profiles.
Born in 1980 In Tampa, Florida, Bilzerian comes from a wealthy family, and he gained a significant following on Instagram for his posts featuring luxurious cars, private jets, and beautiful women.
The Florida native is also known for his high-stakes poker games, where according to him, he has won millions of dollars. Bilzerian has also competed in several major poker tournaments but failed to achieve significant results.
The online celebrity is esteemed to have a net worth of around $200 million, largely from his gambling and business ventures.
While Bilzerian has often been criticized for his controversial behavior, he has also done a fair share of philanthropic work, including supporting veterans' charities and donating to disaster relief efforts.
Billy Walters - $200 Million

Billy Walters is an American businessman and former professional gambler who gained fame in the gambling community for his success in sports betting.
Walters was born in 1946 in Munfordville, Kentucky, and started his gambling career in 1955 when he was only nine years old. Unfortunately for him, he lost all of his savings on his first bet.
Unlike most other gamblers on this list, the Kentucky native was pretty unsuccessful during the first two decades of his career. However, after figuring out a winning strategy for sports betting, he has only been in the red once in the last 39 years.
According to some sources, his biggest win came in 2010 when he won $3.5 million after betting on the Super Bowl.
When it comes to philanthropy, Walters has mostly been supporting organizations with education and healthcare initiatives.
Zeljko Ranogajec - $410 Million

In addition to being one of the most successful gamblers, Zeljko Ranogajec is also one of the most enigmatic figures in the gambling world.
Ranogajec was born in 1961 to a family of Croatian immigrants in Australia, and he began his gambling career in the 1980s, mostly focusing on blackjack and poker before moving to horse racing and sports betting.
The Croatian-Australian's gambling methods are highly secretive, as he has never publicly disclosed the exact nature of his betting strategies. However, some sources confirm that he employs a team of analysts and mathematicians to develop highly sophisticated statistical models that allow him to identify profitable betting opportunities.
Whatever his exact strategy might be, he is believed to have won hundreds of millions of dollars throughout his gambling career. Ranogajec made most of his money on horse racing by placing large bets on big underdogs.
This professional gambler is also known for his philanthropic activities. He has donated millions of dollars to various charitable causes, including environmental conservation, medical research, and education. In 2013, he founded the Ranogajec Charitable Trust, which supports a range of initiatives in these areas.
Alan Woods - $450 Million

Alan Woods was an Australian professional gambler who made most of his wealth betting on horse races in Hong Kong with Bill Benter (more on him later in the article).
Woods was born in 1945 in Murwillumbah, Australia, where he quickly gained a reputation as a skilled card counter and blackjack player. After meeting Benter on one of his trips to Las Vegas, he would shift his focus to horse racing and sports betting, two areas of betting that made him a multimillionaire.
Like most of the players on this list, Woods was known for his highly analytical approach to gambling, as he was always looking for new ways to gain an edge over the house. His net worth at the time of his death in 2008 was estimated to be around $670 million AUD.
Andrew Black - $500 Million

Andrew Black is a British professional gambler and businessman best known for co-founding the online betting exchange Betfair.
Black was born in 1963 in Northern Ireland and began his career as a computer programmer before becoming a professional gambler. When it comes to his betting style, he has a particular approach in which he loves to place big bets on horse races.
While Black's exact bet worth is not publicly available, he is estimated to be worth several hundred million dollars.
He is also a philanthropist and has donated millions of dollars to various charitable causes, including the Against Malaria Foundation and the Andrew Black Charitable Foundation, which supports African education and health projects.
Edward O. Thorp - $800 Million

Edward O. Thorp is an American mathematician, author, and former professional gambler. He is considered one of the most influential figures in the history of gambling.
Born in 1932 in Chicago, Torp became famous in the 1960s after publishing his book, "Beat the Dealer" in which he detailed his groundbreaking research on card counting and blackjack strategy.
The American later applied his mathematical skills to other games, including baccarat and roulette, as he continued to innovate new betting strategies throughout his career. While his exact net worth is not publicly known, he is estimated to be worth north of $800 million.
Thorp has been a generous philanthropist, supporting various causes related to education and scientific research.
Bill Benter - $1 Billion

Bill Benter is widely considered the most successful and influential gambler in history, with a net worth estimated at over $1 billion.
Born in Pittsburgh, Pennsylvania, in 1957, Benter began his career as a professional card counter but soon became fascinated with the world of horse racing. This led to him using his background in mathematics to study statistical models and algorithms, which would help him predict the outcomes of horse races more efficiently.
In the early 1980s, Benter moved to Hong Kong, where he developed a software program with his team that analyzed a range of factors, including horse form, jockey performance, track conditions, and weather patterns.
Based on this data, the software generated a set of probabilities for each horse race which Benter then used to predict winners of horse races more accurately. Some of his most notable wins include a $16 million payout at the Hong Kong Jockey Club in 2001 and a $2.7 million payout at the same club in 1995.
Today Benter is known for his philanthropic activities, as he has donated millions of dollars to charities and non-profit organizations around the world.
Tony Bloom - $1.7 Billion

According to multiple online sources, Tony Bloom is a British professional gambler and businessman who is the richest gambler in the world with an estimated net worth of $1.7 billion.
Born in 1970 in Brighton, England, Bloom developed a passion for sports from an early age thanks to his family being involved in the local football club Brighton and Hove Albion. This love for the game eventually led him to sports betting waters.
Bloom's success as a gambler is legendary as he is particularly well-known for his success in football betting and has been credited with revolutionizing the football betting industry through statistical analysis and innovative betting strategies.
At the moment, Bloom is the chairman of Brighton and Hove Albion Football Club and has been instrumental in turning the struggling club into a Premier League team.
In 2011, he established the Bloom Foundation, which supports a range of initiatives in the areas of education, healthcare, and environmental conservation.
Final Thoughts on the Richest Gamblers in the World
In conclusion, these ten people have amassed incredible fortunes through gambling by using their skills, strategies, and risk-taking abilities.
At the same time, their net worths are a testament to their success and have made them legends in the industry. And while many of these individuals are notoriously private, their impressive wins and philanthropic activities have gained them worldwide recognition.
Since the gambling industry is constantly growing, there is no doubt that we will continue to see more individuals that have found a way of consistently beating the house.