Top 6 Poker Games for Beginners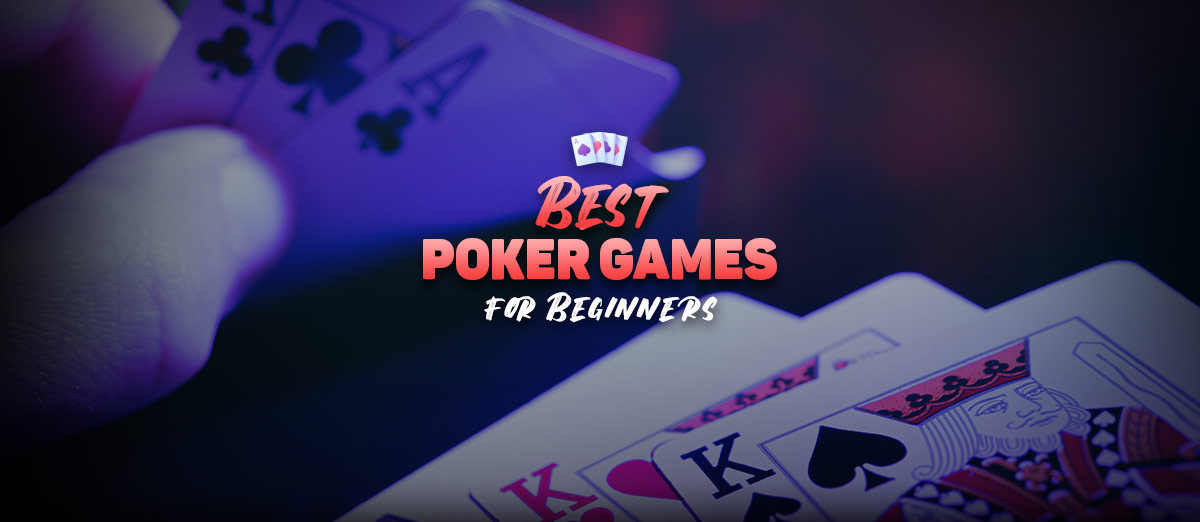 Have you seen poker played on TV or at the local casino, and you are wondering how to learn the game fast and jump into some action? The truth is that poker is a collective name for a group of games which share some basic rules and differ quite a bit from one another.
If you are a novice player looking to get started, you should be careful about which poker variation you choose as your entry point. I will introduce you to several popular poker games that you could learn and start playing with your friends, online or in the real casino environment.
However, be careful about playing for money when getting started, as you will not want to risk too much before you are sure you have what it takes to hold your own.
Choosing the Right Poker Game
As I already mentioned, there are many different formats of poker games, and each has different rules that may benefit new players or make it very hard for them to hold their ground. When picking a poker game, you should make sure it's a game that is actually played by other players as well, as many poker variations are relatively extinct these days.
What's more, you will not want to choose an overly complicated version of poker, as that will end tragically, with poker sharks taking you for a ride. So which poker games are best for a new and aspiring poker player? Here are a few options you can choose from to get your poker career off the ground.
No Limit Texas Hold'em
This one may seem like a very obvious choice, but if you are a novice poker player looking to get into poker these days, No-Limit Texas Hold'em should be the game you learn first.
It is the most popular poker game globally, and most poker rooms you walk into, both live and online, will feature it as the main game of choice. While other poker variations may be offered, this is the game that will be the highlight, and this is the one that most people you encounter will know and want to play. For that reason, if you want to become a poker player, you will have to start with Texas Hold'em as your first poker game.
Hold'em is actually a complex game compared to some others, and it may take quite a long time for you to become proficient at it, but the good news is that there is a lot of teaching material out there. If you want to become a Texas Hold'em player, you can use written resources, free poker videos, paid poker courses, and much more to improve your skills.
Texas Hold'em is a game that people have studied in-depth, which means your materials will be up to date and very helpful. Once you learn how to play Texas Hold'em, the poker world will open up to you. You will be welcome in any game out there, and the opportunities will be ample in almost any part of the world.
Five Card Draw Poker
If home games are your preference and you don't really like playing poker with strangers, Five Card Draw could be a game to learn and teach to your friends.
This poker game is a lot simpler than Texas Hold'em, and it offers less information and more opportunity to simply gamble. Bluffing in Five Card Draw is done almost completely blindly, with the hopes that your opponents don't have a good hand and very little actual information. The game takes a short time to learn, but there are quite a few finesses that you may want to pick up.
The reason I think Five Card Draw poker can be a great game for new players is that it is one of the most popular home game variations of poker in the world. If you are an American, you probably played this game as a kid with some of your relatives, and it is completely possible that you learned it along the way if you come from any other part of the world.
Five Card Draw can be played with a full deck of cards or a stripped version of the deck with just 32 cards and way more action.
Pot Limit Omaha Poker
If you are an action junkie and are craving big pots, Pot Limit Omaha is the game you will want to learn.
This game is similar to Texas Hold'em, but with twice as many hole cards, it generates a lot more action, plenty of massive pots, and more than enough opportunity to gamble. If you are not going to be playing against professional players who will own your soul, and you plan on playing it for low stakes with your friends, then Pot Limit Omaha is a game you should definitely learn.
This version of poker is extremely popular with European poker players, with many games on the continent actually turning away from Hold'em and towards Omaha. PLO, as it is often referred to, is a game that seems fairly easy to play but is, in fact, incredibly mathematically complex. For that reason, I really recommend learning it slowly, playing it only for low stakes early, and not jumping to any conclusions about how well you play it.
Anyone can get lucky in the short run at Omaha, but you will have a lot of problems over the long run if you start playing against people who actually know what they are doing. So, if you decide to take this game seriously, be ready to learn.
Chinese Poker
Open Face Chinese poker is another version of the game that's become extremely popular lately and is gaining more popularity by the day. The thing about OFC is that it's not really a poker game in a traditional sense, as there is no betting or bluffing.
In this poker variation, you and your opponents will be dealt cards and will need to arrange them to create the best possible poker hands. The thing about Chinese Poker is that it is extremely fun and easy to fall in love with, and you can play it with as few as two players and still have great fun. It is one of the few poker games that you can actually play even without money on the line, as it still makes sense to play even if there is nothing at stake. I highly recommend learning how to play Chinese Poker if you want to have some fun with your buddies.
Short Deck Poker
A game that's been taking over the poker world more and more and may just become the next Texas Hold'em is Short Deck Poker.
Short Deck is actually a variation of Texas Hold'em, but with fewer cards in the deck and slightly altered hand rankings. The shorter deck achieves one main thing: more action and more big hands. If people are getting dealt more face cards, they are likely to play more often as well.
Short Deck Poker is incredibly fun to play, and you are simply going to get so many big pots in this game that you may not want to play Texas Hold'em again after it.
That being said, I recommend learning Texas Hold'em first and sticking to that as your main game, but an occasional game of Short Deck Poker will be enjoyable to play.