Top 5 Hardest Poker Variations to Master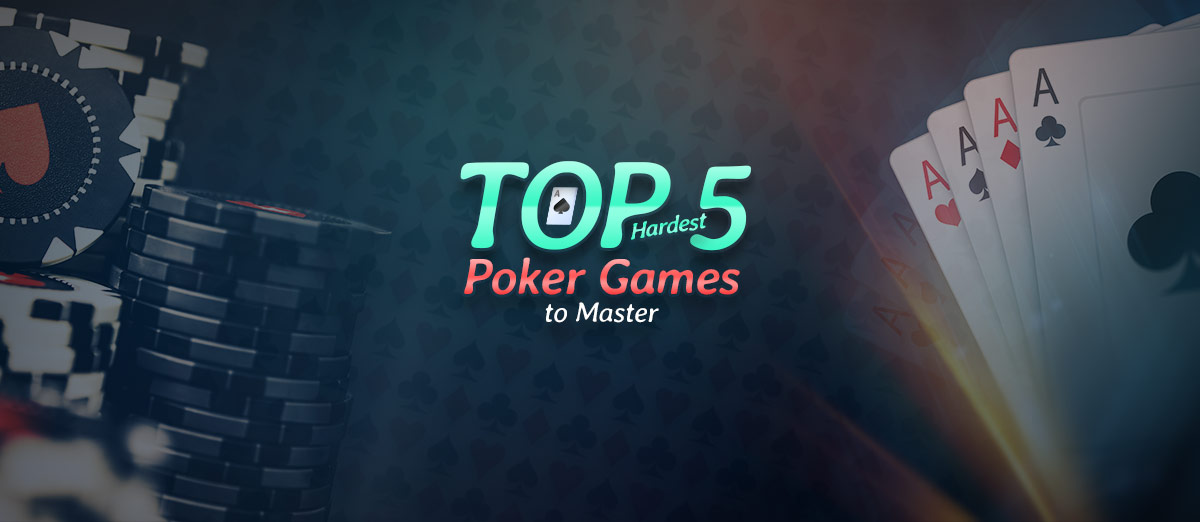 Winning at poker is not easy, regardless of which poker variant you choose to play, but some poker games are even more difficult than others. The real truth is that there are no easy poker games out there, and if you want to be a true master of any variation of poker, you will have to spend countless hours learning the game and training to get to where you want to be.
In my last article, I looked at the best poker games for beginners. Today, however, I want to talk about some of the most difficult poker games and game types that you may have seen on TV or online that are very difficult to master.
These are the most difficult but, at the same time, very profitable poker games if you can fully master them and learn how to apply your skills at the tables.
Heads Up No-Limit Hold'em
Texas Hold 'em is the most popular poker game of all, but playing at a table with many players is often much easier than facing just one opponent in a heads-up duel.
Professional players often describe Heads-up poker as the most difficult and the purest form there is, as it allows you to get as creative as you want to and to play against your opponent without any interference. If you are sick of trying to outplay the fish at the table only to get stacked by one of the nits waking up with a monster hand behind you, heads-up poker is your solution. However, the truth is that mastering the heads-up game is much more difficult than being good at ring games, as there are so many more decisions to make.
In heads up Texas Hold 'em poker, you will constantly be making decisions and playing hands that you would normally not dream of playing. Playing too tight would mean you are bleeding chips, while playing like a crazy maniac doesn't really work out either. The balance and tact required to be a great heads-up Texas Hold'em player require months and years to master, and they make heads-up one of the most difficult forms of poker to learn.
Yet, if you think you have what it takes and you are ready to take on opponents one by one and crush their souls, this game has plenty to give back. Since you will only be playing against one man, the win rates you can have in heads-up poker are far bigger than anything you could have in a ring game of any sort.
Pot-Limit Omaha
The great game of Pot-limit Omaha has been stealing some of the spotlights from Texas Hold'em for many years now as its popularity spread across Europe and the rest of the world. PLO is a more complex game than Texas Hold'em, allowing for more mistakes but also more creative play and poker bluffing.
On the face of things, Pot-limit Omaha can often seem like a gamblers' game, with many players seeing flops and playing with various trash hands. However, this is not the true face of the game, and any good PLO player will tell you that there is so much more to it than calling a pre-flop raise and flopping a full house.
Unlike Texas Hold'em, that's been more or less solved by computer programs by now, PLO still remains a mystery in many of its aspects, especially when played in ring games. With many players in the hand, four cards dealt per player, and so many dynamic boards, PLO is a game that simply doesn't get mastered overnight.
The upside of learning PLO now is that players who are really good at it tend to have insane win rates, as opposed to often capped win rates at the Hold'em tables. If you see your usual Texas Hold 'em games dying out and getting too nitty to profitably play in, a move over to Pot-limit Omaha may be what you need to keep your poker career going.
Draw Poker Games
Draw poker used to be extremely popular before variations like Stud and Hold'em gained traction, and some still consider it to be purer, as no cards are exposed in this type of poker. Today, several variations of draw poker are still played, with Deuce to Seven Single and Triple Draw being the most popular and the standard Five Card Draw still occasionally played.
If you are the kind of player who doesn't like the math in poker too much and prefer to look your opponent in the eye and decide if they are bluffing or not, draw poker is perfect for you.
Draw games are so hard to learn because they come down to feeling more than the math, making them more difficult to master definitively. Even more, there is very little written or video material on draw poker, which means your study will have to come down to actually playing the game and trying to conclude different spots yourself.
The big downside of learning draw poker for many hours is that there are so few games running, and all the knowledge you do come across may be somewhat wasted if you can't find the right games to sit in.
Stud Poker
Stud poker is a relatively wide term encompassing several games, including Five Card Stud, Seven Card Stud, Seven Card Stud Hi/Lo, and Razz. Most players usually learn to play all the variations together, as the games have many similarities in the way they are played and the way betting rounds are organized.
Like draw poker, stud poker used to be more popular back in the day, but there is far less coaching material on it than there is on Texas Hold 'em or PLO. If you want to master stud poker, you can start out by reading a couple of books that are out on it and then trying to implement the strategies you learn there, along with picking up tricks from other, more experienced players at the tables.
Stud games are difficult for several reasons, not the least of which is the fact you will have to keep track and memorize all the folded cards on the third street, which means you have to pay attention 100% of the time.
Over time, memorizing the folded up-cards does become second nature, but I can guarantee that it will be quite difficult to remember what everyone's folded in your early stud sessions. If you want to play poker cowboy-style and you don't mind the fact that stud games can be scarce in most places, go right ahead and try to become a master of this beautiful poker game.
Mixed Games
While the WSOP Main Event may be the one tournament that the general poker audience looks forward to every year, it is the $50,000 Players' Championship that most pros deem as the true Championship event.
What makes it one of the best poker tournaments in the world is that it is decided over the mixed games table, which means the eventual winner has to be good at many different forms of poker, not just Texas Hold 'em. Along with the two popular games, Texas Hold 'em and PLO, mixed games include the less popular poker games like Seven Card Stud, Razz, Deuce to Seven Single Draw, and more.
To become a true master of the mixed games, you would need to be good in at least ten different poker variations, and even that would leave you in a bad spot in some mixes where as many as 20 games are played on certain nights.
The best poker players in the world, especially those playing for the highest stakes in the popular Bobby's Room in Las Vegas, are masters of every form of poker there is. If you want to join the ranks of these legends, mastering all these forms of poker and being able to sit into a mixed game and hold your own is what it's going to take.
Of course, if you want to be a mixed game master, you will need to stop doing anything else with your life and truly dedicate yourself to poker, which may be a luxury some of us simply cannot afford.