Can Cyprus Beat Malta and Become Europe's Online Gambling Epicenter?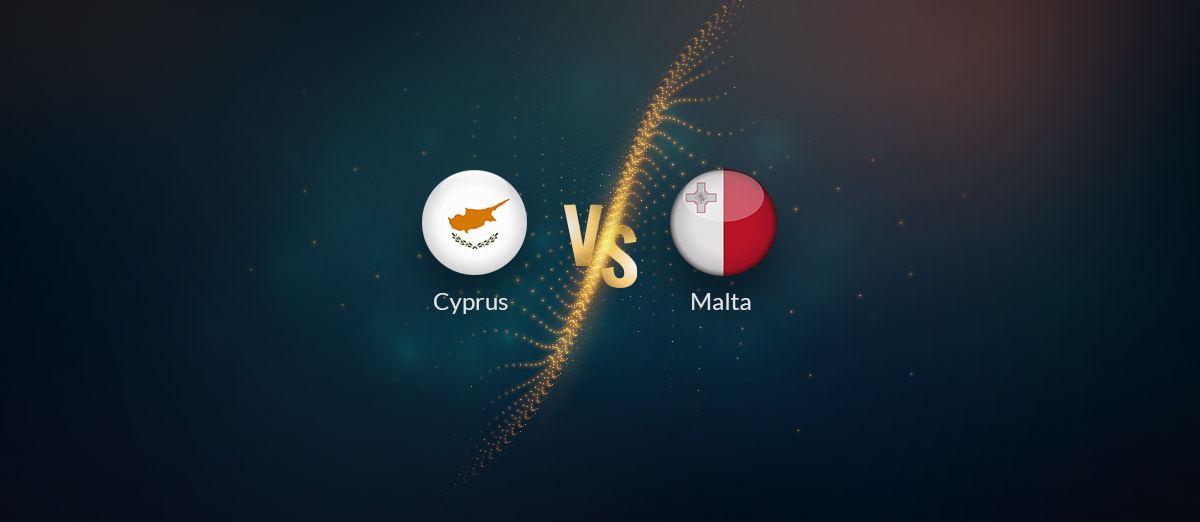 Hindsight is a beautiful thing, as is the Mediterranean — over 250 online gambling companies seem to agree.
In just over 20 years, Malta has established itself as the undisputed European hotspot for online gambling — spearheaded by the forward-thinking regulator MGA (Malta Gaming Authority), which was created in 2001.
Casting envious glances to its north is perched the popular holiday island of Cyprus, a country effectively comprising two nationalities; Turkish and Greek Cypriot. With a long history of political discord during the 20th century, there now appears to be harmony on the island.
As early as the 1990s, it started to become evident that such islands needed to do something in order to increase the potential of their economy. While tourism was and had always been the obvious answer for Malta, it was still a little-known resort in the shadow of neighboring Italy.
One thing that had long been prevalent on the island was betting - especially Lotto, which was brought across from Italy in 1992 and became government-regulated. However, even more impressive was the divination of those officials who realized just how crucial online gambling would become.
Almost immediately, plans were drawn up with the prospect of Malta becoming a stronghold for online gambling in the decades that followed, with the government prepared to offer a series of benefits.
Identifying just how popular online gambling would become and knowing that thousands of new companies and jobs would be created to cater to the demand, Malta moved at the right time and how it has paid off.
Forming the MGA (Malta Gaming Authority) was a significant leap forward for the nation, which effectively laid the foundations for its thriving online gambling industry. Established in 2001, the regulatory body is one of the most revered in the world, and many operators are in possession of an MGA license.
Over the last two decades, Malta has slowly become a stronghold in the online gambling industry and is now home to well in excess of 250 different firms that house their corporate headquarters on the island.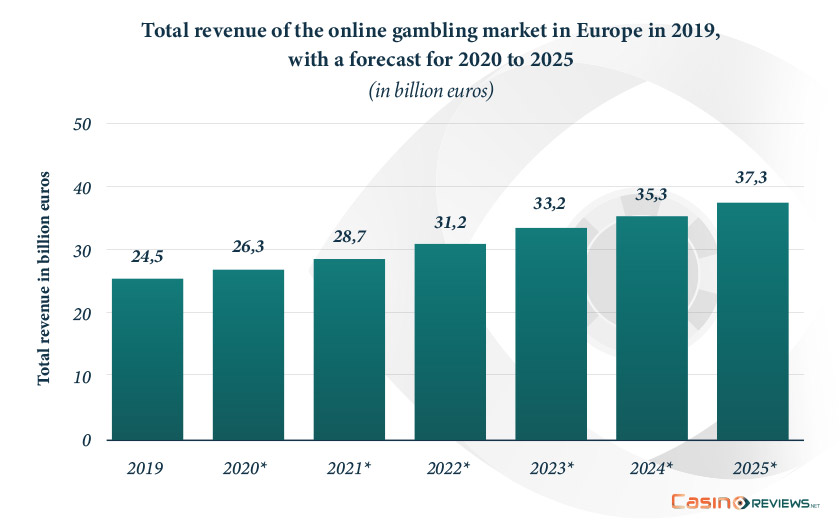 Figure 1: Total revenue of the online gambling market in Europe in 2019, with a forecast for 2020 to 2025 (in billion euros)
Malta has many advantages for online gambling companies - many of which could have been offered by Cyprus had the latter's government seized the opportunity. While Cyprus has become more of a popular holiday and second home destination for affluent Europeans, it could have blazed a trail in a similar way to Malta.
There are, of course, many advantages as to why Cyprus would appeal to anyone, not just businesses, though let's take a look at some of the main reasons why it would have been ripe to be the European online gambling hub and how it can use these assets in the future.
Competitive Tax Rates
The Maltese government realized that a highly perceptive way of convincing online gambling companies to make their country home was by offering generous tax rates - this could have been replicated in Cyprus. In doing this, they knew that it would effectively pay off over the long term. Tax rates as low as five percent, depending on the type of license that a company possesses, are seen as normal, which means that they can increase their profit margins and even pay staff higher than average to be based in Malta full-time.
Offering low tax rates was no doubt an ingenious solution. In doing so, it means that they are able to pay their employees more, who then spend it in the country in the various businesses, which in turn is beneficial for the economy. For Cyprus, which struggles when out of the tourist season, this would have been a major boost to the country's coffers and would have generated funds for things like infrastructure improvement or hospitals.
Malta actually isn't the only country that was able to capitalize on offering competitive tax rates. A few hundred miles to the west, Gibraltar started doing the same at the turn of the new millennium and almost overnight saw its fortunes transformed as the local economy spiked within a few short years.
For gambling companies, low tax rates anywhere are one of the biggest selling points that can be offered, and, as far as Malta was concerned, this worked. In addition, following the formation of the MGA, it effectively made things official, with companies required to adhere to certain legislation in return for becoming part of the Maltese community.
High-Speed Reliable Internet
In order for their plan to work, Malta realized that it needed a few things in place first to attract a thriving new industry. Like any whose operations are solely online, making sure that they have the best possible internet connection is crucial.
This, of course, is something that Cyprus would have had to invest in; however, the returns, as Malta has demonstrated, are phenomenal. Malta has one of the best fiber optic connections for urban areas, while it is one of the only countries in Europe that has reliable 5G internet. Arguably the most important tool for online gambling companies, high-speed, reliable internet is right at the cornerstone of their business - especially for operators who have millions of customers visiting their sites every day.
Cheap Rent
At least, in the beginning, this is certainly a benefit that would have helped to attract countless online gambling companies to Malta, especially those that relocated from countries such as the UK, France, Germany, and certainly Scandinavian countries such as Sweden.
Already getting a break on the tax, throwing the low price of offices into the equation made Malta an ideal location for online gambling companies, though further to the south, you could find land and offices for cheaper still.
This was the same for employees that joined the various online gambling companies from multiple locations around Europe - they would find that their monthly rent was substantially less in Malta - certainly, Cyprus would have been very similar.
Attractive Sell for Employees
For online gambling companies that moved to Malta, one of the biggest problems they encountered initially was being able to attract the right employees and then convince them to move there. However, because of the benefits that companies were already getting, such as generous tax rates, it allowed them to make better offers to prospective candidates, which would even include higher salaries compared to the same role in the UK.
Both Malta and Cyprus have the advantage of a great lifestyle when it comes to attracting new employees, with a better than average year-round climate than the rest of Europe.
Along with a slower, more relaxed pace of life, this perfectly complements working in the online gambling industry, which, at times, can be fast and frenetic. Having this kind of lifestyle culture can be a big selling point.
In addition, on the social scene, Malta has become a thriving hotspot for employees wanting to enjoy some downtime. With some of the best beaches in the Mediterranean, watersport activities, and numerous restaurants and bars, it perfectly caters to the online gambling community. Likewise, the same could be said of Cyprus, which is arguably better for beaches and activities such as boat trips, while it also even has a ski resort.
Close Access to Top Talent
One of the most important things for companies in the online gambling industry is being able to appeal to and easily have access to the best talent. Especially technology personnel. A number of countries in southern Europe, such as Slovakia and Serbia, have become a hotbed for the thriving technology scene, while some parts of the Israeli capital of Tel Aviv have drawn comparisons to Silicon Valley.
Each of these countries is relatively close to both Malta and Cyprus, which means, in terms of relocation, costs would be low for the companies, moving staff across, while it would not be too much of a sell in order to convince them to join. Added to the fact that each is roughly within two hours travel time, it would be easy enough for employees to visit their native country one or two times each month.
Part of the EU
Both Malta and Cyprus are part of the EU, which means that companies and their employees alike benefit from all of the advantages that this has to offer. One of these is the free movement of workers between member states, while the relationships that each country has with each other means that there are established trade routes.
Effectively for those online gambling employees in Malta, knowing that they can have access to products that potentially might be from their native country brings with it a nice familiarity, while many holidaymakers in Cyprus benefit from having the same experience.
Travel Links
This is where Cyprus would have had a significant advantage over Malta. Perhaps one of the only weaknesses is the fact that many countries do not have direct flights to Malta, with many countries' airlines having to fly to nearby Italy first. Some employees of online gambling companies in the country even find it more convenient to fly to Sicily and then get the ferry across to Malta which is quite a common scenario.
Cyprus, conversely, does have many routes to major cities across Europe with many of the big airlines, which would make it a more convenient location in terms of being able to travel there without too much hassle.
In terms of travel time as well, it is perhaps quicker when factoring in the time that it takes for people to get a connection to Malta from their first destination, making it even more convenient. Also, being in the same time zone as Malta means that it would not make any difference when factoring in travel time as well.
Could It Have Been Realistic for Cyprus to Establish iGaming Operations?
While on the face of it, there are many reasons why Cyprus could have done the same as Malta, one glaring obstacle relates to the political tensions that are still present in the country.
With both the Turkish and Greek parts of Cyprus having some antagonism towards each other, despite any conflict more or less non-existent, this could have flared again by establishing Cyprus as an online gambling hotspot.
Certainly from the standpoint of which region of Cyprus would house the online gambling companies and, as a result, would then benefit from the advantages that came from this would have been up for debate.
Where it could have effectively worked was if both parts of the island made themselves available and the tax revenue was divided equally. The global recession of 2008 hit Cyprus considerably hard - a country that is heavily reliant on the tourism industry for one of its main sources of revenue all of a sudden found itself in a hole.
The online gambling industry was one that, if anything, grew significantly in the recession, and Cyprus could have been stabilized if it had come up with the idea before Malta, which is certainly one of the most economically advantageous islands in the Mediterranean because of this.
An advantage that Cyprus does have over Malta is in terms of size. With more land available, it would have meant that it could have offered companies larger office space and also appealed to even more companies than Malta.
Regardless of whether buildings were available, it is likely that permission to build would have been passed, which would have done wonders for the economy in terms of creating jobs in key industries such as construction and manufacturing.
It already had a number of key attractions, such as the lifestyle and weather, in addition to the low cost of living, while they would probably have been able to agree on a similar tax rate to that of Malta for the online gambling industry.
While Cyprus does attract a number of holidaymakers of differing nationalities, being an online gambling hub would have turned it into a truly multi-cultural country in a similar fashion to Malta. With a mix of Scandinavian, German, Italian, and Slavic nationalities, in addition to English, this has put Malta on the map in more ways than one.
What Does the Future Landscape of Online Gambling Look like in Europe as a Whole?
There is no doubt that Malta has played a key part in boosting the European online gambling industry, with the MGA playing a key role in onboarding operators from different countries - even helping to lay the foundations for new regulated markets.
Many countries, such as Italy and also Greece, have recently passed online gambling legislation, playing host to local operators that have functions in Malta. A lot of talks recently have been centered around the explosive growth of the US online gambling market, with many industry insiders predicting that it will become the biggest in the world over the next five years and beyond.
However, following the passing of legislation in new European markets such as Baltic regions like Latvia and Lithuania, this has led to the belief that Europe can still compete effectively, with Malta still likely to have a major influence on customer acquisition.
It means that if Cyprus had taken the leap prior to Malta, then it would be in a very advantageous position especially considering the potential of the European market over the next few years.
An Opportunity Missed for Cyprus?
When factoring in the ease at which Malta was able to establish itself as an online gambling hub for Europe, there is no reason why Cyprus could not have done the same had it been able to negotiate certain small hurdles.
Most of these would have been related to bureaucracy, though Malta encountered similar issues and was able to find a way to overcome them. When looking at the strength of the economy in Malta compared to two decades ago, there is no doubt that policymakers in the country made the right decision.
Since Malta has witnessed explosive growth, retail prices have skyrocketed as a result. Indeed, rental properties have effectively tripled in price, while compared to 20 years ago, there are more multimillion properties than ever before.
Due to the demand created by the online gambling industry, it means more people are in work - the hospitality industry thrives all year round, while more bars and restaurants have been built in order to accommodate the thousands of online gambling personnel that now call the island home.
When considering how well Malta has done from taking such a risk, all signs point to this being a big opportunity missed by Cyprus to capitalize. Hindsight is indeed a beautiful thing - no doubt it will be looking at the next big industry that it can thrive. Ahem, Crypto?? You heard it here first.