iGaming Mergers and Acquisitions — How Multi-Million Deals Affect the Industry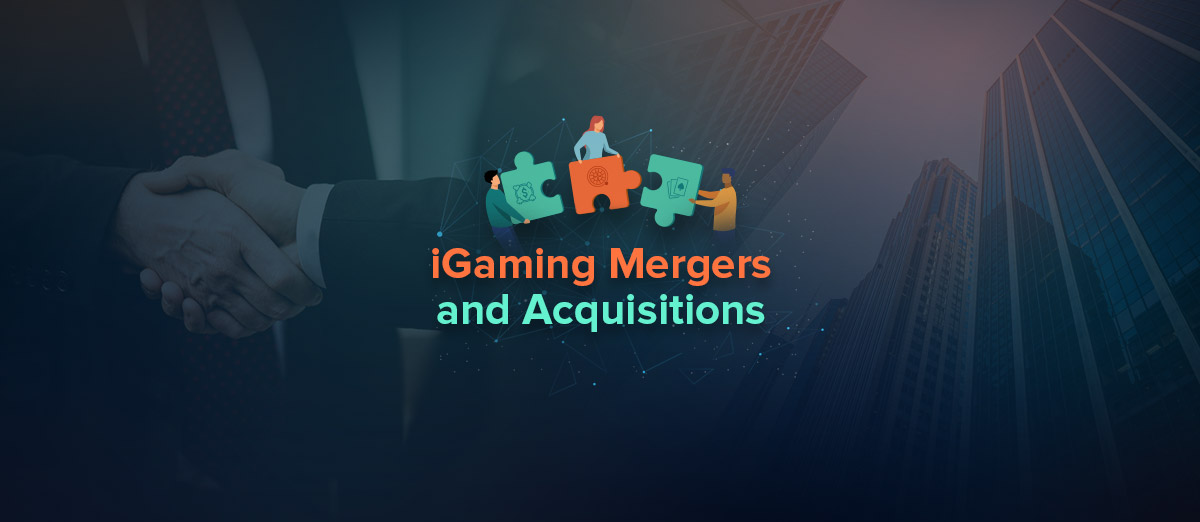 The last five years have witnessed major merger and acquisition activity in the online gambling industry, with some huge plays by significant companies. Even across many different markets, the deals that have taken place have, without a doubt, had a considerable effect on the industry as a whole and certainly helped to shape it into what we understand it to be today.
Mergers and acquisitions occur in every sector of the economy, though, in the online gambling world, such occurrences have been particularly common. Some have been sparked by different events that have had a subsequent influence on deals that have occurred.
Of course, in most industries, there often tends to be one or two companies that are regarded as leaders because of the fact that they have got themselves into a position where they can grow by acquiring any competitor that starts to threaten their position.
In the online gambling sector, there are many reasons why these deals occur which help observers and analysts to understand, while these can also shape and mold the future landscape.
It is also the case that mergers and acquisitions in any sector take a long time, often up to a year if there are many complications involved, though the due diligence process usually lasts between three and six months. Such is the nature of the online gambling industry and the fact that there is a lot at stake in terms of numbers. No detail can be left unexamined.
Let's take a look at some of the factors involved when it comes to deals in the online gambling industry and the permutations that can affect these.
Entain's Influence on the Industry
Formerly GVC Holdings, Entain is regarded as the biggest conglomerate in online gambling and has somewhat of a monopoly in the industry, with in excess of 25 brands under its vast corporate umbrella.
Founded in 2004, it has come a long way in a short space of time to effectively dominate - certainly the UK market, while in 2020, it recorded group revenues of Є3.562 billion.
Also listed on the London Stock Exchange and being an FTSE 100 constituent, it is considered somewhat of a blue-chip pick for day traders. Boasting well over 24,000 employees across its various brands in 20 countries spanning five continents, Entain also holds licenses in 27 countries, including top industry regulators such as the UKGC and Gibraltar.
With brands that can be considered leaders in each of the different segments of iGaming, including online casino, sports betting, poker, and bingo, Entain is effectively a behemoth that has essentially set a precedent for competitors to follow.
Although it had been steadily growing prior to this, 2018 was somewhat of a landmark for Entain when it shook the industry after a £4 billion acquisition of Ladbrokes Coral - two years after completing a takeover of fellow operator Bwin for £1.2 billion.
Speaking in 2018, CEO of what was GVC Holdings at the time, Kenneth Alexander revealed via the corporate website:
The creation of one of the world's largest listed sports betting companies, combining a portfolio of established brands, proven technology and leading market positions in multiple geographies, is a truly exciting prospect.
In a dynamically evolving industry, the transaction creates an enlarged Group with the scale, diversity, proprietary technology and management expertise to pursue many opportunities globally.
GVC has a proven track record of creating shareholder value through the successful integration of acquired businesses and the GVC Board believe this transaction will create further value for our shareholders and those of Ladbrokes Coral.
When it comes to the rest of the industry, Entain has effectively developed a blueprint for how to achieve rapid results and a platform for success, combining the merger and acquisition model with organic growth.
Shrewdest Gamble a Joint-Venture?
Another flagship event followed in 2018 when Entain made perhaps what was the wisest decision in its history. After exhaustive analysis and due diligence, the executive committee opted to join forces with US entertainment and casino firm MGM Resorts International to create an online sportsbook for the US market - BetMGM.
It was at a time when only online sports betting was allowed in the US - and just in two states; New Jersey and Nevada, where MGM had its flagship resort. No doubt the Entain board had done its homework and realized the potential that a sportsbook could have in the US if more states approved legislation.
While primarily being marketed as a specialist sports betting site, it also offers online casino products as well. Since more states have become regulated (particularly over the last two years), it appears that making the decision to act early has paid off. Because they were primed to move fast, it means that they were one of the first to be able to enter each state with everything being ready, and they are now undisputed leaders in a handful of them, including Michigan.
Roles Nearly Reversed Recently
In January 2021, Entain was the subject of a bid from its US partner MGM Resorts International, who looked to complete a full takeover of its entire operation to firmly put it on the map in the online gambling world. However, its bid of £8.1 billion was swiftly rejected by the Entain board, sending out a clear message to the rest of the industry.
It seems, though, that message was not quite received across the Atlantic. Later that year, in September, followed a staggering £16.2 billion bid from one of MGM's major rivals DraftKings, who were quickly stealing a march on the industry in the US. This was a bid that would have essentially handed DraftKings the tools that it needed to dominate the industry while also dealing a blow to MGM, to take full control of BetMGM.
However, MGM realized that they were in a unique position to hold up and even complicate any deal, though this was not necessary - despite giving Entain a deadline to respond to the offer, they pulled out less than a month later, realizing that this was over before it even started.
Are There Any Differences across Markets?
When it comes to mergers and acquisitions in the online gambling industry, it raises the point as to whether there is really a difference between the markets. What perhaps some people do not realize is that a lot of companies that are targeted for takeovers, regardless of where their corporate headquarters are, actually have licenses in multiple different countries.
Sometimes it can be particularly favorable for companies to acquire competitors in different markets due to the potential that they have to grow based on merging assets, though arguably more crucially, the value in terms of the exchange rate comparison.
There can also be differences when it comes to business culture, with buying companies often having to realize and understand how a company in a different country might respond based on its approach, regardless of the size of the offer that is on the table.
Mergers and acquisitions are often mistaken for being what many think to be straightforward. However, there are many different elements to factor into a deal, especially when multiple nationalities are involved. This is none more so relevant than in the online gambling sector.
Effect of Merger and Acquisition Activity in Shaping the US Market
Perhaps a line that many within the industry may be tired of reading - the US is predicted to become the largest online gambling market in the industry over the next few years, and it is certainly easy to see why.
While it is still in its infancy, this was also true of the UK market in 2005 when it first became regulated, and it has since been a hotbed for mergers and acquisitions. The problem currently in the US, particularly in terms of future deals, is that there are only so many native operators. There is no doubt, though, that this will change, just like it has in the UK over the last decade, with many now available to customers, each of which has unique selling points to appeal to potential buyers.
Arguably one of the biggest deals by a US operator (albeit primarily a land-based casino-entertainment company) was when Caesars Entertainment sensationally completed a takeover of British bookmaker William Hill for $4 billion before offloading its non-US assets less than a year later for $3 billion in what can be considered the best deal in the industry for a long time.
Essentially, this gave Caesars the position in the market that it needed with a fully established and well-known sportsbook with a great reputation and the required expertise at its disposal.
Where there may perhaps be scope in terms of merger and acquisition activity in the US, especially in the short term, is in the B2B (Business-to-Business) niche of the industry. In response to increased demand, what we have seen over the last 12 months is more specialist software and content providers venturing into the industry.
For years, these have been a crucial component in the sector - especially in other markets, and many underestimate the impact that they can have, particularly in helping to establish operators as leaders.
Will More Startups Grow to the point of Being Acquired by Bigger Firms?
Right now, there is a great opportunity in the industry for startups that have a unique edge of developing to a point where they can achieve their exit strategy - especially if the goal is to be acquired.
One of the key advantages for startups is that there are now even more regulated markets than ever before, which has effectively unlocked even more customers who will have different buying behaviors and desires in the online gambling industry.
While it may be more difficult for a startup operator to get to the point of being acquired due to having to secure licenses, it may be an easier path for software providers. Over the years, we have seen many 'boutique' software firms be acquired, such as NetEnt by Evolution for $1.95 billion in 2020.
Europe will always be one of the biggest markets as a whole when it comes to software development in the industry, with Malta especially playing home to a multitude of technology companies while also being the continent's iGaming epicenter.
The Role That Investment Banks May Play in the Industry
Just recently, as opposed to other iGaming firms, we have seen a number of financial institutions express their interest in moving into the online gambling space, where they no doubt have seen value in either a short, medium, or long-term spin-off of their targeted acquisition.
Until Caesars completed its deal to buy William Hill, it reportedly faced competition from the private equity firm Apollo Global Management, who, despite being rebuffed, returned with a bid for the brand's non-US assets before eventually losing out to 888 Holdings, the parent company of 888casino.
With leading software provider Playtech having been aggressively pursued recently by no less than four different parties, one of those interested was minority shareholder Gopher Investments, based in Hong Kong.
Both of these attempted moves perhaps signify how the future of mergers and acquisitions in the industry might unfold over the next couple of years as more and more financial institutions, such as investment banks and hedge funds, see the potential value of iGaming.
Influences of Mergers and Acquisitions in Online Gambling
There is perhaps more to a merger and acquisition in the iGaming industry than meets the eye, and certainly, for a buyer, there could well be many different reasons as to why they make a particular firm a target.
One of these could be because a company has one or many licenses in different countries (markets) that a buyer wants to enter, and, as a result, a takeover of a company that has everything in place for such a market could be deemed as being more efficient.
Alternatively, a company may become a target due to the fast growth rate that it has achieved since it launched, which in its own way could be attributed to a number of reasons, the main one often being down to personnel - especially the leadership team.
Arguably, one of the biggest reasons for attempted takeovers in the industry is the intellectual property that a target firm may have at its disposal, which in this industry is usually technology that has been developed in-house.
Quite often, the company that is looking to complete a takeover will have plans for this, whether it is to combine it with one of its own assets in order to achieve faster growth or simply use it to give an edge of its own from a marketing standpoint.
What Conclusions Can Be Drawn for the Future?
It is perhaps safe to say that merger and acquisition activity will continue to have a major influence on the online gambling industry due to the sheer size of the market and widespread interest around the world.
With new markets likely to continue to open, it also means that there quite simply will be a need for mergers and/or acquisitions due to the fact that sometimes, a company can only go so far to servicing its customers to the best of its abilities, or even limits.
Undoubtedly, the US will have a lot to say, especially as DraftKings and its rivals continue to grow at a rapid rate - each wanting to outdo the other in every state that becomes regulated.
Where there could well be a problem is for those firms that are in several major markets and perhaps spread very thin. This could mean that there is actually a need to acquire a company in order to service such markets, though they may face stiff competition, and as such, it becomes somewhat of a vicious circle. Not wanting to lose market share in any of the countries that they operate in will be of vital importance. However, some tough decisions may need to be made.
Then it comes down to a potential shortage of specialist knowledge in the industry, whereby an individual can combine their skillset with the online gambling industry and be able to join the dots enough to be able to see the direction that the sector might be going in.
It is often the case that this occurs across many sectors - it is very rare to find those who could be considered as being in the top one percent of their industry, who are usually the difference-makers. Especially this could be the case for new or previously untapped markets, where the understanding of customer buying behavior is paramount to a company's success.
Simply just identifying a company to buy due to its healthy balance sheet can backfire, and there may be underlying problems, such as existing personnel disgruntlement or even over-complicating things, such as wanting to merge or integrate assets between companies.
If anything can be taken from the last couple of years, though, it is that there is no shortage of investment available in the online gambling industry when it comes to mergers and acquisitions, and it may not be too much longer before we see the first deca-billion deal. Remember - you read it here first.