Cryptocurrency Casinos vs Traditional Online Casinos - The Great Debate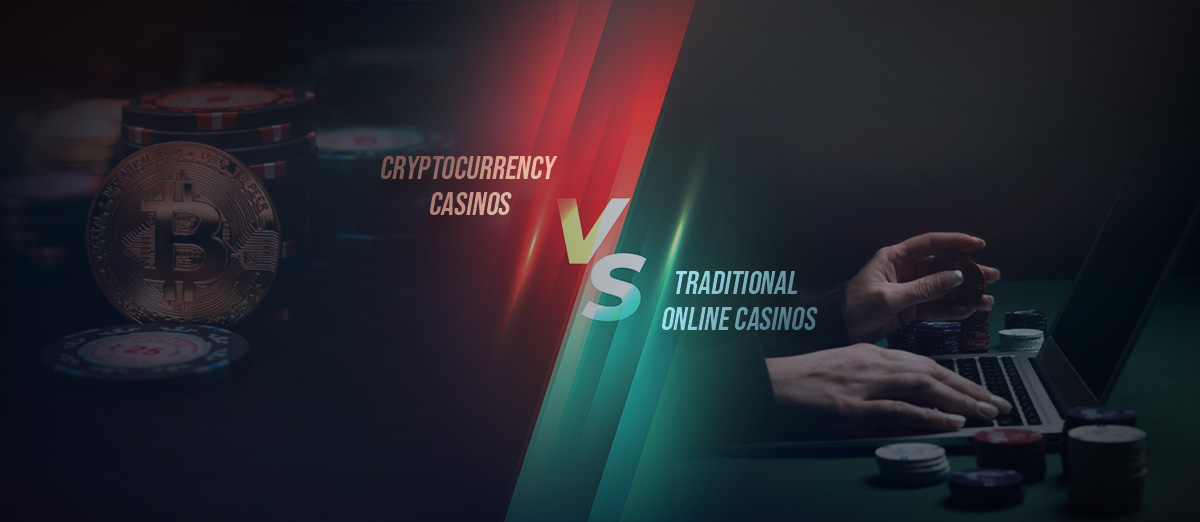 Evolution is a part of life. You cannot ignore it, even try to fully understand or make sense of it with 100 percent certainty. Every aspect of humanity bears witness to this and leaves its footprint on the world across multiple industries. It has numerous causes and effects as well as voluminous variables. Some are brought on by a natural progression, others due to human-influenced innovation.
When US President John F. Kennedy asked rocket scientist and aerospace engineer Wernher von Braun what it would take to put a man on the moon, his reply was simple and elegant: "the will to do it", he replied.
Fast forward more than 50 years later, and humanity is still shooting for the stars. In the midst of arguably the biggest technological revolution of our lifetime, significant leaps forward are being made every year, each one possessing the potential of limitless proportion.
For over two decades, 'evolution' can be applied to adequately describe one particular industry that has swiftly become one of the biggest and which is continuously at the epicentre of change.
The online gambling industry has borne witness to many transitions across the course of the last few years, relating to a number of different facets and verticals. However, one that has captured the attention of the industry is the emergence of cryptocurrency and what this means for iGaming.
Naturally, this has led to the development of cryptocurrency-only online casinos, which are still very much in their infancy as far as progress and capabilities are concerned, added to the fact that there are currently only a handful of cryptocurrencies that have proven to be robust enough to use for online gambling.
As a result, it has led many loyalist online gamblers to continue using online casinos in their traditional format - some of which have also started to offer cryptocurrency as a payment option. Because of this, we interrogate the advantages, benefits, and drawbacks of both crypto online casinos and traditional online casinos, how each one may continue to evolve, and the ideal target customers for both.
What Was the Purpose of Introducing Cryptocurrency Casinos?
Like all things in many industries, new ideas are often sparked by developments in technology, and then an opportunity in the market is identified. As the popularity of cryptocurrencies grew, a number of insiders started to realize the potential that this could have for the iGaming industry.
There are many crossovers between cryptocurrency trading and online gambling, and this possibly accounts for one of the reasons why crypto casinos emerged - similar profiles playing a factor, certain demographics, especially a younger audience across both, preferring a more technologically developed alternative.
Of course, like with anything, there was also the commercial aspect. In addition to the B2C (Business-to-Customer) side and the opportunity to market efficiently to relevant target customers, there is also the B2B (Business-to-Business) aspect, which offers the potential for partnerships with other companies - especially those related to cryptocurrency and the Fintech industry.
One of the things that the online gambling industry has prided itself on over the last couple of decades is the wide range of options that it can offer possible customers, with the ability to gamble using cryptocurrency certainly fitting that bill.
Why Consider a Cryptocurrency Casino
There are a great number of things to think about when deciding whether to register at a cryptocurrency casino. Of course, one of the most important factors is having a thorough understanding of cryptocurrency and how it works.
Many people who join a cryptocurrency casino have a substantial amount of experience trading it and are aware of the functionality and how it works.
Perhaps what is crucial, though, is making sure that the casino allows you to play with cryptocurrency (not Fiat) once it has been deposited. Some traditional online casinos that offer cryptocurrency as a form of deposit method will then automatically convert this into the currency of the country that you are playing in, such as dollars or euros.
Compared to traditional online casinos, there are a number of valid reasons to think about signing up for a crypto casino, especially when it comes to how these work. Below we explore some of the biggest benefits compared to traditional online casinos.
Transparency
Some traditional online casinos are right on the periphery when it comes to the techniques that they use in order to attract customers, such as bright, flashy images as well as high bonus and promotion amounts that usually come with a large number of wagering requirements, which can be deceptive. With crypto casinos, however, these are usually very clear about what you are able to win because they are new to the industry and want to make sure that the customer is fully aware of all of the risks.
In addition, the main profile of a cryptocurrency gambler means that they will likely be savvy, with most having applied this intelligence in order to build up a significant amount of digital currency in the first place.
Convenience
Arguably one of the most important factors for customers in the online gambling industry is the ability to do things quickly, such as completing the registration process, accessing games, and also withdrawing funds without any delay or difficulty.
The technology that cryptocurrency casinos are built on significantly streamlines the process for players - accessing funds could not be any easier, and this allows for instant withdrawal of funds - something that has become increasingly important for players.
It is hoped that this can become a major selling point that helps to attract players away from traditional online casinos, though there is still the element of being able to understand how cryptocurrencies work, which for some may be a vital bridge to cross.
Security
Over the last few years, this has started to become a hugely important factor for players in the online gambling industry, especially with the increasing risk of hackers. While all traditional casinos (the licensed ones) have industry-standard SSL (Secure Socket Layer) protection in place, which ensures the protection of customers' sensitive information, some are still wary of the risk.
With cryptocurrency online casinos, players' information is safeguarded by the blockchain, which makes it impossible for any outside threats due to the fact that chains are created for each piece of data, and this secures it completely.
Establishment of Specialist Service Providers
In order to cover the demand and the growing influence of cryptocurrency on the industry, there has naturally been a significant increase in the number of firms designed to offer their services.
This is especially true from a software development angle; indeed, over the last few months, in particular, there has been a rise in the number of providers that focus on the crypto and fintech part of the industry.
BGaming - one of the world's first software developers to offer crypto online gambling solutions, has witnessed substantial growth in this niche, with brand team lead, Bogdan Gres, explaining: "Being the world's first iGaming provider to offer cryptocurrencies, we draw particular attention to crypto gambling. BGaming widens its network of crypto projects, and we see the results. The number of explosive winnings on crypto projects has significantly risen over the past few months."
Similar views were also recently echoed by the head of business development at BGaming, Alexandr Shavel, who elaborated: "I wouldn't say that crypto is a totally new world. More likely, crypto is making the current igaming space more comfortable. It is a tool that helps to accelerate processes and make them more convenient without limitations or high commissions. We believed in its success initially, and it is thrilling to watch how the market grows.
If we look closely at the analytics on the state of crypto gambling, numbers will speak better than words. For example, according to SOFTSWISS's analytics report, the volume of bets in cryptocurrencies in December 2021 increased by more than 2 times, namely by 259.21 percent, compared to January of the same year.
He continued: "If we talk about how the gaming space changes, those who use crypto become true trendsetters regarding games and mechanics. Moreover, we see that this cohort of gamers is multiplying. Given this, fast games with instant results, like Crash and Hi&Lo mechanics, will evolve.
More games where players bet on outcomes and define strategy or exit time will appear. This year, we will see even more quality solutions, both games, and marketing ones, connected with NFT.
Software providers in the online gambling industry are, of course, nothing new. Some of the first and most popular, still to this day, have been around since the mid-late nineties, such as Playtech, NetEnt, and Microgaming, and are some of the best in the traditional iGaming space.
At the moment, when it comes to comparing traditional casinos and cryptocurrency casinos, it is in the software development niche where the former perhaps still leads the way, with hundreds of real money Fiat-based slot games - some even being years old that are still holding their own in the industry.
What started to occur just over a decade ago was that multiple smaller, more boutique software providers launched, focusing on a particular micro-niche of the online gambling industry and becoming specialists, a couple of which were even acquired by the more established companies.
As far as the roadmap goes for those software firms specifically created for the crypto casino niche of the industry, it will be interesting to see how fast this develops and how quickly demand for this increases.
BGaming, in particular, appears to be sold on the fact that this will have a major say on the online gambling industry over the next two years, and it seems as though Shavel has the answer for this in terms of how the industry may adapt overall.
"Firstly, classic Fiat casino operators need to accept that the audience of crypto games is growing and will continue its growth. Then, we have two solutions. The first one is to create a separate project for crypto enthusiasts," he said.
Here, we will see a casino in modern, more likely flat style, maybe with its own game token or even its own currency. Another solution is to create separate categories for current projects, like fast games or provably fair, and add the games that crypto players know and love.
Going on to talk more about the type of content as well as differentiation that we might see from providers, he continued: "From my side, provably fair is an essential feature for the crypto space. Staying anonymous, players in crypto projects can verify the result and be sure they play fair games.
Provably fair in online gambling can be described as an algorithm used to analyse and verify fair play. The BGaming algorithm is based on a cryptographic method that ensures that the outcome of the round is unaffected by the player's bet. A player cannot know the result before the actual gameplay but can be sure that the result is not affected by his actions – change of bet, risk, volatility.
The availability of multiplayer gaming has become a competitive advantage as the new generation of gamers wants to play together. Multiplayer games in online casinos are getting more similar to casual games. The instant win also makes a game stand out against others. The player is often limited in time but hot-tempered and ready to play quickly and for high stakes.
How Are Online Casino Payments Usually Processed?
When it comes to payments in the traditional iGaming industry, these have evolved considerably over the last couple of decades, especially when thinking about how relevant technology has evolved in order to cater for the growing demand.
The growth of online gambling via smartphones has made it easier for players to deposit and withdraw funds, especially from a convenience aspect, due to the fact that many use their smartphone devices for online banking. As a result of this, it means they have their banking app and other forms of payment providers already registered on their smartphones, making it considerably more convenient when it comes to making deposits and withdrawals.
With pay-by-phone technology as well, such as specialist companies like Boku, it means that this has become even more convenient for players - the process of making a deposit here means that this is credited to a customer's mobile phone bill. It means that they do not have to lose the progress of a game because they can do this instantly.
Once a deposit has been made by a player at a casino site, SSL comes into play, which is a crucial part of making sure that the customer's details stay secure. When a customer initiates a deposit at a casino, due to the SSL certificate being in place, it means that both the browser and server will connect to the website almost instantaneously, essentially asking the website server to prove its identity.
A copy of the website's SSL certificate is then automatically sent to the server, where it is then checked for vital components to make sure it is trustworthy. Once approved, this is then confirmed with a digitally signed acknowledgement so that it can begin an SSL-encrypted session, which is when the payment process starts. As a result, a customer's data (all encrypted) is then shared between the website browser and server. This all happens in a matter of milliseconds; a customer barely realises the wait between making a deposit and then having this in their online gambling account.
For cryptocurrency casinos, this is significantly different. Because this process all occurs on the blockchain, it means that a customer's identity is not revealed, and with the blockchain being impregnable, this makes for an even safer and faster operation.
Where Traditional Online Casinos Might Be Winning
It goes without saying that there are significantly more traditional online casinos than crypto casinos, which in itself can be a selling point for customers who love to have a wide variety to choose from.
Established operator groups such as Entain, Flutter Entertainment and Kindred Group, which have over 40 different well-known brands between them across a range of disciplines, have helped the traditional online gambling industry become as robust as it is today.
The level of merger and acquisition activity over the last few years has acted as a major indicator that it is still a force to be reckoned with, further highlighted by the global expansion of the industry with more countries becoming regulated.
As touched upon, there are also many software providers in the traditional online gambling industry, all of which have played a part in the evolution of the sector in terms of technological development.
With thousands of different slot games to choose from, all of which have their own unique selling point from a customer perspective, this is where cryptocurrency-only casinos currently lag behind, with only a handful (in comparison) available that accept cryptocurrencies. This also applies to traditional table games.
Software providers quickly branched out into other facets of the industry as well, with all of them now fully mobile-centric, though those that joined the dots right at the beginning of the mobile curve that this would be profitable inevitably fared better than those that realised later.
It would remain to be seen whether future cryptocurrency casinos decide to onboard software providers that have perhaps already made inroads into this niche or use new, crypto-focused online gambling software providers. However, it is certainly an interesting scenario.
Traditional online casinos also have thousands of loyal customers who favor them for a number of reasons, and whether this is because of branding, usability or even the types of promotions that they are made aware of - for many, it comes down to familiarity. Marketing has played a huge part over the years for traditional online gambling companies - they have had the budget to make an impact, in addition to smart employees who create the offers used to draw customers in.
This is perhaps going to be the biggest challenge for crypto casinos - selling the benefits to existing online gambling customers, in addition to making new customers aware of the possibilities, who know how cryptocurrencies work and trade them frequently.
What Did We Learn from the Developing Crypto Casino Niche?
The speed at which the cryptocurrency industry moves mean that developments occur on a daily basis; they are almost reactionary - essentially, companies constantly need to adapt to respond to the changes. Combine this with the online gambling industry - one in which operators consistently develop new initiatives and software to try and get ahead of their competitors and the prospect of the cryptocurrency iGaming sector becomes a highly intriguing prospect.
With a robust framework (blockchain) already in place that provides a solid foundation on which crypto casinos as well as crypto-focused software providers to build - for those that are able to combine technical expertise with marketing creativity, the sky is the limit.
Where crypto casino brands might find particular success in markets that have been relatively untapped in the iGaming industry, though they have a strong cryptocurrency scene, and this is where they may make a difference.
Africa, in particular, is a mouthwatering proposition, with a number of countries starting to legalise online gambling and which is already making one of the biggest impacts of any continent in the cryptocurrency landscape. Indeed in 2021, it was reported that Nigeria (also in the process of achieving iGaming regulation) reported growth of $105.6 billion USD in just one year in the cryptocurrency sector.
What we have seen throughout the history of the online gambling industry is that players like variety, and where this particular sector will need to differentiate is by providing more options to its target market.
However, this is where there is a potential problem. Exactly what is the target market, and how can crypto casinos reduce the risk of their marketing campaigns in order to increase conversion rates?
It took a significant amount of time for many traditional gambling enthusiasts to turn to online gambling, especially for online casinos in UK, and it could be that the same occurs in this particular instance.
This is often the case with new things, particularly technological developments in every industry - how attractive crypto gambling starts to become in the future remains to be seen - most people like things to become 'cool' before they then class themselves as fans.
For now, it still feels as though traditional online casinos are winning the battle and, indeed, are introducing a lot of initiatives to not only compete with other operators but also make sure they do not lose customers to crypto casinos may also weigh substantially in this decision.