Howard Lederer – The Professor's Fall from Grace and Tilt Poker Scandal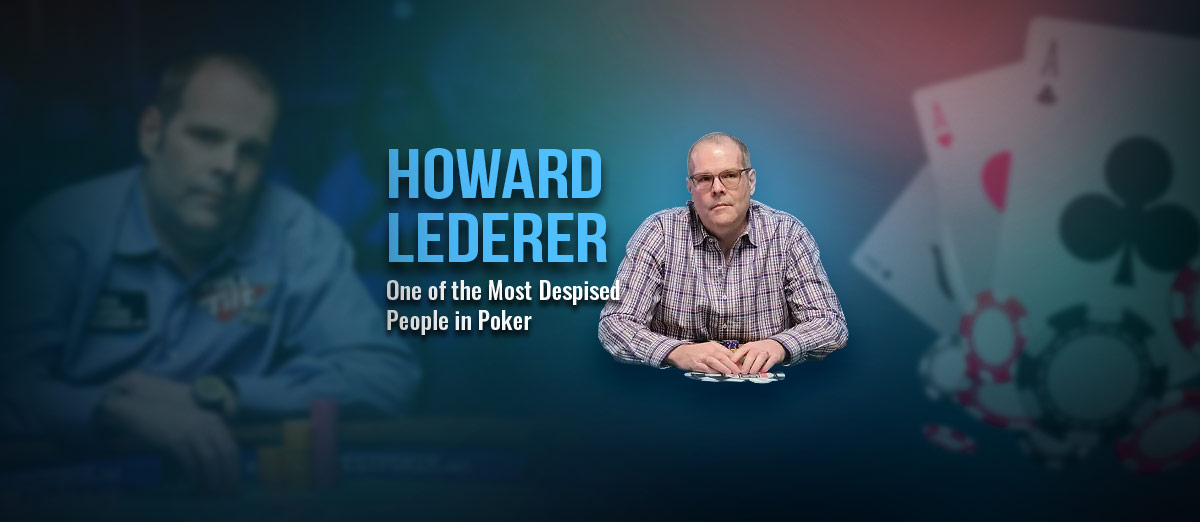 Thanks to the nature of the business, there have been quite a few famous characters whose careers took the wrong turn thanks to bad moves. Unfortunately for him, Howard Lederer is one of them.
He went from being one of his generation's best and most famous gamblers and poker players to one of the most notorious characters in the history of poker.
Before becoming infamous, Lederer had quite a few achievements on the poker scene, and thanks to his looks and analytical style of play, he earned the nickname "The Professor".
However, all of this matters very little today, as his reputation was destroyed in one of the biggest scandals poker has ever seen.
Full Name
Howard Henry Lederer
Net Worth
$ 60 million
Source of Wealth
Professional poker player and Full Tilt owner
Famous for
Full Tilt scandal
Born
October 30, 1964, New Hampshire
In this article, we bring you the story of his rise and fall, including Howard Lederer net worth, his path to glory, and poker achievements, as well as explain his involvement in the Full Tilt Poker Scandal.
Howard Lederer Highlights
Highlights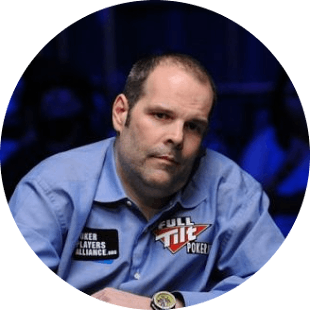 Won 2 WSOP bracelets in his career
Won 2 WPT titles in his career
Played chess before becoming a professional poker player
Co-owner of Full Tilt Poker
Considered one of the most hated figures in the poker world
He is known as "The Professor" for his analytical style of play
Who Is Howard Lederer - Early Life and Upbringing
Howard Lederer was born in Concord, New Hampshire, on October 30, 1964. He and his two sisters, Annie and Katy, were raised in a family of academics that enjoyed playing social games of chance and viewed it as one of the ways in which the whole family could spend quality time together.
Richard Lederer, his father, had a big influence on him early in life. As Howard mentioned in many of his interviews, his father was the main reason he got interested in games of chance and strategy.
While card games would be something he would excel in later in life, his first love was chess. In fact, when attending Columbia College in New York, he stopped his academic career in order to become a professional chess player.
While Lederer was trying to become a pro chess player, he searched for the best opponents to sharpen his skill, and during one of the visits to the local chess club, he stumbled upon the famous Mayfair poker club in New York.
He decided to play poker out of curiosity and instantly fell in love with the game, and went on to pursue it as a way of making a living. Howard Lederer chess rating could never reach his poker career level.
Howard Lederer WSOP Wins and Poker Career
There is no denying that the Mayfair Club was one of the biggest reasons for Lederer's quick rise in the poker world. At the time, the Mayfair Poker club had a reputation for being the training ground for some of the best poker players in the world.
Stu Ungar, Eric Seidel, and Dan Harrington are just some of the names that regularly played in the Mayfair poker games and became celebrity players.
Apart from playing against one another, one of the main reasons for their success is that they regularly discussed poker strategies and tips amongst themselves.
Lederer started playing high-stakes games in the Mayfair Club in the late 80s and built enough of a bankroll to try out his skills in games with even higher limits, so he decided to go to the gambling capital of the world, Las Vegas.
In the early 90s, Howard was already playing the highest buy-in cash games and poker tournaments and building a reputation as one of the best poker players in the city. At this time, he earned his nickname, "The Professor".
Although he was considered a cash game player, between 1993 and 1999 primarily, he made the final table in eight WSOP events.
The Professor's biggest poker achievements would come after 2000. He won his first bracelet in 2000 after beating the field in the $5,000 Limit Omaha Hi-Lo event and earned $198,000.
He didn't have to wait long for his second WSOP silverware, as he won the $5,000 Deuce to Seven Draw event the following year and took home $165,870.
His other notable tournament achievements include:
Winning the World Poker Finals event in 2002 for $345,400
Winning the Party Poker Million event in 2003 for $263,850
Winning the Aussie Millions Highroller event in 2008 for A$1,250.000
Although his last live poker tournament cash was more than a decade ago, as of 2022, Lederer's live tournament winnings exceed $6,500,000, with $1,587,702 coming from the World Series of Poker events.
Howard Lederer - The Full Tilt Poker Scandal
In 2004, Lederer partnered with five other poker players to launch a new poker site, Full Tilt Poker. Full Tilt's popularity skyrocketed overnight, and it soon became the second-biggest poker room in the world behind PokerStars.
One of the main reasons for the quick success of the poker platform was professional poker players who promoted and played on the site. In its heyday, Full Tilt poker was home to some of the highest stakes poker games in the world - popularly referred to as the nosebleeds.
The site's target market was mostly the US, so when Federal Authorities passed the Unlawful Internet Gambling Act, which prevented financial institutions in the US from processing gambling payments, everybody thought the site would lose most of its customers and shut down.
However, they would continue to operate in the grey zone for another five years, until April 15, 2011, also known as Black Friday in the poker world.
On this day, the US Department of Justice seized the web domains of the three biggest poker rooms in the United States: Full Tilt Poker, PokerStars, and Absolute Poker, with millions of players in the US being denied access to their poker accounts.
The management of Full Tilt Poker assured players that they would be paid out the money in their accounts.
After several months of investigations into the site's operations, it was uncovered that the site operated on similar principles to a Ponzi scheme, using players' deposits and money to fund day-to-day operations and using new player deposits to pay out withdrawals to existing players.
This meant that Full Tilt poker did not have enough money to pay out players in a scenario where massive withdrawals would take place.
For his involvement in the Full Tilt Poker operations, Howard Lederer was charged with civil forfeiture claims for illegal gambling of business proceeds, conspiracy to commit wire and bank fraud, and conspiracy to commit money laundering.
It was revealed that the Full Tilt management defrauded players out of $330,000,000 during the time they were operating, while the owners earned $450,000,000 during the same period.
In the end, Lederer, who earned over $42,500,000 as a co-owner, made a deal with the authorities by which he had to give up only around $2,500,000 in assets.
This enraged the poker community as many players lost their whole bankrolls, and Lederer still walked out of the Full Tilt Poker scandal $40 million richer.
As a last effort to make peace with the poker community, The Professor issued a statement regarding the whole incident in 2016. However, it was not well accepted in poker circles as most players thought he was trying to defect blame on other people involved in the scandal.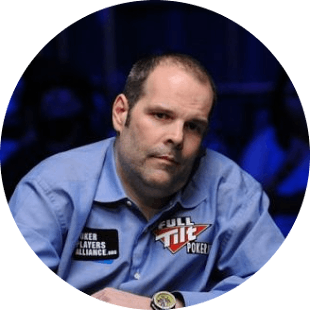 "I'd hate for 70 million poker players to wake up one day and learn that their game has been made illegal."
Howard Lederer
Howard Lederer Net Worth & Winnings
Howard Lederer was one of his generation's most successful poker players and earned money at the tables as well as away from it. By some estimates, Howard Lederer net worth is around $60 million.
During his poker career, he has over $6.5 million in live tournament earnings and is 198th on Poker's All-time Money List.
However, most of his wealth comes from his ownership of Full Tilt Poker. It is believed that during the time he spent as the owner of the now-infamous poker site, he pocketed over $40 million.
His other sources of wealth include winnings from cash games, as well as sponsorship deals.
Return to the Live Poker Scene – Where Is He Today
After the Full Tilt Poker Scandal, Howard Lederer disappeared from the poker scene for 5 years. In 2016 after issuing an apology letter to the poker community, he was back in the public eye.
Along with Chris Ferguson, another co-owner of Full Tilt that was involved in the scandal, he made an appearance at the 2016 World Series of Poker. But unlike Ferguson, who won the 2017 WSOP Player of the Year award, Lederer did not have any notable tournament scores.
The return of Full Tilt owners to the live poker scene was met with a barrage of negative comments, including the ones that mentioned how many poker players that lost money on full Tilt couldn't afford to pay high buy-in tournaments while Lederer and Ferguson have no trouble buying into the higher stakes events with "stolen" money.
After an unsuccessful return to poker in 2016, Lederer has once more dropped out from the public eye, while Chris Ferguson continues to play live poker tournaments.
FAQ
How Many WSOP Bracelets Did Howard Lederer Win?
During his poker career, Howard Lederer won 2 WSOP bracelets.
One in the $5,000 Limit Omaha Hi-Lo event in 2000 and another in the $5,000 Deuce to Seven Draw event in 2001.
How Tall Is Howard Lederer?
The two-time World Series of Poker bracelet winner stands at 6'5 or 198 cm.
How Was Howard Lederer Involved in Full Tilt Scandal?
He was one of the Full Tilt owners and management team members who orchestrated a Ponzi scheme and used players' funds for business operations.
Howard is a person that poker players blamed for this fiasco.
Where Is Howard Lederer Now?
After the Full Tilt poker fiasco, Lederer tried to make a return at the 2016 WSOP but was not welcomed as most of the poker community still despised him.
After the WSOP ended, he once again disappeared from the public eye.
Does Howard Lederer Have a Sister?
Yes, Annie Duke is Howard Lederer's sister. She is one of the most successful female poker players of all time and a WSOP bracelet winner. Annie won the $3,000 Omaha High-Low 8/OB event at the 2004 WSOP for $137,860.