Flutter Entertainment's Multi-Million Bet on the Italian Market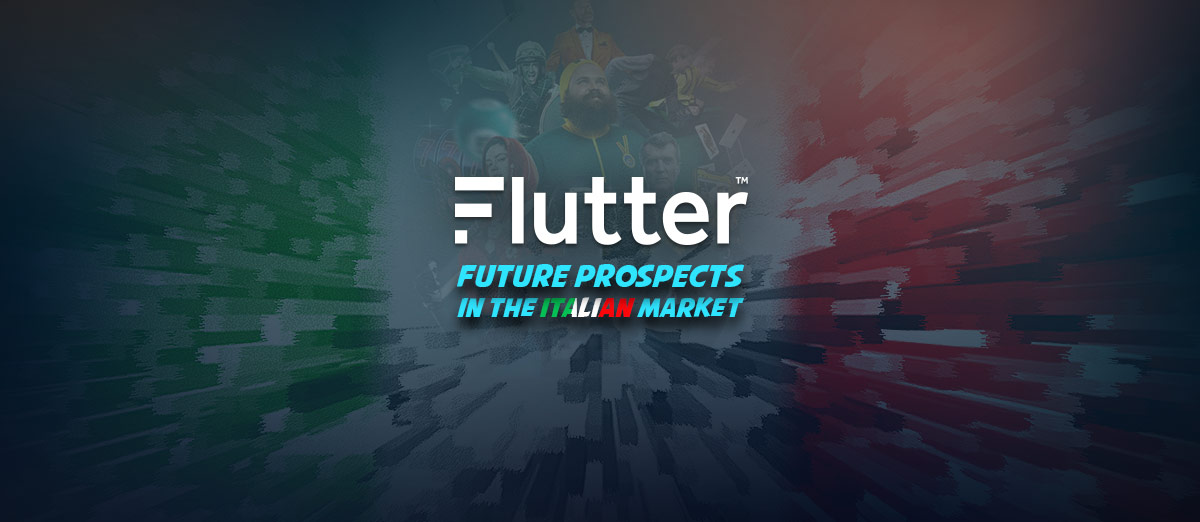 The official line from Flutter Entertainment about its EUR1.91 billion (GBP1.62 billion) of Italian online gambling, betting, and lottery firm Sisal from CVC Capital Partners Fund was so that it could establish a "gold medal position" in the Italian market.
For all intents and purposes, this sounds like a strapline, though it signals a serious objective to make their mark in a market that could have a lot of potential.
It certainly highlights a clever and tactical strategy from one of the world's leading online gambling groups to dominate a market that is still in its relative infancy compared to some other European countries.
Despite this, market data shows that for 2021, the size of the online gambling and betting market in Italy grew significantly by 46.1 percent (Figure 1) when compared to the previous year - a clear knock-on effect of betting shops and gambling halls being closed due to pandemic restrictions.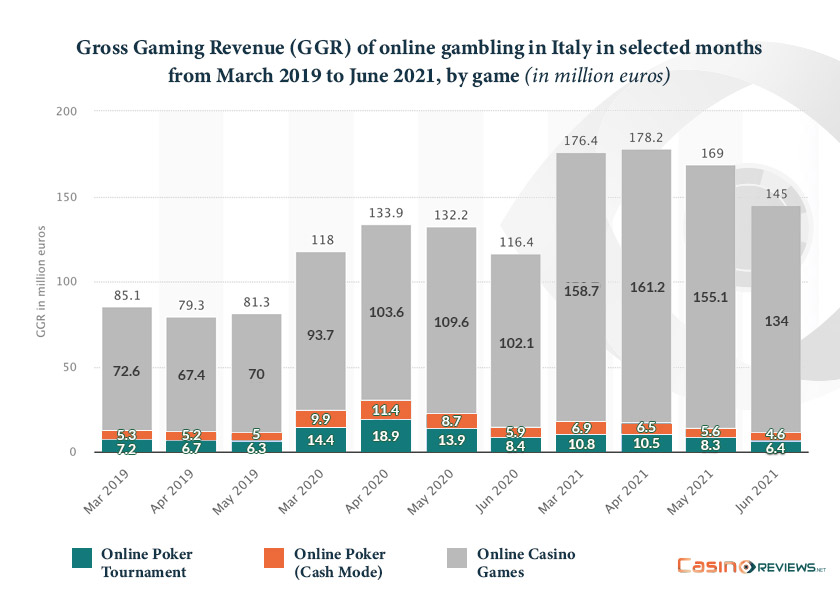 Figure 1: Gross gaming revenue of online gambling in Italy – March 2019 – June 2021
Where Flutter Entertainment has seemingly been clever is anticipating the regulatory changes that the Italian government looks set to implement over the next 18 months, essentially following the lead of other European countries such as the Netherlands.
Flutter already has considerable brand recognition and marketing presence in Italy via its PokerStars brand, which has proved particularly popular over the last few years (Figure 2), and the acquisition of Sisal will provide a solid platform to build on.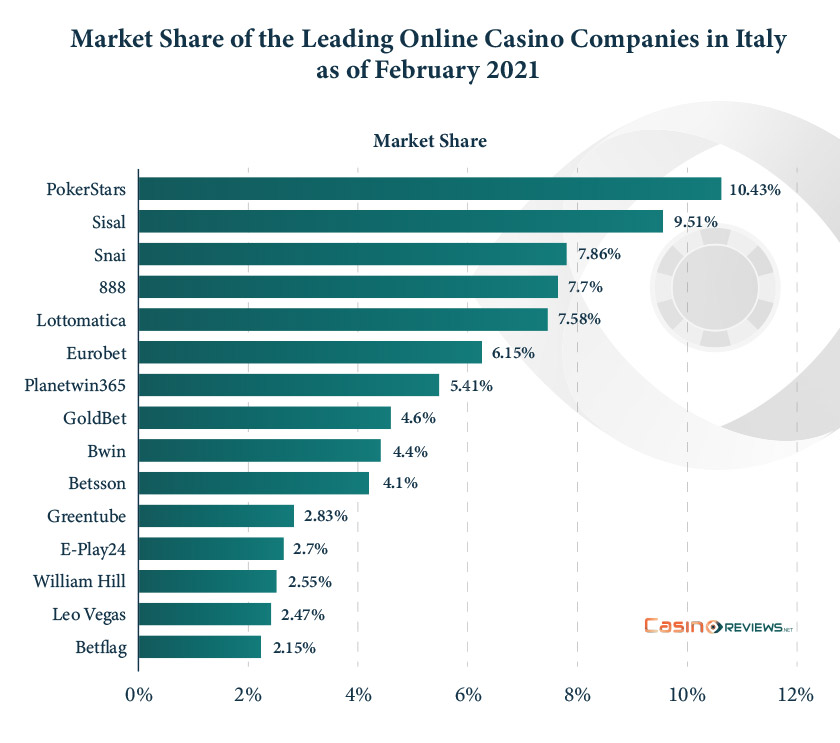 Figure 2: Market share of leading online casino companies in Italy – February 2021
When combined with its PaddyPower and Betfair brands as well, this provides a significant opportunity for integration and cross-marketing. One of the biggest selling points for Flutter is that Sisal is arguably one of the most popular Italian brands in the country and therefore comes with a substantial, loyal customer base.
Flutter Flexing Its Muscles
It does almost seem as though Italy was somewhat of an afterthought in terms of its growth strategy, especially considering that the US appears to have overtaken the company's consciousness in terms of the direction that it wants to head.
Currently, one of its brands - FanDuel, is dominating across the Atlantic and, along with rival firm DraftKings, effectively shares the market, with everyone else competing for third place. Whether it has plans to incorporate the technology that it uses for FanDuel into Sisal's framework remains to be seen; however, based on recent events, the business model that has been implemented appears to be working.
Arguably, Flutter also has a significant share of the UK market as well, with its PaddyPower and Betfair brands, effectively competing with bet365 as the standalone, number one online gambling and sports betting operator company - again with others such as Betfred competing to keep up.
Now with Sisal added to its impressive portfolio of online gambling brands, Flutter has no doubt positioned itself nicely to become a leader in Italy. Having been acquired in 2016 by CVC Capital Partners for $1.1 billion, they have effectively doubled in value.
What will be interesting over the next few years is how much Flutter can add to Sisal in addition to the growth strategy that it has planned for it. Certainly, they have one success story in Italy with its PokerStars brand and whether any product integration is planned over the next year remains to be seen.
Where Flutter will need to be careful is diluting the strength of PokerStars, especially if it is planning on revamping Sisal's poker product. However, Sisal is an omni-channel brand that not only offers online casino, but also sports betting and lottery.
The sports betting market in Italy represents a great opportunity for Flutter to turn Sisal into the leader for this niche. They have a track record to prove it. However, they will very quickly need to identify a brand direction in terms of how they want customers to perceive them.
At UK online casinos, PaddyPower has gained a reputation via some borderline controversial advertising campaigns, mirrored with industry-leading promotions in terms of the odds that it offers.
This is where they will need to take into account the potential response of their target customers in Italy. Implementing outrageous advertising campaigns for Sisal as part of any potential rebrand may not be the right direction to go in, and as a result, an in-depth dive into consumer behavior will be required in order to pre-empt customer responses.
Sports Betting – A Key Niche for Flutter to Win in Italy
Sports betting certainly represents a key opportunity for Flutter to turn Sisal into the main brand in Italy. In September last year, this vertical witnessed game-changing revenues of €187.3m - an increase of €115.0m on the previous month.
Such a difference provides key clues as to why. With most European football season kicking off in August and September, this is no doubt an indicator that the sport is a key betting niche in Italy and is also one that Flutter has significant expertise in.
Currently, Snaitech is taking the lead before Sisal in the country for sports betting, with a substantial market share of 14.26% and having been around since 1990, certainly appear to know what they are doing (Figure 3). Flutter will need to leverage as much of its marketing knowledge as possible if it is to acquire customers from its rival.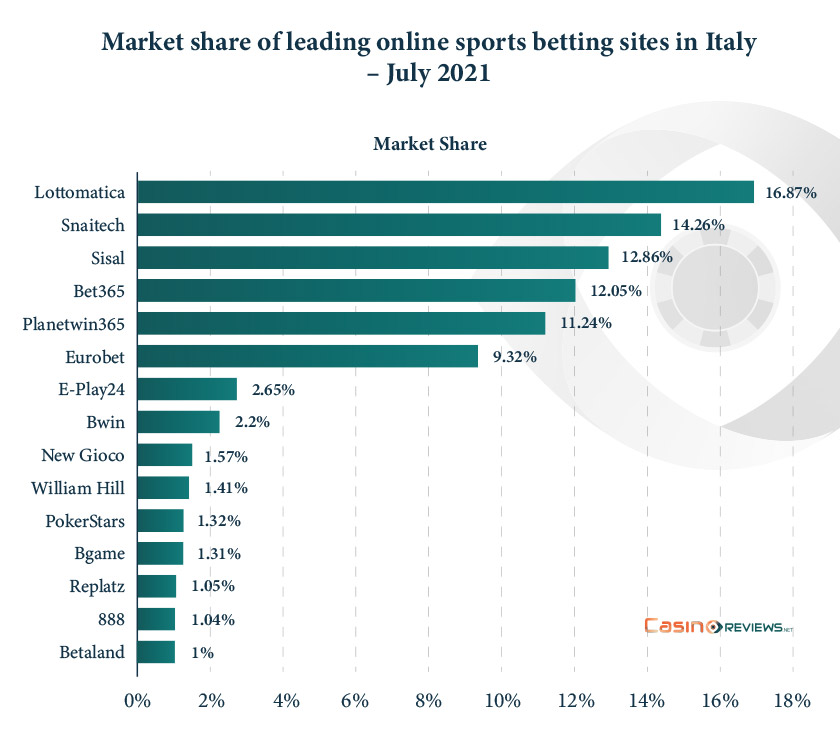 Figure 3: Market share of leading online sports betting sites in Italy – July 2021
However, now with so much backing at its disposal, Sisal can afford to be liberal as a way of gaining customers. Offering highly attractive acquisition packages, along with ongoing promotions, can be enough to bring customers across from Snaitech and other firms, such as Lottomatica, while also incorporating better live streaming technology can also have an effect.
Many questions were asked of Flutter when it decided to add a sportsbook to FanDuel's then fantasy sports platform, with a number of industry insiders questioning whether redirecting the brand's core business model was a sensible idea.
However, the regulation of online sports betting and also online casinos in the US gambling market was an opportunity that the brand could not ignore, and it has since become one of the biggest in the country, dominating in certain states like New Jersey and Pennsylvania.
This effectively proves that they are very capable of transforming a brand into a leader, though the response of the market - especially in Italy will be an interesting one. Compared to the UK and US, customer behavior in the country may dictate more of a subtle strategy, which could also be a key factor in determining how and if they decide to rebrand Sisal.
If they are able to turn Sisal into the number one operator for sports betting in Italy, there will be a big opportunity to also follow the same strategy with the online casino. Incorporating cross-marketing for both products will be a clever way of ensuring that they can also turn sports betters into online casino enthusiasts by combining promotions.
Of course, this tactic is nothing new in the industry and certainly something that Flutter already does with its PaddyPower brand in the UK market. Something as simple as improving its online casino interface and site navigation can be enough to acquire new customers.
Football Sponsorship Model Could Help Flutter to Take the Crown
One thing that Flutter has accomplished very successfully in the US especially is to implement a highly strategic sports sponsorship model via its FanDuel brand.
In 2020, FanDuel signed a significant sponsorship deal with premier NFL franchise the Denver Broncos - the number one American football side in the state of Colorado, which has helped the brand to gain significant attention and also become the lead sportsbook over the last couple of years.
This strategy could be one that is hard to ignore in Italy, especially for football, which is undoubtedly the number one sport (Figure 4), and which has a number of Europe's biggest teams. Aligning itself to become the principal betting partner with even one of them could certainly have a significant advantage.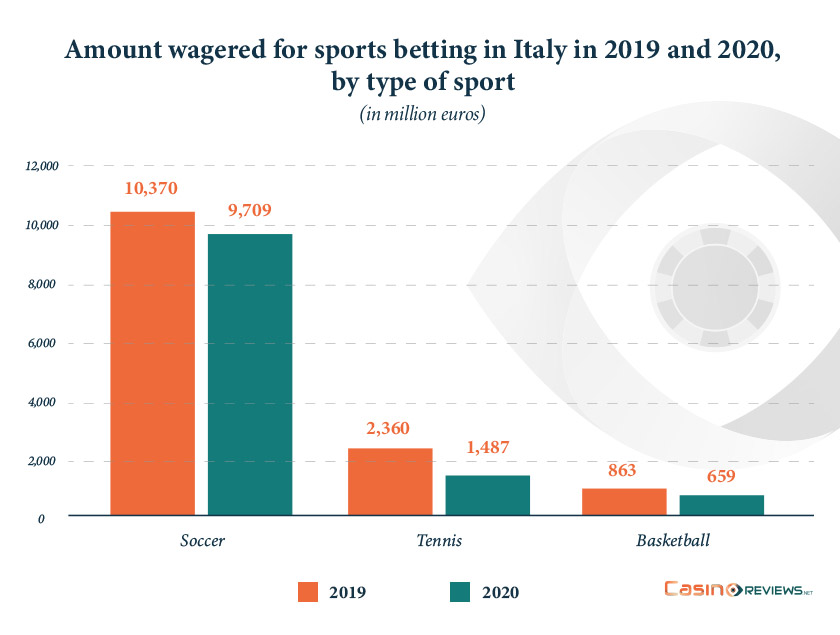 Figure 4: Amount wagered for sports betting in Italy in 2019 and 2020, by type of sport
It is also not uncommon for online gambling operators that partner with football clubs to offer exclusive advantages to supporters, especially season ticket holders, who can benefit from boosted odds, free live streaming, and access to regular promotions. Armed with a weighty marketing budget as well, Flutter has everything in its armory to do whatever it needs to do in order to gain a competitive advantage in Italy, especially over Snaitech, which could become another viable acquisition option as well.
Italian football is one of the most-watched competitions in Europe, which means that if they are able to put the Sisal brand in front of television audiences on the continent via sponsorship material in stadiums, Flutter may see value in taking Sisal into other countries as well and applying for licenses.
Just across the Mediterranean and Aegean seas, Greece has recently become regulated in online gambling and sports betting, and this could be one country that may creep across their radar - especially if they have access to viewing figures.
Lotto: A Curious Niche for Flutter
Perhaps the weakest area for the company is in the lotto space, and it will be interesting to see how Flutter is able to leverage Sisal's lottery product to not only maintain but also to improve it.
Over the last few years, lotto has been steadily growing around Europe - incidentally, this has always been a thriving niche in the UK and also the US, while the Lottoland model is well regarded by many.
Following the takeover of Sisal, Flutter Entertainment boss Peter Jackson wrote to the Gambling Commission in an attempt to persuade them to put the National Lottery back into British hands.
Currently, the National Lottery's operator is the Camelot Group - owned by a Canadian pension fund. With the contract up for renewal, both Camelot and Sazka, a betting firm owned by Czech billionaire Karel Komarek are understood to be leading the race.
British media mogul Richard Desmond, former owner of a UK newspaper group, the Express & Star, has also reportedly submitted a bid.
However, in his letter, Jackson stressed the importance for the Gambling Commission that the contract should be awarded to a British firm, and following the takeover of Sisal, it means that Flutter now has the infrastructure to make this possible.
Should this materialize, it would mean that the company will be a major player in virtually every aspect of the online gambling industry, in addition to being frontrunners across a number of major global markets.
With the contract up for grabs, whichever party is awarded it will receive the rights for a decade from 2024, with estimated revenues predicted to be north of £80 billion. For Flutter Entertainment, this would be a major coup, helping them to compete with its rivals to become the world's leading online gambling company.
This is where the bid for Sisal starts to make sense, and no doubt, the lotto technology that it has could well be considered a hidden asset that has the potential to not only ramp up Flutter's revenues but also act as a hedge for Sisal's Italian market, should they encounter difficulty in gaining significant market share.
More Acquisition Activity on the Cards for Flutter?
Following the takeover of Sisal, this Flutter Entertainment's second major move in the space of three months. After agreeing to buy premier UK bingo company, Tombola in November, it essentially means that they are heavily active across all online gambling niches.
An outlay of a combined £2 billion represents potentially very astute business for Flutter Entertainment which is no doubt flexing its muscles and signaling its intent to dominate in a substantial way.
While a takeover of any significant rivals is unlikely - at least in the short to medium term, the conglomerate could look to add smaller operators in other markets, where it identifies value in being able to transform them into a leader, utilizing the expertise of its bigger brands.
In the same way that they are aiming to become the leader in Italy, other European markets could well become the focus for further growth, and relevant operators could become an acquisition target.
Flutter could also look to venture into the software development niche of the industry and seek potential takeovers of a major provider, or at least one where it seems that it could add value to its company and also current brands.
Bringing software development in-house could be seen as advantageous for the company, especially in creating unique products, while it can also be another revenue stream, particularly for operators in the highly lucrative US market.
The Next Steps
Despite what can be regarded as a couple of considerable financial outlays over the last few months, these could well turn out to be very astute moves for Flutter and help to further cement its position as a global leader in the online gambling industry.
Without a doubt, the US will be the main focus for the company, and it will want to make sure that it can maintain market share in key states while also being able to move fast in further states that become regulated over the next few months.
A lot of energy will be put into its flagship brand in the US - FanDuel, however, it will also be interesting to see how much attention will be paid to offering an alternative to the market, via one of its others that are big in the UK, such as PaddyPower.
Not losing its grip on the UK market will also be considered a priority, and it knows that key rivals bet365 and even Betfred are going to be doing everything that they can in order to raise their game and secure new segments of the market.
That is why there is so much riding on its bid (via Sisal) to secure the rights for the National Lottery, which will aid UK revenue figures considerably. One thing that it has done well is being able to keep hold of loyal customers via its PaddyPower brand, using more radical advertising that appeals to, as it turns out, a significant share of the UK online gambling industry.
Essentially, they are masters at attracting attention with daring marketing campaigns, and this has paid off in a big way over the last decade - its customers are effectively fans.
Betfair, meanwhile, is another brand with an interesting, unique selling point - it is, for all intents and purposes, a betting exchange, whereby prices fluctuate based on a stock market model. Customers are effectively buying bets from one another, and Betfair takes a commission for offering the service. This could well be identified as a brand that Flutter may want to take into the US, and if so, it will be interesting to see how the market reacts.
Buying Tombola can definitely be considered an intelligent move. The popularity of online bingo in the UK is considerable, and effectively it can be a major addition to Flutter's revenue stream for years to come, while there may be the possibility to venture into new markets with the brand.
The immediacy, though, after such a splurge is as its company statement relayed - to achieve a "gold medal" position in the Italian market. And in this industry, it is a sprint, not a marathon. The race is on.