How Much Do US Gambling Companies Spend on Marketing and Ads?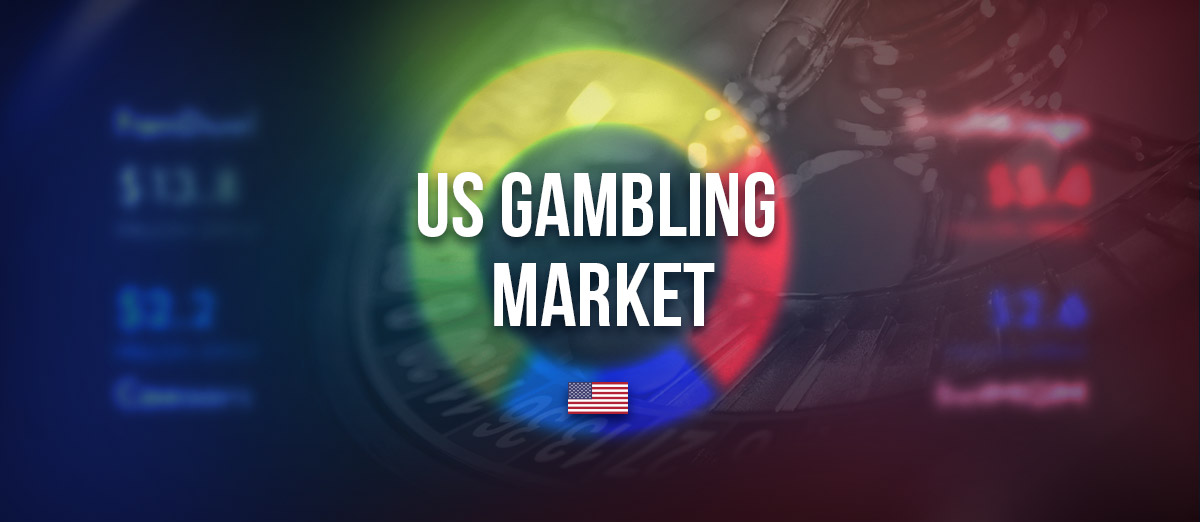 The US online gambling market is, without a doubt, one of the biggest growth sectors in the world and certainly one of the biggest in the global gambling industry. Significantly expedited following the recent global pandemic, it saw multiple states in the US approve proposed online gambling bills as a way of generating much-needed revenue via taxable income from those operators that were awarded licenses in these states.
One of the biggest challenges for operators - certainly those who were not well known, was customer acquisition. The major brands, such as DraftKings and FanDuel, had already built up considerable recognition via their fantasy sports model, which was their initial enterprise, having launched a decade previously.
This led them to develop their own sportsbooks and casino sites once it became clear that online gambling would become legal in the first states, dating back to 2013 in New Jersey, with a couple following suit over the next seven years.
Meanwhile, the brands that already had landbased casinos in states such as Nevada (Las Vegas), as well as New Jersey (Atlantic City), also had a major advantage in terms of recognition, MGM Resorts International and Caesars Entertainment being chief among these.
Essentially, it meant that these brands already had a considerable market share in the states that passed online gambling bills from 2020 onwards; indeed, both Caesars and MGM had already launched their respective sportsbooks in the likes of New Jersey. MGM, via a joint partnership with UK conglomerate Entain, created BetMGM.
However, there were also interested newcomers to what had been identified as a market with a significant amount of potential; indeed, these had realized that there was considerable work to do in order to catch the big brands, which would involve many highly strategic advertising campaigns.
Ad Expenses for Gambling in the United States
According to data from Statista, it is predicted that the ad spend by gambling companies in the US between 2021 and 2023 will almost double (Figure 1), from $1 billion to a staggering $1.9 billion during that time frame.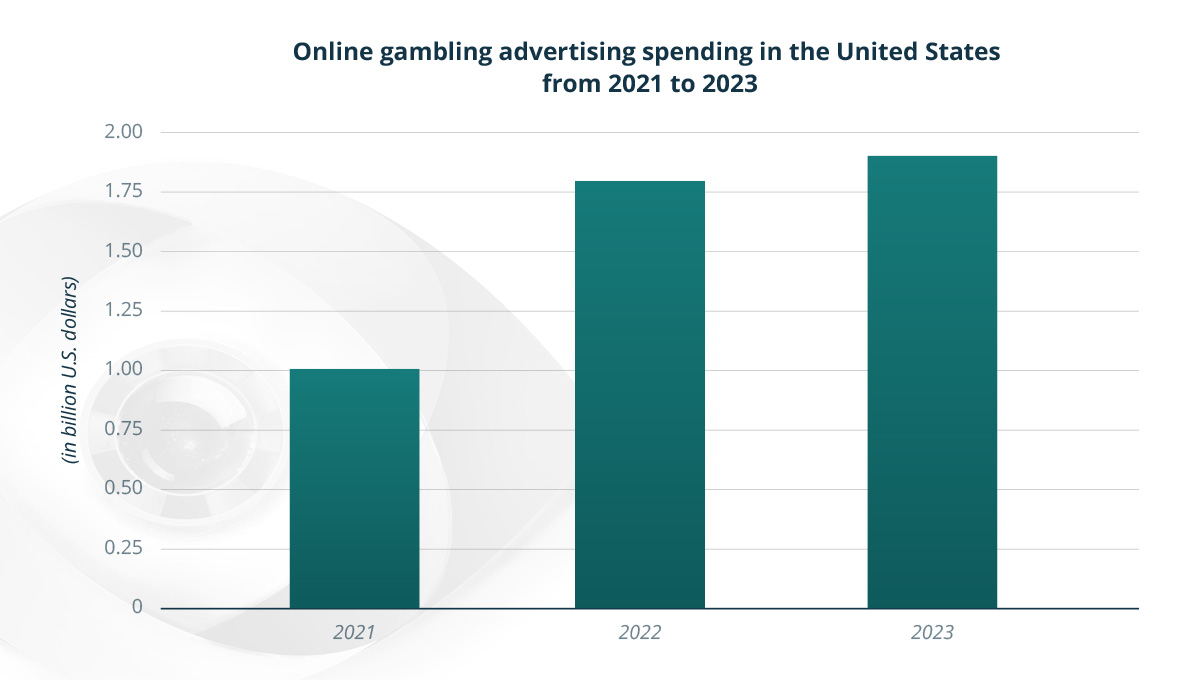 Figure 1 - Gambling ad spend in the US from 2021 to 2023. Source: statista.com.
Of course, what has to be taken into account is that each operator will have spent different amounts, while there will also have been a difference in terms of the various states where they spent on advertising.
For example, the first quarter of 2021 revealed interesting statistics when it comes to spot television advertising figures. According to data from Nielsen Scarborough, FanDuel led the way considerably, having spent $57,563 (000s), while DraftKings was some way behind with $43,629. It meant that the two had 37.5 percent and 28.4 percent of the market share, respectively. Quite a way behind was BetMGM $24,884 (16.2 percent).
Certainly, there will also have been a difference in terms of how the marketing budget was broken down for each operator and what this was allocated for, such as how much for sports betting and online casino. Did sign-up offers play a significant part, or was the advertising more to do with awareness?
No doubt, it was a bit of each. It was revealed in November last year that Flutter Entertainment-owned FanDuel was ahead of the industry in terms of marketing efficiency and margin standpoint. It revealed that the brand's cost per download was 24 percent less than its competition, with its margin of $1 per handle 43 percent higher than the rest of the market, at 9.7 percent, compared to 6.8 percent.
As a result of such phenomenal statistics, the brand revealed that there was more room for growth in terms of margin, and subsequently, it was aiming for a 12 percent margin by 2025. Another astonishing result for the company is that it said it received 80 percent more revenue per $1 of marketing spend than its closest rival, DraftKings.
In addition, FanDuel announced that due to its high margins and effective marketing strategies, its average customer pays back any acquisition costs within the space of 18 months.
Meanwhile, at last year's Capital Markets Day, Flutter also revealed that it believed it could generate between four and five times its revenue from 2022 by 2030, taking into account the expected maturity of the online US sports betting and gambling markets.
As such, these prospective figures translate to $16bn (£13.6bn/ €15.5bn) and earnings of up to $4.8bn by 2030. The brand's revenue breakdown for the initial nine months of 2022 was a considerable indicator that it was investing wisely in advertising.
The state of New York, which only launched mobile sports betting in January last year, was responsible for $428 million from a revenue standpoint for FanDuel. This was closely followed by New Jersey and Pennsylvania, with $244 million and $181 million, respectively.
It was also revealed that these two latter states are where the brand had the largest market share at 50 percent. As such, it was understood that from a product standpoint, 66 percent of FanDuel's projected $3 billion for 2022 would come from sports betting, 23 percent from iGaming, four percent from daily fantasy sports, and seven percent from racing and sponsorship.
How Have the Top Gambling Brands Invested?
From a breakdown perspective over the last couple of years, there is certainly interesting reading in terms of how the different online gambling brands have spent and how successful they have been.
As a result, there are signs of some patterns over the last couple of years, certainly regarding where brands have been successful when they have invested in advertising and at particular times of the year.
For example, the autumn and winter months represent a significantly active period for sports betting, especially with the NFL, NBA, and NHL seasons in full swing and, as a result, for most of the operators, these appear to be the most expensive months for advertising.
It was forecasted by BIA Advisory Services that $1.8 billion would be spent on advertising in the US online gambling industry for 2022, with it being understood that a large proportion of this would be focused on sports betting products. Meanwhile, the first week of 2022 recorded figures of $24 million being spent by the four biggest sportsbooks; FanDuel, DraftKings, BetMGM, and Caesars.
One aspect that has been particularly successful for sportsbooks is television advertising - especially for the big four brands. As a result, the states that have gaming regulation and legal online gambling have considerably more revenue from television advertising campaigns.
It is understood that five operators hold in excess of 82 percent of the market share in every state. Meanwhile, in Michigan, a state that regulated a couple of years ago and one that has shown considerably surprising traction for online gambling, it was found that out of the 14 operators that are in the state, the top five have over 90 percent market share, as a result of aggressive advertising.
For television exposure, the competition becomes even more relentless when considering the restrictions that are in place that sportsbooks are up against. For example, the NFL only allows six sportsbooks to run advertising campaigns across television and Amazon Prime for each game, which means that there is usually always a considerable amount that miss out. This is especially the case for states where those six sportsbooks are in the minority, giving them a substantial advantage.
Furthermore, each sportsbook airs an ad, before kick-off, at half-time, and in each quarter, giving them a huge amount of exposure in front of an audience, often consisting of millions. As it currently stands, there are five presenters that have been approved by the NFL, with these being FanDuel, DraftKings, Caesars, and FOX Bet.
The figures that perhaps paint the most intriguing picture are those recorded from advertising spend for the first week of the 2022/23 NFL season. Without a doubt, the NFL is arguably the biggest sports betting market in the US, with many states playing home to numerous major franchises and, as a result, having significant support.
As such, it was found that FanDuel had spent a staggering $13.8 million on advertising for the first week of the NFL alone. What is even more flabbergasting is that this spend far eclipsed its rivals by more than double.
DraftKings recorded a $5.4 million advertising spend, followed by BetMGM ($2.6 million) and Caesars ($2.2 million). Meanwhile, according to a report that was conducted and released in June 2022 by iSpot.TV, US sports betting brands spent in the region of $282 million on television advertisements between September 2021 and May 2022.
As such, it was found that the combined advertising by the firms produced well in excess of 18 billion impressions, with over one-third of sportsbook advertising impressions being local advertisements.
Impact of Digital Advertising
Closely behind television advertising in the US online gambling market is that of digital advertising, with even more mediums having been discovered to be highly effective in this industry.
Pathmatics revealed that in January 2022 FanDuel, DraftKings, Wynn, MGM, and Caesars all invested $25.6 million combined on streaming, display, and social advertising. One of the reasons why digital advertising is attractive to sportsbooks is because it is easy to track the figures and assess how effective a particular campaign is from an ROI (Return-on-Investment) standpoint. As a result of this, brands can then more accurately decide which parts perhaps didn't work and why and how these can then be improved for the future.
In addition, it allows brands to target their ideal audience more effectively, based on their market research, and then retarget them to build up engagement. As a result, this then allows brands to bring people into their philosophy, find out what they like and then convert them into paying customers.
Online advertising in the gambling industry, in particular, allows brands to build up a key strength that can prove to be successful for them over the long term; ensuring that they are able to continuously target niche, key customers.
The impact of digital advertising spend on the US market over the last couple of years has been phenomenal. One of the major reasons for this is that some sportsbooks have linked up with media agencies, which has considerably boosted their media coverage. FanDuel is reaping the benefits from a 1a 0-year partnership agreement with FOX Sports, which means that viewers can enjoy content from FanDuel exclusively through all FOX digital channels.
What Effect Does This Have on Returns?
The obvious answer, especially in this industry, is that the more you spend on advertising, the higher the chances of profitability. However, there is perhaps a lot more that goes into this.
While it is clear that operators have got this right, there first has to be a reason for the advertising to convert into customers. One of the biggest successes for brands over the last couple of years is through generous sign up offers that have resulted in a flood of customers in the relevant states.
It was revealed that FanDuel spent more than $1 billion in marketing last year (not just advertisements, but offers as well), and it is believed by parent company Flutter, via its recent financial report, that it owns an impressive 40 percent of the US online gambling market. Meanwhile, one notable figure is that Flutter found that it gets an average one-year return of 1.2 times the cost of customer acquisition.
Things, though, don't always go according to plan. Rival company DraftKings was heavily criticized for its scattergun advertising approach to the New York market in January last year in a bid to capitalize on the market in its first month of launch. However, this backfired, with numerous strategies gone wrong, causing its stock price to fall.
While the firm has rebounded, figures in January still showed that it had a debt of $1.2 billion, though it still had plans to spend $195 million on advertising in Q2 as part of an ambitious customer acquisition campaign. However, Caesars reported that it would significantly cut back on spending after a billion-dollar campaign in the last quarter of 2022 in a bid to win new customers.
What cannot be in doubt is that the US is one of the biggest markets in the world when it comes to advertising spend in the online gambling industry, while revenue figures do little to argue with this fact. The next few years will certainly be interesting from this perspective, especially if more states become regulated as well.