Kindred's Continued Consolidation and Its Place among the Best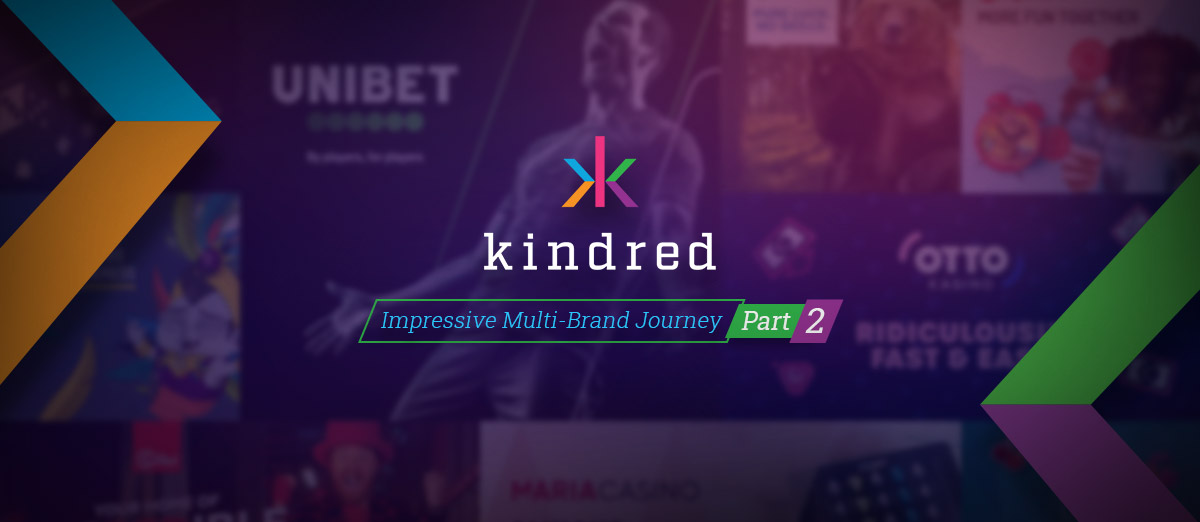 Like in most industries, a failure to adapt and move with the changing times can put most companies out of business. Over the last seven years, in particular, we have seen the online gambling industry change faster than most.
In Kindred Group's Growth Part 1, we explored how one man's vision created the launchpad for one of the most influential iGaming companies of the last two decades.  Below, we delve deeper into how the group has been able to still keep at the forefront while dealing with increased competition in each market that it operates in.
Proportional Scale and Transition
In 2016, considerable change came about when the organization restructured and rebranded under the Kindred Group, as we know it today. It was a move that shifted the focus truly to a multi-brand strategy, consisting of 13 consumer brands that included Unibet.
A year earlier, the group had also acquired rival sportsbook Stan James Online - based in Gibraltar, for £19 million. The former would later be integrated with Unibet to create a singular multi-purpose online gambling site.
By this time, the Kindred Group, as it became, had also started to forge a reputation for itself in the online casino world, while its online bingo performance was reflected by strong figures from the relevant brands under its umbrella, with earlier acquisitions seemingly paying dividends in terms of returns.
Perhaps the group's most perceptive acquisition to date came with the purchase of 32Red, which had shown to be a force to be reckoned with in years previous - its clever marketing strategy helped to win football fans around Europe thanks to corporate sponsorships. It was the group's largest acquisition to date, coming in at £176 million, though still a modest fee when compared to some of the prices for operators today.
This also perfectly aligned with the group's strategic growth focus, with CEO Henrik Tjarnstrom explaining: "The acquisition of 32Red is consistent with our multi-brand strategy and stated desire to grow our business in locally regulated and soon to be regulated markets. 32Red is a high-quality, customer-focused business with a similar culture to Kindred Group's, and we are delighted to welcome 32Red and its team into the Kindred family and look forward to further developing the brand going forward."
The year prior to the deal, 32Red had recorded net gaming revenues of £62.3 million, clearly indicating that there was a lot of potential for further growth, and Kindred was in a position to help support this.
By this point, Strom had moved into the role of group chairman, taking more of a back seat, being less hands-on, trusting his CEOs and other C-level executives of the brands to handle the day-to-day operations, instead overseeing the general direction of the group as a whole.
Following expansion into the Norweigian market, with a casino brand created in-house, the group launched into Romania with its second online operator - Vlad Cazino, identifying a potential market that was ripe for growth.
In its bid to stay up-to-date and which reflected the organization's ability to understand the shifting trends, Unibet updated its logo in 2018 so that it was more conducive to a mobile-orientated user experience.
By this point, the vast majority of online gambling activity was via a mobile device, and staying current was a prime priority, especially with its competitors doing the same thing.
Having acquired a license to operate in Sweden, the group was beginning to realize the importance of moving into key markets that had serious growth potential, further reflected by Unibet acquiring a license for the state of Indiana in 2020 - one of the earlier U.S. states to approve online sports betting. A year previously, the brand had also established an office in New York City, which led to it acquiring licenses to operate in New Jersey and Pennsylvania.
Like a handful of other operators, it was clearly predicting that the U.S. would be a prime market in the future and was positioning itself nicely, laying the foundations to propel itself when the time came.
Arguably one of its most unique brand differentiators came when the group launched its Watch&Bet Live Streaming player in April 2021 - the same month when Strom stepped down as chairman.
This industry-first initiative was ground-breaking and revolutionary, enabling customers to place a bet while watching one of its live streams - essentially an upgrade on live betting, which propelled Unibet into a weight class of its own.
Erik Backlund, Chief Product Officer at Kindred Group, explained the thought process of the new initiative, indicating: "The new streaming player will take the customer experience to a whole new level. Easily explained with three words – Fast, Easy, and Fun. Fast, because it enables our customers to see the action and react to it instantly. Easy because the design is clever and intuitive. Fun, because this is a whole new way of enjoying the live sports watching and betting experience."
Through thorough customer feedback capturing and innovative internal workshops, we dreamt up a grand vision of how we can transform the in-play betting experience, and with this new Watch&Bet player, we are one step closer towards that dream. But we are far from done, this is the foundation to which numerous building blocks will be added, and we are all really excited over the upcoming releases for our sports betting customers.
Kindred Group US Expansion
Like many other European online gambling groups and standalone operators, the U.S. has been earmarked as a market that has a lot of potential to, if not become a leader, then at least substantially supplement existing revenue.
It appears that this could well be Kindred Group's strategy, certainly with its Unibet brand, after building up a sound reputation in the states that it operates in over the last four years.
Predominantly, the U.S. online gambling industry is led by native firms, such as the Flutter Entertainment-owned FanDuel, DraftKings, and BetMGM (jointly owned by Entain and MGM Resorts International). The sizeable market share that these three brands already have across the U.S. makes it difficult for a European operator to really crack the market.
As far as Unibet is concerned, unique product development could be one way to appeal to a proportion of the U.S. market in certain states, such as the Watch&Bet initiative and the release of further unique technology can help it to stand out from the crowd, especially considering the popularity of U.S. sports.
While predominantly marketed as a sportsbook, Unibet also has a progressive online casino, and in some states, such as Michigan, this segment of the market is a clear leader, especially in terms of revenue, compared to sports betting.
Kindred Keen to Stay on Top
Over the last couple of years, the group has consolidated its position in the U.S. after expanding into the states of Iowa, Ohio, Illinois, and most recently Arizona, while like many other operators, it also has eyes on California, with this likely to become the biggest market in the U.S. next year, pending a vote.
Onboarding EveryMatrix - a specialist U.S. software provider and game developer, was a tactical move that helped in gaining further exposure to the U.S. market. This meant that its suite of games became available to Kindred Group customers via the EveryMatrix iGaming Integration Platform.
Upon the closing of the deal between the two parties, Erik Nyman, President Americas at EveryMatrix, said: "Kindred Group is one of the earliest adopters of iGaming and sportsbook globally and has been very successful since the inception. We are very pleased to become their trusted partner in the U.S. market."
We will be supplying a large selection of games to appeal to their U.S. players through our iGaming Integration Platform, CasinoEngine. This partnership further enhances EveryMatrix position to become the leading technology provider in America, and we trust Kindred's players will enjoy our games portfolio and bonus features.
Meanwhile, Manuel Stan, SVP of Kindred Group in the United States, added: "We are very excited to partner up with EveryMatrix and bring the top-quality content from Spearhead Studios and Armadillo Studios to our U.S. customers, in our intent to bring a best-in-class Casino offering to the U.S."
Such a deal has allowed Kindred Group to forge a familiarity with its potential U.S. customers by offering games from the EveryMatrix platform; somewhat of an astute way of acquiring and then retaining customers in a new market that it has clearly targeted for huge growth.
What's Next for Kindred Group?
The next few years certainly promise an interesting roadmap, especially under new leadership, with Strom having stepped down - no doubt the path that it takes will certainly be interesting in terms of discovering and entering new markets.
Тhe group secured a license for the regulated Ontario market in Canada, which has been identified by many operators as having a significant amount of potential.
This was highlighted by the country manager for Canada Kindred Group, Amanda Brewer, who, following the announcement, gushed: "This is an exciting day and a significant milestone for both Kindred and Unibet.
We are proud to have received permission to launch in Ontario on the first day the market opens and look forward to building long-term relationships with our customers and partners. The iGaming market in Ontario is expected to be one of the largest in North America, which makes it a truly interesting proposition for Kindred.
Ontario is full of sports teams and passionate fans, which is no surprise given the history and popularity of the NHL, NBA, and MLB leagues. What makes Ontario unique is that thanks to its multicultural population, matches within, for example, soccer, rugby, tennis, curling, and cricket, are easily found. There will be no shortage of sports for fans to wager on when the market opens on 4 April. We are excited to provide fans with first-class products and experiences.
In terms of new markets, this is likely to be just the beginning, especially when considering the potency of the LatAm markets in South America, taking into account the likes of Argentina, Brazil, and Colombia. There is, of course, central America as well, consisting mainly of Mexico, which is still very much in its infancy as far as the development of online gambling is concerned.
From humble roots as a single entity in a central London apartment 25 years ago to being a multi-brand conglomerate in over 20 countries around the world, this has certainly been a journey that has taken Kindred Group as it is now through the 'glass ceiling.' Constantly making sure that it was right on the cusp of the latest industry developments and showing the required agility to move when it needed to has enabled the organization to become the force that it is today.