What Is the Future for William Hill EU under 888 Ownership?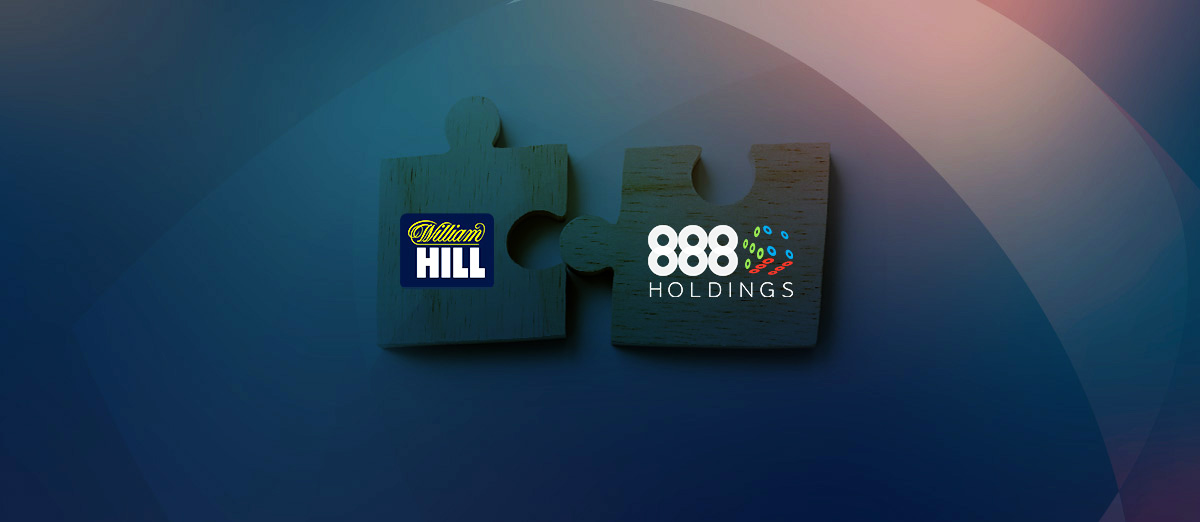 It was a grey April day in London, though despite having just relinquished control to American gambling and hospitality company Caesars Entertainment for £2.9 billion. Behind boardroom doors in WC1 (the location of William Hill's European headquarters), the distinct sound of champagne corks popping peppered the sombre malaise with an air of cautious optimism.
The result? A nearly six-month hangover, and while it was very much a 'business as usual' front, behind the scenes, plans were already being put in place to offload the majority of the business again.
There was no attempt from Caesars to disguise their intentions. For those who could join the dots, the big picture became clear very quickly. The official line was that the European division of William Hill didn't suit their long term business approach.
In reality, it had all the hallmarks of a classic takeover, veiled by sophistication; any third parties or middlemen seemingly non-existent. While corporate raiders appear to be a thing of the past, it was still the merger and acquisition team at Caesars who were in the driving seat; seeking potential buyers, poring over spreadsheets - dog and pony shows notwithstanding.
Although there are perhaps shades of grey about certain elements of the deal that saw them eventually sell off their European assets to 888 Holdings, the black and white displays everything that needs to be known; Caesars sold for £2.2 billion.
It included all 1,400 or so retail shops in addition to William Hill's European online businesses. In reality, Caesars have pulled off a masterstroke. Simply put, they bought the UK company's online US arm for £700 million; when all things considered, the biggest steal since President Richard Nixon and the gold standard.
All things considered, including the potential return on investment (ROI), Caesars are more than in the black. With more US states passing online gambling legislation, they have a site that could easily double the £700 million within the next couple of years.
888 – Saviours or Shrewd Operators?
Unbeknown to many, and perhaps ironically, '888' is actually a numerical representation of Jesus, or Christ the Redeemer. With the company encountering stiff opposition to acquire William Hill, it could be fair to say their bid was somewhat of a 'Hail Mary', even perhaps paying more than what the assets were worth to stave off competition.
Intent signalled; the signs are obvious. It is highly unlikely that this deal is part of another spin-off plan to make a quick profit. The line that came out of 888 following the completion of the deal was that the plans were to combine both businesses, creating a strong company.
In 2016, 888 actually had a takeover attempt of William Hill rebuffed when it teamed up with Rank Group in order to create (on paper at least) a three-way merger. To some, this appeared to be a response to William Hill's attempt to buy 888 a year earlier, after it had a £700 million rejected.
To fund the deal, 888 have taken on £2.1 billion in debt financing, a tactic that is commonplace, with projected sales figures to skyrocket 888 into the centre of the universe. Russ Mould, investment director at AJ Bell, suggests a leap from $814 million to $2.5 billion worldwide.
How Does William Hill Fit the Segmented 888 Model?
For the last few years, 888 have slowly been going about their business; their model is compact and well organised. Already, they have a number of online casino and bingo brands under their umbrella, plus, not realised by many - their own B2B division, Dragonfish Gaming, that creates and handles all of the software, both in-house and for smaller, external operators. Another highly shrewd and tactical revenue stream.
Following the takeover, 888 chief executive, Itai Pazner, was keen to emphasise that there was indeed a strategy in place, particularly in terms of continuity:
"The combination of 888 and WHI (William Hill International) is expected to deliver significant operating efficiencies, including pre-tax cost synergies of at least £100m per year, leading to improved profit margins. William Hill is an iconic sports brand, making it the ideal complement to 888, one of the leading global online gaming brands."
While there might be some changes in terms of how they do things, for all intents and purposes, it is clearly important for 888 that there is not too much disruption. William Hill has long been a cornerstone of UK gambling, since its roots dating back to the 1950s. Still, to this day, the brand has a loyal customer base, upheld by a careful business plan that has seen it become an industry leader, particularly across such markets as horse racing.
For 888, acquiring these customers is seen as an important step to their overall growth; the brand recognition that William Hill has, particularly in the UK, can help them to acquire more of this market.
Although 888 is perhaps more forward-thinking in its approach, especially considering its almost segmented model, that separates sports betting and online casino, with individual websites for these, in addition to its own poker brand, adding William Hill's online assets to its repertoire can help them to improve certain aspects of their business.
In terms of communication and logistics, both brands have corporate offices in Gibraltar, which can certainly assist from a practical standpoint. The most likely scenario is that this is where the two will witness the most overlap.
There was, without a doubt, a method to this takeover, and the next step for 888 will be to make sure that there is as little disruption as possible, particularly from a day-to-day aspect. In acquiring William Hill, 888 have essentially put themselves on track to being able to challenge their competition.
Although Entain, who were the subject of a $20 billion acquisition offer from US giant DraftKings, essentially dominate the online gambling industry, with in excess of 25 brands under their purview, including Coral, Ladbrokes and bwin, there is scope to pose a challenge to others.
Arguably, the big four in the industry are Entain, bet365, Flutter Entertainment (owners of Paddy Power and Betfair) and now 888 Holdings. Each company has a significant customer base, and this will only get bigger.
Is Further Expansion the Next Step?
The roadmap for 888 has a number of possibilities, and they will not want to be complacent. Already we have seen Entain making moves in other European markets, having applied for a Dutch license, and 888 will likely be looking at potential regions across Europe such as Greece that are now becoming regulated.
Arguably the biggest advantage that 888 now has is a platform to build on and grow their brands further. Particularly strong in most online gambling niches and arguably even more robust when it comes to sports betting, following their acquisition of William Hill, increasing brand recognition in new regions is certainly a strategy that they should be exploring.
What is likely to be at the forefront of the minds of 888 executives is a further entry and then expansion in the ever-growing, potentially highly lucrative US online gambling market. Effectively an arms race, with multiple companies fighting for position in the country, not least, well organised, highly astute US firms; this is an opportunity that 888 must seize.
However, with the US division of William Hill owned by Caesars, this presents a problem that will mean 888 are precluded from taking the European arm into the US.
Despite this, the firm already has somewhat of a footing in three US states in partnership with US entities. In Colorado, their alignment with the Colorado Grande Casino has seen them able to provide sports betting under the 888sport brand. This model has been replicated in Iowa, thanks to their association with Catfish Bend Casinos and, interestingly, a similar one with Caesars Entertainment owned Harrah's Hoosier Park resort in Indiana.
Although these three states are certainly not the most lucrative in the US market, one thing that it has at least resulted in is brand recognition, all important when it comes to establishing foundations to build on in the US.
Following completion of these partnerships, Pazner underlined the importance of such deals, stating: "We are delighted to sign these agreements with three great partners," said Itai Pazner, 888 Chief Executive.
"The US online betting and gaming market has huge growth potential, and we continue to build a strong platform for growth across both our B2B and B2C operations."
The Future for 888 in the US
For 888, the most intriguing deal in the US is that of its partnership with Sports Illustrated that sees a new sportsbook offered to the American market that combines the proprietary technology from 888 with the strength of awareness that Sports Illustrated already has in the US.
Key to this has been their ability to secure market access across four primary states in the sports betting niche, which are seen as essential to their success. While access is granted in Iowa, Colorado and Indiana, arguably the most important is New Jersey, the largest online gambling and sports betting market in the US with 20 casino sites and revenues that exceed $5 billion per year.
If they can capitalise, particularly in New Jersey, albeit against strong competition, then this partnership will substantially offset being hampered by the William Hill deal.
However, what it could mean is that expertise from William Hill Europe cannot be utilised for their joint-venture with Sports Illustrated, which, essentially will help to tick a number of boxes, especially in important areas that have seen William Hill become so successful in the UK market over the last decade.
Regardless, as far as 888 are concerned, there appear to be no major worries about its expansion into the US - appropriate foundations have been laid, and they know that their competitors will be facing similar problems.
How to Gain Control over the European Market
For their William Hill brand, it essentially provides them with the possibility of, albeit cautiously, growing further in Europe. However, they simply cannot afford for this to become a distraction. The UK is still the priority, and losing a foothold there could have dire consequences.
The likes of bet365 and Flutter are dominating the UK market (not to mention Entain), while Betfred have shown encouraging growth figures over the last few years, aided by a strong marketing division.
What is perhaps necessary that 888 look to implement is somewhat of a revamp, an overhaul of the website, particularly on mobile. While completely abandoning the company's brand values would be counter-productive, a more modern, perhaps sophisticated approach, in line with the likes of bet365, can help them not only retain customers but also acquire them.
This is where the expertise of Dragonfish can be especially valuable, with 888's technology firm highly capable of implementing a facelift that makes William Hill's online assets more aesthetically appealing. From here, this can help them to gather interest in other European markets that are perhaps even more technologically forward-thinking.
'If It's Not Broken, Don't Fix It' vs Next Generation Technology
Even prior to the takeover being completed, there were rumours that 888 would look to spin off William Hill's betting shops, with online gambling having completely overtaken the traditional model. However, 888 has recognised that for William Hill at least, this is still an important revenue driver, especially one that can help to retain its more generational customers.
Betfred had reportedly expressed an interest in these units, which clearly indicates that there is still value to be had from them. The likely approach for 888 with the retail division is that they spearhead a revamp of the business model that still sympathetically retains the roots but which leverages the technology at its disposal to help streamline efficiency.
A rebrand of the betting shops is highly unlikely, though modernisation will be at the top of their mind, with more of a customer-service orientated approach, something that Betfred owner Fred Done implemented from the start of the company in the late 1960s.
The combination of William Hill and 888 is perhaps somewhat of a cultural dichotomy. The founding team of 888 is made up of 'next generation' Israeli technology entrepreneurs. William Hill spent his formative years cycling around London taking illegal greyhound bets, hustling around the clock, before starting his own small betting shop in the 1940s, before the business became legitimate.
Both approaches have almost been the bedrock of the models that each company has been built on; William Hill was never deviating from what it was good at, having intimate knowledge about certain products such as horse racing and how to provide the best service to their customers. 888 being armed with technical expertise from the beginning has seen them flourish into one of the most forward-thinking online brands in the industry.
In short, both parties can help benefit the other. Over the next couple of years, it is likely that the group will adopt a long term strategic approach with an emphasis on excellent customer service, backed up with advanced technology to help with efficiency. More than anything, this could be translated most effectively in the retail units that could make them some of the most attractive of any of their competitors.
Recruitment Drives a Possibility?
Despite acquiring William Hill's workforce, the deal could well see a gap within the company that necessitates more industry-specific knowledge, especially if it leads to more possibilities in areas such as BI (Business Intelligence), a niche that some operators in the sector are leaders in.
888 has long held an interest in hiring the best technology talent from around Europe and in order to put future plans into practice for new initiatives such as potential moves into VR (Virtual Reality) or even AR (Augmented Reality), which many believe is one direction that the industry is heading in, could require even more talent.
Dragonfish, 888's technology division, have been developing some of the most sought-after slots and casino games for the best part of a decade, though perhaps what is most impressive is the way in which they have developed 888's digital assets, which are well-known in the European market.
Making sure that their current resources are not overstretched in order to implement such new, potential projects is a key priority, though having an organisational structure in place is just as important in the interests of effective productivity.
This will only over-complicate things if future, perhaps smaller acquisitions take place and, instead of hiring more talent, it could see 888 swoop for agile software companies in order to help facilitate their growth plans.
A Bright Future Ahead
For William Hill under 888, though, it appears that, after a period of uncertainty under US ownership, that their future is as mapped out as it can be, almost definitely in the short to medium term, and the priority for 888 is making sure that the brand's position in the UK market does not slip.
In London at least, there might be many more grey days, though the climate resembles a positive outlook that could see champagne flowing with more frequency sooner rather than later.