Churchill Downs' Major Impact on the US Gambling and Sports Betting Industries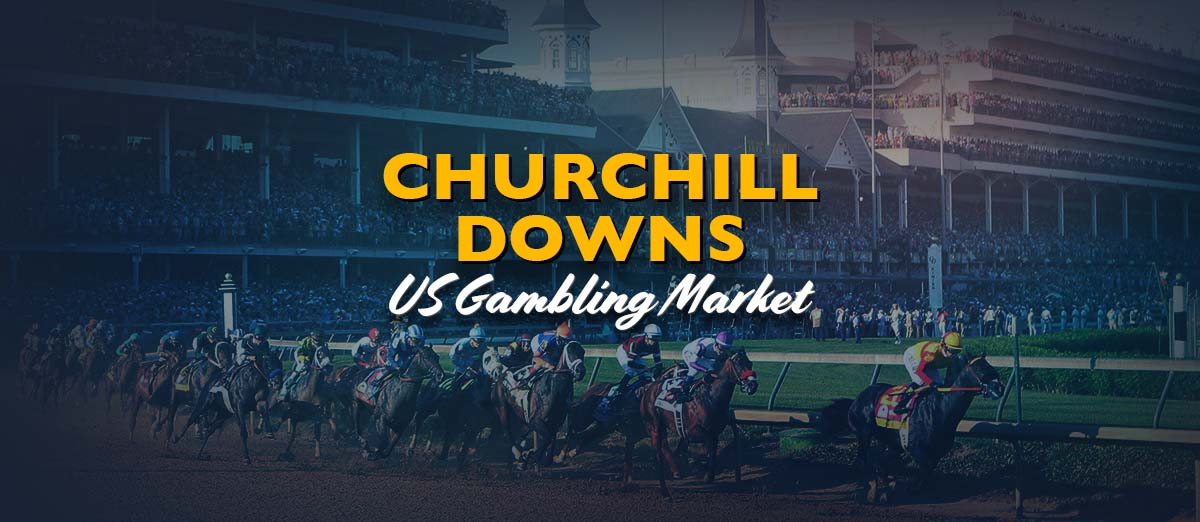 Without a doubt, over the last few years, the US online gambling market has witnessed a considerable surge in popularity, particularly reflected through increasing revenue figures. Essentially, it is on track to become one of the biggest in the world. Indeed, predictions north of $100 billion in annual revenue within the next five years are not too far wide of the mark.
Prior to online gambling being allowed in the US (and still, there are numerous states that do not allow this), interested enthusiasts could enjoy more traditional land-based casinos and venues, though, again, only in states where this form of gambling was legal.
Of course, Las Vegas and Atlantic City are the most notable resorts that may immediately spring to mind. Indian casinos were another option (allowed due to having their own separate tribal laws, regardless of the state).
Another option for gambling enthusiasts, though, was racetracks, which have become particularly popular across the country. Arguably, the most notable racetrack company is Churchill Downs, which, it's fair to say, has a monopoly on US horse racing. Starting with just one racetrack in Louisville, Kentucky (home to the prestigious Kentucky Derby), Churchill Downs has evolved over the decades to become one of the most famous sporting names and, almost even synonymous with gambling.
Needless to say, there are other corporations in the country that have had their say on the US gambling scene, though Churchill Downs has certainly made an impact over the last few years, especially considering its foray into the online vertical.

How Churchill Downs Penetrated the US Gambling Market
In May 2007, the company, which at this point owned multiple racetracks across America, began its first venture into the US online gambling industry, launching Twin Spires, the site for depositing and wagering service for some of its race tracks across the country.
This was the catalyst that saw the company really evolve the core of its business as it amalgamated horse racing with gambling. From thereon in, the company witnessed further exponential growth, following the acquisition of multiple hotel and casino resorts, which substantially helped to increase its brand presence while further establishing itself as an authority in the gambling scene.
In December 2010, Churchill Downs completed the acquisition of Harlow's Casino Resort in Greenville, Mississippi, for $138 million, while two years later, this was followed up with a $141 million acquisition of the Riverwalk Casino and Hotel in Vicksburg (again, Mississippi).
The company steadily made progress in this niche in the years that followed, attracting thousands of wagers per week, with race meetings often proving to be the most lucrative, especially with booths where visitors could place bets themselves.
As a result, in 2018, due to the rising popularity of the brand, from 2018 onwards, the company increased its acquisition in the gambling industry. Consequently, two casinos were purchased, Presque Isle Downs in Pennsylvania and Lady Luck Casino in Vicksburg, totaling an outlay of $230 million. However, due to concerns related to antitrust issues, the latter was canceled, with the company opting to buy Lady Luck Casino in Nemacolin (Pennsylvania).
One year later, Churchill Downs bought a 62 percent share in Rivers Casino, Des Plaines, for $401 million, while Turfway Park racing parlor in Northern Kentucky was acquired for $46 million.
Such investment into the gambling niche during this period helped to establish Churchill Downs as a 'go-to' for onsite gambling and was certainly one of the first of its kind to do this.
Evolution of Churchill Downs - From Sports Betting Pioneers to Major Acquisitions
A few years later, the likes of DraftKings and FanDuel would establish sports betting venues as hospitality establishments, though by this point, Churchill Downs effectively had a monopoly on this type of facility and had certainly built up its brand recognition.
Churchill Downs' influence on the US gambling industry (certainly for sports betting) was a major driver during the last decade due to the fact that it offered visitors the opportunity to make sports bets at its venues, which became increasingly popular over time.
Undoubtedly, the jewel in its crown followed a few years later. It acquired Peninsula Pacific Entertainment in 2022 for $2.8 billion. This included Colonial Downs, Del Lago Resort and Casino, Hard Rock Hotel & Casino Sioux City, in addition to Rosie's Gaming Emporium resorts in the state of Virginia.
It meant that almost overnight, its newly acquired venue in New York became one of the most frequented in its portfolio, with a considerable amount of interest in physical and mobile betting in New York.
Surpassing Expectations in the US Gambling Scene
The first quarter of this year highlighted the substantial impact of Churchill Downs on the US gambling market after it posted revenue of $559.5 million, beating Wall Street's expectations of $545 million.
Indeed, this highlighted significant growth year-on-year by a staggering 54 percent, with the company's new venues clearly paying dividends, indicating how much of a shrewd investment this was.
This also illustrated how much of a success its gaming division of the company had become, with this responsible for having generated $35.8 million more than revenue from its horse racing operations. Revenue in the first quarter of 2023 from gaming had increased 40 percent to $251.6 million.
Furthermore, like any gambling operator in the country, Churchill Downs contributes significantly to the economy in the form of taxation, with these rates varying across different states. However, based on the fact that its gambling operations have been in place for a significant period of time (and certainly longer than most other companies), it means that it has played a vital part in the US economy over the last decade.
As such, its monetary contributions have seen states be able to improve infrastructure across the board, with social sectors also benefiting, such as low-income housing.
There are high expectations for Churchill Downs over the next couple of years, with forecasts predicting even higher volumes of activity, especially from a gambling perspective.
Many of the company's facilities over the last couple of years have become key sports entertainment venues as it looks to keep pace with the likes of DraftKings. As a result, they offer a gameday experience, screening many different sporting events, with the ability to place wagers at the multitude of betting terminals, in addition to food and beverage areas.

US Market Dominance and Global Gambling Ambitions of the Company
As the company becomes bigger, it could even see it increase its acquisition ambitions, perhaps laying the groundwork in anticipation of online gambling and sports betting being approved in further US states; potentially offering partnership possibilities or diversifying its portfolio further with a brand of its own.
Leveraging arguably one of the biggest events in the US sporting calendar (one that it owns), the Kentucky Derby will present further opportunities over the next few years, not least from a sponsorship angle, especially considering the event's increasing footfall.
Potentially, which would really be a possible indicator of its ambition, there may well be an interest to expand into new markets. While Churchill Downs essentially owns the horse racing US market, there may well be suitable demand to look north of the border to Canada, where interest in horse racing appears to be increasing.
In addition, the province of Ontario recently regulated its online gambling industry and this has become one of the fastest growing around the world over the last year. Certainly, possibilities may arise should it be deemed that there is a suitable return on investment.
Despite the early influences for Churchill Downs originating in Europe (England and France), in the late 19th century, it is unlikely that we will see the brand make a hop across the Atlantic any time soon. However, stranger things have happened. Recently, we have seen US gambling companies make bids (mainly unsuccessful), for UK gambling companies, and horse racing is definitely considerable in that part of the world.
At the moment, it will be focused on its performance for this year, especially in the US, where it will be looking to continue to beat its previous quarters in terms of revenue figures. With 4,500 employees, it is already one of the largest employers in the industry for the US market and any further growth plans will have to take this into consideration and the allocation of resources.
Ultimately, what is for sure is that Churchill Downs will continue to affect the US gambling industry for some time to come. In terms of any plans to sell, it is sure to have its fair share of interested acquirers - especially gambling conglomerates in the US who could well be keen to get their hands on its horse racing operations assets of the company.
For now, though, it is business as usual as it continues its aim to increase its annual revenue over the next year. The market, meanwhile, eagerly awaits what is coming next.