Tony Bloom – From Sunday Football to Sports Betting Celebrity with an Impressive Net Worth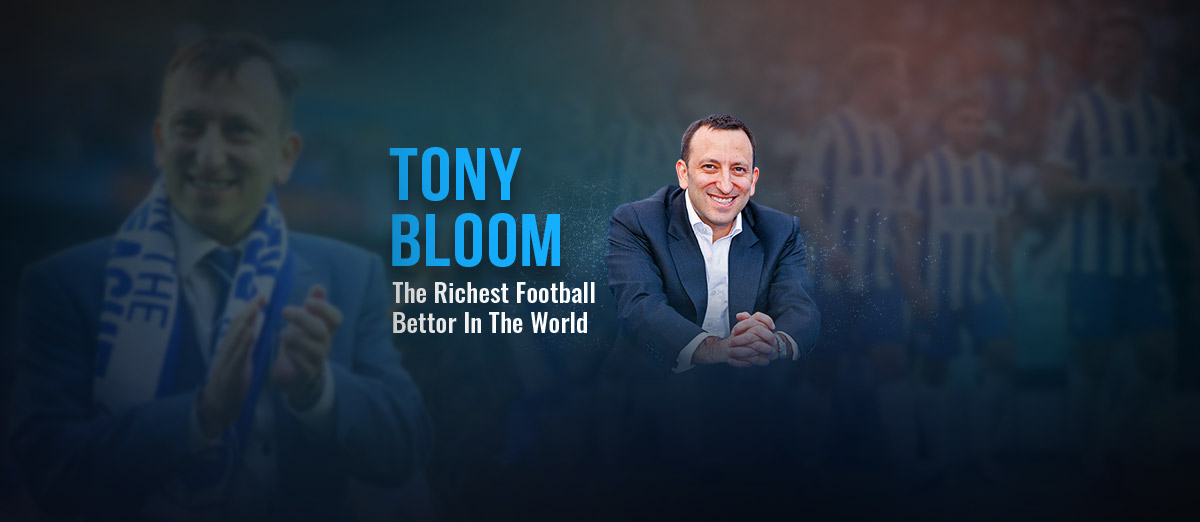 There aren't many gamblers that can say they made millions let alone billions, from their wagers, but Tony Bloom is one of them. Tony Bloom is one of the most known football bettors in the UK and one of the most famous gamblers in the world.
Although the largest part of his wealth comes from betting on football, Bloom has also amassed a fortune from playing poker, property investments, and start-up businesses. He is one of the best examples of how a brilliant betting mind can succeed in other areas.
The UK's godfather of gambling is also a proud owner of the Premier League side Brighton & Hove Albion and the majority owner of Royale Union Saint-Gilloise, Belgian First Division A team.
Full Name
Anthony Grant Bloom
Net Worth
£1.3 billion
($1.55 billion)
Source of Wealth
Professional sports betting and businesses
Famous for
One of the richest football bettors in the world
Born
March 20th 1970
Brighton, England
Tony Bloom's net worth is estimated to be around $1.55 billion, which makes him probably the richest gambler in the world. But how did he make this much money from betting on football? What is his secret strategy, and is there anything we can learn from this betting billionaire? In this article, we will give answers to all of these questions.
Tony Bloom Highlights
Highlights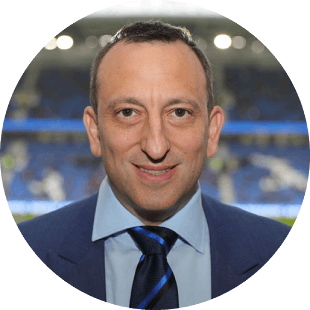 Richest sports bettor in the world
Owner and chairman of Brighton & Hove Albion football club
Majority owner of Royale Union Saint-Gilloise
Sports Betting Beginning of Tony Bloom - Building a Bankroll
Tony Bloom was born on March 20th, 1970, and interestingly enough, he would place his first bet only eight years later. As per his own recall, the thing that sparked his interest in betting was Sunday football which he started playing with his friend around this time.
He would go on to spend his teenage years playing football, supporting the Brighton football club, and spending money on arcade video games.
In 1988, he enrolled at Manchester University, where he later earned a degree in Mathematics. During his time at college, he spent his spare time building his betting bankroll, and when he got his degree, he already had over £20,000.
This is also where he got an accounting job at Ernst and Young. However, this did not stop him from devoting most of his free time to calculating probabilities and applying math to gain an edge over the bookmakers.
He left Ernst and Young three years later to become an options trader. Even then, he did not stay at his new job long and left it only half a year later to pursue his dream of becoming a professional sports bettor.
Tony Blooms Start of a Professional Sports Betting Career
Bloom's betting success did not go unnoticed in the sports betting circles, leading to a bookmaker Victor Chandler offering him to set up their international operation.
This would later turn out to be one of the most important events in his career as a professional bettor as he got introduced to the marketplace, which would later allow him to make billions of dollars from sports betting.
In the following years, he would go on to work in Bangkok and Gibraltar, building a reputation as one of the rising stars of the sports betting industry.
And while he would probably eventually become one of the most important people in the industry, the thing that made him a sports betting celebrity overnight was the 1998 World Cup.
1998 World Cup Final - A Turning Point
In the 1998 World Cup final hosted at Stade de France in Paris, hosts France was to play the South American football juggernaut Brazil and Bloom was confident that the hosts would prevail.
This led to him convincing Victor Chandler to place a massive wager that contained all the companies winnings from up to that point in the tournament on the Les Bleus victory. And although the exact figures were not made public, some speculate that this was the biggest football bet ever made.
France would go on to win 3 goals to zero, securing Tony Bloom's immortality in the world of sports betting, next to famous sports bettors like Billy Walters. Not only that, but it also secured him one of the biggest paydays for an individual in betting history.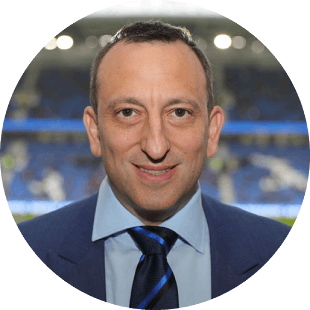 "I believe in betting aggressively and, occasionally, to win big, you have to risk losing."
Tony Bloom
Tony Bloom - Best Poker Results
Only two years after the 1998 World Cup, Bloom became an investor and shareholder in his hometown football club, Brighton & Hove Albion.
During the same period, he earned the nickname "Lizard" thanks to his ice-calm attitude when playing some of the highest stake poker games.
Apart from playing the card game, he also bet on it, investing in several new UK online casinos and poker sites, some of which were later sold for millions of dollars.
At the tables, he managed to make a decent profit as well. Some of his biggest cashes include:
1st place in the Australasian Poker Championship in Melbourne in 2004 for £180,000 ($320,000)
1st place in the No Limit Hold'em VC Poker Cup Final in London in 2005 for £200,000 ($351,401)
2nd place finish in the High Rollers Challenge for A$600,000
1st place in the Poker Masters Event #8: $25,000 Pot-Limit Omaha in 2002 for $360,000
Tony Bloom has over $3,800,000 in live poker tournament winnings, which is not bad even for professional players, let alone for someone just playing for fun.
Starlizard
While he saw money from poker, Bloom understood where most of his earnings came from, so he recruited Matthew Benham and founded Premier Bet, a company he would sell for a £1.2 million payday.
He then used this money to found Starlizard, a company that would later make him tens of millions of pounds. Starlizard was founded in 2006 as a consultancy agency based in London.
The company uses complex statistical models to predict scores of football matches, and it is aimed at high-value customers. In order to become a customer of Starlizard, one is required to deposit at least £2 million.
They work on the principle of using complex statistical models to create more accurate odds than the market and then use this data to place bets on odds that have value. With the amount of money the company is staking, they are only looking to create a 1-3% margin for their business model to work. Over the years, Tony Bloom was asked to help set multiple betting sites and online casinos from the UK online casinos list. However, his focus remained the development of Starlizard.
Becoming a Majority Owner of Brighton & Hove Albion FC
In 2008, Brighton & Hove Albion FC had financial difficulties, and Tony Bloom stepped up with a £93 million donation. This investment got him 75% of all club shares and made him the majority owner.
Since then, he has invested over £360 million in the club and took them from the third league, where the club was playing in 2007, to England's elite.
Tony Bloom's Net Worth – Estimated Winnings
According to most online sources, Tony Bloom net worth is around 1.3 billion pounds. However, it is hard to be certain because his main business is so secretive.
One certain thing is that Bloom is making most of his income from Starlizard these days, which is the biggest gambling consultancy syndicate in the world, so we can say that he is earning a significant amount of money.
His other sources of fortune include playing poker, entrepreneurship, the development of online gambling and gaming websites, property, and start-up investments. Apart from poker, it is hard to know how much money each of these endeavors made him.
On top of owning the biggest consultancy firm for sports betting in the world, Bloom is also the owner of a Premier League club, Brighton & Hove Albion FC, so it can be expected that his net worth will only grow in the following years.
Where Is Tony Bloom Today?
Nowadays, Tony Bloom spends most of his time around the football club Brighton & Hove Albion FC, where he is the majority owner and chairman.
After becoming the majority owner of his hometown club, he managed to take them from the third league into the Premier League and earned legendary status among Brighton & Hove Albion FC fans along the way.
He can often be seen traveling with the fans to the away games and joining them in after-match celebrations.
FAQ
How Did Tony Bloom Earn His Money?
Tony Bloom owns the biggest consultancy firm for sports betting in the world, Starlizard, and most of his net worth comes from betting on football.
Apart from sports betting, he also makes money from playing poker, investing in start-ups, investing in property, and developing and selling online gambling platforms.
Is Tony Bloom Married?
Yes, Tony Bloom and his wife, Ella Bloom, met in 2006 and married after an 18-month relationship. The couple has two children, Joshua and Elle Bloom.
Ella was diagnosed with MS when she was 28 and has been working with MS charities ever since.
How Much Did Tony Bloom Pay for Brighton?
In 2008 when Brighton & Hove Albion FC was facing financial issues and needed money to build a new stadium, Tony Bloom invested 93 million pounds and bought 75% of the club's shares, becoming the majority owner.
What Does Tony Bloom Own?
Tony Bloom is the owner of two football clubs. He is the majority owner and chairman of the English Premier League club Brighton & Hove Albion FC and the majority owner of the Belgian First Division A team Royale Union Saint-Gilloise.
How much is Brighton worth?
As of 2022, according to Transfermarkt, the market value of Brighton & Hove Albion FC is estimated to be around 270 million pounds making them the 14th most valuable club in the English Premier League.