NFTs in Casinos – Reshaping the Gambling World as We Know It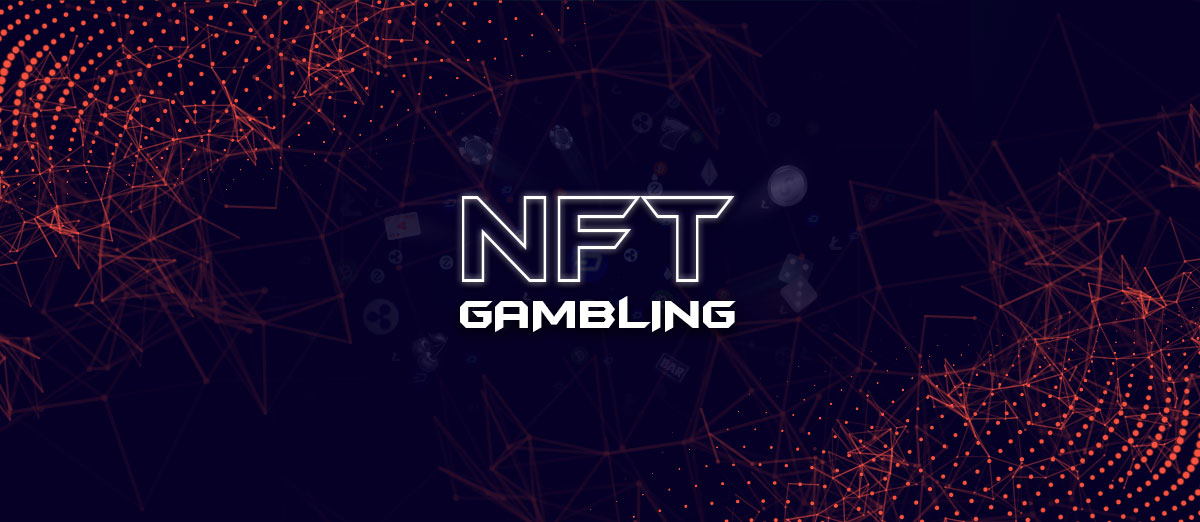 The last decade has seen an explosion in the popularity of cryptocurrencies to the point where everyone is familiar with terms such as Bitcoin and blockchain. More recently, NFTs have been making headlines, and this also true in the world of online casinos. "What is an NFT anyway?" is the question that has plagued the uninitiated for the past year and while it can all seem rather confusing and intimidating, this article will guide you through all you need to know about the world of NFT gambling.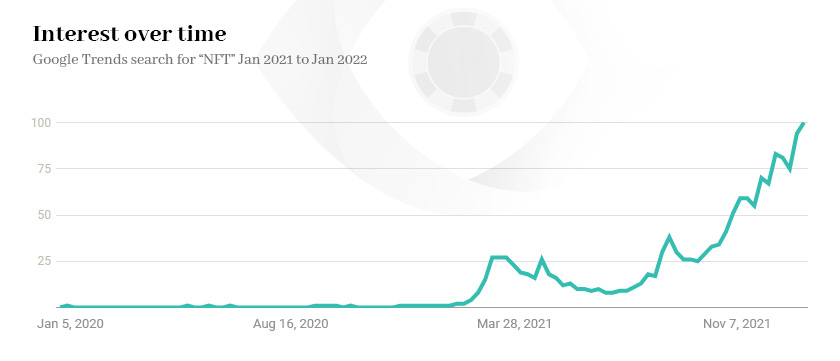 Figure 1: Google Trends search for "NFT" Jan 2021 to Jan 2022
What Is Blockchain?
A blockchain is essentially a large network of servers, sometimes referred to as ledgers, each of which works to validate information. A blockchain can have thousands, or even millions, of blocks, and it operates as a decentralized system. If information is entered into one block, then it must be validated by every other block in the chain. If even one of the blocks rejects the information, then the ledger is not updated. This ensures that a blockchain cannot be manipulated and it is why the technology is considered so secure. To learn more about it, we suggest you read our dedicated article on blockchain and cryptocurrencies.
Smart Contracts
A smart contract is one that is entered into a blockchain. All the variables contained within a contract and any resultant actions are entered. Normally, the contract will rely upon some external event to take place and then it will automatically validate the result and complete an action. As the contract is on a blockchain, it means that it is safe and cannot be cheated. Smart contracts can be used for a huge range of things, from purchasing a house to placing a bet.
Play to Earn and GamiFi Explained
Play-to-Earn games are video games built upon blockchains that give players the chance to earn money from playing. The developers also make money through the exchanges and transactions of in-game assts. GamiFi is a combination of "gaming" and "decentralized finances", also known as DeFi. The two bring together blockchains, gaming, cryptocurrencies, and NFTs. We should state that GamiFi is not equal to gambling, as GamiFi games require skills and strategy, while luck is not the predominant factor here.
What are NFTs?
It is necessary to understand all of the above concepts to properly understand what an NFT is and what it can do. An NFT, or a non-fungible token, is a form of digital property that can take many forms. It may be an image, a GIF, a meme, an in-game asset, and more. Ownership of an NFT is stored in an online ledger (blockchain), meaning that it is decentralized. It means that individuals can own the NFTs rather than the game owner. Most importantly, it is very easy to convert NFTs to cash.
NFTs vs Cryptocurrencies
There are a number of differences between an NFT and a cryptocurrency, as well as some similarities. Both can be owned by individuals and both make use of decentralized ledgers. However, a unit of a cryptocurrency is not unique. One Bitcoin is just like any other. An NFT, on the other hand, has a unique identity. Each is completely unique and if someone owns an NFT then no one else in the world can possess it. Put another way, a fungible token is like a coin or banknote, they are identical and have the same value. However, an NFT is like an original work of art.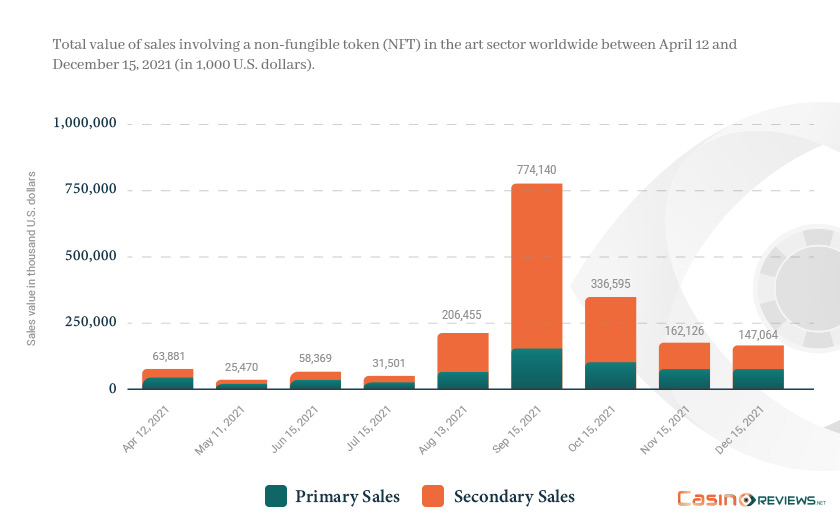 Figure 2: Total value of sales involving a non-fungible token (NFT) in the art sector worldwide between April 12 and December 15, 2021 (in 1,000 U.S. dollars).
NFTs in Gaming
Within games, NFTs can be used for buying and selling. Whereas a cryptocurrency is essentially used for purchases, an NFT can take on many different functions. Within games, NFTs are things such as character skins, weapon skins, and accessories.
Game developers use them to attract players and to create competition. A user may be rewarded for their in-game achievements with an NFT, such as a rare skin or accessory, and other players may be willing to pay for it. If a player is awarded a skin, it is recorded as an NFT on a decentralized ledger. If another player then buys that skin, the money goes to the first player and not the game developer. This creates a monetary system that grows as the game becomes more popular and attracts new players.
It is also important to be aware of the term high-utility NFT. A high-utility NFT is one that has a function beyond simply storing value. There are multiple functions an NFT can have, like in the case of NFT casinos that give you the chance to earn part of a casino's income.
The Metaverse and Web3
Recently, many people have begun talking about the Metaverse, which has many links to the world of blockchains, cryptocurrencies and NFTs, as well as the so-called third generation of the internet, Web3.0.
The idea of Web3.0 is decentralization. It means that the information is not stored in centralized data centers. Rather, each user of a particular platform stores an encrypted segment of the network's data, resulting in a decentralized whole. This is achieved through the use of blockchain technology, and as blockchains are such an integral part of the networks, cryptocurrencies are a convenient payment method for Web3.0.
The Metaverse is simply a term people have begun using for a purely digital space. It is the idea of a complete digital universe with multiple digital worlds, people visiting digital spaces, such as casinos, and owning purely digital items, such as NFTs.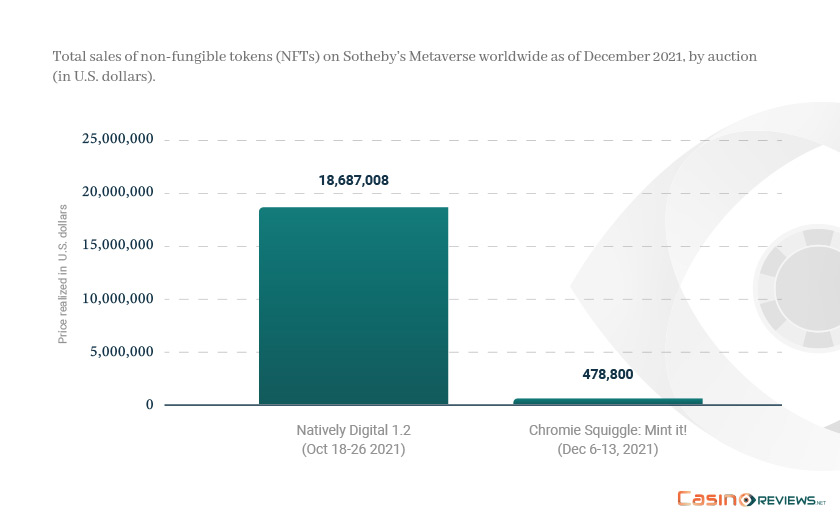 Figure 3: Total sales of non-fungible tokens (NFTs) on Sotheby's Metaverse worldwide as of December 2021, by auction (in U.S. dollars).
One of the best known virtual worlds within the Metaverse is Decentraland (MANA). It allows people to build galleries, sell land, and play games. However, it is just one of several worlds where you can play-to-earn rather than pay-to-play. The difference between these models is huge. A play-to-earn world gives you the chance to earn real-world money by playing games, and this is where the Metaverse games can be linked to gambling.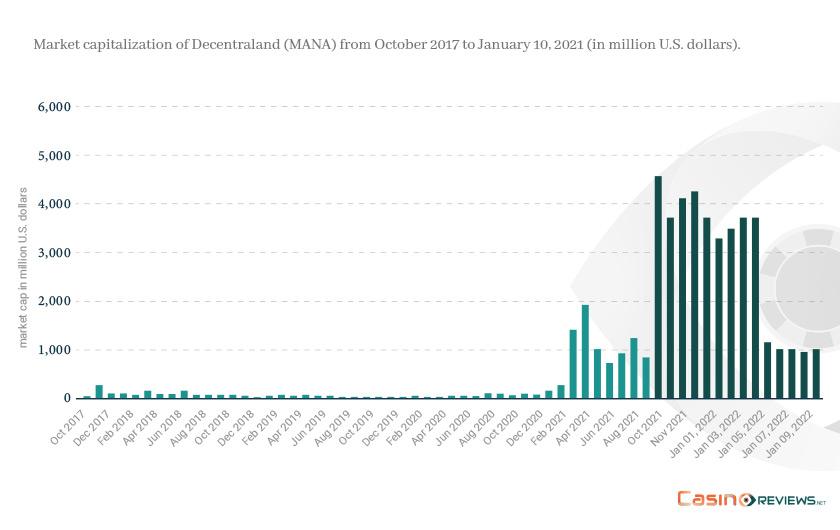 Figure 4: Market capitalization of Decentraland (MANA) from October 2017 to January 10, 2021 (in million U.S. dollars).
Metaverse Casinos
Given the popularity of gambling, it is no surprise that it has reached the virtual world of NFTs. Perhaps the best example is GamblingApes, a metaverse online casino that allows you to play with NFTs and earn them as prizes. However, it is just one example of many casinos that bridge the gap between reality and digital reality.
Atari, one of the first video game pioneers, has entered the casino business in Decentraland. The company joined forces with Decentral Games to create a 20-parcel casino estate in the gaming district in Vegas City, Decentraland. Visitors to Atari Casino can play Atari themed games and win Atari Token and NFTs as prizes.
Rollbit is another leading example. It is a cryptocurrency casino that was the first casino to launch its NFTs for online casino players. The casino launched Rollbots, a collection of 10,000 unique robots built on the Ethereum blockchain. They are not just pieces of art, but also high-utility NFTs. Owners of Rollbots can use them to create Rollboxes and earn passive income, play Rollbot-linked games, access a weekly lottery, and earn casino loyalty rewards.
NFT Casino Games
It was Evolution, a giant of the live dealer gaming world, which truly began to take NFT gambling games forward. The company bought four CryptoPunks NFTs, #3008, #4701, #8143, and #914.
CryptoPunks are very early examples of NFTs that were created by Larva Labs. There are 10,000 of them, each represented by a unique collectable character. The founder of CryptoPunks, Matt Hall and John Watkinson, developed an algorithm that produced 10,000 pixelated characters as part of a plan to create an app. While the app didn't take off, the characters have sold for vast amounts of money. As of January 2022, the total value of all sales is $1.91 billion.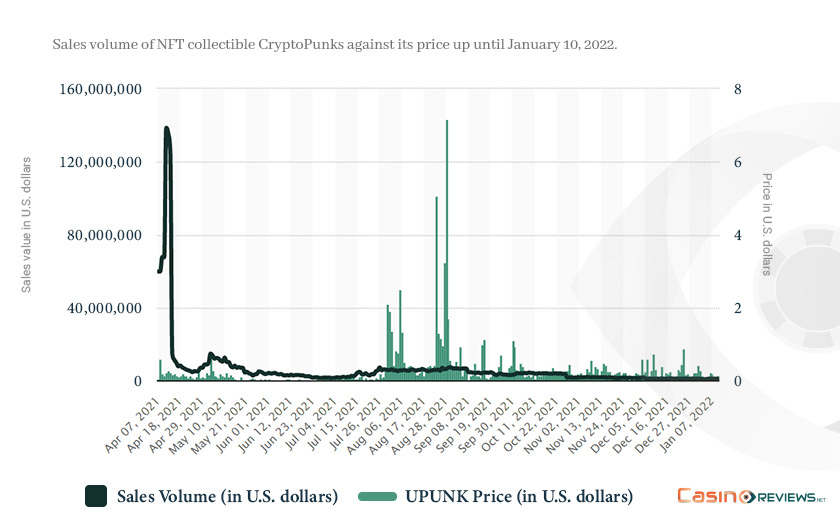 Figure 5: Sales volume of NFT collectible CryptoPunks against its price up until January 10, 2022.
Returning to Evolution's four CryptoPunks NFTs, the company implemented them in Red Tiger's NFT Megaways slot, making it the first ever NFT slot. The CryptoPunks serve as wild symbols within the game and the Megaways mechanic mean that there are up to 200,704 ways to win. It is a feature packed game, complete with multipliers, Crypto Spins, and a top payout of 10,000 times the bet. However, the slot does not let you win the NFTs, they are simply used as symbols.
A Look to the Future
NFT gambling may not yet be mainstream, but it looks set to grow. Furthermore, given that Evolution is leading the way, it would not be surprising to see some kind of NFT live dealer game in the near future. It won't be long before other companies start looking to NFT gambling and while it is impossible to predict what innovations it will bring, there are sure to be many of them.