32Red and Their Ingenious Marketing Model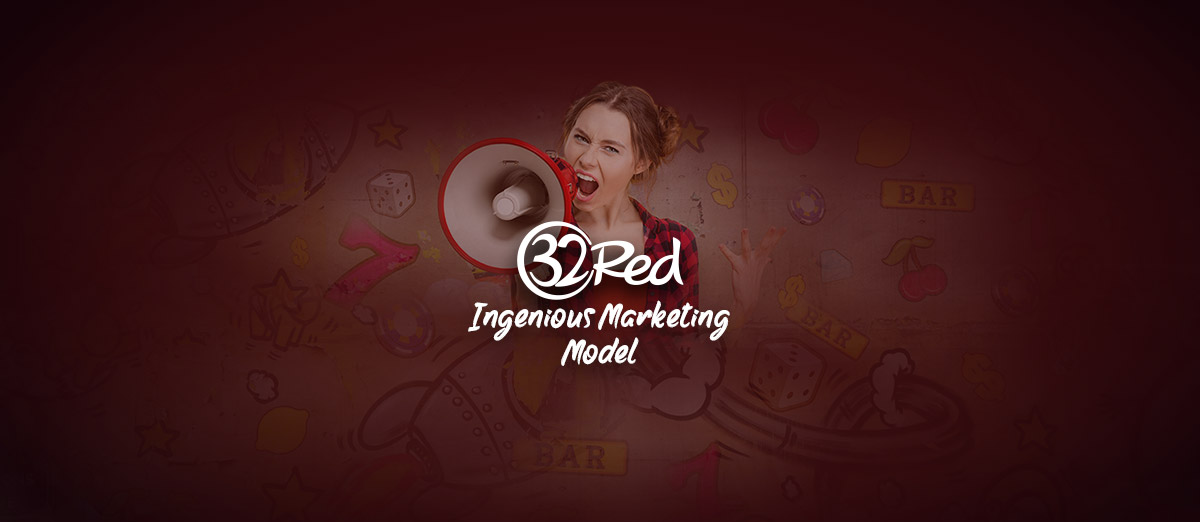 Perched almost ceremoniously overlooking the strait of Gibraltar, in the highly innovative World Trade Center building, one of the more unconventional online gambling firms on the 'Rock', 32Red commands an elegance that perfectly denotes the diverse, local culture.
With British, Spanish, and even Moroccan influence, the mass migration of a multitude of European online gambling companies to the territory at the turn of the millennium and beyond, has given it enough of a multi-cultural feeling that every country in the Eurovision Song Contest could be represented.
"Build it, and they will come," well, that is just what online gambling companies did; Gibraltar now plays home to over 10,000 industry employees from every corner of Europe and further afield, with many of the brands needing professionals of various languages to cater for the demand.
Overnight, Gibraltar went from being a UK-owned, almost forgotten backwater to a thriving hub for the online gambling industry, and 32Red has been there almost since the beginning - in fact, its roots go back to 2002 when it was founded, and like the 'Rock' it has become somewhat of a diamond over the last two decades.
Founded by English entrepreneur Edward Wray, the online gambling firm has slowly grown into one of the most recognizable brands in the industry; the iconic red and white logo is instantly identifiable.
Classed as more of a boutique, mid-range online gambling company, 32Red can still hold its own in a weight class that includes the likes of Coral, Ladbrokes, Paddy Power, and bet365, though its some 110 employees is dwarfed by its rivals - BetVictor has over 400.
That has not stopped the ambitious executive team at the company from making sure that its reach is as wide-ranging as it can be, especially in terms of major market penetration, such as the UK gambling market.
An Aware Ware a Driving Force
Arguably, the company's visionary leader, Ware, was one of the main motivating forces behind creating the kind of success that the company subsequently experienced in the years which followed him launching the company and like any passionate founder, he was always keen to ensure that it kept on evolving and challenging the status quo while staying loyal to its core principles.
Speaking in 2014, Ware was keen to insist that 32Red was mainly an online casino when explaining to SBC News about the company's stance on their sports offering - 32Red Sport.
"It is very early days with the performance of 32Red Sport, and I wouldn't want to go into too much detail as we have only really soft-launched the product," he said about the version one launch of the product at the time.
"It is safe to say we will always be a casino-led business, that is our core and where we want to compete," he continued.
"However, we realize that our players also want to place sports bets, so we wanted to offer our players something interesting and compelling, and we believe we have that in our partnership with Kambi."
Such was his awareness that he was able to make a highly insightful decision around the 2014 football World Cup in Brazil and the possibility that online casino activity might drop off as a result.
Speaking a couple of months after the event, he explained: "Our plan around the World Cup was always going to be to reduce our external marketing spend as we believed conversion would be difficult as sports led operators flooded the advertising market to try and recruit the mass market."
"We also thought that the consumer would be distracted by that huge event and less likely to engage with us," he continued, clearly flexing his muscles as a savvy marketer.
"We, therefore, invested in our existing player base and developed a range of daily and topical promotions to keep players active at the casino. We were very happy with the results in June."
Such was the straightforward approach of their plan, 32Red harnessed simplicity and ingenuity, reflected in the quality of its products, which in effect is great marketing itself. For Ware, making sure there was a balanced approach was always key, having previously been managing director at Ladbrokes prior to launching the company.
A Simple Yet Effective Approach to Marketing
It goes without saying that 32Red are a forward-thinking online gambling firm; owned by Swedish conglomerate Kindred Group, who also have Unibet under their umbrella, they also have the backing available if necessary.
32Red became one of the first online gambling companies - harnessed through Ware's experience running Ladbrokes - to identify the power of sponsorship partnership in a bid to enhance brand recognition and hit their desired target market.
Having such strong branding laid the foundations for the future, especially from an opportunity perspective. Having already been able to create 10 different highly scalable assets under their name, which were easily recognizable, 32Red chiefs didn't stop there.
They had made a realization that if they had such success doing this, they could use it to their advantage in another way, but also cleverly and ultimately, strategically. While many gambling companies had already identified sports, particularly football, as a means to get their company names and brands out to the public, having identified that the majority of football fans were gamblers, many didn't necessarily have a defined approach.
While many would effectively spend their entire budget sponsoring one Premier League team, which was a considerably expensive way of doing things, 32Red were intelligent in identifying another way.
The Championship, English football's second-tier, still attracted a considerable amount of fans to its grounds and drew many more to their televised games while still having some big teams. As a result of this, 32Red, no doubt an insight of Ware, realized the potential in sponsoring a clutch of the bigger Championship football clubs at much cheaper rates, though still with a large audience to attract.
Having already realized the branding potential due to its previous success of multiple assets sharing its name, 32Red, in a way became the most recognizable sponsor among Championship fans, with Aston Villa, Swansea City, Middlesbrough, Derby County, and Preston North End all bearing the unique logo.
Furthermore, they recognized the value in doing the same in Scotland, realizing the Rangers, who were on their way back up, represented a great opportunity for them to be able to leverage the brand to fans of Scottish football, with Rangers attracting some of the biggest crowds in the country.
In securing such sponsorship deals, it didn't break the bank as it would have if they partnered with top-tier clubs, though they still reached a good proportion of their target customers. With the firm's branding emblazoned around the different Club's venues as well as on the football shirts, it was hard not to get into fans' consciousness.
Also creating special offers for each Club's fans, 32Red formed a sense of importance among these customers, ensuring return visits and longevity.
32Red Led the Way with Leeds United Partnership
This was one in particular that the firm had cleverly identified and secured, with Leeds at the time being arguably the biggest football club outside of the Premier League that still had a large following around Europe.
Indeed, at the time, Ware was particularly enthusiastic in recognizing this: "We are delighted to be working with Leeds United Football Club, a true giant of English football with an amazing and passionate fan base," he said.
"We have a proud history of successful football club sponsorship deals, and this is a fantastic opportunity to work with such an iconic club and showcase the 32Red brand. We look forward to our association with Leeds United over the coming seasons."
Similar sentiments were echoed at the time by Leeds United executive director, Paul Bell, who emphasized that for the football club, he could see the importance of such a deal. "We are delighted to announce today a three-year shirt sponsorship deal with 32Red PLC, the UK's premier online casino entertainment brand," he said.
"We are hugely excited by this partnership and the opportunities it will deliver for all involved. 32Red are a modern, forward-thinking brand with a long-standing and successful history of sponsoring high-profile teams within football, and we are delighted to welcome them into our commercial partners program. We look forward to building a strong relationship between our two brands both on and off the field as we seek to return to the Premier League. Our commercial partners are extremely important to the Club, and we would like to thank 32Red for their support."
Transition to Brand Ambassadors
In what was almost a natural next step to the company's marketing strategy, 32Red then became one of the first to introduce brand ambassadors in a bid to increase its customer acquisition numbers.
In 2017, the director of brand and acquisition at 32Red at the time, Gerry Murray, reflected on the hard work that had gone into shaping the overall roadmap for the gradual success of 32Red over the last decade and the utilization of brand ambassadors appeared to play a significant part in this.
At least as a transitory strategy, corporate sponsorship alone was not enough - identifying public figures, particularly in a sport that had a large following, became the next step for 32Red, with Murray pulling the strings.
In earnest, a search began for sports figures, who not only could be effective in appealing to new, potential customers but more importantly reflected the values of the brand - something that the firm have never veered from and on which they pride themselves as a company.
What was also an important priority in the identification of brand ambassadors was their potential reach, which meant that their social media accounts played a part and opportunities for cross-marketing.
As a result, in a bid to diversify the company's customer base, Murray honed in on the boxing market, realizing that the sport at the time was about to become big once more, particularly from a betting standpoint.
The company onboarded rival boxers, Carl Frampton and Josh Warrington - the latter made possible, thanks to the firm's association with Leeds United, with the boxer being a big supporter of the Club. It led to arguably one of the biggest publicity splashes of any online gambling company - essentially, two of the biggest boxers in their weight class prepared to put their differences aside to help promote the same brand.
A marketing masterstroke as far as 32Red was concerned, and Murray put it perfectly at the time, saying that 32Red were "...fortunate enough to align the brand with two successful boxers who have the unique ability to generate a loyal and passionate following, as well as having right mix of genuine talent which means they'll be competing in meaningful fights and therefore give the brand the exposure that those events bring about."
It wasn't just boxers who 32Red onboarded - they attempted to take on the big firms in their own arena - particularly horse racing, with the signing of distinguished jockeys, Jamie Spencer, Bryan Cooper, and Paddy Brennan, effectively making competitors such as William Hill (a traditional horse racing sportsbook), sit up and take notice.
In a bid to win more of a market share from these influencers, especially from a horse racing standpoint, the company had once again made a bold and aggressive move, though Murray perfectly summed up what the firm's strategy was all about.
"We also make a conscious decision to plan on securing deals in sports we believe provide the right audience and platform for us and then we stick with these. We've done that over a number of years with racing sponsorships, our football club sponsorships have been multi-season agreements, and more recently we've replicated that with boxing. By agreeing longer-term partnerships, we can dedicate budget and resource to these partnerships and try and build a consistent association with the property over time. We've generally found that this approach is far more effective than one-off, ad hoc event deals."
What Are the Next Steps for 32Red?
If something isn't broke, don't fix it - that is a general rule of thumb. However, continuing to innovate, especially in an industry that has earned a reputation for this, will also be key. While the company is a respectable size, which clearly has not stopped them from producing results, it will be clear that much of the emphasis will be based on hiring strategically in key areas such as marketing.
What will be interesting is whether 32Red has plans to enter newer markets, with the US especially witnessing a surge in online gambling companies from Europe begin to take residence in various states, with the likes of bet365 already establishing a foothold.
One area where 32Red can particularly be successful in doing this is via the same methods that it has used so profitably over the last decade in the UK and wider European markets - forging relationships with sports franchises. However, this is something that is being done to brilliant fruition already.
It does suggest that this is very much an American marketing model that has been utilized over the decades in the US, long before partnerships became a thing in Europe. However, 32Red simply cannot ignore the fact that the US could become the largest online gambling market in the world over the next couple of years and hence, recognize the potentially huge source of revenue at its fingertips.
Then there is South America and the already burgeoning Argentinian market, with two provinces in Buenos Aires having recently passed online gambling legislation. This certainly could be a possibility for the brand, where competition currently is low, though the potential is high. From a partnership level, there are a number of notable football clubs in the country to increase branding and awareness, while 32Red has a distinguishable brand that can easily be recognized in a non-English speaking country.
Online Gambling Sponsorship Here to Stay?
Over the last decade, 32Red is one firm that has proved that sponsorship in online gambling is and can be effective - something that has also been done well by rivals Betway in a similar light.
Recognizing that football is always going to be popular, in addition to the fact that a vast majority of their target customers are football fans, was an astute move and one which has paid dividends over the years.
The US market has witnessed a surge in this activity over the last year, with many online gambling companies, such as DraftKings forging alliances with sports franchises to secure naming rights in their venues, in addition to striking deals with media organizations for exclusive content rights.
In a market that can become crowded very quickly, the online gambling industry is always innovating and attempting to revolutionize ways of doing things, particularly from a branding perspective that can lead to more effective customer acquisition.
While this works differently in different countries, 32Red may have the advantage of knowing what is effective and what isn't when it comes to recognizing the best ways to implement these strategies.