MGM and Entain – Possible Purchase Bid and Gambling Market Impact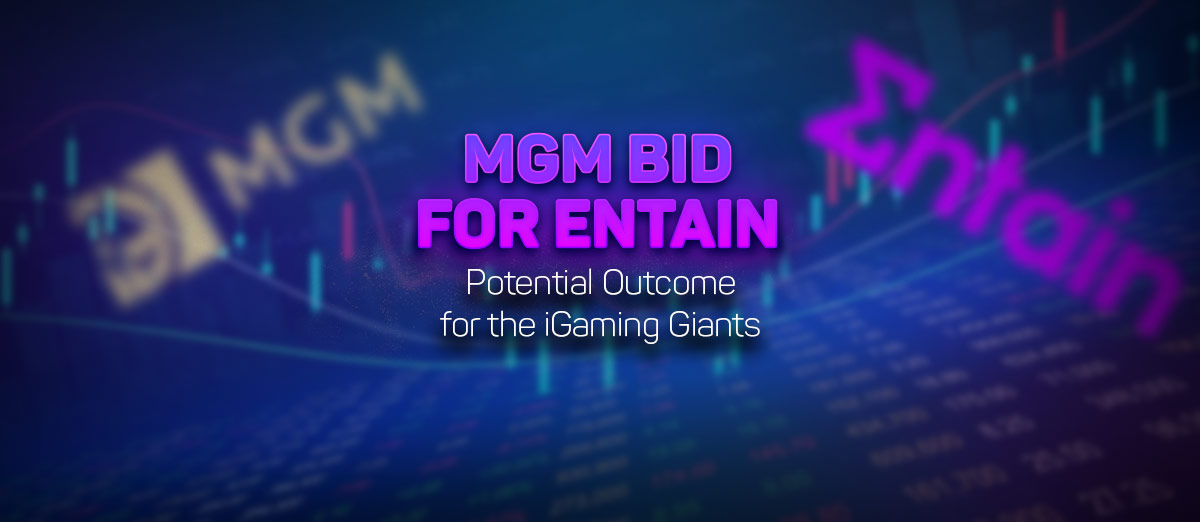 Following reports that major player MGM Resorts International was considering a second bid for European giant, Entain, we explore the implications of such a move and the likelihood of this ever being successful.
Despite being unsuccessful with a bid in 2021 understood to be in the region of $10 billion (£8.1bn), it was thought that the US behemoth could return with another Entain bid in the first quarter of this year after reports surfaced that the firm had potentially identified a way in which it might be successful.
Over the last few years, MGM has displayed its best poker face having watched US rival DraftKings submit a staggering $22 billion offer six months after its own initial bid, with this then being withdrawn.
Indeed, it is thought that it had a significant amount of influence in holding up the bid from DraftKings due to it having 50 percent of BetMGM - a joint venture between itself and Entain.
Reportedly, it put a substantial amount of pressure on Entain to reject any such bid, though it realized it was in a unique position to hold up any potential deal - arguably one of the reasons why DraftKings realized that any endeavor was a lost cause.
MGM has since distanced itself from making another bid. However, there was obviously some kind of substance behind the rumors, and it is also interesting whether anything could have been done that would see its bid accepted.
Let's take a look at some of the factors that might have influenced the result and how the landscape might have unfolded had a bid been successful.
What Could Motivate a Second Bid from MGM?
While the first reason is, perhaps, the most obvious - the fact that it already owns half of BetMGM and would likely prefer to have full control, from Entain's perspective, this is something that it may never fully agree on.
From MGM's standpoint, a compromise could be to buy Entain out for their shared US brand, something that could have been (and may be) agreeable further down the line, though Entain would no doubt hope that it can wait until it secures more of a share of the US market, at which point the value would soar.
To take over Entain completely, though, is perhaps a step too far, having met stubborn resistance last time, which saw two bids swiftly rejected from the UK company that owns in excess of 25 different iGaming brands.
Perhaps seeing its rivals in the US, the likes of Flutter Entertainment-owned, FanDuel, Caesars Sportsbook, and even DraftKings, gain momentum over the last year may have motivated thoughts of such a bid.
One, it would have been that, almost overnight, made MGM Resorts International the biggest gambling company in the world, with multiple land based casinos around the world, in addition to having a significant portfolio of iGaming brands in every major market.
With DraftKings bidding $22 billion in 2021, it is anyone's guess what Entain is now worth and also the figure that it would accept. However, regardless of this, it is understood that a decrease in the value of the Sterling currency during January may have seen Entain accept a bid that was considerably lower.
The start of the year saw the GBP fall considerably against other global currencies, and it is thought that this could have been one of the reasons why MGM may have been confident about submitting a bid that may have been accepted.
It even appeared, at least from one side of the Atlantic, that Entain would have been prepared to consider a bid, with shareholders rumored to have started to accept the possibility of cashing out.
In addition, the publication of a whitepaper by the UK Gambling Commission is also understood to have been central to MGM making such a bid following a substantial gambling review of the UK market.
Because of this, there is substantial anticipation that the UK Gambling Commission will look to implement significantly strict measures that companies will have to adhere to, therefore potentially affecting their chances of performing to their best and, perhaps, hamstringing financial performance over the next few years.
On the flip side of this, the fact that the review may introduce more austere measures that might affect how the UKGC regulates companies with overseas exposure (Entain - BetMGM) is perhaps one of the reasons why MGM has declined to make a second bid - at least for the time being.
Would MGM Start a Potential Bidding War?
One thing that was perhaps surprising is that following whispers of a potential second bid from MGM, nothing emerged about other competitors signaling their intent to step in and create a bidding war.
DraftKings would no doubt have been casting envious glances over the situation, perhaps accepting that MGM effectively holds more of the cards in any potential deal due to its joint partnership.
Its failed bid for Entain in late 2021 was met with much criticism. There were accusations that this was ill-thought-out due to it perhaps underestimating the involvement and influence that MGM had in terms of being able to make things difficult. Withdrawing its bid also didn't look good for the brand, perhaps conveying that it lacked belief about its ability to be successful in such a move. This was certainly reflected in its stock price, which plummeted not long after.
It has been quite a long way back for the Boston-based firm, though it rallied impressively in 2022, once again looking a force in several US states and, by extension, the US market. Perhaps, expressing interest once again in Entain, only to be unsuccessful once more, would see all of its good work over the last 12 months undone and, once again, see its stock price drop, should it fail in a takeover attempt.
Meanwhile, after Caesars' acquisition of William Hill's US assets in 2021, it would appear that it is purely focused on the US market and, therefore, has everything that it needs in place, perhaps believing that having multiple global brands would be a distraction.
Flutter Entertainment, meanwhile, has deep pockets, and it is almost in direct competition with Entain in multiple markets. While not having as many brands, Flutter owns some of the highest earners in the world. To put it into perspective, it has a current market capitalization of just over $26 billion - Entain coming in at just under $10 billion.
It is easy to see the attraction of Flutter owning two of the biggest US brands in the market, though this is unlikely, regardless of how much it offers. A monopoly in the US gambling market seems, for now at least, inconceivable.
Global Gambling Market State after a Successful Bid
Should the US company finally make a second bid and Entain appear to have no choice but to accept, due to the UKGC revised gambling bill, the effects on the global market could be significant.
The MGM Resorts International portfolio includes 29 land-based properties around the world, including in the US, Singapore, and Europe. Last year, the company also completed a $604 million acquisition of Swedish firm LeoVegas, as it gained more of a footprint in the global online gambling industry; however, it has been tentative in revealing any possible plans over the next few months for the company.
One thing that has been made public is that under a contractual agreement, MGM is not allowed to integrate any of LeoVegas' technology assets with BetMGM due to a stipulation with Entain.
Meanwhile, adding another 25 online brands (Entain) to its portfolio could well see MGM become the largest and even highest-grossing gambling company in the world over time.
However, it would remain to be seen what it does with some of the Entain brands. The fact that it has land-based locations in the US might mean that it could partner with some of them in various states to challenge a number of competitors, with many states requiring brands to be tethered to a land-based casino or resort.
MGM has these aplenty, and it could easily pave the way for numerous Entain brands to enter the US, albeit in different states, based on the number of licenses that are allowed.
However, it could see MGM decide to sell off a number of brands belonging to Entain if it feels a profit can be made or these are considered to be too much of a distraction.
For all of the speculation, though, MGM CEO Bill Hornbuckle broke his silence earlier this month on a call with Wall Street analysts where he appeared to quash any potential takeover, at least in the short term: "It's time to be definitive and give a little direction. The simple answer on Entain is we've moved on", he revealed.
We value Entain, and we value BetMGM. But as it comes to the rest of the world, we're going to move forward with a different proposition.
For all intents and purposes, this appears to be a clear directive. However, it could be assumed that there is an almost cryptic undertone, especially surrounding the firm's long-term plans. If it becomes clear that Entain is keen to sell, it would be folly to suggest that MGM would not be interested, especially given the obvious benefits.
To what extent Hornbuckle is playing chess with this statement remains to be seen. It is not uncommon for 'would-be-buyers' to 'play it cool' in order to get a better potential deal eventually, and the fact that he felt the need to publicize this statement may in itself be an obvious clue as to how things may eventually unfold.
One thing that the industry has learned over the last two years is that as far as BetMGM goes, MGM has the brand in as much of an iron-clad grip as it can, and it seems far-fetched that it would end up in another's hands, regardless of how much was offered. MGM does not appear to be a 'selling company'.
What Effect Could the Gambling Review Have?
The anticipated UK gambling review is one that is being met with mixed reactions in the industry. While this is understood to have been happening for the last three years, with it then being delayed and eventually benched, it has come to the fore in recent months following another change in UK Premiership.
It is thought that a review of the gambling bill will see a new one implemented that imposes tougher measures on gambling companies, which could have an effect on revenue long term.
Most of the review is understood to take gambling addiction into account, and there have already been suggestions made in order to combat this. This includes companies introducing a maximum deposit and betting and wagering limit for all customers to help control their gambling habits.
However, it is also suggested that this may only affect a minority of gamblers and that via a more sophisticated KYC (Know Your Customer) policy, customers will still be able to unlock a higher gambling limit if they can provide proof that they are not at risk.
With Entain having numerous brands in the UK market, it will be monitoring the gambling bill closely, especially if this could have an effect on company performance over the next 12 months. The UK knows that taxation from gambling firms contributes nearly £5 billion to the economy every year, so the government will not want to hamstring the industry too much, particularly as this could lead to some companies withdrawing.
MGM will likely be keeping an eye on how the gambling review goes, though it appears unlikely that any new measures will be too drastic to affect it one way or the other. It could be the case that more news of a potential deal flares up again in 12 months' time - as far as these two parties are concerned, it would be unwise to rule anything out.