Discover the Charming World of Live Casino Game Shows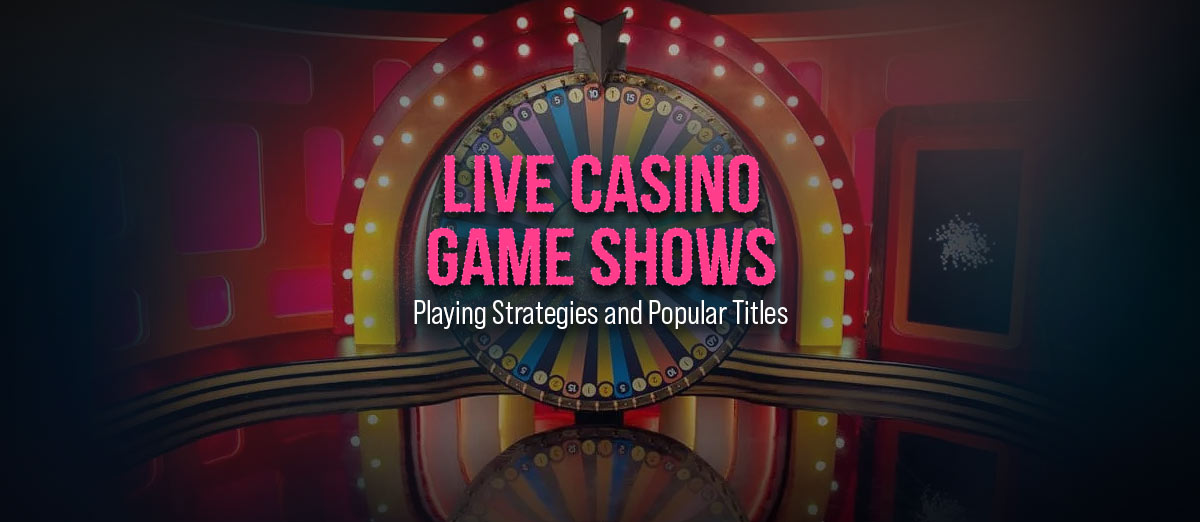 Over the last decade, live casino games have become hugely popular. When they first appeared, live games were purely traditional casino card and table games, such as blackjack and roulette. This means that causal players, those who prefer simple games that do not require advanced strategies, were unable to enjoy the many benefits that live games deliver.
Luckily, this was rectified with the introduction of live casino game shows. These games are modeled on television game shows meaning that they are bright, cheerful, easy to learn, and offer the chance of real winnings. As a result, live gameshows are perfect for those who are seeking to relax while enjoying the engaging atmosphere of an online live casino.
Based on TV shows such as Wheel of Fortune and Deal or no Deal, software providers, most notably Evolution and Playtech, have designed games that embody all the fun and excitement of the originals, with the added bonus of being able to place real money bets on the outcomes. However, it's not just TV shows that are being turned into live gameshows, as movies, books, and board games all get a chance to shine.
Live Casino Gameshows – Popularity and Features
If you are a fan of the razzamatazz of television game shows, then you are going to be in for a pleasant surprise. The sheer over the top features of the live casino game versions, with bright and bold colors, along with excited and bouncy hosts, make for an awesome time. It is the host's job to guide you through the game's rules as well as ensure everything runs smoothly.
In this manner, it feels as though you are actually taking part in a real TV show. Of course, the concept of these games isn't new. However, there is no need to go through an application procedure to play these games, as you would with a television game show. You just need to log in to an online casino, and you can start playing straight away.
How to Play Live Casino Game Shows?
One of the key features of live game shows is that they are easy to learn and play. However, there are many different types of games, and they all work slightly differently. Take the time to explore them all in the live game show lobby of your chosen online casino. It is a good idea to keep an eye on the betting limits. Some games, such as those from Evolution Gaming, allow bets from $1 all the way up to $5,000 per round.
Regardless of which game you choose, the games will follow a simple format of you placing your bets and the host then starting the game. This may involve spinning a giant wheel, drawing numbers like a bingo game, flipping a coin, or simply pressing a button. At the end of the round, those players who guessed the outcome correctly are paid out. Some games have additional forms of bonuses or bonus rounds, and you can learn about these either in the game rules or simply by asking the host.
The Most Popular Live Gameshows
New live game shows appear all the time, and today there is a massive choice. If you are not sure which game to start with, then consider one of these hugely popular titles:
Dream Catcher - Evolution
This was the first game show released by Evolution. The game is based around a huge money wheel that the host spins. Players simply need to bet on which number they think the wheel will stop on. The wheel also features multiplier segments of x2 and x7, which can greatly increase the winnings.
Spin a Win – Playtech
Spin A Win is Playtech's answer to Dream Catcher. It features a money wheel that awards multipliers between x1 and x40. However, there are also a number of side bets allowing you to bet on odd or even numbers or multipliers, and these can lead to some huge winnings.
Monopoly Live – Evolution
Based upon the famous Hasbro board game, Monopoly Live is another game show from Evolution that uses a money wheel. The wheel features segments that will be familiar to players of the board game, such as Chance and 2 Rolls, and they give you the chance to win multipliers and trigger a bonus game. The bonus game sees you join Mr. Monopoly in a 3D world where you work your way around the Monopoly board, collecting additional prizes.
The Money Drop Live – Playtech
This Playtech live casino game show is based on the television series The 100k Drop. It features a money wheel that has 54 segments, and you need to bet on where the wheel will stop. In the Money Drop round, you need to distribute your winnings between four trapdoors. Three of the trapdoors then open, and you win the money that is left on the fourth.
Deal or No Deal – Evolution
The television show Deal or No Deal has become a worldwide hit, so it is no surprise that Evolution has developed a live casino game show based on it. All you have to do is guess whether the amount of money in the briefcases will be bigger or smaller than the Banker's offer.
Deal or No Deal: The Big Draw – Playtech
Evolution isn't the only developer to have produced a live game show based on Deal or No Deal. Playtech's version of the game requires players to purchase bingo-style cards that correspond with 16 cases, each of which contains a hidden cash prize. A lottery-style draw then takes place, removing cases from the game. In the end, the banker makes players an offer that they may choose to accept or not.
Mega Ball – Evolution
This game show is ideal for fans of bingo. Developed by Evolution, it uses a ball drawing machine that contains 51 numbered balls. However, the main attraction is the bonus game, where you have the chance to win prizes worth up to 1 million times your bet!
Everybody's Jackpot Live – Playtech
Slot fans may remember Playtech's Everybody's Jackpot, a progressive classic slot that had a game show theme. This is the live dealer version of it, and it offers two progressive jackpots and four mini-games, including free spins, Walter's Bubble Bar, Pick Me, and The Block.
Crazy Time – Evolution
This game is very similar to Evolution's Dream Catcher, but it offers four different bonus games, Cash Hunt, Pachinko, Coin Flip, and Crazy Time. It won't take you long to master the different bonus games, and in the Crazy Time bonus, you could win up to 20,000 times your bet.
Live Game Shows – Regulation and Casino Terms
Before jumping in feet first, it is a good idea to examine some other aspects of online casinos hosting live casino game shows. The most important of these is to check that the casino is legit with a reputable license and proper gambling regulation. After all, you don't want to be worrying about your bankroll or whether the website is secure.
Another point is to check the site's terms and conditions. Here you might discover such things as if there are wagering requirements that need to be satisfied before you're able to cash out any winnings. You may find that some of these games offer a selection of side bets. Make sure you are familiar with them if you're new to the game. Though they can add to your bankroll with lucrative winnings and bonuses, things can also work in the other direction.
Keep an Eye on Your Spending
Whatever live game show you fancy taking part in, it's a good idea to wait a few minutes to see how the game is going. This will help you have a better sense of the game before you start betting with real money. Talking of which, be sure to set a fixed budget before you even open your browser to visit the online casino, and be sure to never exceed it.
As with all gambling activities, when you're playing live casino game shows, it's easy to forget how much you're spending. You may also want to consider how the type of player you are affects your game choice. If you like to bet big, then games with longer rounds may be more suitable. However, if you are content placing very small bets, then a fast-paced game may be just what you need.
Live Casino Game Shows - House Edge
Another thing to keep an eye on with live casino games is the house edge. Because all online casinos' live game shows are more expensive to run, it's no surprise that the casinos will be looking for a greater return. As a result, many of these games have house edges significantly higher than regular games. Having said that, you shouldn't let the house edge discourage you from playing. After all, every game in the casino comes with some sort of house edge. Also, you shouldn't let the idea of a higher house edge ruin the fun of playing these live casino games.
Remember to Have Fun!
Everyone who watches afternoon TV will be familiar with the format of live casino game shows. The simple yet exciting gameplay, along with the promise of some great prizes, is always going to be a winning form of entertainment. If you are yet to experience the sheer thrill of playing live casino game shows, then head over to your favorite online casino and get started today.