Role of Casino Game Aggregation Platforms in the iGaming Industry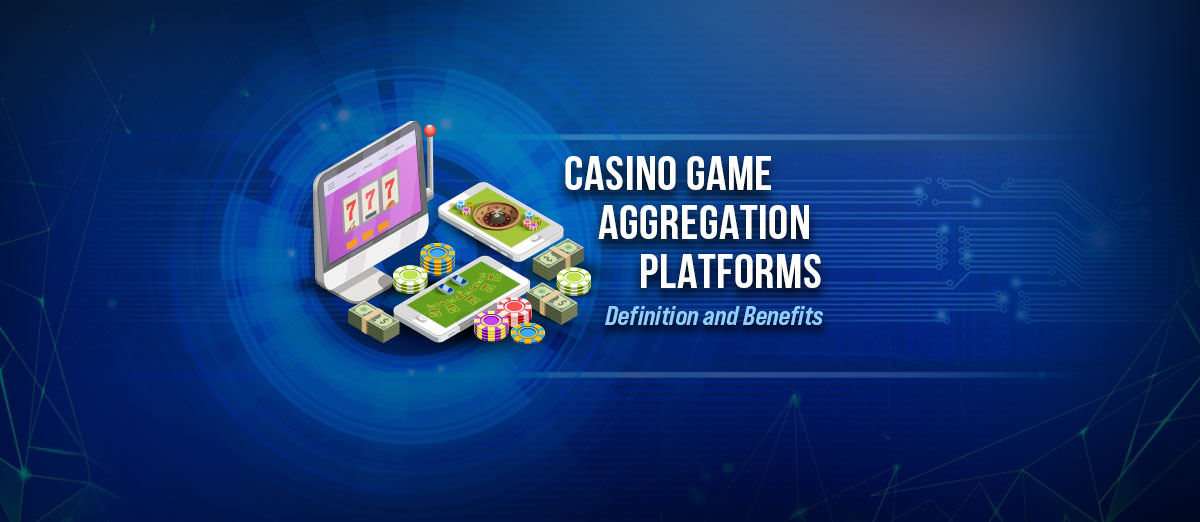 As the online casino industry continues to grow and more operators launch, casinos are having to work harder and harder to attract and retain players. One of the most important factors players consider when choosing a casino is the quality and range of the games on offer.
There was a time when online operators would only offer games from a single developer, not unlike land-based casinos; however, those days are long gone. Today, in order to attract players, most casinos will offer hundreds or even thousands of games from a range of developers, and this is made possible with the aid of Game Aggregation Platforms (GAP).
As such, GAPs have become an absolutely essential part of the online gambling ecosystem, delivering a wide range of benefits to both players and operators. Here we will explore aggregation platforms so you can learn how they work and exactly what they deliver.
What Exactly Is a Game Aggregation Platform?
The term game aggregation platform may sound dauntingly technical, but the concept is actually very simple. It is a piece of software that brings games from multiple developers together into a single point of reference that online casinos can access. The platforms act as a kind of bridge between the game developers and casino operators, allowing operators to offer their players a large and diverse selection of games without the need for multiple individual integrations.
Casino Game Aggregation Platforms – Purpose and Influence
The main purpose of a GAP is to make it easy for iGaming operators to add new games to their online casinos. By working with an aggregator, casinos can quickly and easily increase their game offerings, ensure players have access to the latest games, and, this way, attract a wider audience. Many game aggregation platforms will offer additional services, such as licensing and promotional tools, which make makes them even more attractive to operators.
Why Are Casino Game Aggregation Platforms Popular?
There are several reasons why GAPs are so popular amongst casino operators:
Extensive Game Selection: One of the main reasons behind the popularity of game aggregation platforms is the extensive selection of games they offer. By partnering with numerous game providers, the platforms are able to offer a diverse range of game types, including slots, table games, live dealer games, and more. This allows casino operators to cater to all player preferences and attract a larger customer base.
Simplified Integration: Instead of working with multiple game providers individually, casino operators are able to integrate a platform's full offering through a single API provided by the aggregator. This process reduces the time and resources needed to add new games to the platform, enabling operators to focus on other aspects of their business.
Licensing and Compliance: Acquiring and maintaining gambling licenses is often a complicated and time-consuming process. Game aggregation platforms often hold licenses from multiple jurisdictions, which can make it easier for operators to expand into new markets and be on the good side of the gambling regulation authorities.
Technical Support and Maintenance: Aggregators typically offer ongoing technical support and maintenance services. This ensures that the games are always up-to-date and functioning properly, freeing up operators to focus on other aspects of their operations, such as marketing, without worrying about potential technical issues.
How Does Application Programming Interface Work
Application Programming Interface (API) integration is the most common method used by game aggregation platforms. The developer of the platform provides a single API that enables the casino operator to access the entire library of games. This method is popular because it is straightforward and efficient. It ensures that casinos do not have to invest vast amounts of resources in development.
However, many developers of GAPs also offer white label and turnkey casino solutions, offering operators a complete casino platform that can then be customized with the operator's own branding. This option is ideal for operators who want to enter the market quickly without having to build their own platform from scratch. In this instance, the game aggregation will be part and parcel of the casino platform.
The Leading Casino Game Aggregation Platforms
There are several excellent game aggregation platform providers on the market and more are appearing all of the time. As such, it is very hard to state definitively which is the best. However, some are definitely better known than others are:
Pariplay's Fusion Platform: This is certainly one of the best-known GAPs. It provides access to more than 14,000 games, it is licensed for more than 20 regulated markets, and it processes more than €1.5 billion worth of bets each month. In addition to providing operators with a vast catalog of games, Pariplay's platform also offers a number of engagement tools, such as tournaments and raffles, which are proven to improve player retention.
EveryMatrix's SlotMatrix: This GAP boasts the largest casino content library in the industry with over 22,500 games on offer from more than 300 developers. The platform is licensed in numerous regulated markets around the world, and it provides operators with access to features such as tournaments and bonus programs. SlotMatrix is one of several platforms developed by EveryMatrix, and the company has ensured that it truly is a one-stop shop for casino operators.
SoftGamings: The company has developed several platforms for casino operators, and its GAP is widely respected within the industry. The platform provides access to more than 10,000 games from roughly 200 leading developers through a single API integration. As with the other platforms on this list, it also comes with a number of promotional engagement tools, a full back office, and round-the-clock technical support.
Slotegrator's APIgrator: This GAP delivers operators with more than 15,000 games from over 100 licensed developers. The catalog includes slots, live dealer games, poker, card games, casual games, and virtual sports. It is one of several platforms developed by the company, and as such, it is easy for operators to access any other services they may need to run their casinos.
The Advantages and Disadvantages of Working with GAPs
There are several clear advantages to working with a game aggregation platform; however, operators do need to be aware of the disadvantages.
Advantages of GAPs
Access to a Diverse Range of Games

Working with an aggregator allows operators to offer a wide variety of games from multiple providers, enhancing the player experience and attracting a larger audience.

Simplified Integration Process

Integrating with an aggregator significantly reduces the time and resources required to add new games, allowing operators to focus on other aspects of their business.

Licensing and Compliance Support

Aggregators can help operators navigate the complex world of gambling licenses and regulatory compliance, making it easier for them to enter new markets and maintain a legal and compliant operation.

Ongoing Technical Support and Maintenance

By providing ongoing technical support and maintenance services, aggregators help ensure that games are always up-to-date and functioning optimally, allowing operators to focus on marketing and customer acquisition.

A Common Back Office

By using a GAP, operators are able to control all of their games using a single back office. This greatly simplifies things for operators and helps them stay in control of their casino's operations
Disadvantages of GAPs
Dependence on a Single Provider

Relying on a single aggregation platform can create a degree of dependence on that provider. If the aggregator experiences technical issues or downtime, it may directly affect the operator's business.

Limited Customization

Working with an aggregator may limit the level of customization and control that operators have over their game offerings, as they have to work within the constraints set by the aggregator.

Revenue Sharing

Aggregators typically charge a percentage of the operator's revenue as a fee for their services. This can reduce the operator's profit margins, especially in highly competitive markets.

Potential for Oversaturation

As more operators use the same aggregation platforms, there is a risk that their game libraries may become too similar, reducing the differentiation between competing online casinos.
Conclusion
Casino game aggregation platforms have become an integral part of the online gambling industry, offering a host of benefits to operators and players alike. By simplifying the integration process, providing access to a diverse range of games, and offering support in licensing and compliance, these platforms have significantly streamlined the process of launching and maintaining an online casino.
However, working with an aggregator also comes with its own set of challenges, such as dependence on a single provider, limited customization, and revenue sharing. Ultimately, operators need to weigh the pros and cons and carefully consider their individual needs and objectives when deciding whether to partner with a casino game aggregation platform and which one to use. By doing so, they can ensure they select the right solution for their business and continue to thrive in the ever-evolving world of online gambling.