Doc Holliday – A Legend, Fabled Poker Player, and Gunfighter from the Wild West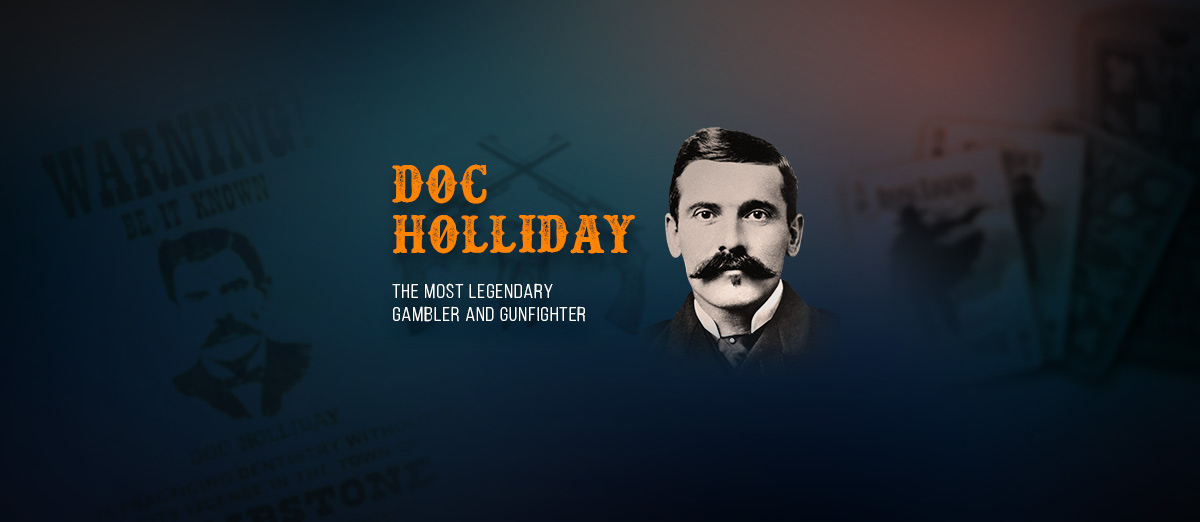 Of all the people who have ever played the great game of poker, Doc Holliday is probably the most fabled one. But who is Doc Holliday?
While poker and gambling were some of his main occupations, Doc Holliday's reputation came from being a notorious gunfighter who helped lawmakers and occasionally broke the law himself. Doc Holliday is a folk hero who has been portrayed in books and tales and whose life story is a mixture of real events and exaggerated tales.
Full Name
John Henry Holliday
Net Worth
Negligible
Source of Wealth
Dentistry
Gambling
Other
Famous for
Participating in the Shootout at the O.K. Corral, killing as many as 12 people.
Born
August 14, 1851
Yet, few people in America have not heard of Doc Holliday, and his name is better known than even those of the best poker players of the more recent decades like Alan Woods or Phil Ivey.
This is the story of Doc Holliday, a would-be dentist who became a killer and gambler and ended his life prematurely at the age of just 36.
Doc Holliday Highlights
Highlights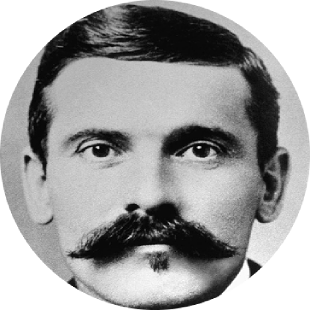 Born John Henry Holliday in 1951 in Georgia
Studied to become a dentist and practiced briefly at the age of 21
Traveled the Midwest as a gambler and gunfighter
Rumored to have killed over a dozen people, a few of which were confirmed
Married Kate "Big Nose Kate" Horony
Fought alongside Wyatt Earp in the Gunfight at the O.K. Corral
He was wanted by law enforcement for taking justice into his own hands
Lived out his days as a fugitive in Colorado
Died of tuberculosis at the age of 36
Who Was Doc Holliday – Early Life and Rise to Fame
Unlike many famous poker players you may have heard of, Doc Holliday was born in a much different time when the game's rules and life were much different.
Doc's parents named him John Henry Holliday, and he was born on August 14, 1851, back when much of America was still wild in many ways, in Griffin, Georgia. Doc grew up in Georgia and studied to become a dentist, which he did become at the age of 21. He started up a dental practice but was soon diagnosed with tuberculosis, a common disease in his time. Doc probably got the disease from his mother, who died of it when he was just 15 years old, and he decided to try and alleviate his symptoms by moving to the more hospitable climate of the American Southwest.
From here, Holliday's life took a turn in a very different direction. Instead of working as a dentist, he became a professional gambler, competing in games like poker and faro, although Doc Holliday net worth is still questionable to date.
However, this was a time when poker was played in saloons, not casinos, and the rules of the game were more fluid while enforcing those rules was left mostly to the players themselves. With Doc Holliday's disease almost sure to cut his life short, he led a life of a gambler and a gunfighter, often putting himself at risk in pistol fights and open confrontations with outlaws and criminals.
Doc Holiday spent his years traveling the Midwest to play poker, meeting the likes of Wyatt Earp and becoming a deputy city marshal and US marshal on separate occasions. While his poker career was not well documented, and the official Doc Holliday net worth remains a well-kept secret, the other events of his life are still being told and embellished in gamblers' circles to this day.
Unlike many people of our days who spend their years chasing wealth, Doc Holliday net worth was not high on his list of priorities, as he chose to pursue fame and his own brand of justice above all else.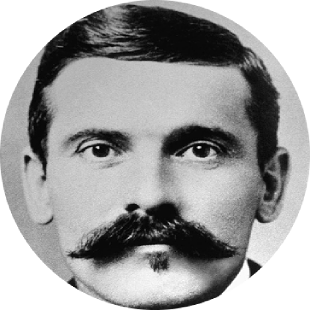 "There's no normal life. There's just life. Now get on with it."
Doc Holliday
Doc Holiday as a Gunfighter
The legends have it that Doc Holliday killed at least 12 people during his years traveling the Midwest, although modern research has concluded that he was probably responsible for only two or three deaths.
Those who knew who Doc Holliday was at the time usually got out of his way as he was notorious for being trigger-happy and not afraid of confrontations. Yet, for the most part, it appears that Holliday stayed on the right side of the law and only ever drew his gun in defense of himself or others.
Doc's adventure as a gunfighter started when he met Wyatt Earp in Texas and allegedly saved his life. The two became friends, and Earp later used Doc's services to pursue outlaws, all the way down to the famous Gunfight of the O.K. Corral.
Holliday traveled with Earp to Tombstone, where they attempted to bring in a band of outlaws, leading to the famous Gunfight, which led to Morgan Earp being killed. Earp and Doc Holiday kept going after the cowboys after the Shootout and took justice into their own hands, eventually killing three of the gang members. Yet, the local sheriffs didn't like the federal marshals taking care of the matter themselves and tried to arrest the entire group, but they fled to New Mexico and later Colorado, which agreed not to extradite them.
While Doc was often fighting the good fight for the likes of Earp, he was not paid too well for it, and his days as a gunslinger did little to increase the overall Doc Holliday net worth.
In the end, Doc Holliday disease got the best of him, killing him at the age of just 36, lying in bed in a hotel in Colorado. Holliday survived multiple gunfights and avoided arrest and capture but wasn't able to escape death at the hands of the same illness that took his mother's life.
Doc Holliday Net Worth and Poker Career
After leaving Georgia, Doc Holliday also left behind his old life as a dentist and started gambling regularly, although it is not clear where he got the money to do so. We know that Doc's poker playing days are far from glorious, as it appears he played for reasonably low stakes and often got into trouble over poker tables.
According to an interview with Wyatt Earp, Doc killed a man by the name of Ed Bailey at a poker table after he caught him cheating. Bailey was apparently cheating, and Doc caught him and warned him to play poker properly. When Ed cheated again, Doc took down the pot while Ed reached for his gun. At this point, Holliday pulled out a knife and managed to stab the man before he could fire a bullet, killing him on the spot.
Doc Holliday was accused of other murders as well, and some say that he liked such stories circling about him, although he was not responsible for nearly as many killings as some people would have thought. Assessing the exact Doc Holliday net worth would be difficult considering the times he lived in and the lifestyle that he was accustomed to.
While in Colorado, Holliday also shot a man named Billy Allen at Hyman's saloon over a $5 debt that Doc had accrued while playing poker. Unable to pay, Doc was apparently afraid that Billy would go after him and shot him as he entered the saloon.
The laws of the day were much different, and a jury found Holliday not guilty as they saw his actions as self-defense, considering Allen had 50 pounds on Holliday.
These were only a few of the stories surrounding Holiday's career as a poker player, which apparently was not as fabulous as some legends would have you think.
Doc Holliday's Personal Life & Affairs
Doc Holliday was a man who loved playing cards and drinking whiskey more than anything else, but there was one woman that captured his heart.
Kate Horony, also known as "Big Nose Kate," was a Hungarian-born dance girl and prostitute that Doc met in Fort Griffin, Texas. Doc and Kate got married, and she accompanied him for much of his life, although their actual relationship was far from perfect.
According to some reports, Kate was an educated woman who worked as a prostitute to earn her independence, one of a few ways women of the time were able to do so. She gave up that independence when she met Doc Holiday and became his wife under common law, which she remained until he died in 1887.
Apart from this relationship, little is known about Doc Holiday's personal life and affairs, and it would appear that he did not have other serious relationships with women during his day.
Was He One of the Good Guys?
The biggest question you can ask about Holliday is probably whether he was one of the good guys or not. While he did help lawmakers catch outlaws on occasion, he also routinely engaged in behaviors that would be treated as criminal these days.
Holliday was a drunk and a gambler who settled his problems and his debts by engaging in fights or running away from state to state, all of which do not indicate a very high level of moral qualities.
Yet, the times in which Doc Holliday lived were much different, and while not all men in the Midwest were killers, it was not uncommon for people to get into gunfights or have to defend their lives themselves when the law could not help. Holliday often went a step further, and it is clear that his illness and his imminent demise allowed him to live a life on the edge, not too worried about the distant future.
Doc Holliday cannot be put into the category of good guys exclusively, although the likes of Wyatt Earp and Wild Bill Hickok, who were lawmakers by trade, often engaged in similar behaviors as him in those days.
The grand conclusion we can draw is that very few people in the 1800s could afford to be good as violence was part of everyday life, and taking the law into your own hands was often the only way to get any justice.
FAQ
How Old Was Doc Holliday When He Died?
Doc Holliday was 36 years old when he died in a hotel room in Colorado. He had gone there to alleviate his illness but ended up dying. Apparently, his last words were, "this is funny," as he mocked how he was dying, fully expecting to be killed in a gunfight.
How Did Doc Holliday Die?
Doc Holliday died of tuberculosis, a disease he was diagnosed with earlier in life and which had taken his mother's life when he was just 15 years old. It is very likely that Holliday got tuberculosis while taking care of his dying mother years earlier.
What Was Doc Holliday's Real Name?
Doc Holliday was born John Henry Holliday, and he got his nickname Doc while briefly working as a dentist in his native Georgia.
Was Doc Holliday Married?
Yes! Doc Holliday married Kate Horony, known as "Big Nose Kate," who he met while dealing cards in a Texas saloon. Doc remained married to Kate until his death, and she was his partner during many of the biggest events of his life.
Was Doc Holiday a Successful Poker Player?
There is no clear indication that he was or was not a successful poker player or gambler. Yet, some stories of his gambling debts and confrontations with other players would suggest that he was not always as good of a poker player as legends would have it.