Land-Based vs. Online Gambling – Can Real Casinos Fight Back?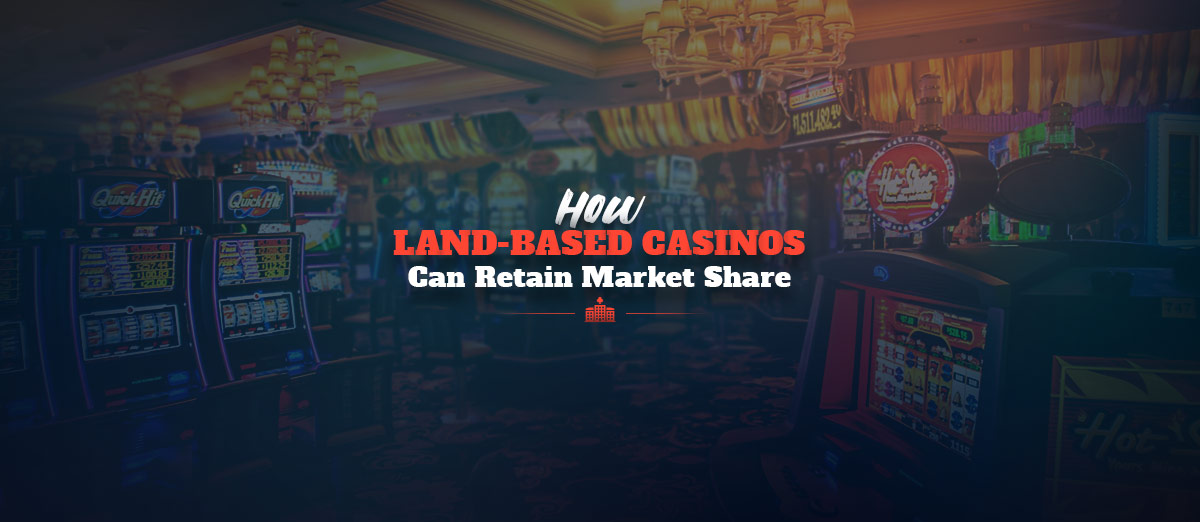 "Casino gambling is colorful and dramatic and theatrical"; famously quoted by Las Vegas supreme Steve Wynn, this visionary was almost single-handedly responsible for propelling the industry into the public consciousness.
Founder of the gambling behemoth Wynn Resorts, the casino luminary has, for decades, been the very fabric of the colorful tapestry that aligns the famous strip where millions of visitors flock each year.
Nearly every corner has hallmarks of the Wynn influence in some shape or form. A Las Vegas resident since the late sixties, the businessman bought a small stake in the Frontier Hotel and Casino thanks to a friendship that he struck up with Bank of Las Vegas president Edward Parry Thomas.
Never has such an accord been more significant. Over the years, the duo's friendship strengthened, this being vital in helping Wynn to secure favorable terms on many land deals that followed, including his earliest enterprise, the Golden Nugget Hotel & Casino.
A unit in Atlantic City, which he sold seven years later (1980) for $440 million, essentially helped his casino empire to really take off, effectively positioning himself as the 'Godfather' of the industry.
Fast-forward two decades, and the gambling and entertainment industry was one of the most lucrative in the world; Las Vegas was well and truly recognized as a global visitor attraction, on par with Disney World, though there was nothing 'Mickey Mouse' about this.
The famous strip was lined with five-star hotel and casino resorts, each one attempting to out-perform the other; cascading fountains, dancing light shows, and firework displays are just some of the window dressing that could be found adorning one of the most walked pieces of land in the country.
It was the mid-2000s, and the industry was booming. From 2004 until 2007, casinos in Nevada paid out a total of $47.68 billion in winnings (Figure 1). Despite this being one of only two states that offered mainstream gambling at the time (with the exception of small Indian casinos), these were still impressive figures, having increased year on year.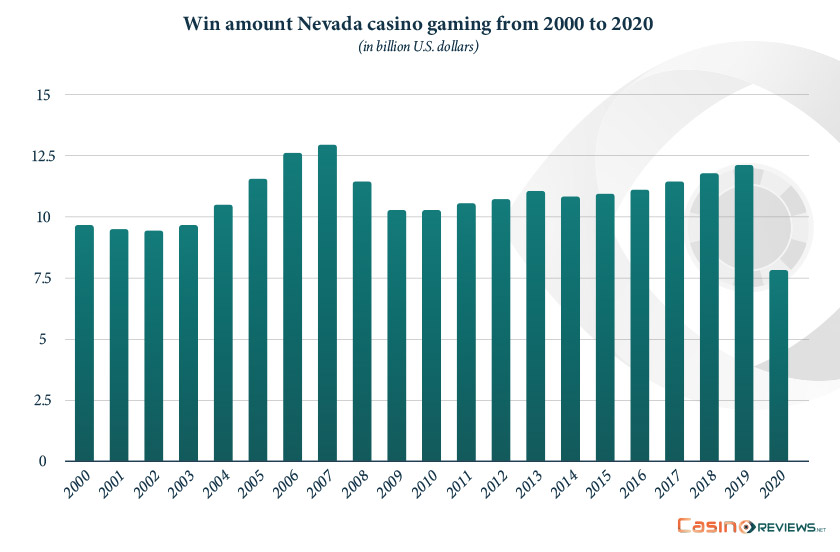 Figure 1: Win amount Nevada casino gaming from 2000 to 2020 (in billion U.S. dollars)
Casinos such as the MGM Grand, the Bellagio, Treasure Island, and of course, the Wynn Las Vegas (whose company now had resorts in various global locations) all became flagships of the gambling industry in the U.S. Not just offering gambling and luxury hospitality, these resorts provided something that, when this first happened in the 1960s, was, for all intents and purposes, somewhat experimental. By the turn of the Millennium, though, they were some of the biggest magnets in town, even rivaling gambling itself.
Of course, these were performances by famous vocal artists. Arguably the first and most famous was Frank Sinatra in the late sixties, though since then, the resort has played host to a plethora of big names, providing guests with box office shows.
This was where 'Vegas' really differentiated itself from other landmark gambling resorts around the world. Effectively setting the scene for the land-based casino industry globally, the Nevada resort is still the epitome in terms of entertainment hotspots. However, the emergence of online casinos as we know them today have changed the gambling world dramatically. We are looking at the clash between land-based and online gambling in the next paragraphs.
Online Gambling Flexes Its Muscles
Towards the end of the 2000s, iGaming really began to take over the gambling space, with many customers seemingly flocking towards internet brands, especially ones that had a mobile application, following the development of better technology via smartphones.
Many big companies such as traditional organizations like William Hill, Coral, and Ladbrokes effectively orchestrated a significant shift towards online gambling, while new standalone online brands such as bet365 and 888casino essentially became leaders in this new space within a few short years.
The Undeniable Advantages Forming the Shift
Of course, this had many advantages that a traditional, land-based casino didn't have, especially with the emergence of online gambling software providers that focused on purely internet slots and casino games.
There was even more scope for online operators to increase customer acquisition via attractive sign-up offers and ongoing promotions, while the marketing channels available to them also helped these brands to reach substantially more customers.
Suddenly, most people favored playing casino games online from the comfort of their own surroundings, and when operators released live dealer options, this made the experience even more authentic for players.
While in the U.S., online gambling was still illegal in the vast majority of states, it meant that resorts such as Las Vegas and Atlantic City did not witness a decline. However, in a number of casinos around Europe, where iGaming was really starting to enjoy an upwards trajectory, footfall began to drop.
Arguably one destination in Europe that could claim responsibility for this is the Mediterranean island paradise of Malta - seemingly innocent at first glance, though arguably the epicenter for online gambling on the continent. When the country opened its doors in the 2000s, iGaming was essentially still in its infancy. However, due to a number of benefits that Malta boasted, such as favorable tax rates, companies and organizations soon began to flock there.
It meant that with all of these advantages available, each company could then focus on its own individual mission, essentially establishing market share within the online gambling industry, part of which being to draw customers away from land-based casinos.
By 2016, the online gambling industry was thriving, with many new online casinos available to customers, with land-based casinos appearing to have accepted that this was a battle that was lost. Some new casino sites even had the foresight to offer other products to visitors in an effort to retain them, such as sports betting and even bingo.
How Online Gambling Firms Were Able to Increase Customer Acquisition
Compared to land-based casinos, iGaming companies have a lot of advantages which they started to realize as early as the late nineties. Effectively, possibilities were endless - especially as the years went by and new technology was developed.
One of the areas where casino sites were able to attract traditional, land-based players was via a number of attractive welcome offers that were essential for reeling new customers in. As time went by, these became even more creative, some even being presented as 'welcome packages' that included a number of free spins plus free money to spend.
Of course, though, these adapted over time. As the welcome offers became more popular, online casinos realized that they could change these considerably because of the seemingly obvious demand. Many in the industry moved on from 'non-deposit bonuses' (players would get free credit without having to deposit) to 'deposit bonuses', whereby they could make a minimum to maximum deposit, and the casino would match these, usually at 100 percent.
Some online casinos would also present customers with various welcome offers in order to give them a choice and appeal to various requirements - something that, essentially, land-based casinos could not realistically do to the same effect.
When live dealer technology was released, this predictably made it even harder for land-based casinos. With a more authentic, real-life casino experience now available online through developers such as Evolution, with a real, highly trained dealer, even more people began to realize that there was no need to go to land-based casinos.
Advanced online marketing that enabled online casinos to target their ideal customer also helped to make sure that they could target those who were perhaps looking for a different experience to that of a land-based environment.
What Can Land-Based Casinos Do to Fight Back?
As the world slowly begins to return to normal, this appears to be reflected in the number of visitors to Las Vegas in 2021, with just over 32 million people making the trip, much closer to the numbers before Covid hit and much better than 2020, when there were only 19.3 million visitors for the same reason (Figure 2). However, this is significantly down on previous years, and now, the resort has another challenge to contend with.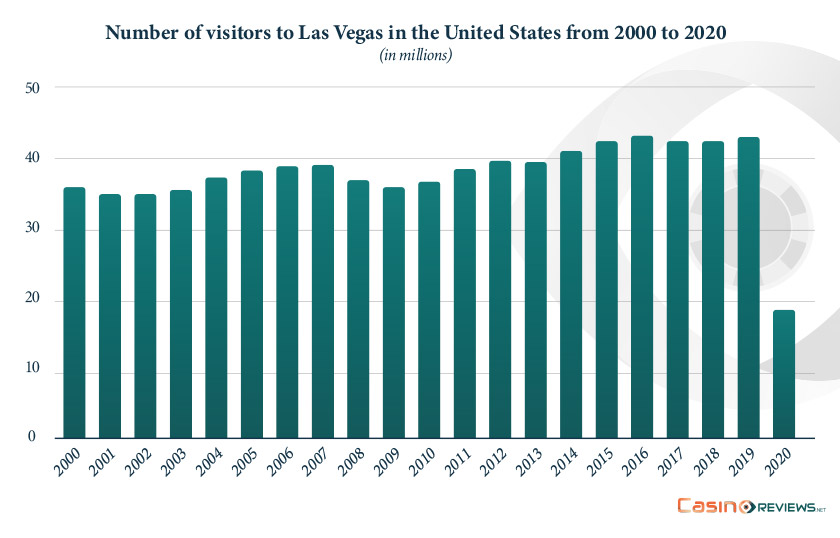 Figure 2: Number of visitors to Las Vegas in the United States from 2000 to 2020 (in millions)
Since 2020, more and more states across the U.S. have started to pass online gambling legislation, most in response to the effects of the pandemic in a bid to increase revenue, and as a result, this may have contributed to a lack of interest in the resort due to convenience that some U.S. players now possess at their fingertips.
What we could well see from some of the flagship hotels and casinos on the strip, though, is more of a focus on marketing it as an entertainment hotspot if they can continue to attract the kind of acts that they had done previously.
Certainly, from a revenue standpoint, being able to consistently book the biggest artists in the world and giving guests an experience like no other could well help casinos to get back onto more of an even footing. This is something that online gambling companies cannot compete with, and it could well be a strategy that land-based casinos in other countries look to concentrate on as well.
In other places, such as Monte Carlo (in the French principality of Monaco) - long known for its air of exclusivity, due to its prime location and home to many multi-millionaires, this could serve casinos here particularly favorably with clientele.
Marketing will also play a role for land-based casinos looking to both retain existing customers while attracting new ones, and it could call for creativity on the level that companies such as Red Bull undertake.
Sponsoring eye-opening, jaw-dropping events would, without a doubt, attract the kind of attention that casinos want, and it may well fit into the kind of adrenaline-fueled customer that they may look to attract.
Developments in technology could also play an important factor for land-based casinos and could well leverage this in order to make the overall experience of enjoying their time at a venue more exciting.
With significant breakthroughs in V.R. (virtual reality) and A.R. (augmented reality) software and hardware over the last few years, integrating this into the actual services that casinos offer may be one way to increase the number of customers.
One possibility, which we have are already starting to see, especially in the U.S., is existing companies that have a land-based presence develop their own online assets. Golden Nugget, in particular, is one firm that has done this with relative success over the last few years.
Two of the most recent ones include MGM Resorts who have, via a partnership with U.K. conglomerate Entain, established their own online casino and sportsbook, BetMGM, which is starting to gain considerable traction in a number of states. Caesars Entertainment also signaled their intent in 2020, when the company completed a €3.35 billion takeover of the British-owned iGaming company, William Hill, in order to complement its existing asset class, diversifying its revenue portfolio.
This is something that may well become popular for land-based casinos around the world, who may feel that establishing an online presence can not only help their balance sheet but also provide cross-marketing opportunities in a bid to increase footfall in their venues.
Do Land-Based Casinos Need Radical Change?
Arguably one of the biggest selling points for a land-based casino, especially if they are not a big name, is their aesthetic appeal. Nowhere is this more impressive at resorts such as Las Vegas and Monte Carlo, where visitors are swept away by the grandeur and opulence of such resorts.
Magnificence appears to be the order of the day, whether it is dancing fountains or palatial decor architecture. As a result, it could well be the case that a number of casinos around the world invest in a facelift, as is the case for Atlantic City, which recently received a redevelopment grant, in order to make this more appealing to visitors and also to make sure that it can still compete accordingly.
For those casino resorts that do have a global presence, it could be said that some attention may need to be paid to some of their other locations around the world. Wynn Resorts, in particular, has a number of these, and this is a prime opportunity to try and secure the number one spot in the land-based casino sector.
It could also see a change in hiring strategy for casinos, which may look to make sure that their staff - particularly from a marketing standpoint have the right tone of voice in order to attract the type of target market that could make the difference. No doubt, the most prestigious casinos in the world boast some of the best croupiers in the business, and standards cannot afford to fall short. However, especially for senior roles, personnel that have the necessary vision in order to make sure that land-based casinos can compete once again will be essential.
Upgrade in Payment Technology an Improvement Waiting to Happen
One glaring solution for land-based casinos on a global level could be one of the easiest and quickest fixes that could go a long way to attracting crowds back. While online gambling firms now offer multiple different payment methods for depositing and withdrawing funds, land-based casinos still currently are some way behind.
With the emergence of cryptocurrency over the last couple of years, more and more people use this as a form of payment, even integrated with wearable technology, and casinos that implement this may well see a sharp influx in revenue even overnight, merely because of the convenience factor.
It could mean that tables are fitted with the requisite technology that allows a player to quickly make a deposit seamlessly via their smartphone or smartwatch, to purchase more chips, to save queueing.
Should land-based casinos really get a handle on fully increasing payment methods, in conjunction with technological capabilities, this would certainly go some way in helping to bridge the gap between the old and the new.
Short Term Fix or Carefully Considered Approach
As we have seen for casino players, with the popularity of iGaming, players like the convenience, and this is one area that land-based casinos will really need to focus on if they are to fight back, and this could well lead to a complete overhaul and rethink about strategy.
Delivering a seamless experience is the essential priority, and even resorts in Las Vegas that have big budgets can maybe not afford to rely on just the musical entertainment aspect, especially from a gross gaming revenue perspective. Essentially this should be seen as a complementary novelty. However, at least in the short term, this may prove a wise tactic to help draw customers back into the venues as a way of presenting how the casino products themselves have improved.
Thinking that land-based casinos can claw back even 50 percent of the online gambling market in the next couple of years is folly. However, with new generations of players emerging on a continual basis, it certainly gives this sector of the industry a chance to get its marketing strategy right.
They will very clearly be competing with the iGaming sector, which means that those corporations that have assets in both verticals can double up and even enjoy the possibilities of cross-branding, as Golden Nugget has for the last few years.
While there still might be a significant amount of "color" in the industry, the writing is in black in white. For Wynn, at least, he cannot lose.