Head to Bootcamp in Lady Luck Games' New Beetle Bailey Slot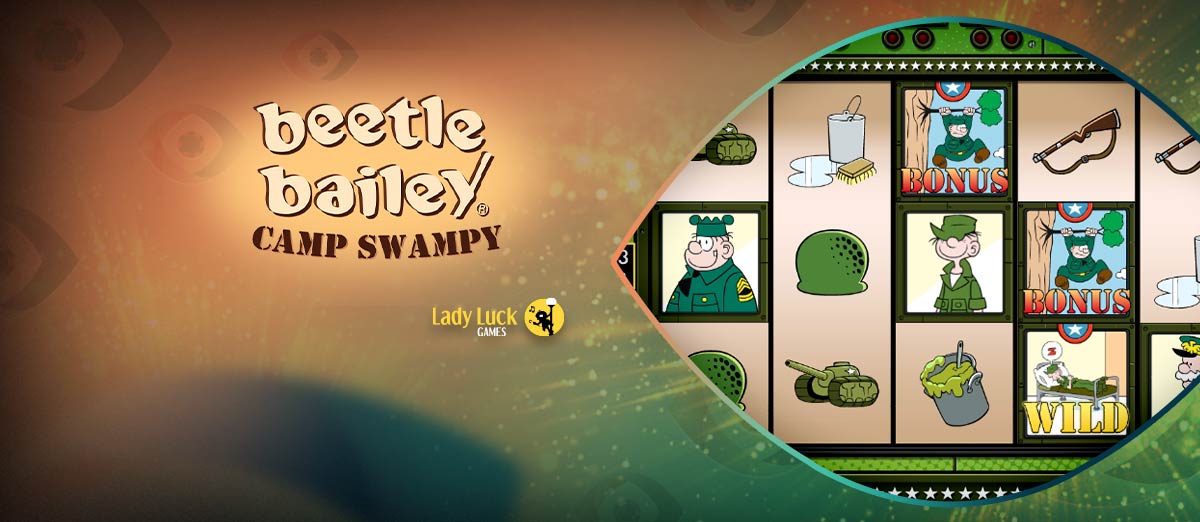 Lady Luck Games has released its first-ever branded slot, Beetle Bailey, which brings the famous comic book character Private Beetle Bailey to the reels.
The slot has been developed in partnership with King Features Syndicate and it is based upon Mort Walker's cartoons. Beetle Bailey is a 4-reel slot with 81 paylines and the action takes place in Camp Swampy where the title character is joined by Platoon Sergeant Orville P. Snorkel, Brigadier General Amos T. Halftrack, Miss Buxley and Cookie.
Players will benefit from two exciting features, Wild Wake Up and the Camp Swampy Golf Bonus. The Wild Wake Up Feature sees the Beetle and Sarge fight. When they finish, between three and six wild symbols will have been left behind on the reels. The Camp Swampy Golf Bonus sees Beetle Bailey and Amos T. Halftrack hit golf balls into the camp in exchange for prizes.
There is also a gamble feature and in certain jurisdictions, players are able to purchase the bonus games.
A lot of hard work has gone on behind the scenes to ensure that we could release this incredible branded slot alongside King Features Syndicate, especially considering this slot is close to our hearts as Beetle Bailey enjoyed great prominence in Scandinavia, locally appearing as Knasen, Basserne, and Billy in Sweden, Denmark, and Norway respectively, becoming classic comics for over 40 years in these markets. There's no doubting that Beetle Bailey is a truly iconic character that will put a smile on player's faces. We're absolutely delighted to have immortalised him in this brilliant new release.
Carla Silva, the Global Head of Licensing at King Features, added, "Beetle Bailey has been entertaining people for over 70 years, and we're delighted to see Mort Walker's iconic character appear on the reels of this exciting game that we know fans and players alike will enjoy."