The Future of Player Engagement – Interview with David Mann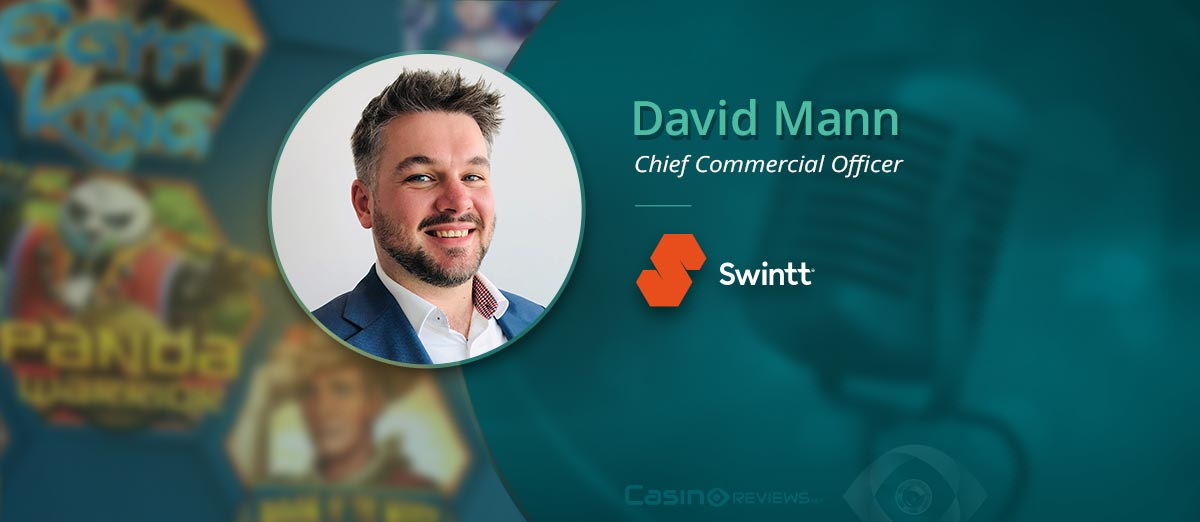 We recently had the chance to have a talk with David Mann, the CCO at Swintt, about his views on the future of the industry and where Swintt is headed. He shared a number of fascinating insights with us, suggesting that there is certainly plenty for players to look forward to in the coming months and years.
Thank you for taking the time and joining us for this interview! Before we begin, could you please tell our readers and us a bit more about yourself and your background in the iGaming industry?
Sure! I have been working within the greater industry since 2008, starting out in the retail betting shops back in Scotland. Eventually, I made my way to Malta, initially within sportsbook but gradually making my way to social casino, to slots providers.
In 2019 I had the opportunity to take Swintt from the ground up, and almost two and a half years later, I'm still here and incredibly proud of the results we've achieved so quickly. The ambition within the team has not even come close to being matched, though, and we are working hard to take us into more global markets and keep expanding.
Having worked in the industry for such a long time, how do you find that Swintt differentiates itself from other game providers?
It's a very competitive market for slots, and finding a niche is very difficult, but we've made sure to focus on delivering quality content that resonates with players in key markets. Our selection of German land-based games gives us a unique edge in that market, some of our content is well suited to Northern European players in Sweden, for example, and we continue to produce recognizable content for players across Asia, Latin America, and other European markets.
What can we look forward to from Swintt in the coming year?
The recent smash-hit release of Lone Rider XtraWays was a big moment for us as we unveiled our new XtraWays mechanic for the first time. We will be using this unique mechanic in exciting ways to deliver sustained excitement for players and meet particular market needs

Other mechanics, we have developed, like XtraGacha, echo elements of Japanese culture for the massive fanbase of all things Japanese, and we will be implementing the Bonus Buy feature that has taken the industry by storm into some upcoming titles, including Book of the East.
And how can I forget our first branded game using our partnership with the legend that is Vinnie Jones – keep your eyes peeled for something exciting later this year!
Are there any emerging trends in the market that you personally find exciting/interesting?
From a product perspective – and as a player – it's great to see such fierce competition for new features leading to all types of innovative game mechanics. It looks like the next few years will see some incredible advancements in slot game technology and what providers can really bring to the table.
All eyes are on the US now, and with good reason – as the states are beginning to regulate online casinos, we can see some very exciting numbers in such early days. Longer-term this creates some very exciting opportunities as we can lend our experience in other markets and look to grow in an entirely new country.
'Gamification' has been a buzz word in the industry for a few years now. How does Swintt's product stand out from the crowd?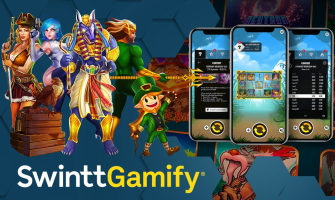 SwinttGamify allows us to offer tournaments, leaderboards, achievements, and automated payouts to players from one widget ecosystem. This is all about bringing players a more engaging experience from normal slot games and rewarding their play.
We can offer a range of scoring mechanics to keep the tournaments exciting, while the in-game mini scoreboard allows players to check their score at any time without needing to pause the game – this becomes crucial in end-stage race tournaments where the leaderboard becomes competitive.
Please can you tell us a bit about the Swintt Play-it-Back program and how the idea of sustainability applies to the online gambling industry?
To cut to the essence, we want to enable all players to become their own philanthropists through the SwinttPlay-it-Back product. Swintt and operators would partner up to offer players the chance to raise funds for charities in a fun way – at no expense to the player – and help make a positive impact on the world.
It's no secret the gaming industry handles huge revenues, and we're aiming to become the charity-first provider pushing to see the less fortunate benefit from our industry.
What do you see as the biggest challenges facing gambling marketing?
Responsible gaming is at the forefront of the industry, and we want to make sure that any gambling marketing is done in a safe, responsible manner that does not influence minors. The veracity of streamers and the way they engage with their audience has come under fire recently, and rightly so.
Slot suppliers rightly cannot offer demo versions of games with 100%+ RTP levels so that players have an accurate depiction of gameplay. Some streamers, however, are betting insane amounts with huge bonus balances that seem completely dubious, but players will be sucked into the excitement, and it can cause harm. It's good to see a bit of a backlash now from some figures in the industry, and there's every chance of some regulation in the near future.
Many changes to gambling regulations are taking place, particularly across Europe. Do you think there is a danger of over-regulation that will ultimately damage the industry and players?
There is a fine balance with regulation. As with anything on the internet, where there is a will, there is a way, and online gaming is no different. It's completely expected for countries to bring in regulations and focus on sustainable, safe gaming, but we have seen some markets over-regulate. This only pushes players into the black market, which thrives in this case, and player safety goes out the window.
Hopefully, over time, regulators will be insightful and make reasonable adjustments that both protect players and allow the market to flourish in a contained, safe manner.
Do you feel that players are now more educated about games than ever before, and do you think this makes it harder to attract them?
It's hard to say if players really are more educated than before – all the information they could need is available at any time, but how much attention is really given? Though I'd say in the long run it would not make players any less likely to play – just more informed about selecting what is right for them and able to understand risk more clearly. This can only be a positive.
About Swintt

Swintt is an exciting developer of online casino games that is focused on creating specialist content to help operators target players in specific markets. It has an impressively diverse portfolio of slots, including many localized games, as well as a leading live dealer product and many gamification tools for operators.