America's Favorite Athlete – Who Dominates in Your State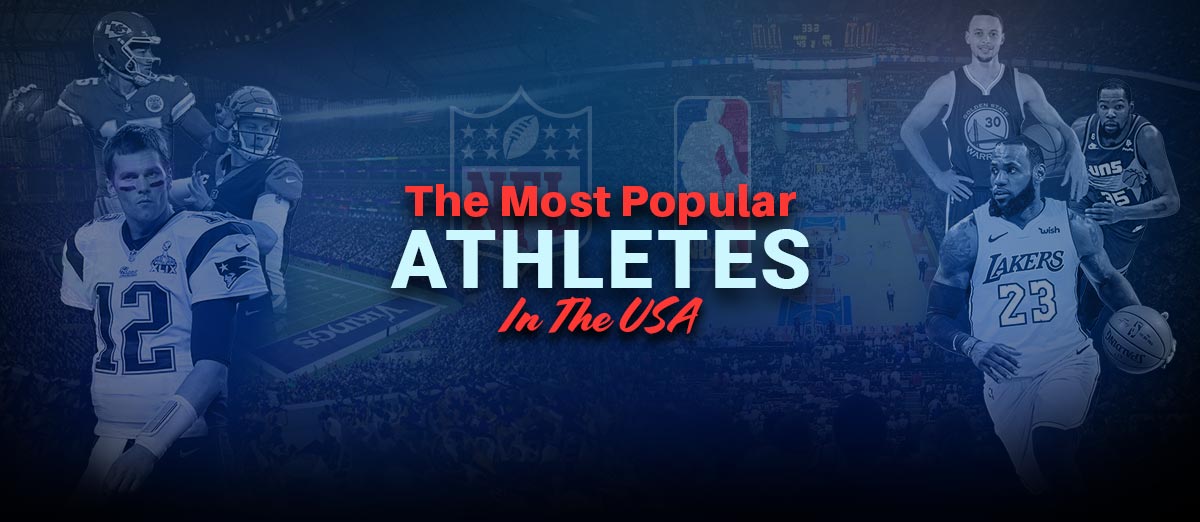 The United States of America has borne witness to many talented athletes. Players of different sports have gone on to fame beyond their state borders, often achieving worldwide success.
America has a variety of popular sports, from the National Football League (NFL) to the National Basketball Association (NBA) and Major League Baseball (MLB). Figures from within these sports remain popular across multiple states. Yet we want to know who the most popular athletes are.
With the NFL season having already begun, it's our intention to finally conclude who the most popular sports athletes are in every state. The research we have prepared at CasinoReviews aims to provide that insight to you.
Who Is the GOAT? Main Takeaways
Tom Brady emerges as both America's favorite NFL athlete and overall athlete, dominating in all states but five.
LeBron James is the most popular NBA player, especially in California, Utah, and Washington.
The research utilized data from Google Trends, Ahrefs search volume, merchandise sales, and social media following to determine rankings.
We all know that Tom Brady is a megastar in the NFL, but he has also emerged as America's overall favorite athlete. Such is his dominance that he stands out as the most loved sports star in all states except five. That remains the case, even though Brady retired officially in February, 2023.
LeBron James stands out as the most popular NBA player, of course. He has a particularly large following in California, Utah and Washington, where he outranks Tom Brady with his gameplay for the Los Angeles Lakers. There are two other states where both Brady and James don't take the top spot, though. Ohio has a love for NFL quarterback Joe Burrow of the Cincinnati Bengals, while Wyoming has chosen Josh Allen of the Buffalo Bills to the position of the state's favorite.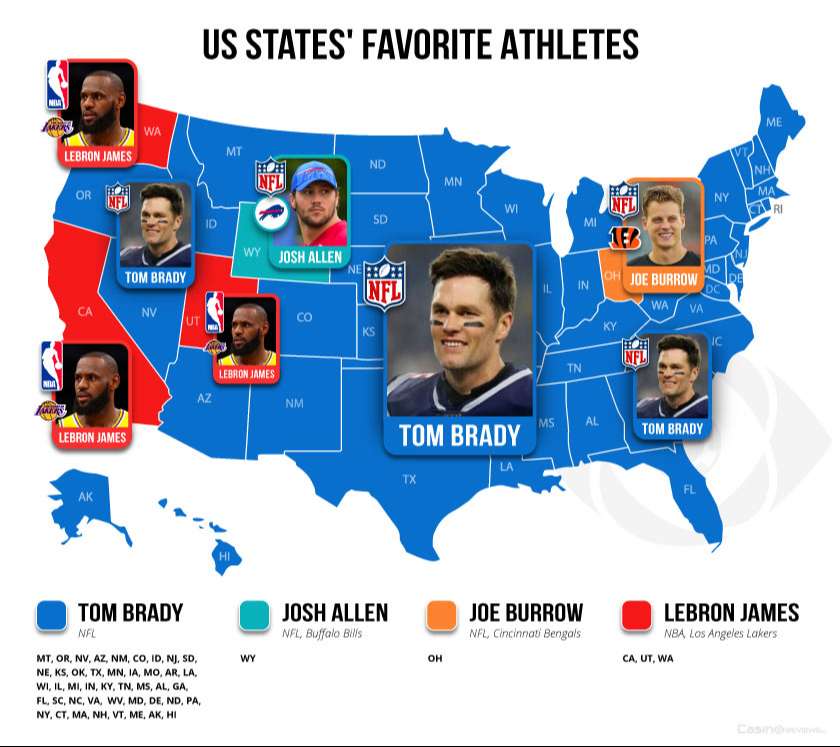 NFL Popularity Landscape - From Brady's Legacy to Mahomes' Reign
Everybody knows the draw that Tom Brady had (or still has, some might say) with regard to the NFL. The former New England Patriots and Tampa Bay Buccaneers quarterback was a central contributor to the Patriots dynasty between 2001 and 2019. Yet he retired from active competition in February of 2023.
As a result, while he still proves to be a highly popular athlete across the majority of the 50 states, Tom Brady is no longer playing football. To conduct this research, we looked at star athletes and their popularity in the USA.
The NFL is the country's most dominant sport. While we could have guessed that, we used official research from Google Trends to positively identify it as such. The NBA also had a strong outcome as a popular sport, but in most cases, the NFL topped it. As a result, we focused on locating the most popular athlete for each state for the respective league that dominates there.
To determine the most popular athletes for these leagues, we placed our focus on quantitative analysis and metrics. That led us to seek out information surrounding which players have the highest merch sales in the NFL – of course, Tom Brady was the biggest seller in this area.
We also utilized the search volume for each athlete's name, according to Ahrefs. Yet, we wanted something extra to give us a solid argument over the most popular athletes by state, so we turned to social media.
For superstars of any ilk today, the number of followers they have on platforms like Instagram, Facebook and Twitter speaks volumes. Therefore, we could determine the top players' fanbases.
We then assigned the athletes points from 1 to 10 based on each of the metrics noted. This way, we were able to determine the top five players in the NFL and then make use of Google Trends to find out which of the players were the favorites in each state where the NFL reigned supreme.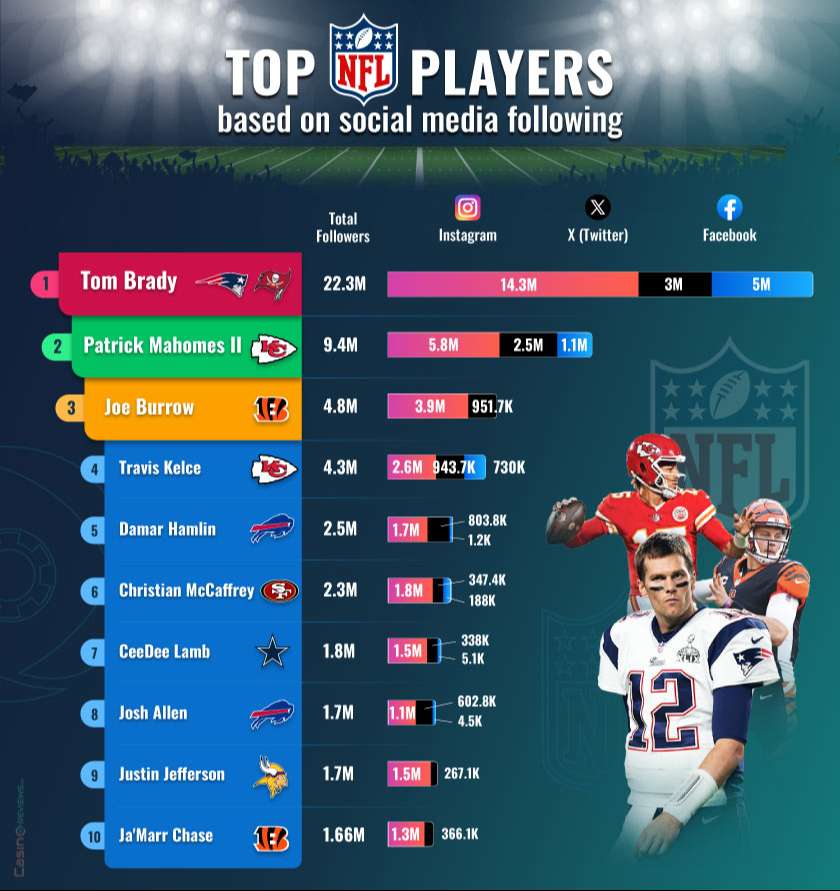 The same sort of research was conducted for the NBA, with sales on the NBA store for the second half of the 2022-2023 season providing vital insights into player popularity.
Two of the 47 states where the NFL serves as the most popular sport have a name other than Tom Brady as their most popular NFL player. Ohio labels Joe Burrow, quarterback for the Cincinnati Bengals, as its most loved, while Wyoming highlights Josh Allen, quarterback for the Buffalo Bills, as the most favored.
Across the board, Patrick Mahomes II remains highly popular with NFL fans in the U.S. The Kansas City Chiefs quarterback came out near the top of the rankings, right behind Tom Brady. Mahomes is still listed as one of the top-ranked players for the 2023 season as well, combining his popularity with his skills in the sport. If you look at the table above (Figure 2), you'll also see that Joe Burrow has a large following on social media, totaling 4.8 million fans across the three main platforms.
Going back to Tom Brady, he has the most followers across social media of any active NFL athlete. A total of 22.3 million people track his posts on Twitter, Instagram and Facebook.
Other important and popular NFL players include tight end for the Chiefs, Travis Kelce, safety player Damar Hamlin for the Buffalo Bills, and running back for the San Francisco 49ers, Christian McCaffrey. Meanwhile, Justin Jefferson and Ja'Marr Chase sit at the bottom of the table, although still rack up over 1.5 million followers each.
NFL Players with Highest Merch Sales and Search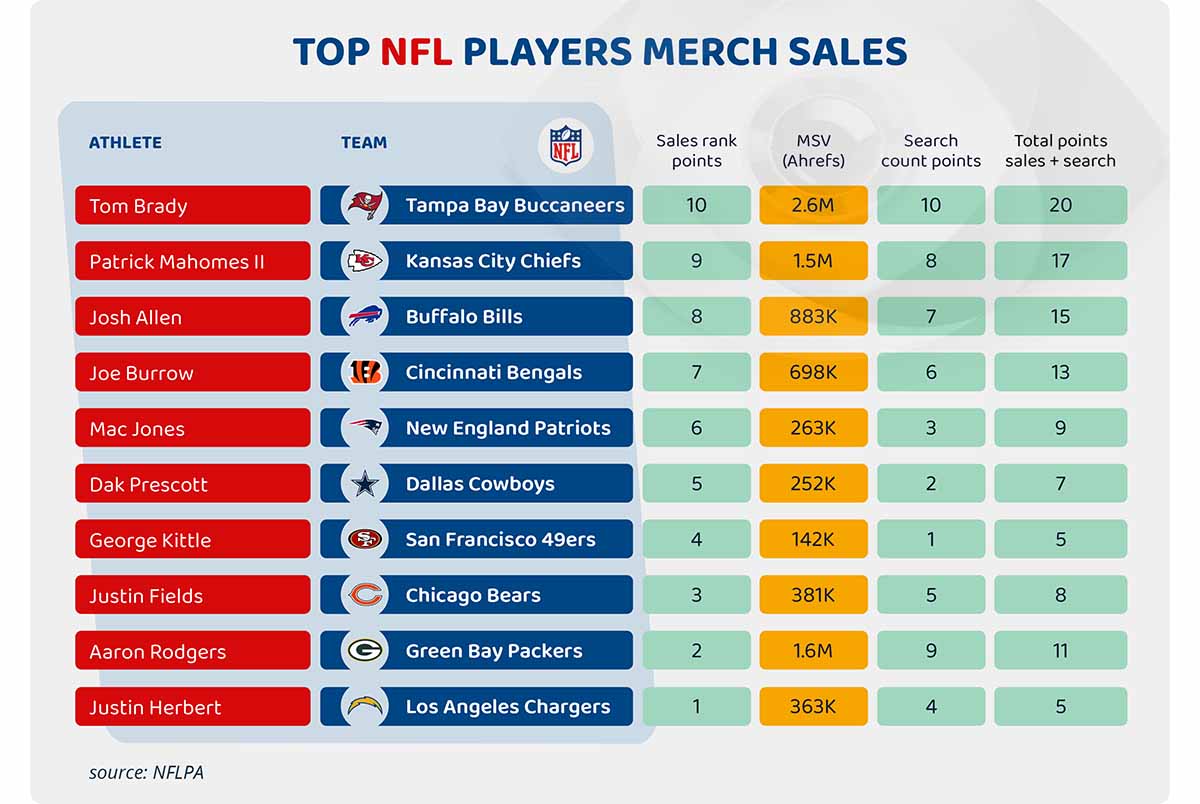 Shifting our focus to the realm of merchandise sales and online search volume (Table 1) above, Tom Brady once again emerges as the dominant figure in the NFL landscape. He not only leads the pack in merchandise sales but also stands as the most searched player online. The numbers don't lie: Brady boasts a perfect score of 20 points, a culmination of his top rankings in both categories.
Hot on his heels is Patrick Mahomes II, with the commendable 17 points, followed by Josh Allen and Joe Burrow with 15 and 13 points respectively.
On the flip side, Justin Herbert and George Kittle find themselves at the lower end of the spectrum, each with a score of 5 points. Herbert, despite being 10th in merchandise sales, and Kittle, who ranks 7th in the same category, have room to grow in terms of their digital footprint and market appeal.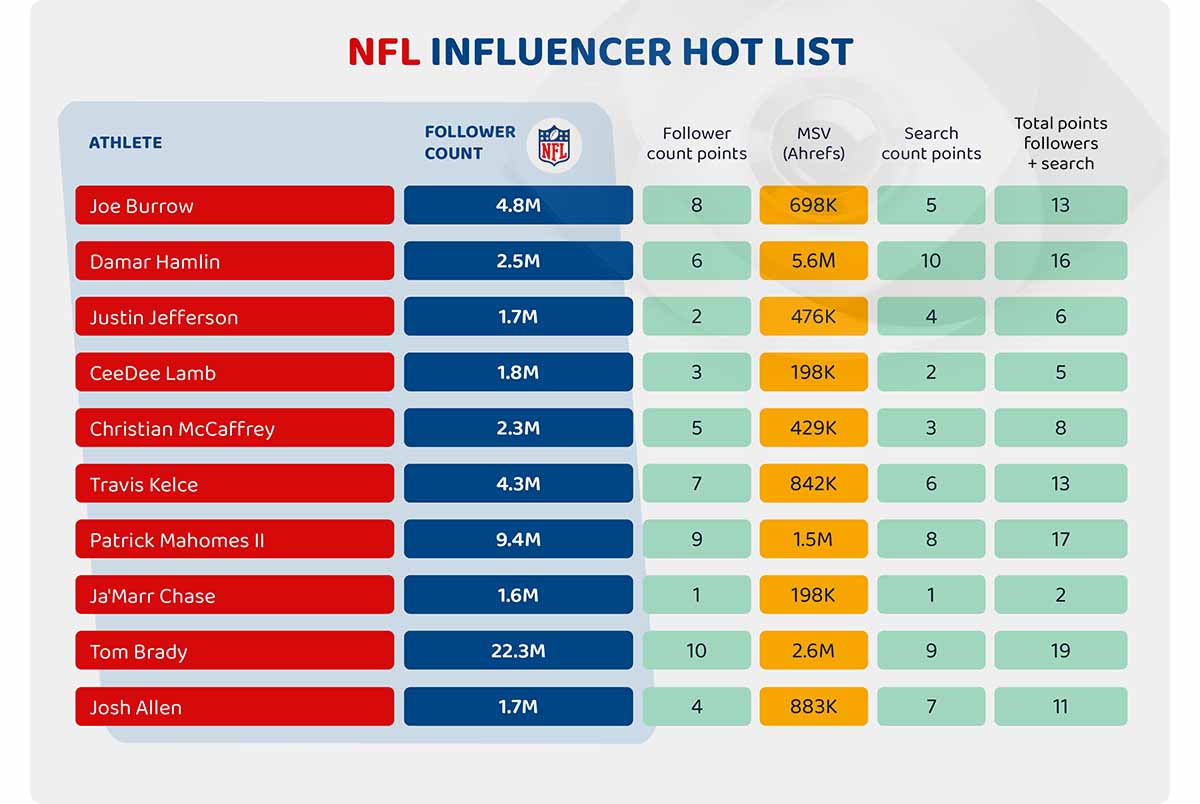 You can also see that the NFL influencer hot list (Table 2) has Brady at the top of the rankings with 19 points from his followers and search volume. He is followed by Mahomes once again, and then a new name comes to light in Damar Hamlin, whose name is entered into search engines even more than Brady's. However, this was attributed to a spike in interest after an on-field cardiac arrest incident in January 2023. Yet, if you compare that to his social media followers from Table 1, he only sits in fifth position.
Most Popular NBA Athletes and the Social Media Kings of Basketball
Basketball has dominance over three of the remaining states out of the 50 that don't have a big love for the NFL. In California, Utah and Washington, NBA is the most favored sport. It is also clear to note that across all these states, LeBron James stands out as the most famous athlete in the sport. The Los Angeles Lakers forward has also previously played for the Cleveland Cavaliers and Miami Heat. Even though he was born in Ohio, he isn't as popular there as Joe Burrow.
Of course, King James also stands out as having the most followers on social media (Figure 3). That's thanks to his activities both within the NBA and outside of it. His total follower count across Facebook, Twitter and Instagram stands at 237.7 million. That's a vast number more than second-in-line Stephen Curry, who plays point guard for the Golden State Warriors and has 83.7 million social media fans.
Another highlighted NBA star is Kevin Durant, with 45.1 million social media followers, as you can see from Figure 3. Down at the bottom end of the list are Giannis Antetokounmpo of the Milwaukee Bucks and Lonzo Ball of the Chicago Bulls.
They have 22.3 million and 20.2 million followers, respectively. It does seem a bit odd that no player from the Denver Nuggets, the 2023 NBA championship winner, was able to dramatically climb the social popularity charts.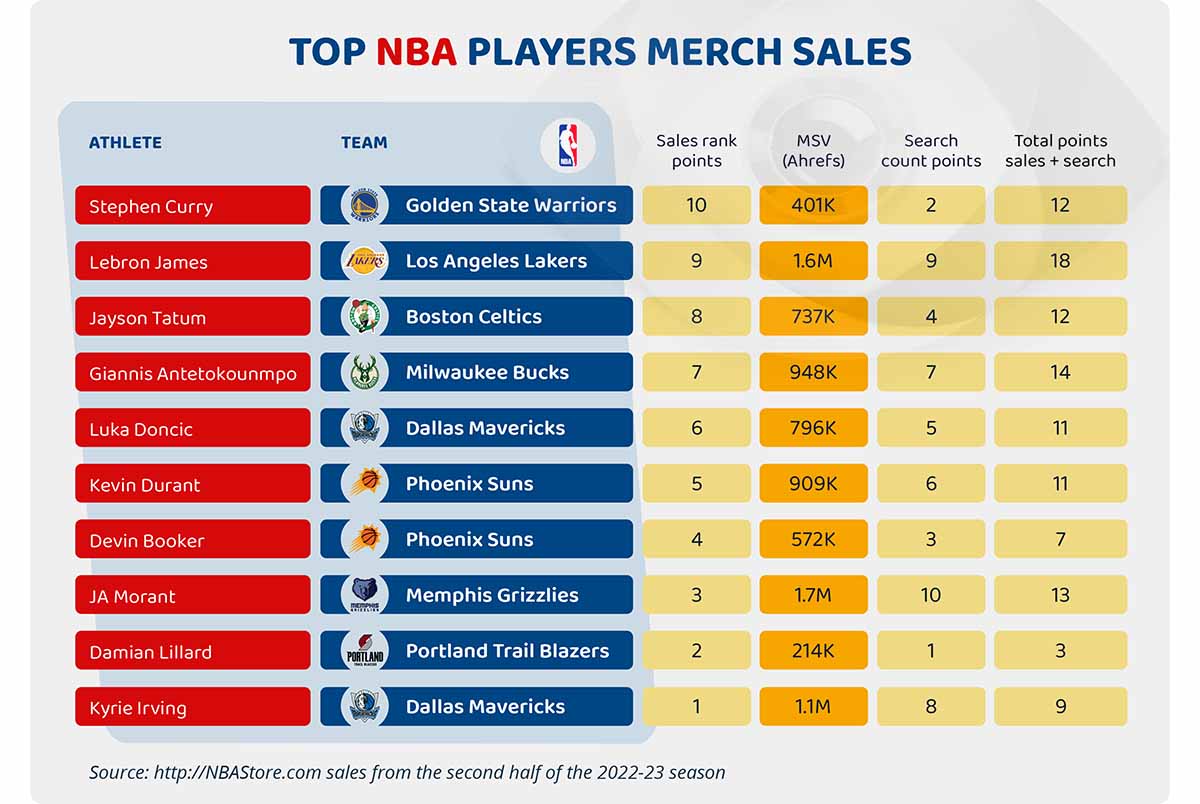 Table 3 combines merch sales with search volume online once again, with LeBron James coming out on top overall, of course. Right behind him is Antetokounmpo with 14 points, and then eking his way into third position is JA Morant of the Memphis Grizzlies. The point guard for the team has fairly low merch sales compared with others on the list, but his name is searched for more than any other NBA player.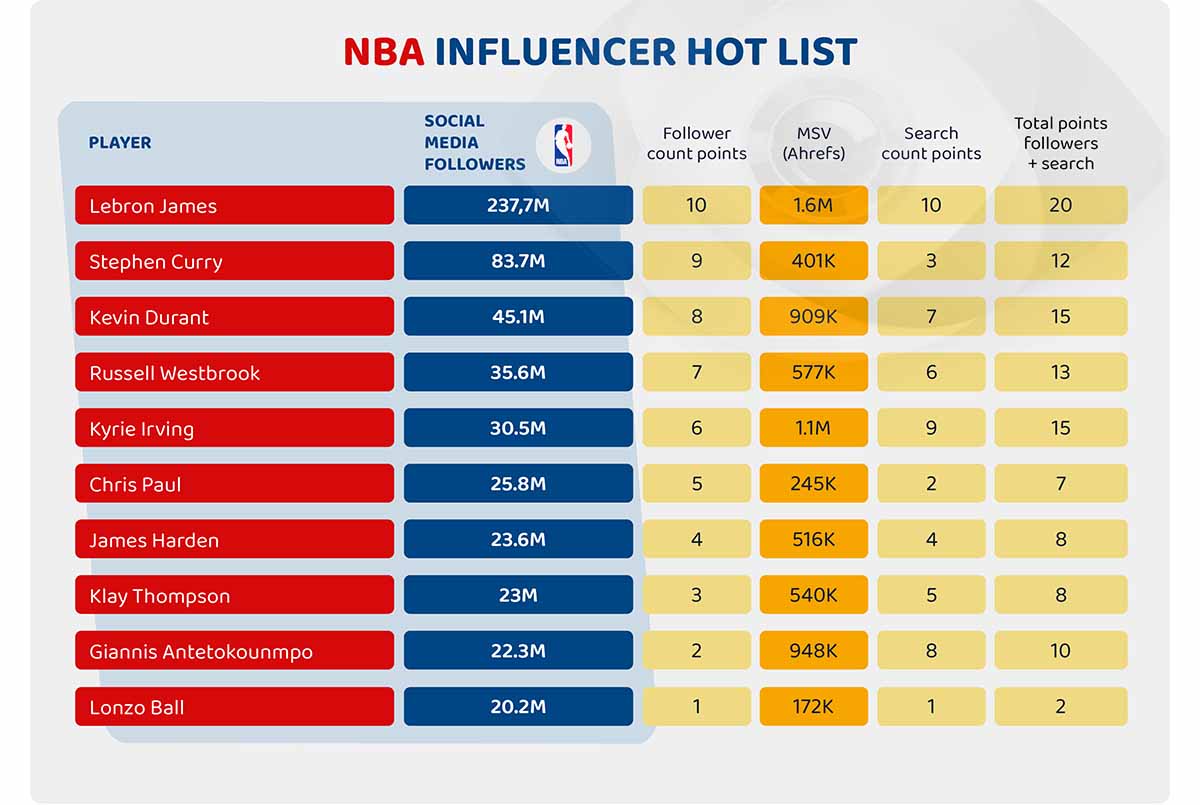 So, who are the hot influencers in the NBA across the United States? James is, of course, at the top of Table 4 for this when his social media followers and search volume are combined. He comes out with 20 points to his name. Kevin Durant of the Phoenix Suns is next, having 45.1 million followers and over 900,000 searches. Yet he shares that second position with Kyrie Irving of the Dallas Mavericks. He has fewer followers but over 1.1 million searches, according to Ahrefs.
State Stars and National Sport Icons
It is clear to see that American football remains the most popular draw across the country, whether that be in NFL or NCAA format. Certain home-state players have gained popularity within, such as Patrick Surtain II in Colorado and Jeffery Simmons in Tennessee.
Yet, for the most part, Tom Brady is and will be the biggest name in American football in the foreseeable future. LeBron James acquired more followers on social media platforms than any other athlete, but this is not solely due to his involvement in basketball.
Concluding Insights
So, to answer the question, "Who holds the key to the hearts of American sports fans?" the answer is unmistakable.
Our study determines that Tom Brady stands out as America's most favorite athlete, with LeBron James trailing just behind him. Brady's popularity is undeniable across the nation, with only five states being the exception.