$220 Billion Have Been Bet since the Legalization of Sports Betting in the US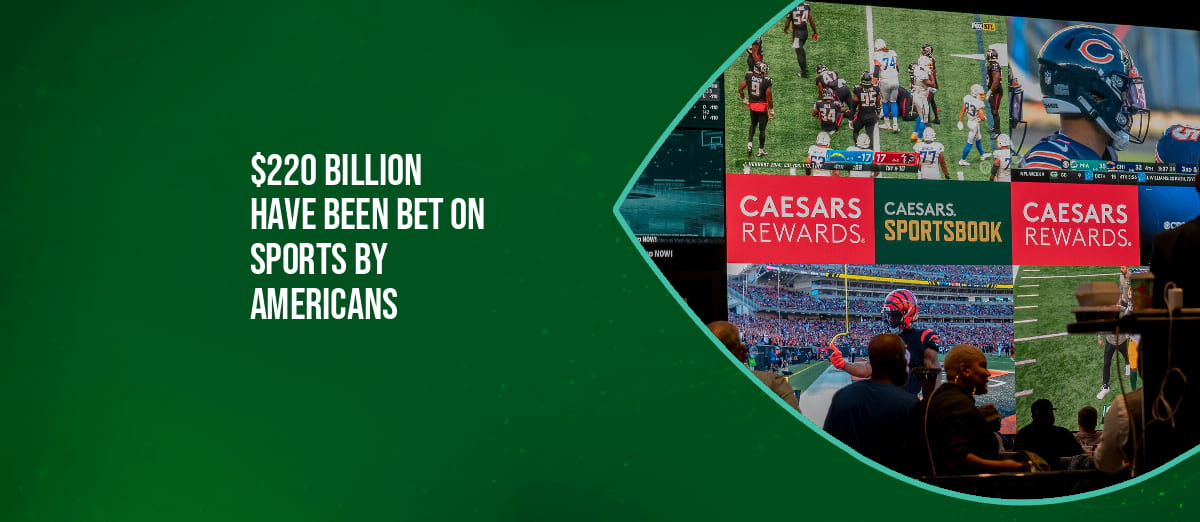 LISTEN TO THIS ARTICLE:
The legalization of sports betting by the US Supreme Court in May 2018 was a game-changer for the US gambling industry. Since then, Americans have bet over $220 billion on sports with legal gambling outlets.
Two-thirds of the country now offer legal sports betting, and more states are likely to follow in the coming months or years. Sports betting advertisements now reach into most American homes during sporting events and even non-sports programming.
Although there have been some scandals that have put a spotlight on wagering safeguards, the industry shows few signs of slowing down. The accessibility of placing a live micro-bet during a game has enabled sports betting to become part of mainstream sports culture.
The legalization of sports betting has brought about some positive changes. It has created additional tax revenue for states, a small auxiliary revenue stream for casinos and horse tracks, and a way to keep many people away from the dangers of unregulated offshore gambling websites. Professional sports leagues now partner with gambling companies and even have betting outlets in their stadiums. Betting odds are now an integral part of broadcasts of many games.
However, sports betting has also caused some problems. Calls to hotlines for compulsive gambling have increased significantly in the five years since sports betting was legalized and made available on cell phones. Several NFL players have been suspended for betting on games, and some colleges have illegally marketed sports betting to students under the legal age of 21.
The issue of gambling integrity has been in the news again recently when Ohio, Pennsylvania, and New Jersey gambling regulators ordered their sportsbooks to stop taking bets on the University of Alabama baseball team after suspicious activity was identified in an Alabama-Louisiana State University game.
Sports betting has also brought financial benefits. Sportsbooks generally keep about 10% of all the money they handle after paying out winning bets to customers. Achieving profitability has been a long, hard slog, but FanDuel became the first to report a profitable quarter in the second leg of 2022. DraftKings expects its first profitable quarter at the end of this year, and BetMGM expects to enter the black in the second half of this year.
Legal betting is already part of mainstream sports culture, and I anticipate this trend will grow as adoption increases.