A Look Behind the Scenes of Operator Solutions - Interview with Ayvar Gabidullin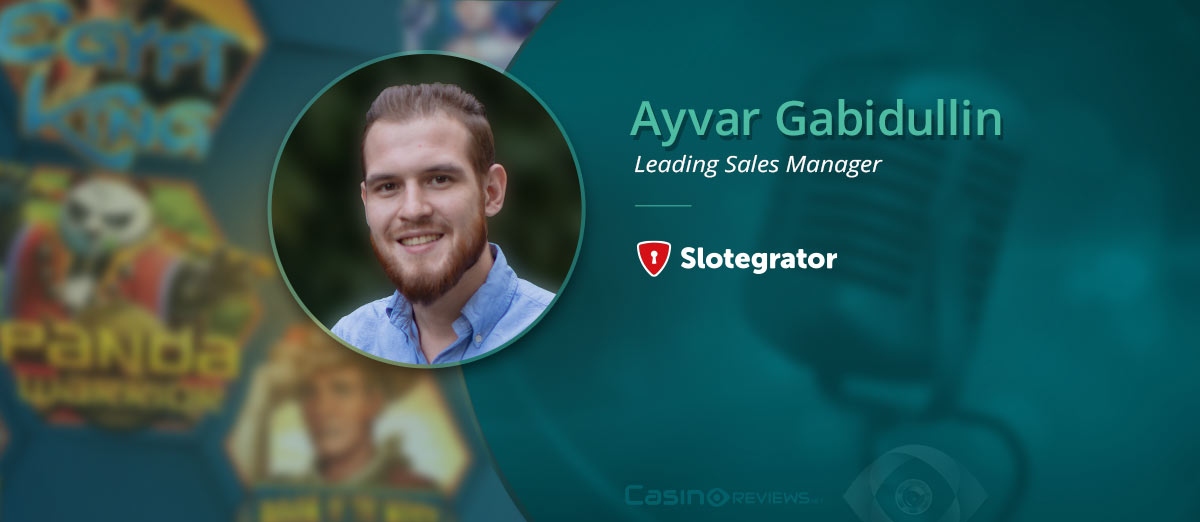 Since beginning our series of interviews with industry professionals, we have been eager to talk to people with many different expertise. The online gambling industry has been enjoying exponential growth for a number of years, and with so many developers offering exciting titles, content aggregators and platform providers have a key role to play. This week we are pleased to have been talking to Ayvar Gabidullin from Slotegrator, a true titan of the industry, about the issues they face.
Welcome, and thank you for joining us today! Please, introduce yourself to our readers.
Thanks for having me here :) Well, I am Ayvar, a Leading Sales Manager of Slotegrator, as you already know. I have over five years of experience managing B2B and B2C sales departments in the online gambling industry. I started working in customer support for online casinos and grew to become the head of a department offering tailored services to VIP players. I changed my specialization from B2C to B2B because my previous work gave me a deep understanding of players' needs, and now I can improve their gaming experience and support the industry's values while dealing with different companies. So, I joined Slotegrator and am happy to assist newcomers and experienced companies with everything they need to flourish.
Can you give us a quick overview of what Slotegrator does?

First of all, Slotegrator is a leading software supplier and aggregator for online casino and sportsbook operators. We also assist in legal issues like obtaining a license or providing payment solutions.
Let's say that Slotegrator is a one-stop-shop for the iGaming business :)
As a company that can provide casino operators with everything they need, you are very well positioned to spot changes in the industry. Have there been any significant changes in the capabilities operators need in recent times? What do you think is the reason for them?
There are several grounds for the changes we've noticed:
Technical point of view:
Operators are increasingly focusing on the Responsible Gaming functions and the Fraud module. The interaction with cryptocurrencies is also in high demand. And of course, as operators are eager to provide players with a more and more exciting gaming experience, they are interested in such functions as bonus modules and tournaments. The players also want to have their hobbies in their pockets, so options such as Telegram Casino are becoming more and more popular, especially in regions where mobile phones are easier to access than computers, like in India or Africa.
Legal point of view:
Things change very quickly. More and more countries are becoming regulated — for example, Ukraine and Germany. On the other hand, some countries where a B2B license was not needed a year ago have changed the rules, like Georgia. Of course, these new regulations also concern the payment systems. For instance, the connection process in CIS has become more complicated.
Game providers have to adjust quickly to these new regulations. In Germany, according to the most recent changes, there are some requirements for providers that have been introduced:
Stakes have to be in EUR currency only;
Jackpots must be disabled;
Autospin must be disabled;
The maximum stake per spin must be set to 1 EUR.
We help our customers to enter open and challenging markets via free consultation in Slotegrator.
Similar to the last question, do you think there have been any changes in what players are looking for?
Sure, and this is also related to regulations. Take the example of a player who's used to a brand that operates under an offshore license. If regulations change in the jurisdiction where the brand is licensed, players will see a change in the casino's bonus policy, even if rules haven't changed in the country where the player lives.
For example, a project in a particular country operates under an offshore license and has a large local audience. But when the regulation comes to this jurisdiction, the project has to change the bonus policy because it will not be possible to give players a 600% bonus deposit, which is not rare in offshore casinos. Moreover, when obtaining a local license, operators need to adjust to all the standards required in the licensing jurisdiction.
As part of your casino solution, you offer a bonus system. Do you think players are now more aware of wagering requirements and is this likely to lead to a change in the nature of casino bonuses?
Indeed, a bonus policy — for me — is a kind of art.
It is precisely the bonus policy and interaction with players (payments / uninterrupted work / various perks like Freechips) that makes the casino recognizable and builds its reputation. The days when customer support could tell the players, "Sorry, but this win is not available to you because you violated the terms and conditions for this bonus" are over. Nowadays, operators want to explain to the players what they can expect from the bonus and what they can't do as clearly as possible.
Today, any player in the casino is more valuable than before, and the operators understand that if a player is disappointed, there are high chances they will switch to another brand. To prevent such problems with players, operators are trying to look for all sorts of solutions. The easiest one is to highlight the conditions of a bonus system, making them visible and understandable for the players. Unfortunately, in some regulated countries like Belgium, bonuses are generally prohibited.
You have recently launched a Telegram casino product. Could you explain how it is different from a traditional casino app and why both operators and players may prefer it?
Our Telegram Casino bot is quite challenging to compare with traditional apps because of the platform used. First of all, any application must be supported by the marketplaces such as App Store or Google Play. The gambling apps in the App Store are slowly being banned, while in Google Play, you can see more of them, but the problem still exists. The process of uploading an application to marketplaces is also complicated for newcomers in the industry.

Talking about our Telegram Casino bot, the customer doesn't have to worry about any agreements with marketplaces, etc. It's also not necessary to have a web-based version of a casino. All interaction between the end-user and the operator can take place through the bot. Players can play their favorite games, make deposits, receive bonuses, send verification documents, etc., directly in the built-in telegram browser. And it's definitely easy and awesome.
APIgrator offers a great number of games from highly respected developers. Could you tell us a bit about how operators decide which of the games to offer?
We have business analysts who review all possible reports, such as analyses by currency or country, the perfect number of games for a given market, how many free spins are played, etc. These reviews are carried out 24/7. It's necessary to draw a line between customers who already have experience in online gambling and newcomers.
The first ones come for specific products since they have information about the needs of their audience or market in general.
When a customer comes with no experience, he can get lost in such an extensive list of suppliers, and in many cases, the client relies on Slotegrator's expertise.
First of all, we need to understand what market we enter because there is no guarantee that a successful provider in Russia will do well in India... Then you need to understand the specifics of the project. For example, if the project is tilted towards crypto, you need to make sure that the providers we want to offer the client will be fully capable of working with crypto.
Some suppliers have already historically entrenched themselves in a particular market. And this was facilitated by a relatively large number of factors, such as time (how long ago the provider entered the market), bonus mechanics, what kind of games are produced, etc.
In both of the above cases, it is necessary to conduct a thorough analysis of the issue and provide the correct information to the client.
There are many online slots that are remarkably similar to one another in almost every way (features, graphics, RTP, volatility, etc.). In the case of casinos that offer players hundreds or even thousands of slots, have you found any patterns in what makes players choose one game over another?
Great question! You can start with the fact that the days when online gambling was a closed industry have already passed. Nowadays, you can find hundreds of thousands of forums, information resources where casino players discuss casinos and, of course, games.
If we look from the player's point of view, then I think it's always individual. Some players like fruit slots with fruits and others enjoy themes related to mythology. The choice of a favorite developer or game will probably be purely individual, according to his personal experience and winning history — and, of course, with the way a given developer implements its marketing campaign in that region.
The provider's recognition also depends on if he came from a land-based enterprise or initially started working online. The former usually already have a large audience, but those who jump right away in the online sphere should understand that they will face a tremendous amount of competition and, probably, their success will largely depend on the mechanics of the games — that is, how often players will get bonus games, highly winning combinations, etc.
Of course, on their side, the players will notice if the provider is working on their games, namely if they add some exciting bonus features or give more opportunities for additional winnings, etc.
I think the essential factors for operators are:
Reputation/recognition of the manufacturer in the market;
Region;
Bonus tools;
Tournaments and marketing activities provided by the developer;
Type of games.
One of your services is a white label casino under the Curacao sublicense. What would you say to those worried about the value of a Curacao license when compared to authorities such as the MGA or UKGC?
It can be looked at from several angles. If you want to go the white label route, you're probably starting with your project because if you've been operating for a while, you're more likely to want your own license.
So, assuming you are starting with your project and want to use white-label to learn how things work in the iGaming world, Curacao is an excellent jurisdiction. Unlike the licenses issued by the MGA and UKGC, it is not as much of a regulated jurisdiction, so it is a perfect opportunity to get started.
Of course, we can debate the overall value of a Curacao license versus the MGA and UKGC, but I see a Curacao license as a perfect option.
We'd like to thank Ayvar for taking the time to answer our questions in such detail. It has truly opened a window into the behind the scenes working of operators, the challenges they face, and the exciting solutions Slotegrator provides to aid operators with their work and ensure that players have a rewarding experience.