Jay-Z's Casino Gala Rakes in $24m for Criminal Justice Reform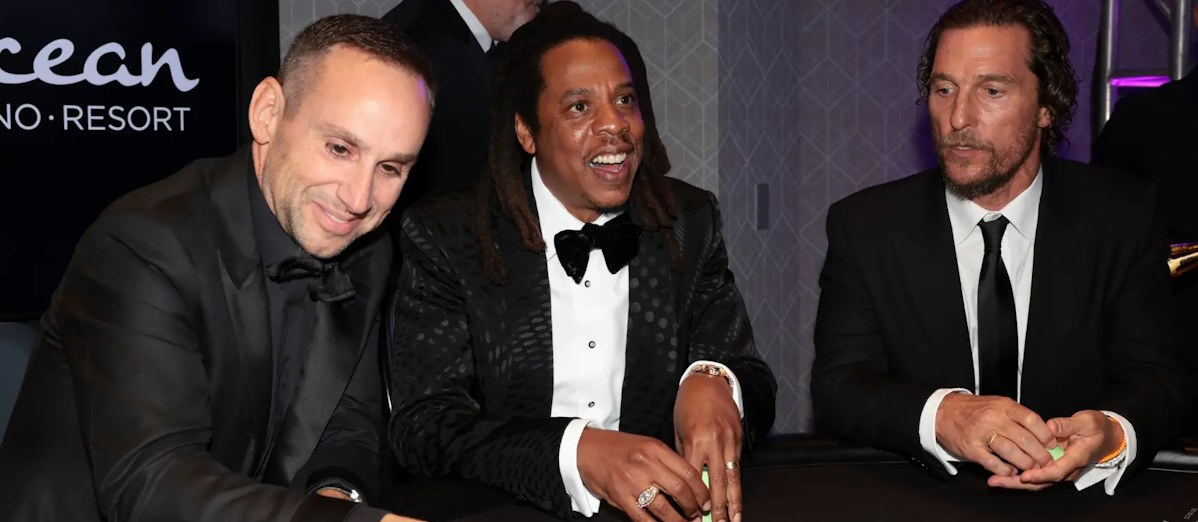 LISTEN TO THIS ARTICLE:
Jay-Z, Michael Rubin, Meek Mill, and the REFORM have helped raise an impressive $24 million for criminal justice reform through a James Bond-themed party held at the Ocean Resort Casino in Atlantic City on September 30.
REFORM Alliance's Exclusive Black-Tie Event
The invite-only black-tie event was an initiative of REFORM Alliance, an organization dedicated to transforming the supervision system for nearly 4 million individuals on probation or parole across the nation. They aim to replace the cycle of returning to prison with opportunities for employment and overall well-being.
The party was emceed by Kevin Hart and had in attendance over 250 VIPs in the music, entertainment, sports, and business industries including Ne-Yo, Fabolous, Walo, Fat Joe, La La Anthony, Tiffany Haddish, Quavo, French Montana, Jack Harlow, Lil Durk, Jadakiss, Tom Brady, Kim Kardashian, Matthew McConaughey, Kyle Kuzma, Dez Bryant, Tobias Harris, Ella Mai and several others.
Related: Tom Brady Joins NFL's Campaign Against Player Gambling
During the program, REFORM's CEO, Robert Rooks, and Chief Advocacy and Operations Officer, Jessica Jackson, expressed their gratitude to the attendees for joining them in addressing one of the most significant social and economic challenges of our era.
They also emphasized how the organization's dedication to public safety solutions had contributed to the enactment of 17 bipartisan bills in 11 states, which have opened doors for nearly 700,000 individuals to transition away from the justice system and work towards employment, well-being, and a more stable life.
High-Stakes Charity and Star-Powered Auction
Guests participated in an on-stage blackjack tournament that saw Andrew Goldberg, the managing partner of TAO GROUP, emerge victorious, walking away with a prize of $1 million. However, in a generous gesture, he immediately announced a $750,000 donation from his winnings to further support the mission of the REFORM Alliance.
The event was followed by an auction where items such as JAY-Z's personal timepiece and an original painting by George Condo were featured. Kim Kardashian and America's favorite athlete, Tom Brady, engaged in a spirited bidding war for the Condo painting. In total, the auction generated $7.8 million.
After the live auction, attendees made their way to the Ocean's Sportsbook, The Gallery, for the after-party which featured a full D'USSE bar takeover with specialty cocktails. Guests were thrilled with live performances from a star-studded lineup, including Travis Scott, Meek Mill, Lil Baby, Fat Joe, Lil Durk, Quavo, French Montana, Fabolous, and Romeo Santos.