Jayms Brooks – Helping Casinos Reach Their Target Audiences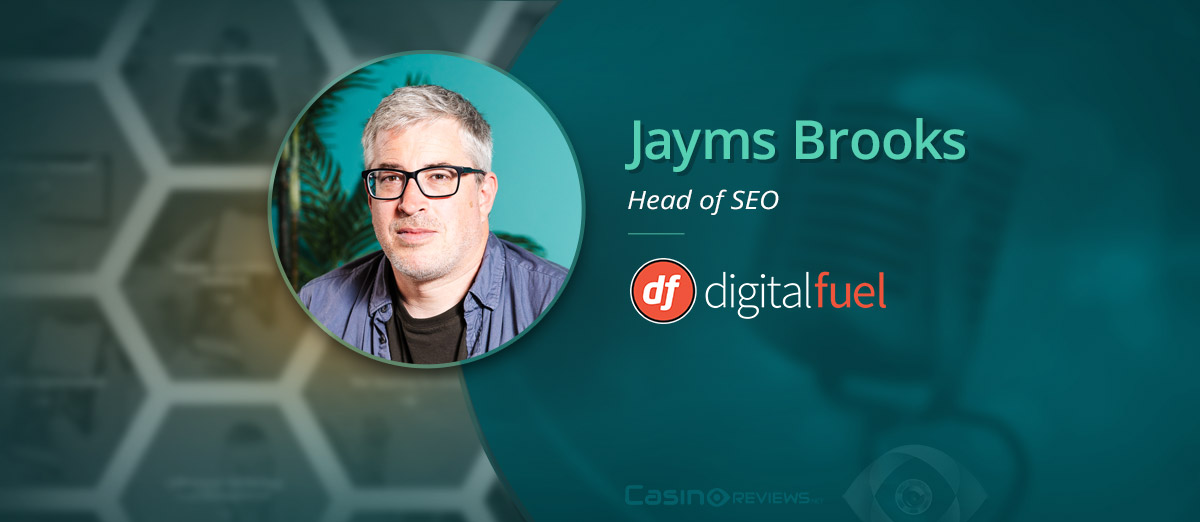 Jayms Brooks, the Head of SEO at Digital Fuel Performance, was kind enough to take the time to answer some of our questions for the next installment in our interview series. He discussed marketing in the context of the iGaming industry, the challenges it poses, the different tools available, and what the future may hold.
Hello, and thank you for doing this interview with casinoreviews.net!
1. Please could you introduce yourself and tell us a bit about what you do?
I'm the Head of SEO for Digital Fuel, we're an international iGaming marketing agency. My main responsibilities are managing the in-house SEO team, carrying out audits, competitor gap analysis, tracking and analytics setups, content ideation and curation, outreach and digital PR, App Store Optimizations, and keeping up to date with algorithm/Google news & new testing out new search technologies.
2. What do you think are the key components of a successful gambling marketing campaign?

Understanding users. It's nothing new but utilizing various channels to funnel users through different stages of intent is key to success. Ensuring tracking and internal analytics are set up correctly, giving the ability to test & learn and understand what's working (or what's not). iGaming is a heavily saturated sector, with many brands using a handful of proprietary technologies with many similarities between them, so being able to distinguish yourself, focusing on USPs, and how you retain your audience is key to survival and success.
3. Are there any specific challenges posed by iGaming marketing beyond the regulatory, and how do you find they are best addressed?
As mentioned above, there are only so many games and facets to an iGaming operator to focus on mainly due to the proprietary technologies sitting behind them, so how do you stand out, how do you nurture users and create an engaged/retained audience. Of course, good bonuses, great odds, and interesting mechanics will help but also having a solid CRM strategy and creating interesting, educational, and supportive content will give you an edge over these challenges.
4. In regards to regulations, are there any countries that have made gambling marketing particularly challenging, and if so, in what way?

We deal with operators across the world, apart from Germany, we don't see many challenges. It all depends on the licenses each operator holds, this will determine what channels and tactics we use to provide players, FTDs, and longer term value.
5. In a market that is arguably saturated, building brand awareness must pose a challenge of its own. What is your approach to making a brand stand out among the rest?
As mentioned above, it is definitely saturated, new iGaming operators are launching daily, and they all use the same games, have the same bonuses, etc. We find that building a good digital PR and Outreach presence discussing unique features (whether it be a new focus on eSports or using Crypto to deposit), building a community behind the players, having strong sign-up and returning deposit bonuses, and ultimately educating potential players whether, through guides, thought leadership and company expansion news is what counts.
Many customers will research heavily before placing bets, particularly in the US and Europe, so positioning our clients well will ensure the generation of new players, the next challenge is retention and making the players feel like they're part of a community.
6. Has influencer and streaming culture had an impact on the way you would approach an iGaming marketing campaign, and do you think this is where the future lies?
Yes, definitely - particularly with the proliferation of eSports betting. In my opinion, sponsorship is the way to go for eSports operators, although the biggest challenge is tracking success and ensuring you get value. Many streamers have huge audiences and will rely on this to justify high costs, but often this can act like old school CPM/Impression marketing, so being able to set expectations and pay for performance rather than just brand awareness would help this channel to grow exponentially.
Regardless, it is an extremely powerful form of advertising and should be considered as part of any iGaming marketing strategy - just ensure you can monitor success. These players will generally have a higher intent to sign up and deposit, and you want to make sure the campaign creates this.
7. Affiliate marketing has changed a lot in recent years, where do you see it going in the future?
It has, but definitely for the better, with many states in the US easing their gambling laws across several states, there is so much opportunity for publishers and advertisers to source engaged players for operators. Our affiliate team works tirelessly with both our publishers and advertisers to ensure we're pushing through the right kind of player who will provide longer-term value to our clients.
It will be interesting to see how affiliate tracking platforms find solutions to many of the tracking changes we see from browsers and tech companies, such as Apple. Also, with the rise of mobile apps, campaigns are adapting to push players to not only download an app but also sign up and deposit, creating more steps in the purchasing funnel. We're also seeing more success for clients where other channels such as biddable and search have strong visibility.
Thank you once again, Jayms. Marketing is, of course, central to an operation's success, and it poses a continual challenge for the iGaming industry that is only going to grow.  You have given us some extremely interesting food for thought regarding how the challenge is best addressed, which we are sure will be of great help to all who read it.
Thanks for asking me to be involved. It will be an exciting, innovative year for digital marketing and the iGaming sector. Digital Experiences will be more important than ever, and we welcome this opportunity.