Past and Present World Leaders with a Gambling Passion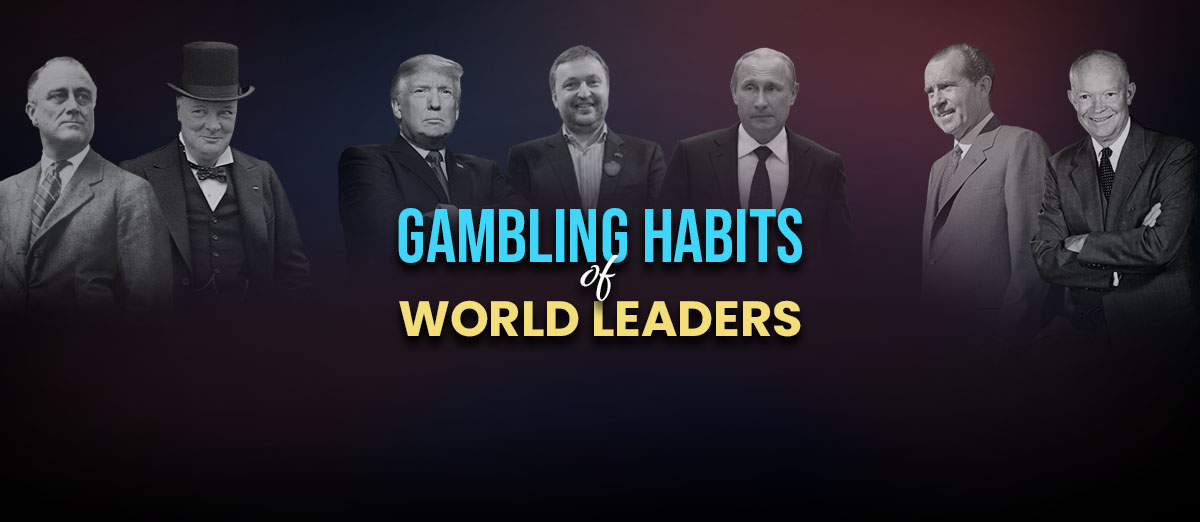 Politics and gambling go hand-in-hand, unbeknown to some. The very nature of the job often depends on this, especially in times of conflict and hostility; it really is a zero-sum game.
Real-life poker, so to speak and with significantly more potent consequences than in business. Over the decades and even in the present day, though, there are world leaders who not only gamble in everyday life with their decisions but are also famous gamblers in their downtime.
Of course, not all world leaders engage in actual gambling; often, there is the risk of what this says about their public image if this came out, perhaps veering on the reckless.
If politicians gamble in their personal lives, what are they then doing with the economy - could this be a reflection of their nature? If a country has plunged into a recession, is this because of the act of the chief decision maker and their overall recklessness with the resources that are available to them?
Below, we explore world leaders who like to partake in gambling throughout history and in the present day.
Richard Nixon

Thought of as one of the best poker-playing politicians, the US president, who was in office between 1969 and 1974, is understood to have financed some of his presidential election campaign with capital that he won from playing poker.
When he served in the US Navy during the Second World War in the Pacific theatre, Nixon won $8,000 at various poker tables. With the US Pacific fleet stationed in Hawaii, this paradise island was actually home to a number of gambling venues and land-based casinos of sorts, where troops could play poker during their downtime.
The future US president often frequented such establishments and was able to demonstrate a skill that would serve him well in his future life and his political career. In his autobiography, which he wrote in later life, he revealed: "I was naturally excited, but I played it with a true poker face and won a substantial pot."
Such was his passion for playing poker; he even worked with better players than him in order to improve his game, though he wasn't a gambler per se. He much preferred to only play a hand when the odds were in his favor rather than bluff his opponents.
Dwight Eisenhower

The former Supreme Commander of the Allied Forces in Europe during the Second World War also had a love of gambling, especially poker. When he attended the elite US Military Academy at West Point, New York, Eisenhower much preferred nights around the poker table rather than frequenting dance halls.
This skill would go on to pay dividends. While he eventually became President in 1953 - one of a few who lasted two campaigns (until 1961), getting re-elected, Eisenhower demonstrated superb judgment prior to and during the invasion of and liberation of Nazi-occupied Europe.
He was the mastermind behind countless bluffs that involved selling a 'decoy' invasion point to the Germans (Pas-de-Calais) right up until the last second, with Normandy turning out to be the actual one.
Eisenhower's skill at poker and razor-sharp instinct also made him act on the German counter-offensive in Belgium when he realized that this wasn't a bluff from the enemy, which his subordinates initially thought.
It was understood that he had won so much playing poker tournaments and games that this funded "Ike's" first congressional campaign in 1946; it is clearly a skill that saw him reap rewards in later life.
Antanas "Tony G" Guoga

An influential figurehead in the European Parliament between 2017 and 2021, Guaga, better known as 'Tony G' at the poker table, the entrepreneur and politician is also a keen poker player and gambler.
Indeed, Guaga who grew up in Lithuania, prior to moving to Melbourne, Australia as a child, went on to develop a passion for poker, a skill which would prove invaluable to him in both business and politics.
As such, he has won well in excess of $10 million at the poker table across various tournaments during his life, while he is also CEO and director of Cypherpunk Holdings, the cryptocurrency investment company that was founded in 2018 in Toronto, Canada.
His time as a key figurehead in the European Parliament was aided by his poker skills, where he was able to influence many important decisions.
Winston Churchill
The outspoken, former two-time British Prime Minister was a considerable fan of poker; something that equipped him brilliantly for his time in charge of Great Britain during the Second World War.
At every turn, Churchill was able to demonstrate his poker playing ability at significantly high stakes and most of the time, against heavy odds at various points from 1939 to 1945, overcoming these on multiple occasions.
Following the end of the Second World War and, actually, on the eve of the Cold War in 1946, Churchill flew to the US for negotiations and famously took part in a poker game with then-US President Harry Truman.
The game took place in the Presidential train one night with various government officials, as it zipped across the state of Missouri, with Truman (who rarely let himself be photographed playing poker), was understood to have told his advisers about Churchill (who had played for decades): "This man is cagey and is probably an excellent player…the reputation of American poker is at stake, and I expect every man to do his duty."
Vladimir Putin

It is understood that the current Russian Prime Minister was a big poker fan in his early days, especially while working in the KGB (Russia's Foreign Intelligence Service), which saw him rise to the rank of Lieutenant Colonel.
The skills that he acquired playing casino games and poker went hand-in-hand with his time spent working in the KGB, which often required great risk and a considerably sharp instinct. Over the last couple of decades, it is clear that he has applied his poker skills as the country's leader in a bid to outwit his political opponents.
Donald Trump

The former controversial US President and gambling essentially are synonymous. The businessman is known for owning the Trump International Hotel and Casino Resort in the ever-evolving Las Vegas.
Certainly, in his early days, it is understood that Trump enjoyed some gambling in his downtime; something which certainly helped to sharpen his skills in the business world and by extension, his admittedly extraordinary run to office.
Throughout his campaign, at every turn, regardless of whether his tactics were considered to be 'on the up and up,' Trump was able to navigate the tricky political arena as he gradually chipped away at marginal gains in key states while keeping his opponents at bay.
Definitely, Donald's gambling skills during this time will have assisted him in being able to become elected. However, there are key question marks over whether these paid off during his time as POTUS (President of The United States) due to failing to get re-elected. That being said, there is every chance that Trump could get elected again. He is understood to be mounting a campaign for the 2024 Presidential election.
Franklin Delano Roosevelt

Churchill, it seems, wasn't the only wartime leader who enjoyed a gamble, with his ally Roosevelt (FDR), understood to be a fan, in particular of poker.
Roosevelt would often play poker most nights after his cocktail hour with top advisers, including his personal physician, Admiral Ross McIntire, who insisted that games should finish by 11 pm so that his patient could get some sleep.
It could be argued that Roosevelt's poker-playing skills aided him in winning over the hearts and minds of the US public to join Great Britain and France in the Second World War, however, his skills also somewhat forced the issue. According to reports, Roosevelt's ability to bluff tempted the Japanese to engage with the US, with FDR knowing that this would get the public to join the side of the Allies.
While never considered to be a major gambler and certainly not on the level as Churchill, or even Eisenhower, Roosevelt still had a penchant for the game, even if for him, it was more of a hobby than serious business.
Gambling and Politics - A Historical Dance of Risk and Reward
What is clear is that there certainly is some symmetry between gambling and world leaders over the years, and indeed, decades with this having played a part in most political decisions; definitely there have been many examples.
In spite of everything though, it is evident that this has not always been for the 'greater good' and there continues to be a fine line regarding whether it is seen as a positive thing.
Today there appears to be somewhat of a stigma around gambling and politics; however, many world leaders recognize the importance of this to their country's economies and the benefits that it can bring in the form of taxes, which can be used to help the community.