Kam Pek Paradise
Innovative Macau Gaming and Entertainment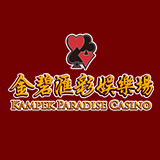 Log in to add it in your Favorites
Kam Pek Paradise opened in 2007 and was Macau's first e-casino, complete with electronic table games and gaming machines. The venue has always pushed the boundaries by offering gamers a very technologically advanced experience.
This is achieved with its LMG Gaming technology, which can power dealer-operated electronic table games and many other types of electronic Live Multi Game systems.

Address:

1 San Kin Yip Commercial Center Avenida da Amizade Macau

Opening Hours:

24h

Minimum Age:

21

Website:

www.paradise-macau.com

Phone Number:

+853 2878 6120

Email:

N/A

Amenities:

Rating:
Kam Pek Paradise's Cutting-Edge Casino Floor
The Kam Pek Paradise is home to 200,000 square feet of gaming space, making it one of the largest land based casinos in the region. Visitors can enjoy a fantastic selection of 730 high-tech gaming machines. The majority of the games are slots, but there are also plenty of electronic LMG Table Games, such as roulette, Sic Bo, and more.
Players with lower budgets need not worry, as the casino has some very affordable table limits on their games. In addition to the machines, there are 80 table games where guests can play classic games such as roulette, blackjack and baccarat.
Bonuses and Promotions at Kam Pek Paradise
Kam Pek Paradise, a renowned casino destination, offers its esteemed guests an exclusive membership opportunity. By becoming members, guests unlock a world of privileges, including a generous 50% birthday discount, making their special day even more memorable. Additionally, the casino values the feedback of its patrons. To encourage participation, they've introduced a detailed questionnaire.
Guests who share their experiences are automatically entered into a lucky draw competition. This isn't just a token gesture; winners can claim enticing rewards like gourmet meal vouchers. Beyond dining, the draw includes a variety of prizes, ensuring every participant has a chance at something special.
Exciting Activities and Fine Dining
The Paradise Resort boasts a unique attraction that sets it apart from other destinations, namely the Street Steel Motorbike Gallery. Open around the clock and accessible without an admission fee, this gallery showcases an impressive collection of custom-built motorbikes. Each bike is a testament to craftsmanship, featuring intricate designs and impeccable detailing.
After indulging in the visual feast of these mechanical marvels, visitors can satiate their appetites at the resort's dining establishments. The Long Cuisine and Noodle Bar stand ready to serve delectable traditional Asian dishes, offering a culinary experience that complements the visual allure of the motorbike gallery perfectly.

Log in to add it in your favorites