Emperor Palace Casino
Luxurious Gambling and British Elegance in the Heart of Macau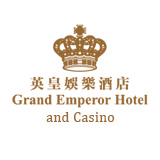 Log in to add it in your Favorites
Emperor Palace Casino is within the Grand Emperor Hotel in Macau and delivers a premium gaming experience for visitors. Launched in 2006, this establishment is full of character and has been designed to provide guests with the feeling that they are in Britain, specifically Buckingham Palace.
Instead of traditional porters standing outside the hotel, there are Beefeaters and even a Royal Carriage to give anglophiles something to marvel at. Inside are numerous premium suites and rooms, as well as one of the most magnificent landbased casinos in Macau.

Address:

288 Avenida Comercial De Macau Macau

Opening Hours:

24h

Minimum Age:

21

Website:

www.emperorpalacecasino.com

Phone Number:

+853 2822 9878

Email:

[email protected]

Amenities:

Rating:
Emperor Palace Casino Gambling Floor and Options
The Grandeur of Emperor Palace Casino is unrivaled. This casino really feels like a palace, and though it may only be 35,000 square feet large, the compact gaming venue packs 172 gaming machines and 77 tables. These are all beautifully constructed to fit in with the palatial decor in the casino.
Most of the games are slots, but at the tables, gamers can find classics such as roulette, blackjack and baccarat. Though Emperor Palace Casino is not as large as some of its competitors in Macau, it definitely fits the bill for the most unique gaming experience.
Bonuses and Promotional Offers at the Emperor Palace Casino
Additionally, the hotel understands the allure of a good deal and, as such, periodically distributes coupons to its guests. These can range from discounts on spa treatments to complimentary drinks at the hotel's bar. Furthermore, loyal patrons and frequent visitors might also be treated to special dining privileges, ensuring they feel valued and appreciated.
Amenities and Entertainment at the Casino
Besides the Emperor Palace Casino, there are tons of exciting features to explore at the Grand Emperor Hotel. These include a Grand Dance Floor, Royal Thai Spa and sauna, a plethora of boutique retailers and a Fitness Centre.
Guests at Grand Emperor Hotel have many options when it comes to fine dining. They can enter the Majestic, Royal Kitchen, Banquet, Royal Robatayaki, The Windsor, or go to the Grand Emperor Court.
Log in to add it in your favorites