Fortuna Casino Macau
Wallet-Friendly Baccarat Entertainment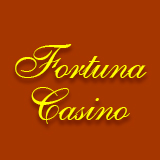 Log in to add it in your Favorites
Fortuna Casino Macau caters to budget-conscious travelers located at the western end of the Amizade Strip. Despite its affordable rates, the 342-room hotel lacks the great variety of amenities often found in Macau, and the casino offering is limited only to baccarat. For those seeking dynamic nightlife, you can find it here, but relaxation is on the table as well with their full-service massage available.

Address:

no.63, R. de Cantão, Macau

Opening Hours:

24/7

Minimum Age:

21

Website:

http://www.hotelfortuna.com.mo/

Phone Number:

+85389821301

Email:

[email protected]

Amenities:

Rating:
Fortuna Casino Macau's Baccarat Selection
Unfortunately, and rather frustratingly, the only game in town is Baccarat, with 48 tables. As opposed to all other land-based casinos we have reviewed, there are no other table games or even a single slot machine. Even though Baccarat is the backbone of gaming in Macau, this makes it hard to call Fortuna a proper casino for a Westerner. Some time ago, there were a couple of single tables for Blackjack and Sic Bo, but they are now gone. Minimum betting limits are MOP$300 for Baccarat and MOP$200 for Commission-Free Baccarat.
Cash Back Rewards Program
Fortuna does not offer a casino Player's Card, but they do have a generous dead chip program. Players who wager over MOP$1 million are eligible for a 1.2% cashback. While there's no traditional loyalty card, this rewarding initiative provides substantial benefits for high-rolling patrons of the casino.
Amenities and Night Life of Fortuna Casino Macau
In spite of its rather lewd reputation, the Fortuna does boast a couple of first-class restaurants, with one dedicated to Chinese cruising and the other for Japanese tastes. There's also a tiny bar in the lobby. Though there's no gym or swimming pool, there is a sauna. Unfortunately, it's full of mainly Vietnamese and Thai girls offering "full service massages" and more. Likewise, though the Fortuna boasts a rocking nightclub, in reality, it's actually a strip joint employing girl from Eastern Europe.

Log in to add it in your favorites