Starworld Casino Macau
Indulge in Opulent Gambling and Dining Options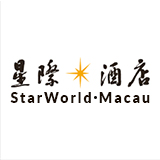 Log in to add it in your Favorites
The 39-story Starworld Casino Macau, which opened its doors in 2006, bears a striking resemblance to the opulent casino resorts found in Las Vegas. Featuring over 500 luxurious rooms, all offering breathtaking vistas of Macau, this establishment stands out with its three floors dedicated to a wide array of casino games, mirroring the grandeur of land-based casinos in the gambling capital. Moreover, guests can savor culinary delights at world-class restaurants and visit the renowned Whisky Bar on the 16th floor for an exceptional experience.

Address:

Avenida Da Amizade, 5GQX+V6R, Macao

Opening Hours:

24/7

Minimum Age:

21

Website:

https://www.starworldmacau.com/

Phone Number:

+85328383838

Email:

[email protected]

Amenities:

Rating:
Gambling Floor and Games of Starworld Casino Macau
The casino has 13,000 square feet spread over three separate floors dedicated to casino games, with 240 slot and video gaming machines and 250 table games. The types of games are rather limited, with no Roulette or Craps. However, there's plenty of Baccarat, Three Card Poker, blackjack, and Sic Bo. Because this is Macau, minimum bets are much higher than most casinos around the world.
For example, the minimum bet for the majority of their table games is MOP$300. In the high-roller private betting salons on the 10th floor, expect to wager MOP$3,000 per round in Baccarat. The Poker King Club has a reputation for offering some of Macau's highest-stakes games, with many famous players taking part.
Starworld Casino Macau's Rewards Program
Being part of Galaxy Entertainment Group, the casino offers its patrons a 4-tier loyalty program. The Gold, Platinum, and Black levels are open to all gamblers, with the Diamond level by invitation only. Though all levels offer benefits like discounts on movies, dining, and shows, the Diamond level really pulls out all the stops with complimentary airfare round trips, backstage meet and greets, Rolls Royce limo service and many more indulgences.
Amenities and Dining
Several amenities seem like an afterthought at the hotel complex. For instance, the rooftop swimming pool, although present, is rather small and lacks heating. Similarly, the gym offers a limited selection of equipment. On a brighter note, the array of dining options is impressive, encompassing Shanghai and Cantonese cuisine, as well as a variety of international dishes, ensuring a satisfying culinary experience for guests.

Log in to add it in your favorites