Waldo Casino Macau
Gaming by the Golden Lotus Square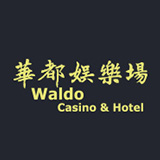 Log in to add it in your Favorites
Waldo Casino, a renowned landmark in Macau, first opened its doors to the public in 2004. Strategically located adjacent to the iconic Golden Lotus Square, it has since become a magnet for both tourists and locals alike.
One of the standout features that sets this venue apart from other brick-and-mortar casinos in Macau is its prime vantage point overlooking the Grand Prix Street Circuit, allowing guests to catch a glimpse of thrilling races from the comfort of their rooms.

Address:

1091 Avenida da Amizade Lote J - Zape Quarteirao 6 Macau

Opening Hours:

24h

Minimum Age:

21

Website:

www.waldohotel.com

Phone Number:

+853 2888 6688

Email:

[email protected]

Amenities:

Rating:
Gambling Variety at Waldo Casino Macau
The casino games can be found in the rear lobby, on the mezzanine level, and on storeys 1, 3 and 5 of the hotel complex. There are no voluminous halls filled with gaming machines or tables at Waldo. Instead, guests can walk through long, twisting corridors with little pockets for tables or gaming machines.
It is well-lit and gives gamblers the privacy they need to enjoy gaming without sitting in the middle of a sea of noise and people traffic. Waldo Casino has a total of 100 gaming machines as well as 63 table games and poker tables. Baccarat, Chinese Domino, and Sic Bo games at Waldo Casino are considered excellent.
Bonuses and Promotions at the Popular Casino
While the casino's website doesn't currently advertise any promotions or highlight a loyalty scheme, it shouldn't be a deterrent for potential visitors. Waldo Casino has garnered a reputation as an affordably priced destination for both accommodation and gaming.
This affordability factor has made it a favorite among many who visit Macau. Moreover, while online promotions might be absent, it's common for establishments like these to offer exclusive in-house deals and promotions. Guests can often find special offers, discounts, or events being promoted directly at the venue. It's always a good idea for visitors to inquire at the reception or contact the online customer service option of the casino.
Dining and Amenities at the Waldo Casino
The Global Cuisine located in Waldo Casino stands out as a haven for lovers of Western culinary delights. Here, guests can indulge in a wide array of dishes that capture the essence of various Western cuisines. From hearty American steaks to delicate European pastries, the restaurant ensures that every dish is prepared with utmost precision, using the finest ingredients to deliver an authentic taste experience.
On the other hand, the Prince Seafood Restaurant offers a unique gastronomic journey into the world of Chinese fusion cuisine. This establishment masterfully blends traditional Chinese flavors with contemporary culinary techniques, resulting in dishes that are both familiar and refreshingly novel.

Log in to add it in your favorites